22 Images
Kristen Stewart and Robert Pattinson through the years
'Twilight' heartbreak
Kristen Stewart's indiscretion with her "Snow White and the Huntsman" director Rupert Sanders has rocked the world of celebrity watchers -- and her longtime love with Robert Pattinson. We look back at their relationship.
(Peter Sorel / Summit Entertainment)
Kristen Stewart
Let's start with Stewart, known previously for breakout roles in Jodie Foster's "Panic Room" and the film adaptation of "Into the Wild." She was the first cast for director Catherine Hardwicke's "Twilight" in the role of Bella Swan.
(Stefano Paltera / For the Times)
Robert Pattinson
Robert Pattinson was the last candidate in line for Edward Cullen. He auditioned with Stewart in late 2007 at the Venice Beach home of Hardwicke, where the pair staged their now-iconic first on-screen kiss on the director's bed.
(Spencer Weiner / Los Angeles Times)
International hit
"Twilight" goes on to gross over $400 million worldwide. Pattinson fever sweeps the globe, and speculation is high about the personal involvement of the two franchise stars.
(Kimberley French / Summit Entertainment)
Red carpet rollout
Kristen Stewart arrives at the world premiere of "New Moon" in Westwood, Calif., in November 2009.
(Matt Sayles / Associated Press)
Comic-Con 2009
Taylor Lautner gets his moment to shine with the advent of "New Moon," directed by Chris Weitz, and his stepped-up role of Jacob Black, but heat still centers on the romance between Rob and Kristen. The cast is shown here at the 2009 Comic-Con panel for the sequel.
(Chelsea Lauren / WireImage)
'Eclipse'
Sequel "New Moon" hits a record-setting $142.8-million opening weekend in November 2009. Rob and Kristen celebrate with a romantic New Year's Eve
getaway
to the U.K.'s Isle of Wight. This was arguably the moment when the notoriously private pair began hiding in plain sight, though not on screen, as seen in above's promo still from "Eclipse."
(Kimberley French / Summit Entertainment)
'The Twilight Saga: Eclipse' premiere
"Eclipse" premieres to dizzying fanfare in June 2010 with massive crowds in downtown Los Angeles. Success hadn't affected their relationship, nor their laid-back personalities. Rob and Kristen attended the
after party
as a couple, and Stewart even shook off her mini-dress for jeans and sneakers.
(Matt Sayles / Associated Press)
'Welcome to the Rileys'
In October 2010, Stewart stepped out with a different film project, "Welcome to the Rileys." She played a stripper opposite James Gandolfini and Melissa Leo. The film premiered in New York City and though they don't walk the red carpet together, Stewart brought Pattinson as her date.
(Carolyn Cole / Los Angeles Times)
See you in Rio
Summit Entertainment decides to split "Breaking Dawn," the final installment of the vampire franchise, into two parts.
(Andrew Cooper / The Twilight Saga: Eclipse" )
The sex scene
The last of Stephenie Meyer's books sees Edward and Bella finally getting it on -- to massive consequences. "Dreamgirls" director Bill Condon is tasked with bringing this image to life. Fans salivate. Filming commences November 2010 in Louisiana.
(Andrew Cooper / Summit Entertainment)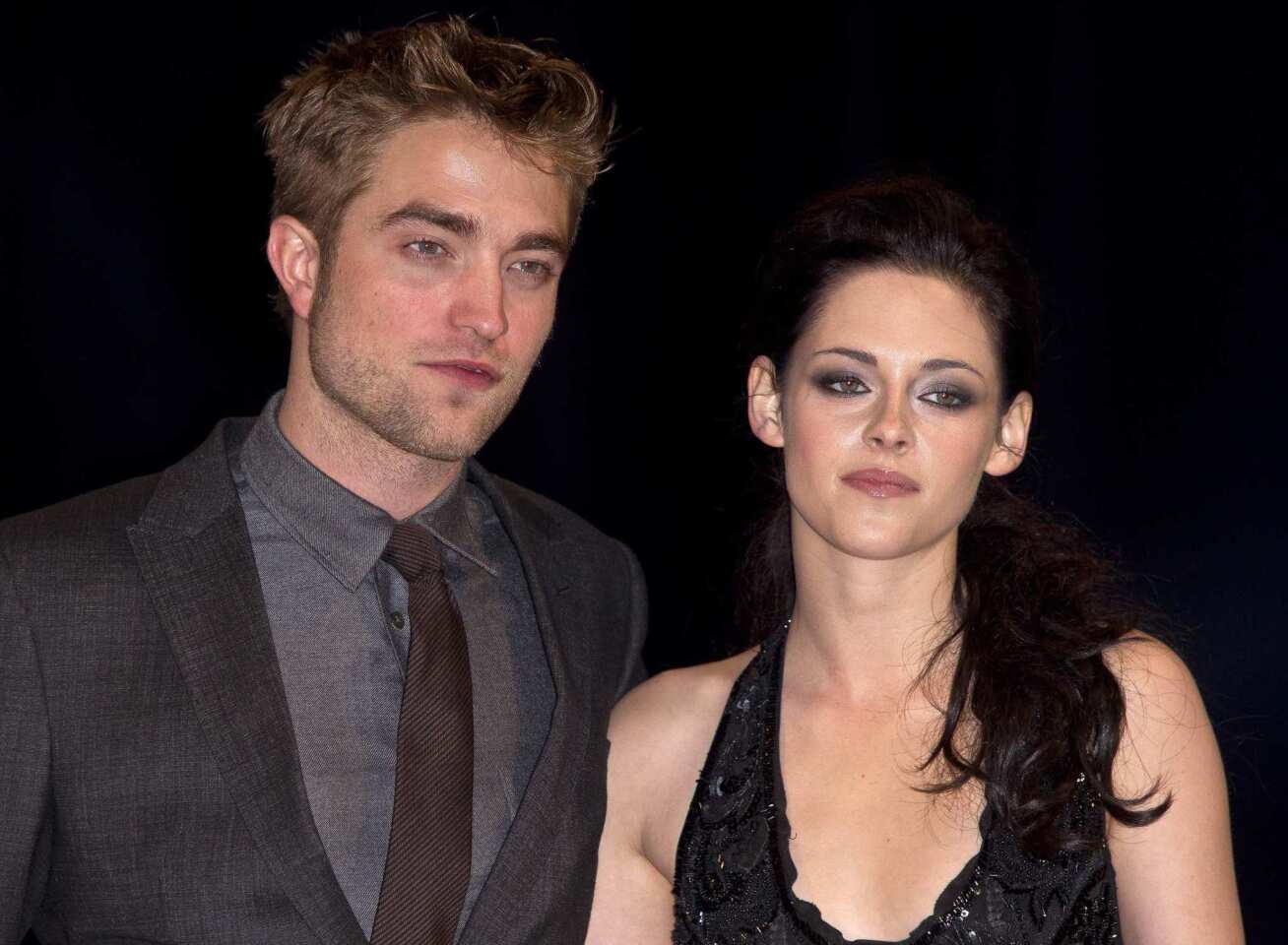 U.K. premiere
Another New Year's Eve
visit
to the Isle of Wight awaits the two in December 2010. They stay at the cozy Spyglass Inn and take in some live music with friends.
(Joel Ryan / Associated Press)
Robert Pattinson, Kristen Stewart, Taylor Launter
Pattinson heads off to film "Water for Elephants" alongside Reese Witherspoon, but still has domestic life with Kristen on the brain. He rescues a dog, Bear, from a local shelter for the pair to raise together.
(Matt Sayles / Associated Press)
Set in concrete
Just ahead of the November 2011 release of "The Twilight Saga: Breaking Dawn Part 1," Pattinson, Stewart and Lautner immortalize their hand-and-footprints outside Grauman's Chinese Theater.
(Al Seib / Los Angeles Times)
Calm before the storm
Rob and Kristen head to Comic-Con for the last fan panel of the film series. Call this relaxed photo the calm before the storm -- less than two weeks later, an Us magazine cover would reveal the potential end of Robsten, with claims of Kristen Stewart cheating on her costar and longtime beau with director Rupert Sanders.
(Michael Buckner / Getty Images)
Business as usual
"The Twilight Saga" continues its long road to retirement as Taylor, Kristen and Robert appear at the 2012 Teen Choice awards to collect trophies. Two days after the ceremony, Stewart's romantic outing with "Snow White and The Huntsman" director Rupert Sanders would be revealed.
(Kevin Winter / Getty Images)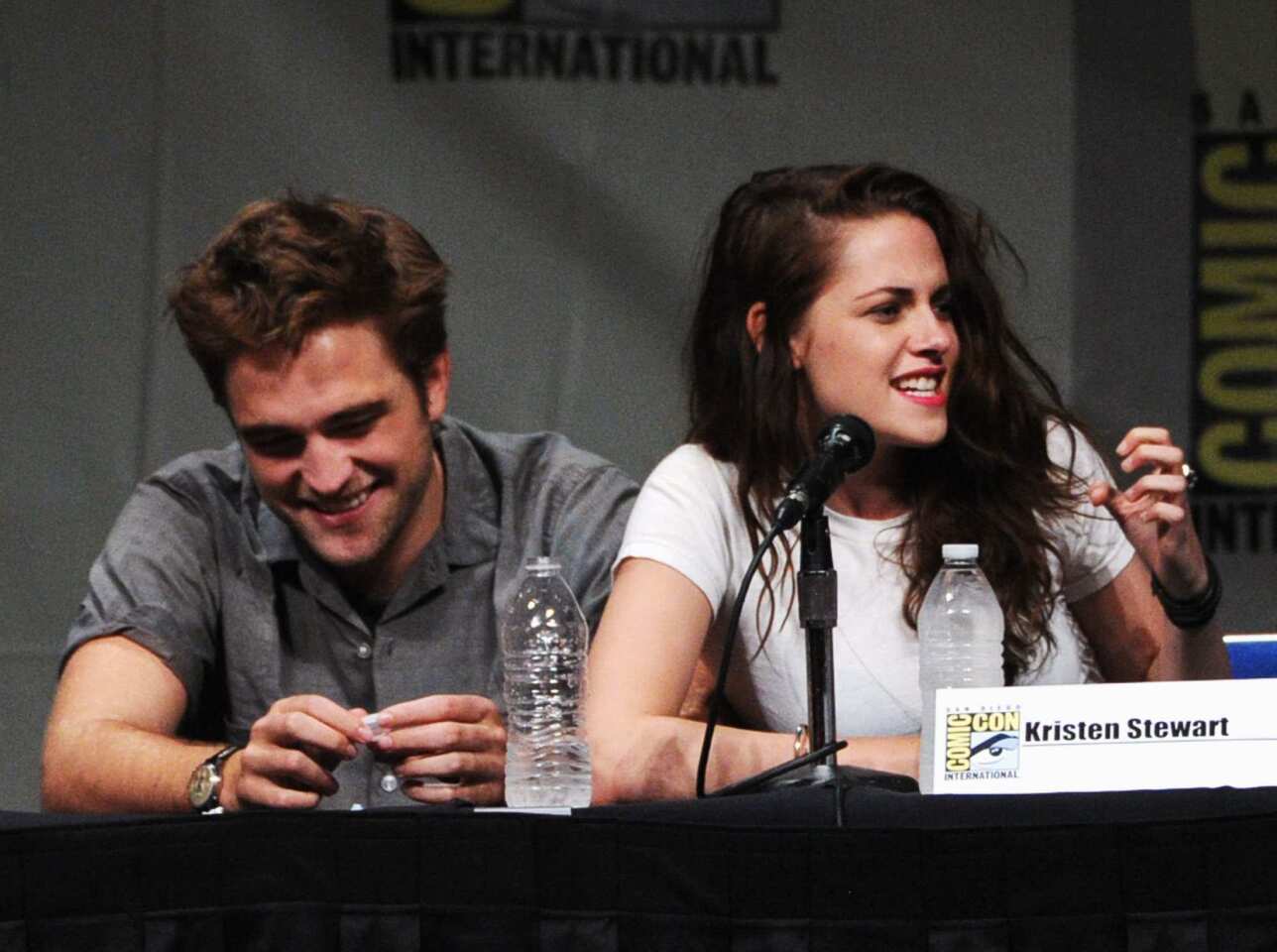 The affair breaks
Paparazzi photos reveal Stewart (pictured here at Comic-Con with Pattinson) and Rupert Sanders on a daylong make-out adventure through Los Angeles. Get a full timeline of their infidelity
here.
(Kevin Winter / Getty Images)
Stewart apologizes
Stewart
stuns
with a full admission (and apology), one that stresses her love for Robert.
(David Maung / EPA)
Sanders apologizes
Sanders, far left, offers up his own
apology
to his wife, Liberty Ross, and their two children. In this photo, the director and star pose with "Huntsman" costar Chris Hemsworth in June.
(Rob Griffith / Associated Press)
Happy Family no more
Pattinson reportedly
moves out
of the Los Feliz home he shares with Stewart on July 25. (Here the three "Twilight" leads pose with Rob and Kristen's onscreen daughter Mackenzie Foy in "Breaking Dawn Part 2.")
(Andrew Cooper / Summit Entertainment)
What's next?
Stay tuned for what will surely be an awkward worldwide press tour for the final film and the fate of this beloved vampire couple.
(Andrew Cooper / Summit Entertainment)
Julianne Moore: Career in pictures