Madonna reveals she was raped at knifepoint while young in N.Y.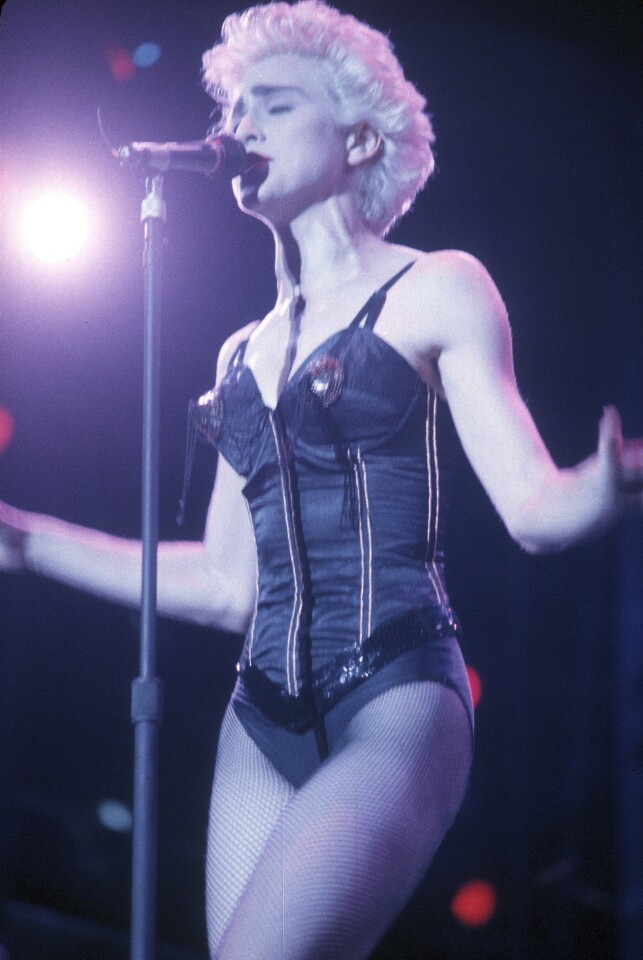 When Madonna moved to New York to become a dancer in 1978, she worked at
Dunkin' Donuts
. After hearing one of her demos, Sire Records grew interested in the young singer.
(Michael Ochs Archives)
Sire Records agreed to finance the performer's 1983 debut album, "Madonna." Then, in 1984, her second long-player, "Like a Virgin," became her first No. 1 album. In the years to come, Madonna re-invented herself time and time again, sometimes focusing on dance hits, other times leaning toward a more spiritual sound.
(MTV / Times archives)
Madonna's style became as famous as her music. In the '80s, she could never seem to pile enough clothing onto her petite frame. Crucifixes, leather jackets and bustiers melded to create a look that was a little girly, a little punk and totally Madonna. In this photo, she performs at the Open Air Theatre at San Diego State in 1985.
(Los Angeles Times)
We knew she could sing and dance, but
Madonna
proved she could act too, when she appeared in "Desperately Seeking Susan" in 1985. "Who's That Girl" in 1987 was considered a flop, but Madonna redeemed herself with the well-received "A League of Their Own" in 1992 and "Evita" in 1996, pictured above.
(Cinergi Pictures)
In 1989, the pope encouraged Italians to ban Madonna's concert because he considered the sexualized video for "Like a Prayer," pictured here, to be sacrilegious.
(Like a Prayer video)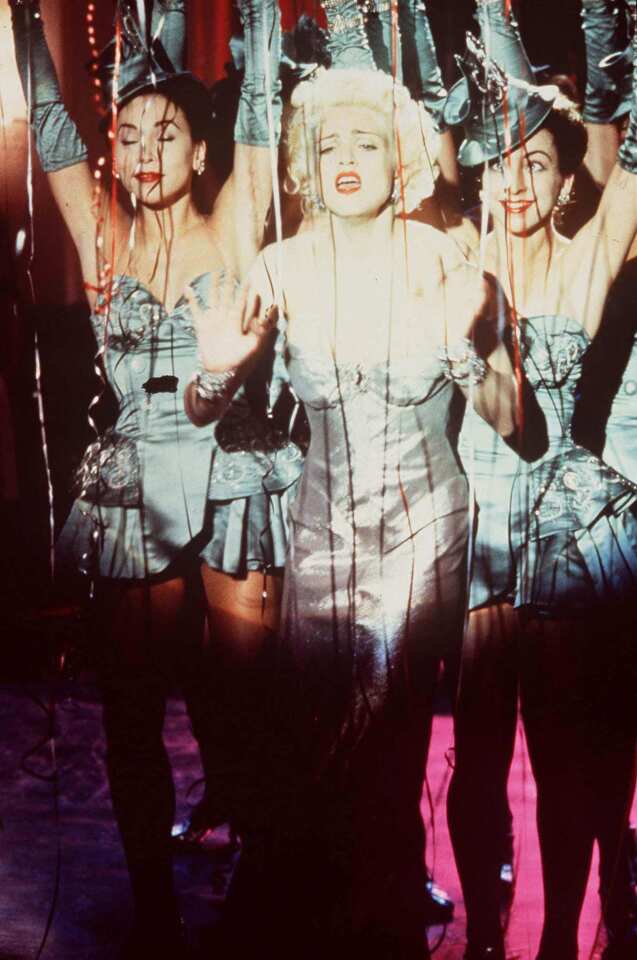 In 1990,
Madonna
starred as nightclub singer Breathless Mahoney in then-boyfriend
Warren Beatty
's "Dick Tracy." Times film critic Sheila Benson wrote, "Madonna's performance, which in retrospect seems to be songs, salty patter and a collection of artfully struck poses, won't disappoint her fans, but it may not win her new ones -- her acting hasn't caught up with her charisma."
A year later, Beatty appeared in Madonna's controversial
documentary
"Madonna: Truth or Dare," which chronicled her Blond Ambition tour and debuted at the 1991
Cannes Film Festival
. The documentary was shot in black and white, except for concert scenes, which were shot in color.
(Buena Vista)
This list is long, so brace yourself. According to media reports,
Madonna
married and divorced
Sean Penn
, dated
Warren Beatty
, hooked up with porn star Tony Ward, hung out with
Vanilla Ice
, got hot for her bodyguard, got heavy with Dennis Rodman, and fell for her personal trainer. With that trainer, Madonna gave birth to a baby girl in 1996.
And then there was Guy. Madonna and
Guy Ritchie
met in 1998; in 2000, they married and had a son together, but after years of bliss, the couple split in 2008.
(Stephen Lovekin / Getty Images)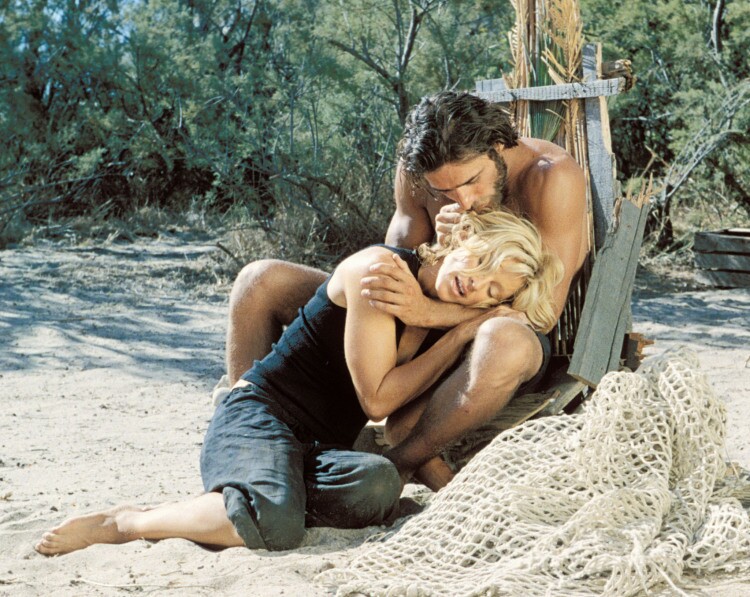 Then-husband
Guy Ritchie
's "Swept Away," which starred
Madonna
as an entitled housewife alongside Adriano Giannini, bombed at the box office and received horrible reviews in addition to five 2002 Golden Raspberry Awards. The critical reception prompted Madonna to vow never to act again.
(Screen Gems)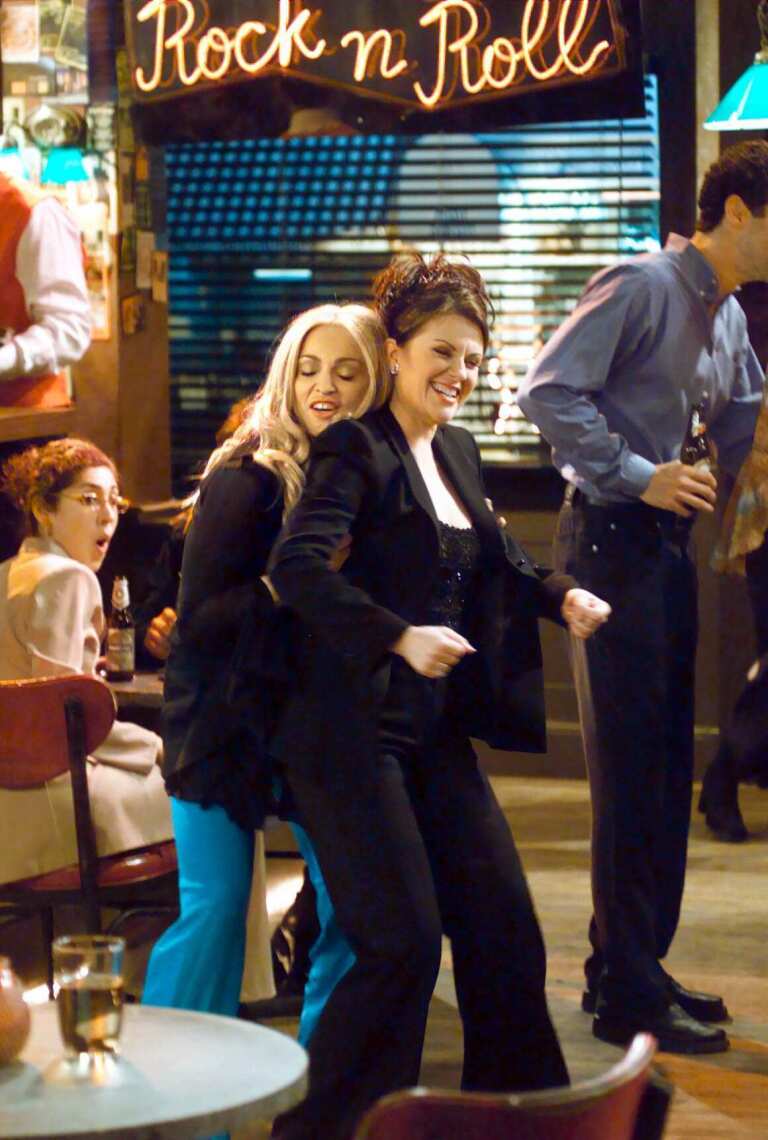 Despite her vow to never act again, the performer took her acting chops to mega-sitcom "Will & Grace" in 2003, when she played a ditzy woman whose roommate ad was answered by Megan Mullally's Karen Walker. The two sparred in the episode as they fought over the same man and rent. Her character name Liz was an homage to her longtime publicist, Liz Rosenberg. Though
Madonna
's appearance had been highly anticipated (it was also timed to the release of her "American Life" album), her sleepy performance didn't deliver the ratings it promised and the storyline was pretty much salvaged by Mullally's performance.
(Chris Haston / NBC)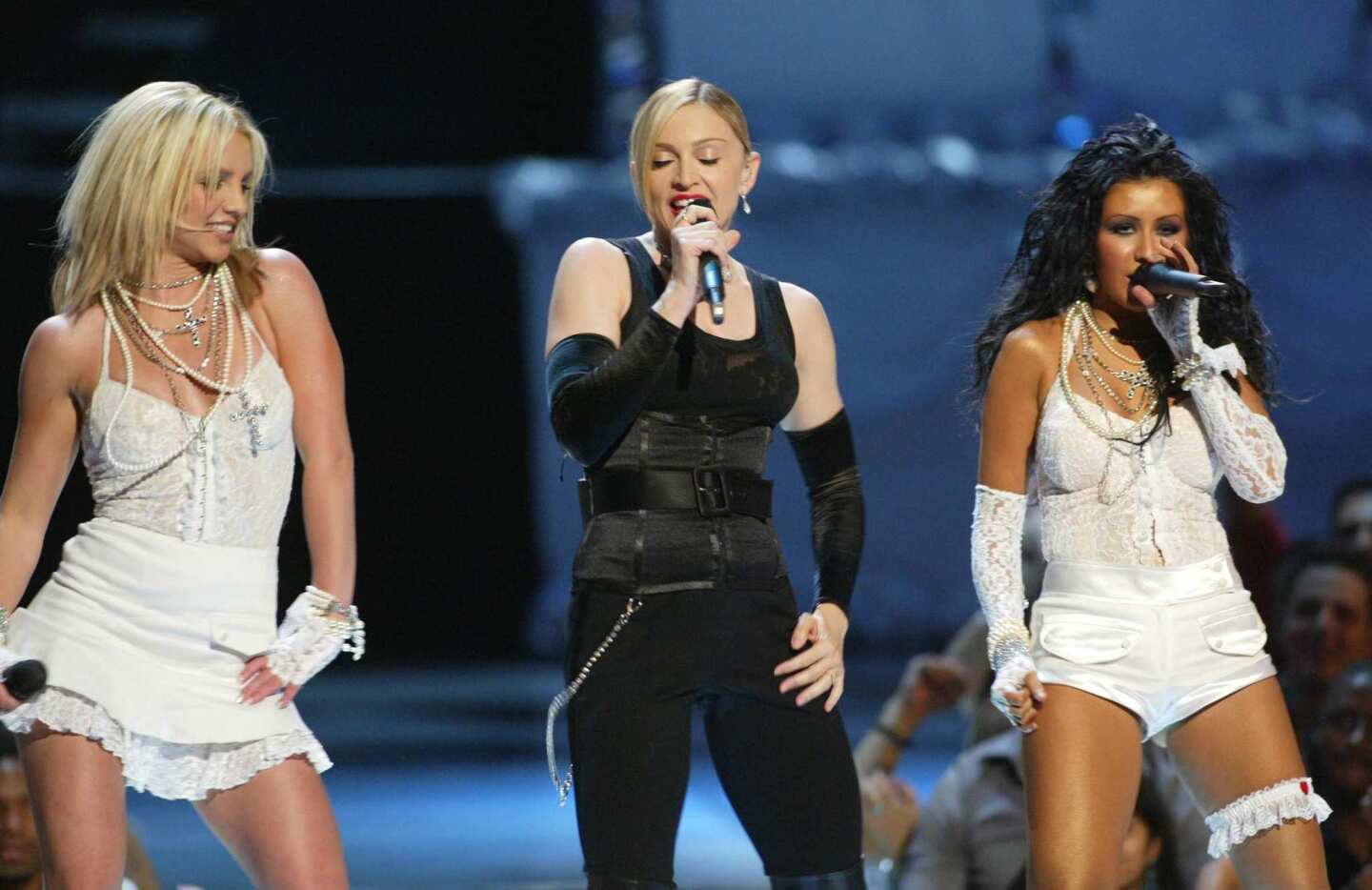 Both
Britney Spears
and
Christina Aguilera
had been actively working to break away from their squeaky-clean, Mickey Mouse Club personae, and
Madonna
was just the person to help. In August 2003, Madonna turned heads, raised eyebrows and got those tongues wagging yet again when she locked lips during a performance with
both
pop stars onstage at the 2003
MTV Video Music Awards
.
(Scott Gries / Getty Images)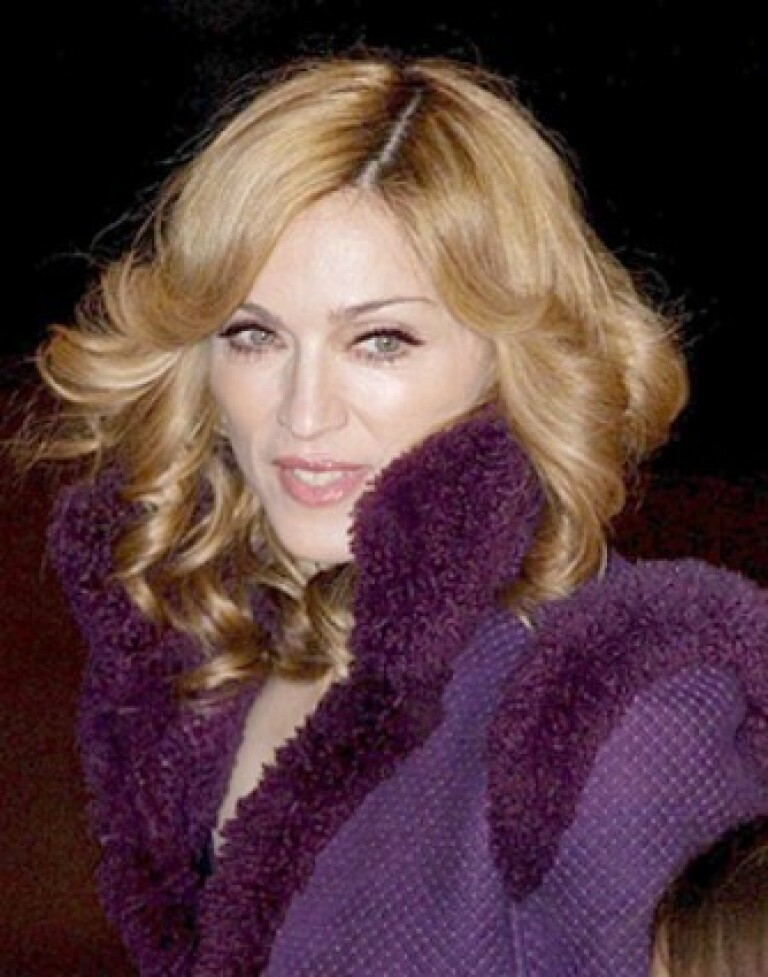 In 2007, Madonna launched a line for the retail chain H&M called M by Madonna that met with success.
(EPA)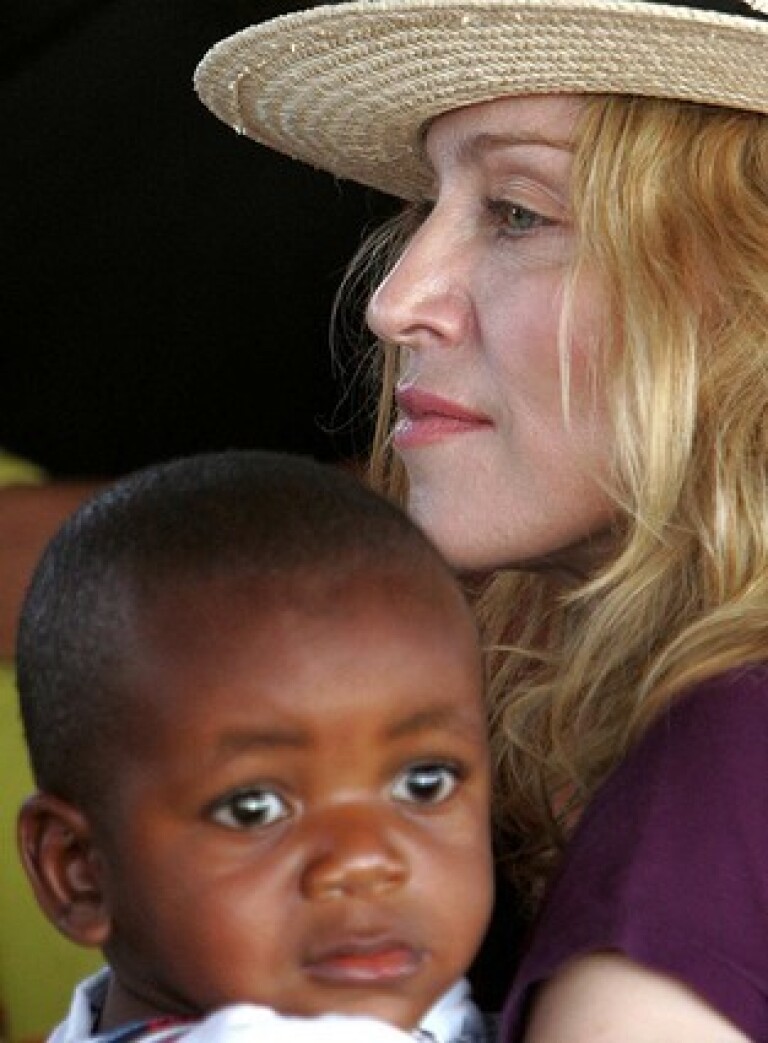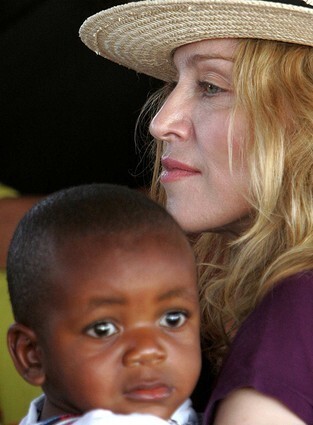 When
Madonna
adopted a child named David Banda from Malawi in 2006, she was elated. David Banda's dad, however, did not share Madonna's excitement over the adoption. He alleged that he had misunderstood the agreement, and did not realize he was permanently giving up his son.
(Associated Press)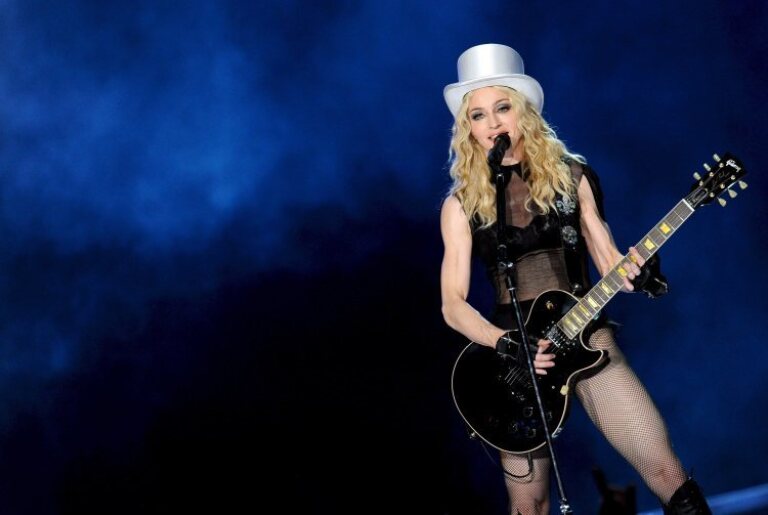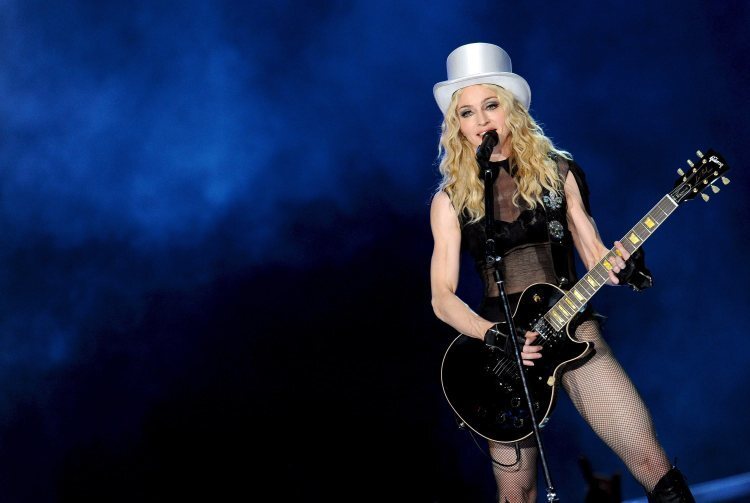 In April 2008, the Material Girl released "Hard Candy," her 11th studio album, which featured Pharrell Williams, Timbaland and Justin Timberlake. She subsequently launched the international Sticky & Sweet tour to promote it. She earned the right to strike a pose and vogue after bringing in $120.1 million total in 2008 from North American touring ($105.3 million) and music sales ($14.8 million), but the numbers were still low by industry standards.
The singer's best preparation for the demands of directing a movie may have been her ambitious, visually driven live shows. "When you're putting a show together, you're dealing with so many elements," she said. "You're creating a stage and working with lights and costumes and dancers who you could say are the actors. You're paying attention to the minutiae and you're also stepping back and looking at the bigger picture. I always like to tell stories in my show and have some kind of an arc. I have a crew that I rely on desperately and ... I'm working with creative people, so I need to be judicious with the way that I speak with them. I've always been intricately involved in every aspect of my show. I know where all the nails are on the stage."
(Ettore Ferrari / EPA)
In 2010,
Madonna
and her daughter, Lourdes "Lola" Ciccone Leon, teamed up with Macy's to launch Material Girl, a 1980s-inspired clothing line for young women that would be available in 200 Macy's stores.
"Sometimes [Lourdes] will do certain things or say certain things and I'll feel like I'm looking in a mirror," Madonna said. "I'll get really irritated with her and then I'll stop and think, 'But that's what I used to do.' Or 'That's what I do.' If I complain to my friends and say, 'Oh, she's so strong willed or she's so opinionated,' they look at me and go, 'Well, what did you expect?' "
Former
"Gossip Girl"
actress-turned-punk-rocker Taylor Momsen first fronted the line but was later replaced by
Kelly Osbourne
. But the sartorial collection came under fire when a Los Angeles apparel manufacturer
sued the pop star,
claiming they had been selling their merchandise under the same brand name since 1997.
(Evan Agostini / Associated Press)
Since her split with
Guy Ritchie,
the Material Girl has been
seen cozying up
up with her latest boy toy, Brahim Zaibat.
(Arnaldo Magnani / Getty Images)
Her latest endeavors have involved directing. Madonna has been promoting her sophomore directorial effort,
"W.E.,"
a romance that explores the life of divorced American
Wallis Simpson
(Andrea Riseborough), who stole the heart of the future King Edward VIII (James D'Arcy) and led him to give up the throne. Something of a "King's Speech" prequel (although the films do overlap), the movie has received
mixed reviews
.
(The Weinstein Co.)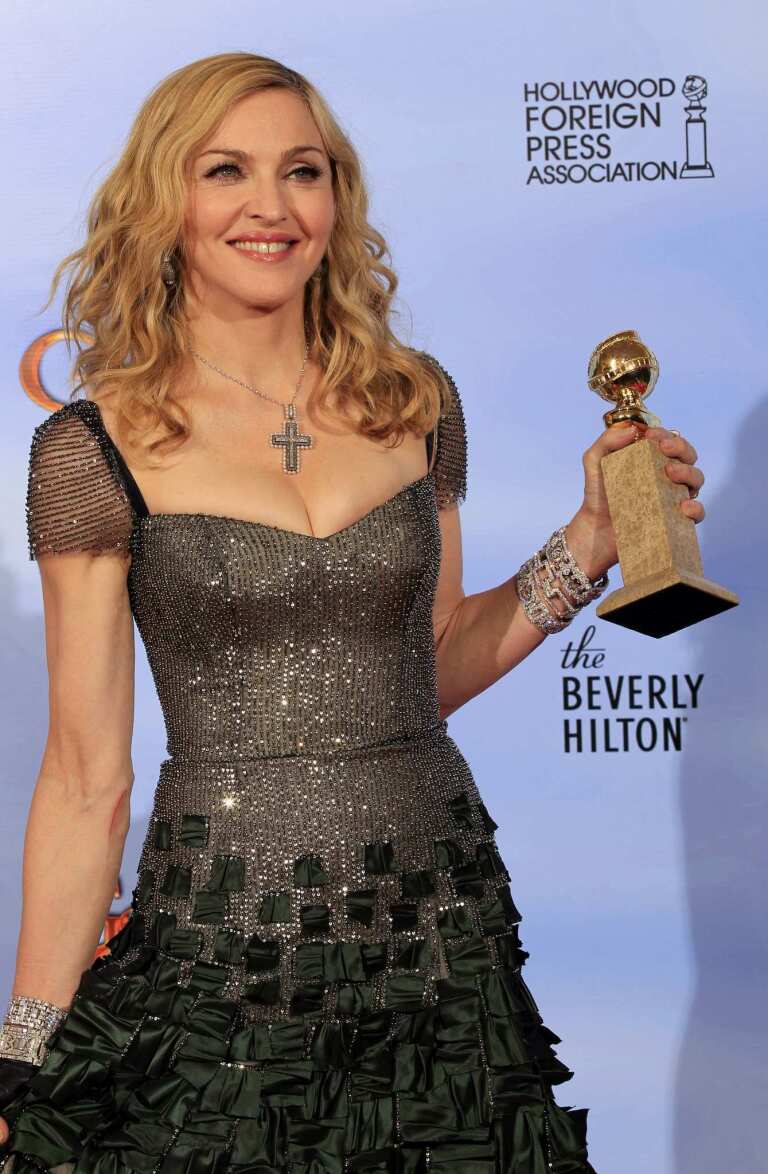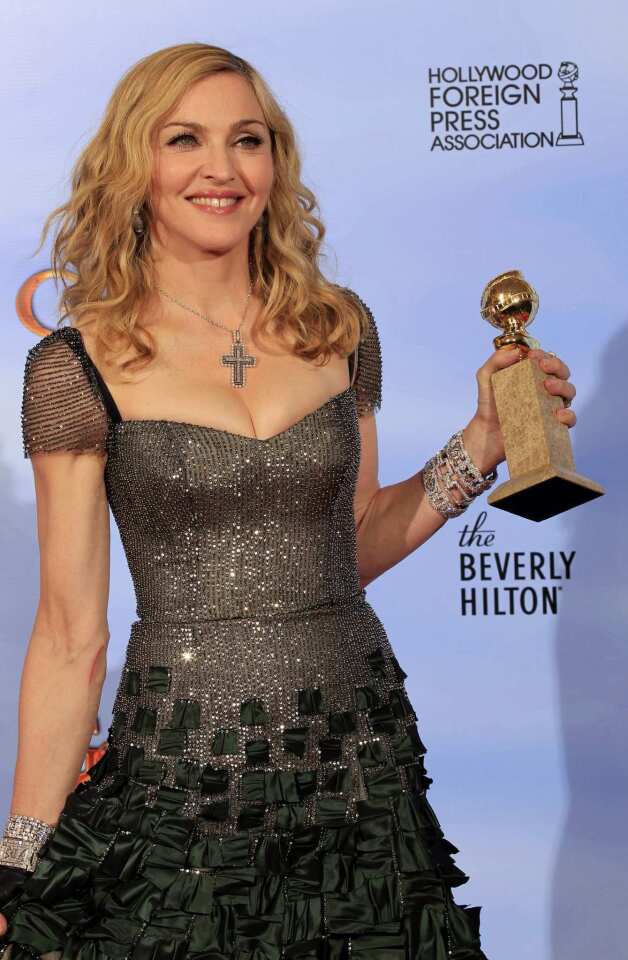 Madonna
's song "Masterpiece" from her romantic drama
"W.E."
was named best original song at the 2012
Golden Globes
. But the song is not eligible for the equivalent prize at the
Academy Awards
ceremony, however -- evidently it was placed too far into the movie's end credits to qualify for an Oscar.
(Al Seib / Los Angeles Times)
Super Bowl
XLVI will have a different type of giant from New York as the
halftime act
. Madonna will take the stage at the upcoming football bonanza, played between the Giants and the New England Patriots, following in the footsteps of such performers as the Black Eyed Peas,
Bruce Springsteen
and
Tom Petty
.
"I have 12 minutes and 40 seconds to do something extravagant and exciting in the middle of something that's quite sacred to all of America," she said. "No one's asked me to tone down my moves. They were curious about my costumes and the costumes of the dancers.... They were very clear with us up front that they don't want nipples or anything like that, and I didn't have any intention of doing that, so I was like, 'OK, we're cool.' I'm more nervous about this than most things I've done, simply because ... it's not how I'm used to working. I'm a perfectionist. I like everything to be done just so, and I like to run things and run things and run things until people can do it with their eyes closed."
(Mark Cornelison / Mark Cornelison/Lexington Herald-Leader/MCT)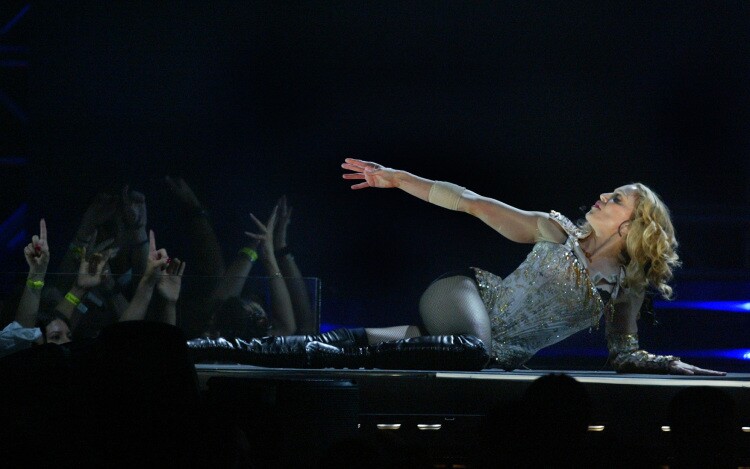 Her high-stakes Indianapolis performance will serve as the launch for "Gimme All Your Lovin'," the first single off "MDNA." She's brought back two of her favorite collaborators for the album, producers William Orbit and
Martin Solveig
, and is working with new faces -- the female rappers M.I.A. and
Nicki Minaj
. The album will be the first in a $40-million, three-record deal she signed with Interscope Records in December.
In this photo, Madonna performs in concert at the Forum on May 24, 2004.
(Los Angeles Times)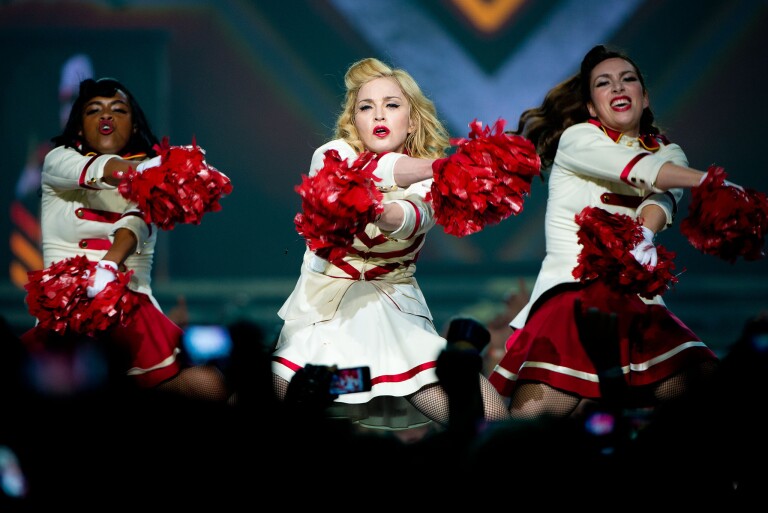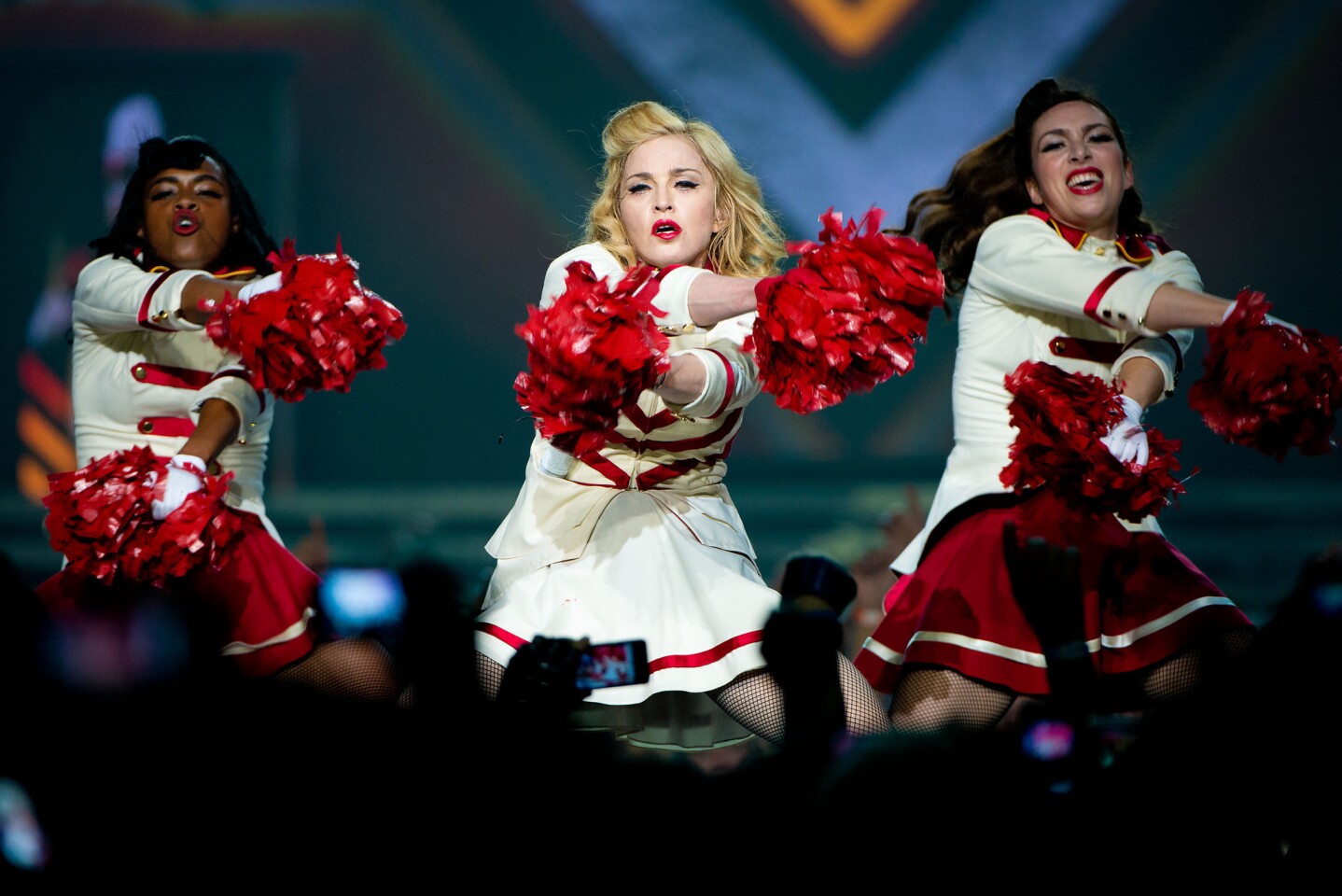 The 2012 MDNA tour could shape up to be one of the 10 biggest tours of all time, with 89 shows in 28 countries, including stops in 18 cities where Madonna had never performed before. The show features about 700 wardrobe pieces for all the performers onstage and seven songs from the "MDNA" album are on the set list.
MORE: Madonna's MDNA tour by the numbers
(Jeff Fusco / Getty Images)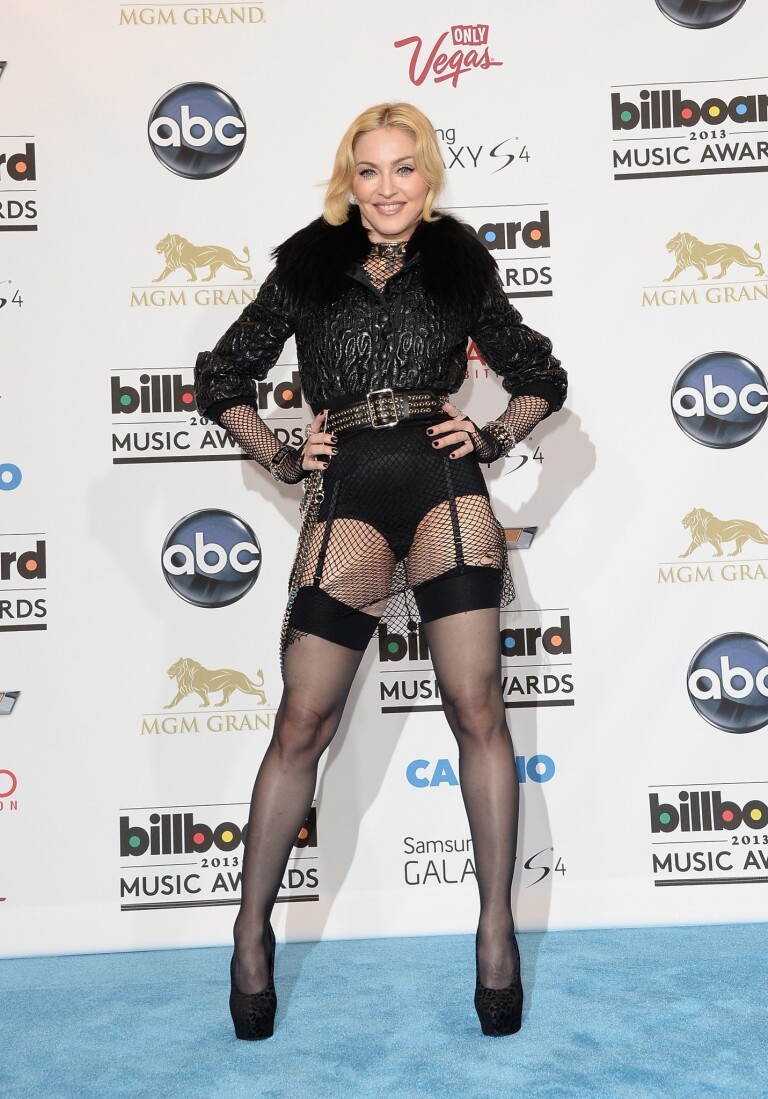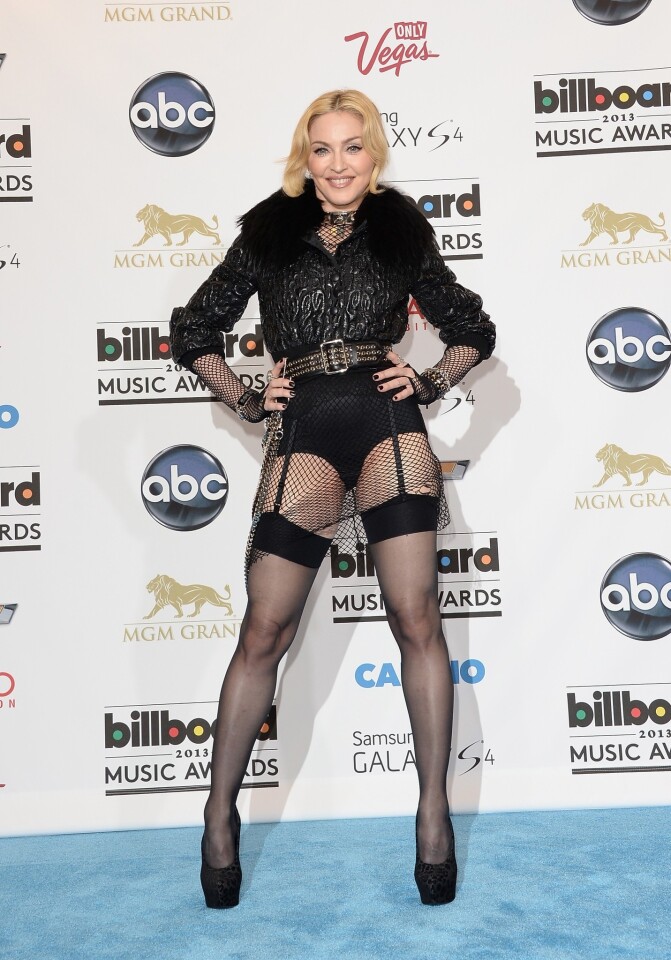 Madonna took home the top touring award for MDNA at the 2013 Billboard Music Awards at the MGM Grand Garden Arena on May 19, 2013. The tour was crowned 2012's top-grossing concert attraction worldwide by Billboard, surpassing other highly popular road shows by Bruce Springsteen, Roger Waters, Coldplay and Lady Gaga. The tour grossed $228.4 million over the course of 72 shows (all sold out), according to the magazine's calculations, which are based on figures reported to Billboard Boxscore from Nov. 9, 2011, to Nov. 13, 2012. Forbes later calculated that the tour grossed than $305 million.
(Jason Merritt / Getty Images)
Madonna arrives at the Metropolitan Museum of Art's Costume Institute Gala benefit in honor of the museum's 2013 exhibit, "Punk: Chaos to Couture" on May 6, 2013, in New York. It's fair to say that her ensemble showed that she was in her element. Times Fashion critic Booth Moore
noted
that her look was "tarty," and "hinted at the DIY, bondage aspect of punk, though it might have been more fun if she'd just broken out one of her old 'Like a Virgin' ensembles to remind us that she really was a punk in her own way."
Vogue editor-at-large Andre Leon-Talley
said
she "turned up around 8:30 p.m. dressed as a Louise Brooks-sleek brunette-bobbed punk diva, resplendent with marvelous studs, and a short Givenchy Haute Couture jacket that topped off her stockinged legs and fuchsia heels."
(Timothy A. Clary / AFP / Getty Images)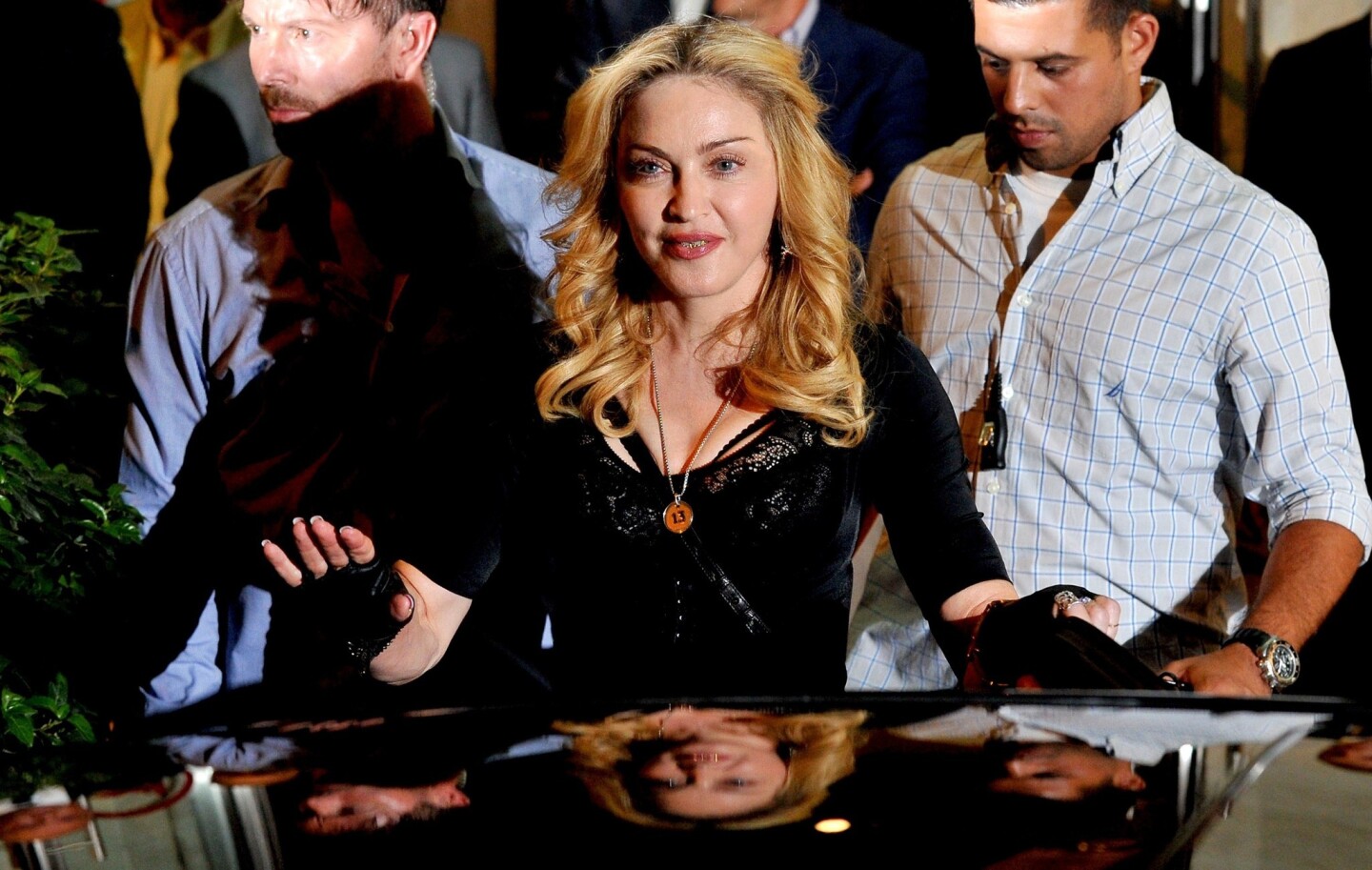 At age 55, the Material Girl was named 2013's top-earning celebrity unseating 2012's top earner, Oprah Winfrey, according to Forbes magazine. She earned an estimated $125 million between June 2012 and June 2013, the mag said, despite poor sales for her "MDNA" album. But the album's corresponding tour, which happened to coincide with her powerhouse halftime-show performance at the 2012 Super Bowl, bolstered her earnings big time. Merchandise sales, her Material Girl clothing line, fragrances and investments helped her forge her way to the top of the list. In 2009, the mag estimated she earned $110 million, which is the closest she ever came to this year's high.
In this photo, Madonna waves in central Rome after visiting her Hard Candy Fitness center, a global chain of gyms opening around the world, on August 21, 2013.
(Tiziana Fabi / AFP / Getty Images)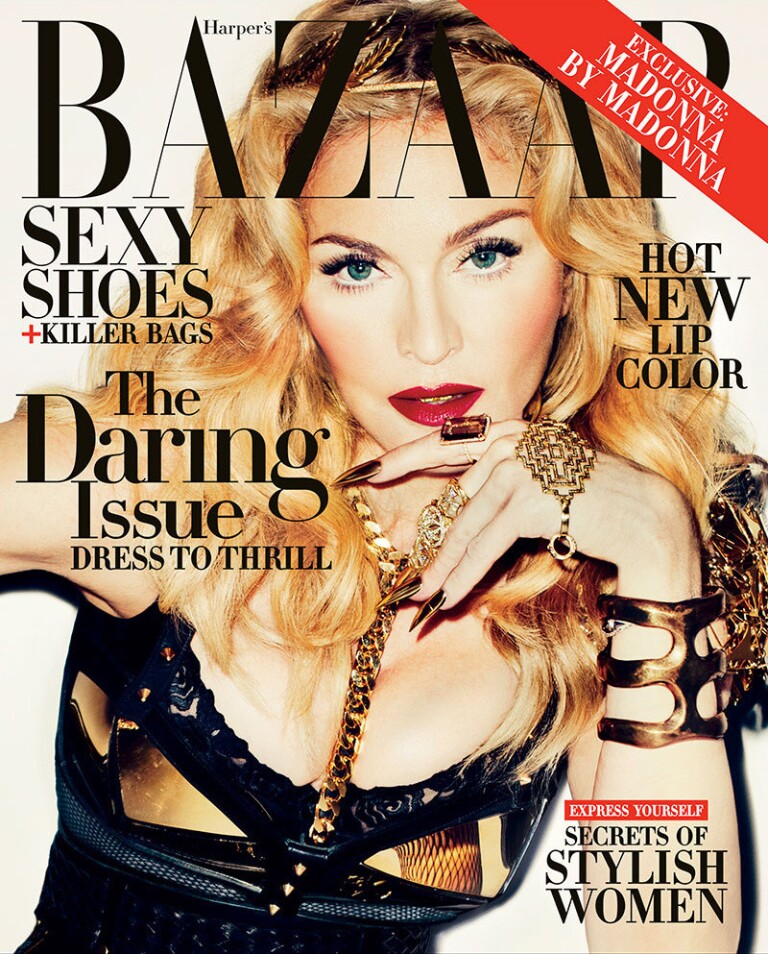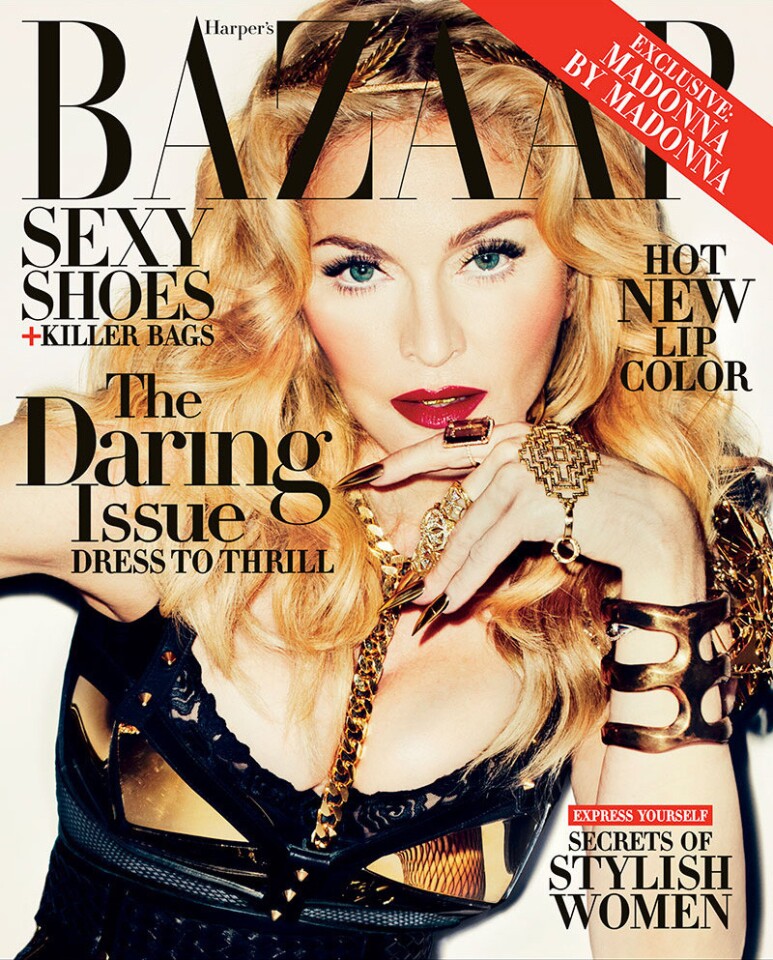 For the November 2013 issue of Harper's Bazaar, Madonna wrote an autobiographical essay about key daring moments in her life, including her choices to join Kaballah, adopt children from foreign countries and make films. The singer also reveals that during her early years living in New York, she was raped at knife point and held at gunpoint.
(Terry Richardson / Harper's Bazaar)
Madonna dares to reveal one very personal truth in an essay for "The Daring Issue" of Harper's Bazaar: When she was young and trying to make it in New York City, she was raped at knifepoint.
The pop diva tosses off the information almost as an aside, as if it's something she has compartmentalized over time.
"New York wasn't everything I thought it would be," she writes. "It did not welcome me with open arms. The first year, I was held up at gunpoint. Raped on the roof of a building I was dragged up to with a knife in my back, and had my apartment broken into three times. I don't know why; I had nothing of value after they took my radio the first time."
The essay itself is a rundown of key "daring" decisions in Madonna's life, as presented by Madonna.
Among them: moving to New York from Michigan, moving to a foreign country, adopting children internationally, studying Kabbalah and deciding as a teen not to shave her legs or under her arms (she changed her mind on that last one, eventually).
Madonna says that after all of her outlandish behavior onstage, she didn't expect to be "punished" by the public for adopting abroad, but took a big lesson from the whole experience.
"One of the many things I learned from all of this: If you aren't willing to fight for what you believe in, then don't even enter the ring."
Now, she says, being daring is her norm.
"I have been blessed with four amazing children. I try to teach them to think outside the box. To be daring. To choose to do things because they are the right thing to do, not because everybody else is doing them," she writes. "I have started making films, which is probably the most challenging and rewarding thing I have ever done. I am building schools for girls in Islamic countries and studying the Qur'an. I think it is important to study all the holy books. As my friend Yaman always tells me, a good Muslim is a good Jew, and a good Jew is a good Christian, and so forth. I couldn't agree more.
"To some people this is a very daring thought."
ALSO:
Naya Rivera of 'Glee' engaged to rapper Big Sean
Kim Kardashian shares a new photo of North, blogs about Paris
Brooke Shields scores a point against ex-husband Andre Agassi
Follow Christie D'Zurilla on Twitter and Google+. Follow the Ministry of Gossip on Twitter @LATcelebs and on Facebook facebook.com/ministryofgossip.
---
Inside the business of entertainment
The Wide Shot brings you news, analysis and insights on everything from streaming wars to production — and what it all means for the future.
You may occasionally receive promotional content from the Los Angeles Times.