Miss Universe is Miss France, Iris Mittenaere (and this year Steve Harvey got it right)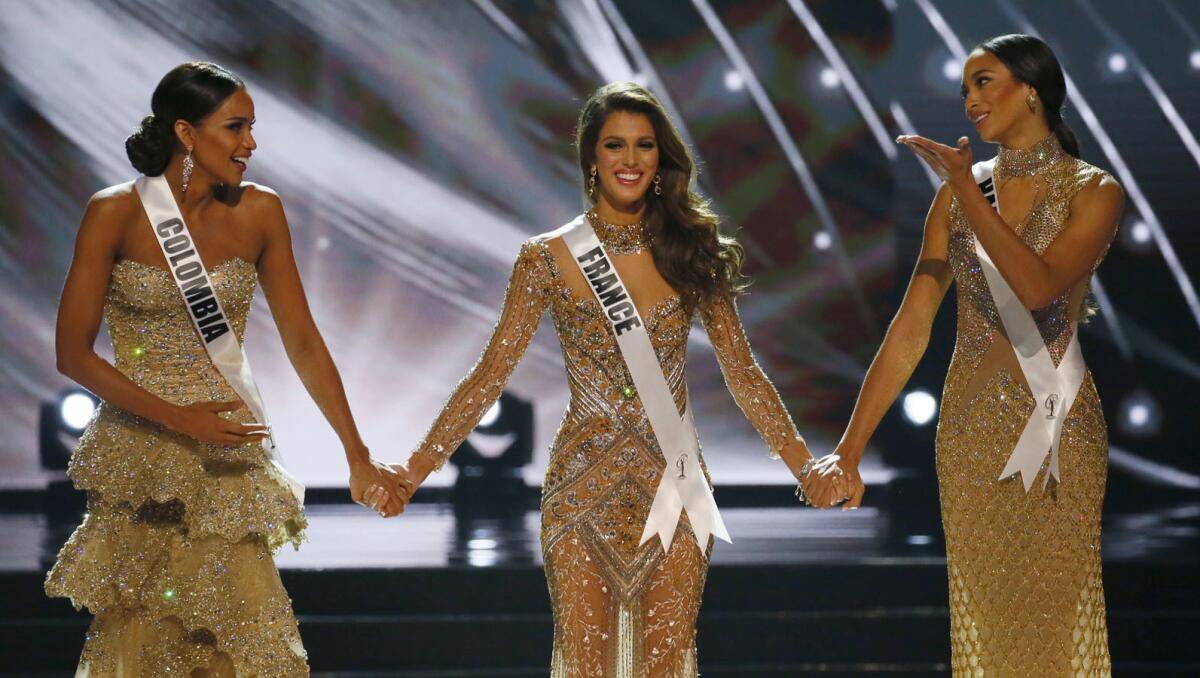 Iris Mittenaere was crowned Miss Universe on Sunday night in the Philippines, winning the honor on behalf of France for the first time since 1953.
"We need good news in France, and I think this is very good news," Mittenaere told reporters after the show. She also predicted that her victory would make the competition more popular with her countrymen.
Mittenaere, who just turned 24, told reporters she'll focus on helping children — especially girls — attend school. The Miss Universe website also said the dental-surgery student hopes to advocate for dental and oral hygiene.
"I think France and Europe really need a Miss Universe," she said, according to the Associated Press. The Continent hadn't seen a hometown winner since Amparo Muñoz of Spain was crowned in 1974.
Raquel Pelissier, Miss Haiti, was first runner-up, and Andrea Tovar, Miss Colombia, was second runner-up. Mary Were, Maxine Medina and Chalita Suansane, representing Kenya, the Philippines and Thailand, respectively, rounded out the top six.
As always, the question round offered some of the most awkward moments of the evening, especially given host Steve Harvey's U.S.-centric focus on politics and world events. All six contestants gave at least a nod to coming together and getting along.
Were was asked what most excited her and most concerned her about the presidency of Donald J. Trump. Pelissier, a survivor of Haiti's devastating 2010 earthquake, was quizzed about what she would have been marching for had she participated in the Women's March on Jan. 21. Mittenaere was asked whether nations had an obligation to accept refugees.
Pelissier worked Eleanor Roosevelt into her answer, which was essentially "human rights." Were acknowledged divisions in the U.S. but didn't quite get it right when she said Trump brought the country together once he finally took office. Mittenaere left the decision about refugees up to each nation.
"Countries should have the right to open or close their borders … ," she said through a translator. "In Europe we have open borders. In France we want to have the most globalization that we can. We want to have the biggest exchange of people that we can. Maybe someday that will change in the future, but now we have open borders.
"So having open borders allows us to travel more through the world and find out more of what's out there in the world."
Tovar, who was asked about violence in today's society, didn't have an explanation for the trend but said through a translator that respect and inclusiveness would help educate children against violence in the future.
Suansane stayed loyal by naming the king of Thailand — not sure which one — as the current or former world leader she most admired, and hometown contestant Medina declared that the most significant change she'd seen in the world in the last decade was the coming together of so many people for the Miss Universe pageant. We're guessing that's not exactly what she meant.
Highlights from the 2017 SAG Awards show »
When it came time to announce the winner, there was a lighthearted acknowledgment of the awful gaffe Harvey made in 2015. He announced that year the wrong contestant as Miss Universe, 2015 leaving winner Miss Philippines Pia Wurtzbach briefly thinking she was first runner-up to Miss Colombia Ariadna Gutiérrez. (This year, both of those countries were once again represented in the final six contestants.)
As Harvey went to open the envelope this time around, Wurtzbach tapped him lightly on the shoulder and handed him his reading glasses.
"Thank you. Thank you so much, Pia," he said with exaggerated gratitude. "A year late, but thank you. Thank you, God."
Miss Universe is now owned by WME/IMG, which bought it from then-presidential candidate Donald Trump in 2015. Trump, who co-owned the organization with NBCUniversal since 2002, owned it outright for three days prior to flipping it to the talent agency. He bought out his former partner to end a dispute that began after he made disparaging comments about Mexican immigrants during his presidential run.
The pageant, which had aired on NBC for years, was broadcast Sunday night on Fox.
ALSO
'This is not a joke': Samantha Bee to host 'Not the White House Correspondents' Dinner'
Actress Mischa Barton hospitalized after 'talking incoherently' and wandering around a WeHo neighborhood
Celebration of women filmmakers triggers heated debate among Salma Hayek, Jessica Williams and Shirley MacLaine
Get our L.A. Goes Out newsletter, with the week's best events, to help you explore and experience our city.
You may occasionally receive promotional content from the Los Angeles Times.