Q&A: 'Guardians of the Galaxy's' Chris Pratt on the perils of improving on a $200-million movie
The 2014 superhero blockbuster "Guardians of the Galaxy" did a lot more than prove that Marvel could gamble big bucks on a feature film starring a tree and a raccoon. The colorful space oddity resurrected the feel-good vibes of earlier action comedy adventures in part thanks to lead scoundrel Chris Pratt.
The former "Parks and Recreation" TV star went from lovable schlub to dashing rogue as Peter Quill, a.k.a. Star-Lord. But more than his character, it was Pratt that audiences fell for. Charmed by his openness — Snapchatting from a fishing boat or poking fun at his restricted, low-calorie diet — the public has embraced the actor. And so has the movie industry. He is closely tied to two of the biggest movie franchises in Hollywood: "Jurassic Park" and the films of the Marvel Cinematic Universe. He isn't the next big thing, he's already there.
That status was cemented in April when Pratt was honored with his own star on the Hollywood Walk of Fame, just a block away from where he used to live when he first landed in Los Angeles almost two decades ago.
Pratt accepted his star with his characteristic candor. Fluctuating between sincerity and hilarity, tears welled in his eyes as he called himself unworthy of such an honor, then pivoted to thanking "Guardians" director James Gunn for casting him in the role that, "changed my life, my wife's life, the lives of children in hospitals, the lives of my real estate agent…"
We sat down with the Pratt to chat about the status of his space pirate as we pick up his Star Lord adventures in "Guardians of the Galaxy Vol. 2" and find out what's next for Pratt now that he's officially a star.
---
Kurt Russell joined the cast for "Vol. 2" as your character's long-lost father, Ego. What was it like adding him to the mix?
It's hard to express how much of the man he is. Yeah, he was a baseball player, he was in "Tombstone," he's a pilot, he's an outdoorsman, he was in "Big Trouble in Little China." He's an icon. And icons of that era mean as much to me as they do to Peter Quill. I think it's part of the reason Peter Quill is who he is, because he and I are the same age and we were formed by what we learned by watching our great heroes in film and television. And he is one of mine.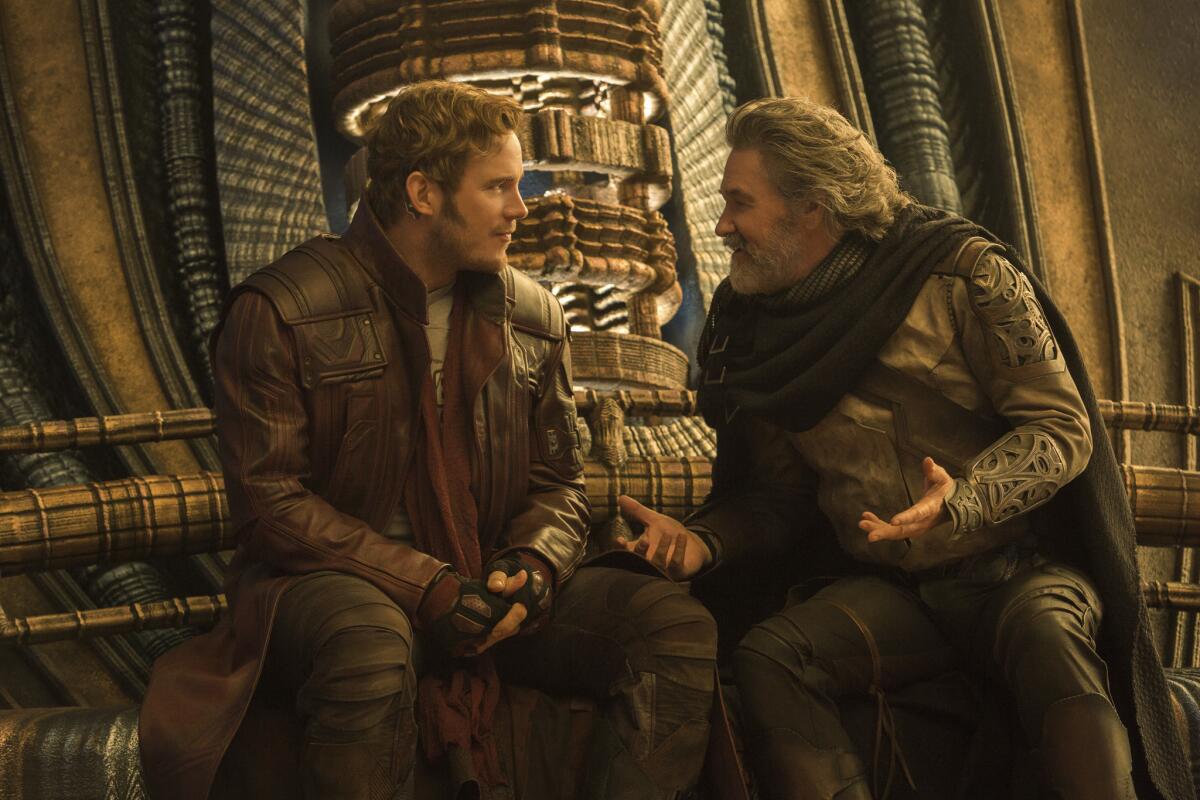 When the first "Guardians" came out, the tone and feel was compared to "Big Trouble in Little China" — that era of weird 1980s action movies. Then when they cast Kurt Russell, it felt perfect. Were you aware of the influence?
I've heard that. And I can see why it's a brilliant piece of casting. I think it makes sense. I think "Guardians" probably lifts a lot of stuff out of that, out of that movie and movies like that. The color, the irreverence, it's really similar. It pays homage to that kind of a movie.
The movie's comedy style feels so light on its feet. I know it's scripted, but were you allowed to improv on this set again?
Absolutely. When I'm improvising usually it's because I'm tailoring the role to fit me on the fly, but I have to do that less and less the more I work with James [Gunn]. Because he does it for me.
He knows how to write this in a way that's how I would have improvised it. There are certain jokes that made it in, that were the result of us collaborating in the moment and playing off of one another and quote-unquote improvising. But the problem with trying to improv in a $200-million movie is, if you're on a beautiful, sweeping crane shot over some vast piece that's going to be animated down, and you blow it because you throw a line out that it doesn't work, you might cost production $100,000.
On the set of the first "Guardians" you mentioned you were hesitant to ad-lib in the big prison riot sequence for that very reason, blowing an expensive crane shot. Are you more comfortable experimenting now?
First of all, that big long shot didn't make it into the first movie. They edited the … out of it. Turns out a big, dense movie like ["Guardians"] that's over two hours long, they're trimming every piece of fat they can. That's probably part of it, but also I think there's a newfound comfort level that we all have. I think you can see it in the movie, I think we just feel comfortable in our skin. We know these characters now.
We all benefit from not only just having shot the first movie but, having seen the byproduct of them, editing the first movie. A lot of what we were doing in the first movie was just throwing stuff against the wall to see if it would stick. The first film was really created in the edit, and in the post-production process. We had a million versions of that first movie, and it was the result of testing it. A few weeks of reshoots, and they definitely polished that first movie to make it what it was. When I saw that movie I was like, "Oh, that's the stuff. That's what's working." It was probably a big secret; we should probably all walk around and pretend it's totally intentional, but, you know, it's trial and error.
Peter Quill was a child that was taken from his home, and as an adult he's little stunted. Will we see him grow up a little in "Vol 2"?
He does a lot of growing up. He was stunted emotionally. He was ripped away from his home as a young child and still is that 9-, 10-year-old kid in many ways. And through the course of this movie ... we really see him grow up.
We've always said we don't want to repeat lessons. If a character in this franchise learns a lesson, they've learned a lesson. We're not going to give the audience another version of them learning the same lesson. So, in the first movie he became the captain, or the leader, of the "Guardians of the Galaxy." He cared about these people. He even tells John C. Reilly's character, "I can take care of them… I can do this." That's where we wanted to start. He's in charge, he's not going to go backward.
What did you think when you found out about your Hollywood Walk of Fame star?
I still haven't really been able to put it into words. It's been more trippy for the people in my life, like my brother, my sister, my mom, my wife. … Maybe it just hasn't sunk in [for me]. They go, "Dude, you're getting a star!" I say, "Yeah, I know." It's one of those things, I don't know. It feels good, I'm grateful. I go immediately into diplomat mode, "Well, there are tons of people I have to thank …"
Honestly, I don't know how to respond to it. I don't really have words for it yet.
What's your passion project? What do you really want to do next?
I'd love to catch the world-record largemouth bass.
Is Bass Pro just sending you free stuff all the time now?
They're send me all kinds of stuff; I do get a lot of fishing stuff. I say that, but I'd probably fish for like two weeks straight and think, "Dude, I need to go back to acting."
I'm pretty passionate about "Cowboy Ninja Viking," which is a project that's been in development for a while. We're moving forward with it, slowly, surely. It's a project that I think about every day.
What'd you think about it yesterday?
I was doing hot yoga yesterday … that's the douchiest thing anyone's ever told you. I thought about an important moment in the first act that needs to happen.
I thought about how that affects the relationship with a character called Nix, and how that one moment kind of changes their entire dynamic and their entire relationship,
You're doing a deep character study while working out?
Specifically that type of exercise, yoga, when I'm in some kind of crazy position and I'm being ripped apart. There's a whole training sequence that this character has to go through, where you feel like he's going to be broken down and built back up. And when I'm doing it, it's like there's a creative channel that opens up, and I have to immediately go and write stuff down.
Kurt Russell, 'the most famous cult actor in the world,' plays, well, a planet in 'Guardians' sequel
'Thor: Ragnarok' director Taika Waititi reveals his comic cameo: an 8-foot-tall warrior named Korg
James Gunn will write and direct 'Guardians of the Galaxy Vol. 3'
Star-Lord finally meets his dad in new 'Guardians of the Galaxy Vol. 2' trailer
Get our L.A. Goes Out newsletter, with the week's best events, to help you explore and experience our city.
You may occasionally receive promotional content from the Los Angeles Times.