Exclusive first look: Wilson Fisk is ready for vengeance in new 'Daredevil' Season 3 teaser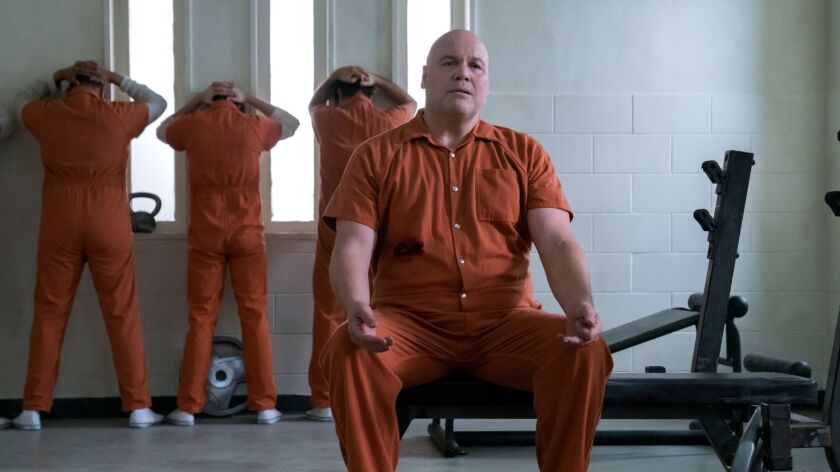 Wilson Fisk is back, and he has a message for Daredevil: Bring it.
In Netflix's new teaser for "Marvel's Daredevil," released Friday, the rage of Fisk, played by Vincent D'Onofrio, is on full display as he recalls how he ended up in prison and who is responsible.
"Love blinded me," he says while an image of him in handcuffs flashes by in the clip. "My love for this city. My love for her."
The "her" is Vanessa Mariana, the woman Fisk wooed over the course of "Davedevil's" first season. As Fisk was being arrested at the end of Season 1 — thanks to the work of Matt Murdock, a.k.a. Daredevil — the couple became engaged.
Fisk spent the show's second season behind bars, but that didn't keep him from pulling some strings to stir up some trouble. Season 3 will see Fisk out of prison, using his newfound freedom to upgrade his wardrobe and seek revenge against the devil of Hell's Kitchen.
What's his beef? As Fisk says in the teaser, "The devil took my throne, my freedom and everything that mattered. But my eyes are opened now, and he'll never see me coming. So go ahead. Let the devil out."
"Daredevil" Season 3 will premiere on Netflix on Oct. 19. Watch the teaser below.
Twitter: @tracycbrown
---
Your essential guide to the arts in L.A.
Get Carolina A. Miranda's weekly newsletter for what's happening, plus openings, critics' picks and more.
You may occasionally receive promotional content from the Los Angeles Times.