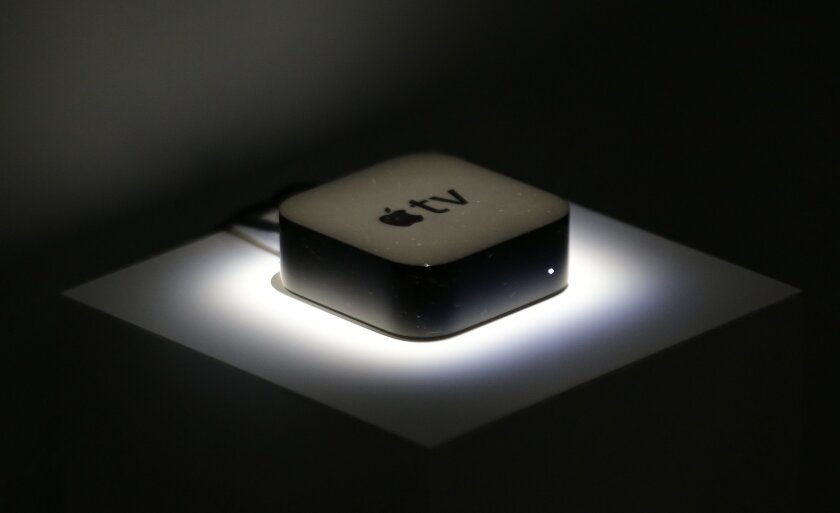 Apple on Wednesday introduced an update to its Apple TV platform that places an increased emphasis on games. And all of it looked a tad familiar to those who have spent some time with a Nintendo Wii.
The new Apple TV remote will double as a game controller and boast motion controls. The emphasis is not on buttons, but instead will focus on a glass touch surface.
Like the Wii, the new Apple TV imagines a gaming future in which accessibility is paramount, doing away with a convoluted 12-plus controllers that have become the norm. With gaming a central tenant of Apple's App Store, many have long-awaited for Apple to take greater steps into the gaming sphere with its iOS-devices.
SIGN UP for the free Indie Focus movies newsletter >>
Wednesday's announcements mark the most advanced push yet for Apple to move its App Store into the living room. Starting at $149 for 32 gigs of storage -- a 64-gig version will cost $199 -- the question for Apple TV is now whether or not it can challenge its more expensive console competitors from Sony, Microsoft and Nintendo.
Here's the answer: It doesn't have to.
The reworked Apple TV, due this October, just may have the potential to do for gaming what the Wii and the iPhone did before it: expand the playing audience.
Apple didn't do much Wednesday to wow the hard-core gaming group, emphasizing instead family-friendly fare such as "Guitar Hero Live," "Disney Infinity" or a multiplayer rendition of mobile hit "Crossy Road." That's fine, as most big-budget console games are highly complex endeavors that cater to dedicated console players.
But what Apple did show off was ease of use. That's key, because as movies and television have become more accessible via on-demand apps, games have, with few exceptions, become more difficult to access. They require pricey home consoles or top-of-the-line computers, not to mention regular software updates.
There's a high barrier to entry, even when it comes to sampling some of the best of independent game movement. Too often I've recommended a game, such as the war drama "Sunset," only to hear from readers that it's not playable on their old-but-still-running systems. Just as consumers don't have to buy new televisions to sample new movies, they shouldn't have to drop $400 to try out a new game.
That says nothing of the controller. Today, young players are weaned not on multi-button Xbox One or PlayStation 4 controllers, but touch-enabled devices such as the iPhone, iPad or, to a lesser extent, Nintendo's family-centric Wii U console. Apple TV then provides a seamless jump to the television screen for many modern games, and a game such as "Crossy Road" can use an iPhone or iPad as a second and third controller.
That's an added bonus as it means there are no pricey peripherals needed. Another nice touch: The fact that at least certain, if not all games, will allow for progress to be synced across the iPhone, iPad or Apple TV.
There's other potential in Apple TV. Many indie titles, whether it's the immigration puzzler "Papers, Please" or the sci-fi action mystery game "Transistor," have made their way to iOS. "Transistor" was even flashed on screen Wednesday at Apple's event to indicate it will be tvOS-compatible.
For games to truly become a cultural norm -- I have zero friends or family members, for instance, who own a next-gen console -- games need to be as readily available as a movie on Netflix or a TV show on Hulu. And then they need to be playable with a click of a button -- or a swipe of the hand.
However, Apple TV likely won't be the perfect gaming machine. For one, games and apps are still subject to Apple's archaic rules.
"We view Apps different than books or songs, which we do not curate," reads the company's guidelines. "If you want to criticize a religion, write a book. If you want to describe sex, write a book or a song, or create a medical App. It can get complicated, but we have decided to not allow certain kinds of content in the App Store."
Games today talk about everything, whether that's sexual harassment, sex or even complex political and social issues. It'd be preferable, as a content gatekeeper, if Apple viewed games as art rather than a product that's not yet on par with books or songs.
And again, what was shown Wednesday is a little familiar-looking. The demo of Harmonix's "Beat Sports," a rhythmic action game based on motion controls, looked a bit like Nintendo's Wii Sports with more colorfully cartoonish music and characters. It may indeed be a blast, but can it sell a device? Thankfully, if it's priced as cheap as most apps, it doesn't need to.
There are loads of questions too. How well will games make the transition from iOS to tvOS? How much of our already-purchased game libraries on the iPhone or iPad will be playable on tvOS? The swipe controls of the remote looked fun for "Crossy Road," but what about more intense or action heavy games? Will the iPhone or iPad ultimately be the controller of choice?
Not to mention that sometime in the near future Nintendo is going to announce its follow-up to the Wii U, a system tentatively dubbed the NX. When it comes to accessible gaming, Nintendo shouldn't be counted out.
Also, Apple TV overall is still a tad pricey, as anyone who intends to use it for games will need the $199 edition for more robust storage.
But consumers trust that Apple products will work, and if the Apple TV works for games it's a major step in the right direction.
Ultimately, there's opportunity for Apple. Today, console gamers cater to console gamers, but Apple TV imagines a future when shopping, sports, television and gaming apps comfortably nest side by side outside of a dedicated games ecosystem.
So no, the Apple TV isn't targeting the most series gamers. After all, they're already spoken for, but they shouldn't get to have all the fun.
MORE:
Happy 30th, 'Super Mario Bros.,' and thanks for the lessons big and small
All puzzles and no action, 'Lara Croft Go' is a simplified, thoughtful take on 'Tomb Raider'
Cinematic 'Until Dawn' sets its sights higher than typical horror fare
---