See Kongs battle in this exclusive 'Kong of Skull Island' preview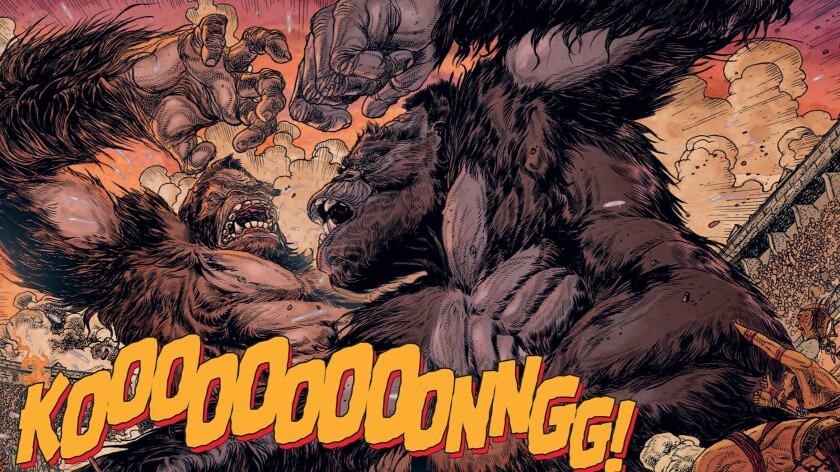 King Kong is back! This time in a comic book miniseries that will explore the origins of the giant ape, Skull Island and the indigenous civilizations that came to inhabit said monster-infested fantasy land.
Hero Complex has the exclusive first look at the pages that kick off "Kong of Skull Island" from Boom! Studios. The first issue of the miniseries, written by James Asmus with art by Carlos Magno, is out Wednesday.
"Our tale digs in and explores the origins of Skull Island's dynamic captured in Merian Cooper's original tale," explained Asmus. "So we've got savage dinosaurs, resourceful natives, their massive wall, and -- of course -- Kong. Or, in our case -- about 18 of them!"
See the most-read stories in Entertainment this hour »
Asmus, who said he couldn't remember a time when he didn't know King Kong and spent weekends watching the original 1933 film as a kid, shared that he was particularly interested in telling a story that focused on the people that would become the inhabitants of Skull Island.
"Instead of another colonial story about some white men's perspective on the island, I was interested to dig into the culture of the natives, give them more complexity," said Asmus. "I wanted a Kong story that let the natives be the human focus of the story in a way that accentuates timeless and universal human anxieties, tragedies, and aspirations -- rather than paint them as the 'other' or dismiss them."
"I mean -- you know they engineered a massive gate and defenses against an island of super-predators, right? There's a lot more to these people than has been explored in most Kong stories," Asmus said.
The story of "Kong of Skull Island" (no relation to the upcoming film Warner Bros. film, "Kong: Skull Island") is rooted in King Kong creator Merian C. Cooper's original mythology that was expanded upon by writer and artist Joe DeVito, who created the authorized "King Kong" sequel and prequel illustrated novel "Kong: King of Skull Island."
"In their history, the natives weren't originally from Skull Island. There are references to them fleeing to it when their original home was destroyed," explained Asmus. "I was immediately struck with the heartbreak and horror of that experience — after losing everything you know and love, the place you think offers salvation turns out to be teeming with savage dinosaurs?"
"Plus, the expanded history carved out factions among the natives. And I'll admit, looking at how people of two opposing ideologies can either come together in times of crisis or suffer the consequences leapt out as a chillingly relevant theme to explore," said Asmus.
Check out the preview of "Kong of Skull Island" No. 1 below.
Twitter: @tracycbrown
---
Your essential guide to the arts in L.A.
Get Carolina A. Miranda's weekly newsletter for what's happening, plus openings, critics' picks and more.
You may occasionally receive promotional content from the Los Angeles Times.