'Star Wars' land won't be re-creating favorite fan scenes, but what does that mean for the cantina?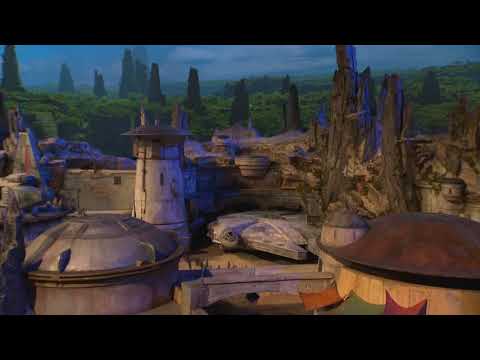 A model of the "Star Wars"-inspired lands in development at Disney's North American theme parks.
One entrance is flanked by a TIE fighter representing the evil First Order. The other entryway is dressed as a Resistance encampment with a lifesize X-wing. Beyond is lush greenery contrasting with desert-like domed structures.
This is the alien world of the "Star Wars"-inspired lands coming to Disney's North American theme parks in 2019. A 50-foot model unveiled at the all-things Disney D23 Expo in Anaheim Thursday night showed off a world that looks to be a diverse ecosystem of otherworldly cultures.
While two main attractions are planned, including one that will let guests pilot the famed Millennium Falcon, Disney Imagineers described the area as one that will essentially be large-scale immersive theater.
"A lot of theme park experiences, including our own, are great re-creations of stories — and places where stories happen," said Imagineering's Scott Trowbridge, the creative lead on the projects coming to Disneyland Park in Anaheim and Disney's Hollywood Studios in Orlando, Fla.
"It's a great way to revisit fan-favorite stories," Trowbridge continued. "That is not what we wanted to create with this land. We didn't want to remind you of a 'Star Wars' story somebody else had. We wanted to give a place to live your own 'Star Wars' story."
That means guests will be given choices to make as soon as they enter the 14-acre land, aligning themselves with either the good or the dark side — or maybe somewhere in the middle.
"We want to make sure when you come in the land there are places you can explore, that you can get lost," added Imagineer Chris Beatty. "If you want to be a bounty hunter and you want to go on a cool mission, we'll let you do that. There will be moments where we support that, where we let you play."
Trowbridge noted that the Millennium Falcon attraction, which will feature a lifesize re-creation of the ship and appears to be nestled in a corner closer to the First Order-themed area of the land, will be tailored to individual guest experiences. Everyone will be in character.
"If you're flying the Millennium Falcon on a mission and you bring that ship in all banged up, the boss man might not be too happy," Trowbridge said. "When you roll into the cantina later on, the bartender might lean over and say, 'Word on the street is that there's a bounty on your head.' Characters are not just on a stage. They're living with you."
But how will the characters know your history?
We didn't want to remind you of a 'Star Wars' story somebody else had. We wanted to give a place to live your own 'Star Wars' story.
— Imagineering's Scott Trowbridge
One theory: At Walt Disney World visitors wear so-called Magic Bands on their wrists, which are equipped with technology that allows guest information to be transmitted to Disney employees or the attractions. Disneyland, however, doesn't use such readers, and Trowbridge declined to say how the information will be relayed to staffers.
"We open in 2019, and we look at this project through the lens of technologies and capabilities that will be available in 2019," he said.
In addition to the Millennium Falcon ride, another attraction will pit guests in a battle between the First Order and the Resistance. Trowbridge hinted that this ride will be situated in the land's center.
Those who have been keeping tabs on Disneyland construction noticed earlier this year the arrival of steel structures in the shape of an AT-AT, the giant, four-legged vehicles first seen in "The Empire Strikes Back," and presumably they will be in this attraction.
Along with the model of the land, Disney at the D23 Expo revealed numerous props that will dot the land. On the floor of the Anaheim Convention Center, for instance, are an assortment of strange, pipe-like instruments that locals will play in the cantina.
The lands will represent something of a departure for Disney with their lived-in, war-torn look. At Disneyland, there will be three entrances into the area, with one gradually transitioning from the rock work of Frontierland to the jagged, mountainous terrain of the "Star Wars" land. On display was a turret, with imposing weaponry, signaling that this fantasy land is a little more dangerous than ones populated by singing pirates.
"'Star Wars' has a very iconic look to it," Trowbridge said. "It's not new. It's not pristine, especially when you get into the far reaches of the outer galaxy. It is a land of scarcity. It is a land of reuse, of recycling of things. This is a place of history. This is a place that has been here a long time and has layers and layers of design and layers and layers of story."
Though Disney hasn't yet revealed a name for the planet — more information on the land will be divulged at a discussion on Saturday afternoon — the company has stated it's a universe not yet seen in the films. It's been described in the past as a "remote village" that was "once a busy crossroads" and is "now home to those who prefer less attention."
"My hope is that when people see this, they realize that when we say we're going to really immerse you into this world and we're going to take you to a place that's fully authentic and of an epic scale, that's really what we're doing," Trowbridge said. "It's the biggest project we've ever done, the biggest land expansion we've ever done."
Follow me on Twitter: @toddmartens
ALSO
Pirates of the Caribbean anchors a Disneyland on the brink of great change
First look at Disney's new 'Star Wars' land
Can corporate Hollywood make peace with voice-minded directors? The fight continues with 'Star Wars'
This is your brain on Disneyland: A Disney addict's quest to discover why he loves the parks so much
Get our L.A. Goes Out newsletter, with the week's best events, to help you explore and experience our city.
You may occasionally receive promotional content from the Los Angeles Times.