'Star Wars: The Force Awakens': The tweets, the memes, the fan reactions
Now that 'Star Wars: The Force Awakens' has finally arrived in theaters, fans have so much more to discuss. We're collecting the tweets, the memes, the links and social media from all over the galaxy, even the International Space Station . Take a scroll through our findings.
A Conan O'Brien not-so-true Hollywood secret: Jerry's Famous Deli is where 'Star Wars' almost-famous rejects hang out
The movie was directed by the guy who directed 'Felicity'!
Bitter former Jabba the Hutt slave dancer Oola (Aisha Tyler)
Jango, loved you in that Quentin Tarantino film 'Jango Unemployed'!
Implant-aided Empire battle strategist turned Lando Calrissian ally turned wanna-be insult comic Lobot (Conan O'Brien) to a resentful Jango Fett (T.J. Miller)
Jealous bounty hunter Dengar (Andy Richter), referring to in-demand Chewbacca across the room with a hot girlfriend
Moviegoers excited to get tickets to an opening-night screening of "Star Wars: The Force Awakens" at the ArcLight Hollywood were more than a little disappointed when the projector abruptly stopped during the film.
As attendee Erik Melendez wrote on Facebook: "Everyone in the theater went crazy."
Melendez also posted a video he took inside the theater during the interruption. Mostly what you hear is a collective "Noooooo! Noooooo!"
It probably wasn't a good moment to be seen in one of ArcLight's famous collarless blue uniform shirts. But each customer did get a refund and a voucher for another screening.
The next day, KCBS-TV Channel 2 reporter Jeff Nguyen talked with some of the audience members who returned to see the movie. Click through for his report and a look at the "Noooooo!" video.
Grossing an estimated $238 million in the United States and Canada, Disney's "Star Wars: The Force Awakens" now holds the record for the largest opening weekend of a film ever.
Ahead of the weekend, those familiar with audience tracking surveys predicted an opening weekend of $180 million to $220 million. But by Friday afternoon, those projections began to look increasingly conservative.
Playing in more than 4,000 theaters domestically, "Star Wars" began its massive run with a record-breaking $57 million in ticket sales for early Thursday night showings. That far exceeded the previous benchmark of $43.5 million set by "Harry Potter and the Deathly Hallows – Part 2" in July 2011. When Friday numbers were tallied, the official first-day total was an estimated $120.5 million. This gave the J.J. Abrams-directed picture the highest single-day profits on record and it became the first film to break the $100-million mark in a single day.
The numbers for "The Force Awakens" are also unprecedented for a film premiering in December. The record holder for the biggest opening during the month was "The Hobbit: An Unexpected Journey," which took in $85 million in domestic receipts in 2012.
Audiences gave the new release an A grade, and an A-plus among women and younger audiences, according to polling firm CinemaScore. It also earned a 95% positive rating from critic site Rotten Tomatoes.
Audiences set a number of records for advance ticket sales on sites such as Fandango. The movie racked up more than $100 million in pre-sales by its Thursday night opening. Additionally, when Disney debuted the final theatrical trailer during a "Monday Night Football" game on ESPN that coincided with the tickets going on sale online, the trailer was viewed 128 million times in 24 hours.
Hillary Clinton ended her closing statement at Saturday night's Democratic debate with a line designed to make an impact with "Star Wars" fans: "Thank you, goodnight and may the Force be with you."
So did she actually have time to watch "The Force Awakens" between debate-prep sessions?
"I don't think so," Clinton's campaign manager, Robby Mook, said when asked if Clinton had seen the movie, according to Los Angeles Times Washington Bureau Chief David Lauter.
Even so, she knows the value of wooing the "Star Wars" vote. On Thursday, her campaign website published a GIF-packed post called "2015 in Republican politics, as explained by 'Star Wars.'" It begins with C-3PO saying, "We're doomed."
More than 10,000 of the 43,000 screens in the U.S. and Canada will show the newest "Star Wars" movie throughout the weekend, making it among the highest number of auditoriums ever dedicated to a single film. And multiplexes have added additional screenings — some starting as early as 2 a.m. — to accommodate the demand.
Phoenix Theatres, a Knoxville, Tenn., chain, set aside half of its 83 screens for "Star Wars: The Force Awakens." That's well above previous blockbusters such as the "Avengers" or "Lord of the Rings" movies, which occupied 30% of available screens at the chain, which operates in Florida, Virginia, Pennsylvania and several other states.
"I can't remember ever doing that," said Chief Executive Phil Zacheretti. "In my 40 years in the business, I've never seen anticipation for a movie like this…. This is going to help get some people back to the theaters who haven't been for a while."
For a toy maker, it doesn't get any cooler than this.
John Blaney, Jakks executive vice president
With "Force Awakens" . . . apparel has been rolled out specifically designed to appeal to women and girls, including quirky pumps with heels shaped like lightsabers or Yodas....
"Star Wars" appeals to a fan base that spans young and old. "It's not your typical demographic in terms of product, which has a six- to seven-year span," said Jim Silver, editor in chief of toy review site TTPM. "You have a collector base that has a lot more discretionary income. If they have to have it, they have to have it," no matter the price.
About 31% of shoppers who planned to buy "Star Wars" products as gifts for the holiday season intended it for someone 6 to 10 years old, according to a survey conducted by Fluent Inc., a brand marketing and advertising technology firm. But many adults will also find "Star Wars"-related presents under the Christmas tree — 28.1% of shoppers said they were buying merchandise for someone 21 and older. . . .
Jakks Pacific is also anticipating sales of its 18- to 48-inch large-scale action figures, known in the toy industry as "big figs."
Who shot first? Watch Ariana Grande settle the Greedo controversy once and for all
The long-awaited seventh film in the space saga — "Star Wars: The Force Awakens" — collected a record-smashing $57 million in ticket sales Thursday night in the United States and Canada.
That tops the previous record holder, "Harry Potter and the Deathly Hallows — Part 2," which grossed $43.5 million from Thursday shows in July 2011.
Box office analysts went into the weekend expecting the new "Star Wars" from director J.J. Abrams to gross $180 million to $220 million through Sunday in its domestic opening weekend
'Star Wars' night 2: The line continues
The Times' Lauren Raab reports that at the TCL Chinese Theatre in Hollywood, the line of ticket holders waiting for the 7 p.m. screening of "Star Wars: The Force Awakens" stretched down the block, even though seats are already assigned.
As long as R2-D2 makes sure those Stormtroopers don't take over the White House...
Even the leader of the free world has 'Star Wars' fever
When 'Star Wars' interferes with work . . .
No matter where your political allegiances lie, it's a good bet that you think the Force is with your side. And that's not just an American inclination. Times TV critic Robert Lloyd tweeted out a link to a video of French politicians debating the matter. And click the "Read More" link below for a video of a BBC-hosted discussion in which The New Statesman's Stephen Bush breaks down "Star Wars" politics: "The Ewoks...are your basic proletariat who rise up against what is clearly a kind of quasi-fascistic Empire."
One place in the galaxy without a 'Star Wars' line
Colleen Crosby, 48, saw the very first "Star Wars" movie at the Chinese Theatre in 1977.
And on Thursday, she grabbed her lightsaber and homemade Jedi costume and rushed to the same spot for opening night of "Star Wars: The Force Awakens" -- the first film from the blockbuster series in a decade.
"I can't wait," said the Los Angeles resident, who expressed excitement about Carrie Fisher reprising the role of Princess (now Gen.) Leia. "I've been a fan since I was 9."
Multitudes of fans filed into movie theaters Thursday night with lofty expectations for the seventh film in the George Lucas-created franchise, buoyed by overwhelmingly positive reviews.
Perhaps more astronomical are the box-office expectations for the new movie, directed by J.J. Abrams.
It's projected to gross between $180 million and $220 million through Sunday in the U.S. and Canada alone, according to pre-release tracking, putting the record for highest domestic opening in sight.
Thursday night box-office estimates are expected to be released at 8:30 a.m. Friday. It could take in $50 million or more just from the pre-shows, which would be a record-breaking result topping "Harry Potter and the Deathly Hallows -- Part 2."
These are the tweets Times reporter Randy Lewis sent out after 32 hours experiencing what became known on Twitter as the #SWMarathon or, as we like to call it, #RandyAwakens. Read tweets from the beginning, middle and end of his adventure here . . .
L.A. Times photographer Jay Clendenin is capturing all the action around Hollywood on this opening night of "Star Wars: The Force Awakens." Click through to check out more . . .
L.A. Times music reporter Randy Lewis started his 21-hour "Star Wars" odyssey Wednesday night when he arrived at an AMC theater in an undisclosed Southern California location to watch every single "Star Wars" movie in order. At the moment, he is watching "Star Wars: The Force Awakens." While we wait for his verdict, here are a few of his #RandyAwakens tweets.
First in line: 'This is my Christmas'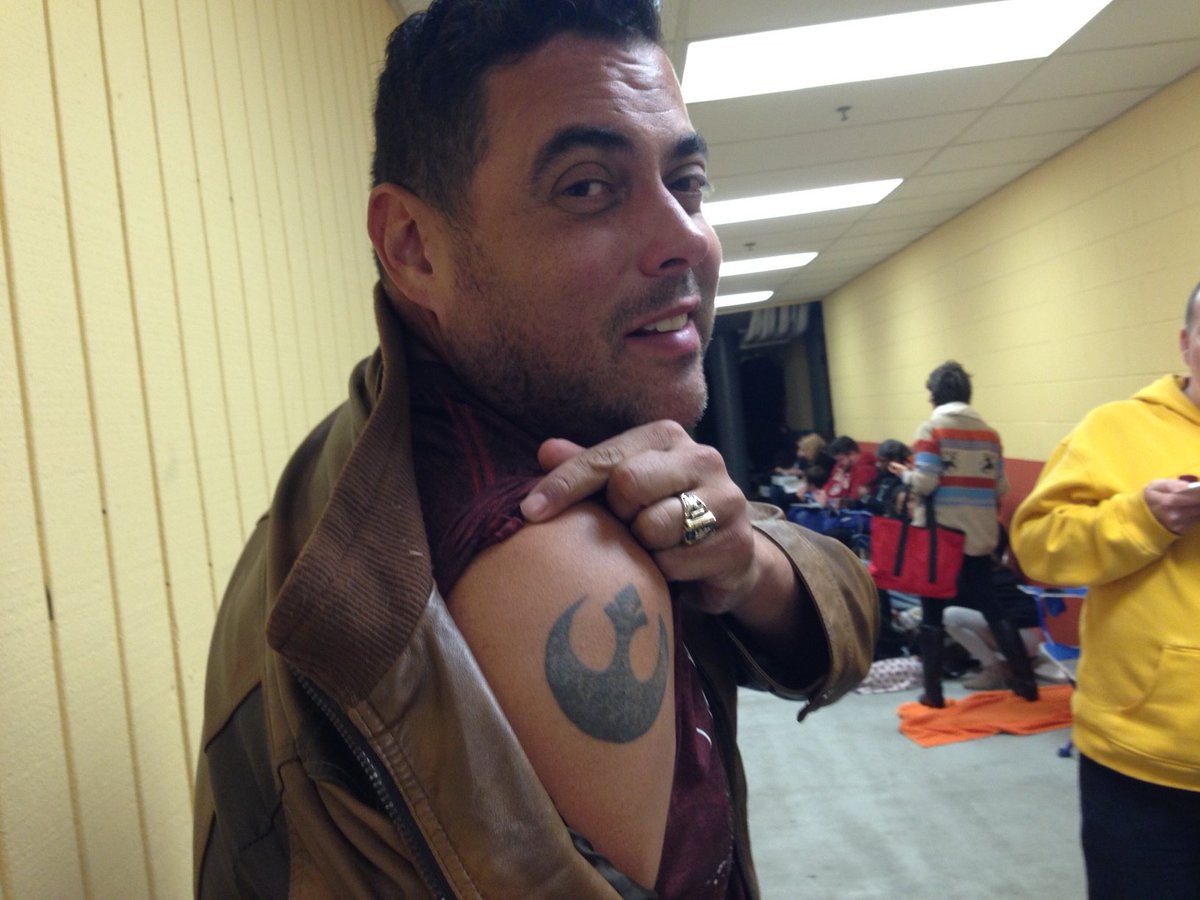 Danny Kemp, 42, was the first in line at the AMC Marina Pacifica 12 in Long Beach. The dog trainer, who regularly gets up at 5 a.m., said he had nightmares for months that he would oversleep.
"This is what I've been dreaming of and been waiting for all my life," said Kemp, who called repeatedly on the day tickets went on sale, ultimately snagging 17. "This is my Christmas. I haven't been this excited since 'Phantom Menace' came out."
It was 43 degrees when Kemp started camping out in line.
"That was nothing for Star Wars," he said.
The Long Beach resident said he planned to see the movie every week going forward for a possibly unlimited time.
His husband, Cory Kemp, who said he knew from the start of the relationship he was getting involved with a "Star Wars" fanatic, said of the series: "I enjoy it."
He looked a bit relieved when Danny said he is not expected to go to all the showings.
Their friend Mark Ortega, 46, of Scottsdale, Ariz., started driving to Long Beach at 4:30 AM to make the first show. Ortega was dressed in full Jedi regalia purchased during a May 4 sale, in anticipation of the new movie.
"I wasn't going to miss it," he said.
Kemp added, "We've got 17 of our best friends and family here!"
Some 30 members of the 501st Legion, a group that dresses up as Stormtroopers and other characters from the "dark side," were in full effect outside Baltimore's historic Senator Theatre. It rained all day, but theater co-owner Kathleen Cusack Lyon noted that the weather broke about 4 p.m., just as the costumed characters got ready to head outside to entertain fans.
She said she overheard one of the costumed Stormtroopers say to one of the people in line, "You see, when the Empire comes outside, the rain stops."
---
Get our daily Entertainment newsletter
Get the day's top stories on Hollywood, film, television, music, arts, culture and more.
You may occasionally receive promotional content from the Los Angeles Times.