17 Images
Sept. 11 - Five Years Later
President Bush and first lady Laura Bush participate in a wreath laying ceremony commemorating the fifth anniversary of the attacks of Sept. 11, 2001 in Shanksville, Pa.
(AP)
James Harris from the Bronx stands near ground zero and listens to victims' names being read over a loud speaker during the anniversary ceremony.
(AFP / Getty Images)
Friends and relatives of the victims of the Sept. 11, 2001 attacks gather during the playing of the national anthem at ground zero.
(AP)
President Bush and the First Lady during a moment of silence at a ceremony with New York City First Responders outside the Fort Pitt Firehouse in New York City.
(AFP / Getty Images)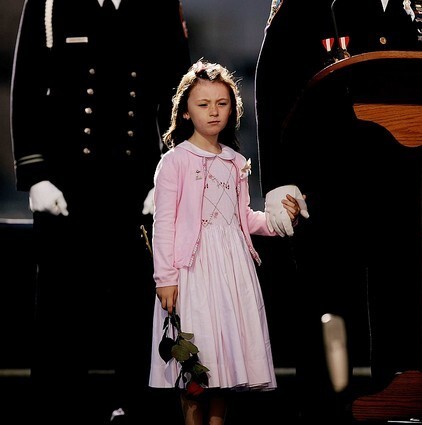 Patricia Smith, the daughter of police officer Moira Smith who was killed on Sept. 11, 2001, holds the hand of her father, James Smith, on stage during the reading of victims' names at ground zero.
(AP)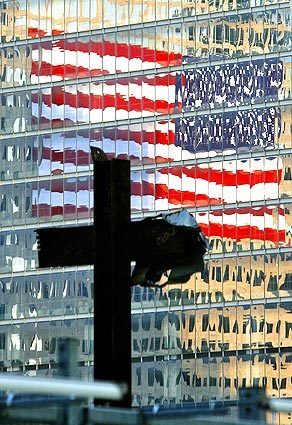 An American flag is reflected in windows near ground zero. In a recent poll, more than 40% of respondents said the terrorist attacks had not changed their personal lives at all.
(Dima Gavrysh / AP)
Lori Reisman, husband Evan and son Nick of Valley Stream, N.Y., search for the name of friend Bobby Caufield on a memorial flag hung outside ground zero. The electrician was working at the towers on Sept. 11.
(Tina Fineberg / AP)
Donna Dlugo of Connecticut is overcome with emotion Sunday as she sits at St. Paul's Chapel, across the street from ground zero. She has been a volunteer there since 9/11.
(Carolyn Cole / LAT)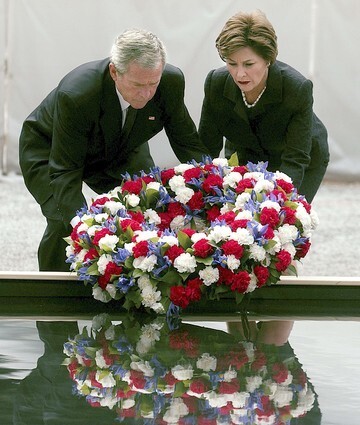 President Bush and First Lady Laura Bush place a wreath in a reflecting pool at ground zero in New York.
(Getty Images)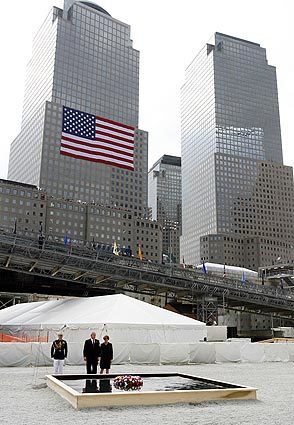 A military escort, left, stands at attention as President Bush and first lady Laura Bush observe a moment of silence.
(SETH WENIG / AP)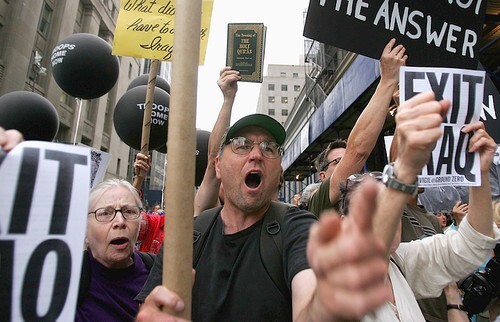 Protesters chant antiwar slogans during the president's visit. Bush said today would be "a day of sadness for a lot of people," but "also a day of renewing resolve." He will address the nation today from the Oval Office at 6 p.m. PDT
(Chris McGrath / Getty Images)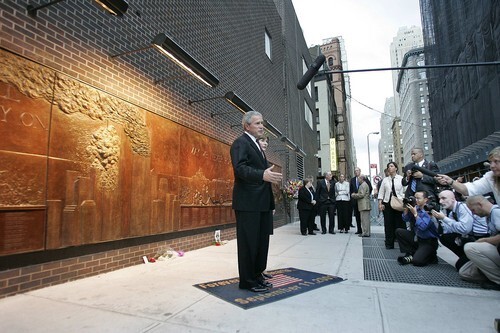 President Bush, with First Lady Laura Bush, speaks in front of a bronze bas-relief depicting firefighters on Sept. 11, 2001.
(Gerald Herbert / AP)
Dan Hatlestad of Colorado wipes away a tear as he and family members Lesia and Erik grieve Sunday at the Flight 93 memorial in Shanksville, Pa. The pilot was their neighbor.
(Jeff Swensen / Getty Images)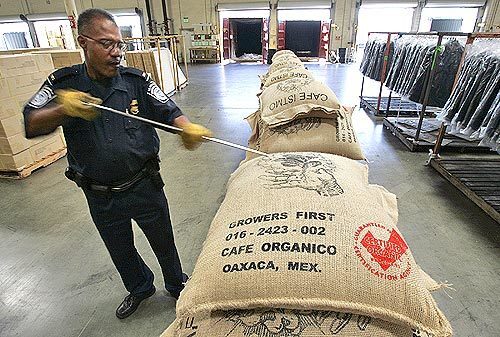 Customs Officer Anthony Parker probes a sack of coffee beans at the port complex's examination station.
(Don Bartletti / LAT)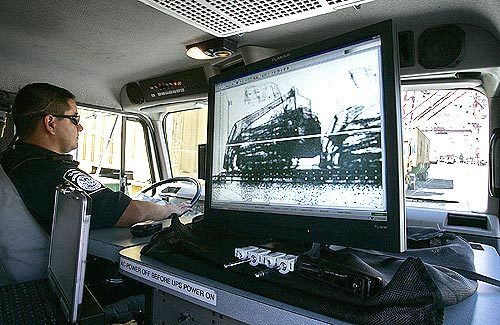 A customs officer drives a mobile gamma ray scanner past containers at the Port of Long Beach, revealing their cargo.
(Don Bartletti / LAT)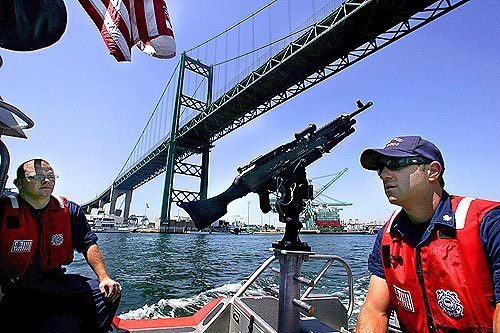 A Coast Guard security team passes under the Vincent Thomas Bridge. Each month, teams board and search 50 to 60 cargo ships headed for the Los Angeles-Long Beach port complex. Those that refuse to provide required information are turned away.
(Richard Hartog / LAT)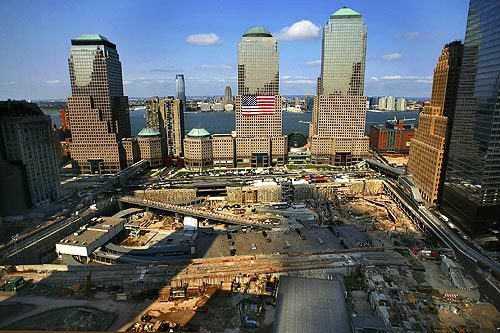 Five years after the attack of September 11th, ground zero is still under reconstruction. Preparations are underway for the anniversary ceremony to be held Monday morning.
(Carolyn Cole / LAT)