Calendar Letters: Readers offer more LA Phil memories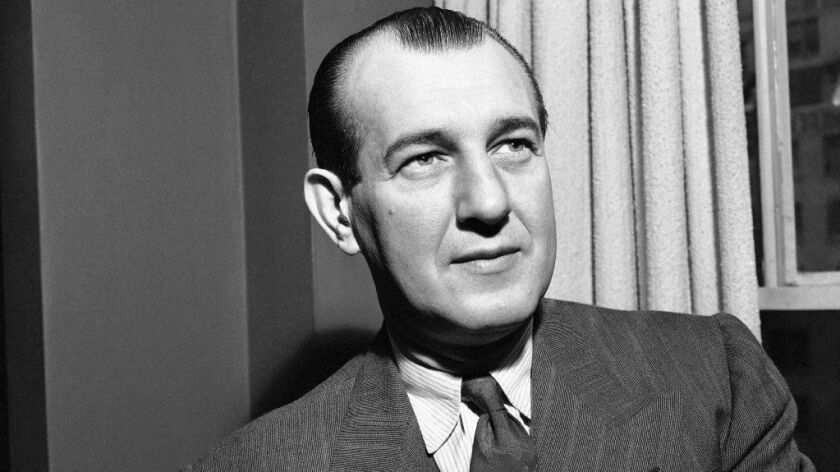 I thoroughly enjoyed Mark Swed's article on the history of the Los Angeles Philharmonic ["LA Phil at 100: A Musical Journey — The Climb of the Century," Sept. 23] and could hardly wait to see what he wrote about [conductor] Alfred Wallenstein. I thought he nailed it pretty well: "He was a tyrant. He lacked charisma on the podium."
My memories of singing my first opera role under his baton are even more colorful. He conducted "The Magic Flute" at USC's Bovard Auditorium with many of the Philharmonic musicians playing. Besides my feeling of general terror, I remember he used language that would make a longshoreman blush, and his wife stood quietly by with dry shirts for him to slip into when he sweat out the one he was wearing.
Kathleen M. DeSpain (nee: Kathleen M. O'Neil)
San Diego
Missing from the story of the LA Phil's 100-year ascent is mention of a group of remarkable volunteer leaders — particularly those who led the board after the split from the Music Center Unified Fund. As vice president of development from 1992-2007, I was lucky enough to witness and work closely with board leadership who daily displayed deep and tireless commitment to the organization and, in particular, to building and opening Walt Disney Concert Hall — setting in motion a business plan to support great artistry and everything since. Chief among these extraordinary civic leaders are: Bob Attiyeh, Royce Diener, Jerry Eberhardt, John Hotchkis, Bill Siart and Roger Zino. Frank Gehry is the architect of the Disney Concert Hall, and Ernest Fleischmann is the architect of the Phil's artistic and financial success and record of innovation — no doubt, no question.
Emily J. Laskin
Studio City
In his excellent and comprehensive history of the Los Angeles Philharmonic, Mark Swed refers to founder William Andrews Clark Jr. as "the black-sheep son of a Montana mining and railroad magnate." In fact, Clark was not only a music lover, as Swed notes, but also a rare-book collector whose acquisitions of Oscar Wilde are the richest this side of the Atlantic. His jewel of a library, which stands near where his mansion once stood in West Adams, is home to a splendid chamber music series, run by UCLA, and its 100-seat music room is one of the finest chamber venues in Los Angeles.
Despite surviving two wives, Clark's lover was his assistant, Harrison Post, whose face adorns all the male nudes painted on the library vestibule's ceiling. A photo of Post, acknowledging this relationship, has been recently added to the display cases. Clark may not have left money in his will to his LA Philharmonic, but he did leave Mr. Post a car, a house and other assets.
Norwood Paukert
Mt. Washington
'Murphy Brown' and 'Cagney'
Regarding "FYI, She's Baaaack" [Sept. 23]: As the co-creator of the 1980s series "Cagney & Lacey" and a huge fan of "Murphy Brown," I loved reading Mary McNamara's wonderful article on "Murphy," which also had a couple of mentions of "Cagney & Lacey."
I only have an issue with one sentence: "Murphy stood out. She was cranky, competitive, contentious and happily single, things women on TV were (and still are) rarely allowed to be."
I don't think Cagney would buy that for a second. She might assume McNamara was talking about her.
Barbara Corday
Beverly Hills
Murphy Brown triumphantly returns after two decades. Dan Quayle? Who is that again?
Mark Temple
Huntington Beach
Reconsidering Bert and Ernie
Regarding "The Bert, Ernie Debate" [Sept. 22]: I grew up clueless in the 1950s. I had no idea that homosexuality existed, and didn't learn until later in life. And it didn't matter. In the 1950s, guy buddies were common in entertainment. The cowboy Western stars had "sidekicks" who were comedic foils for the hero — Roy Rogers and Gabby Hayes, Cisco and Pancho, Gene Autry and Pat Buttram. Comedians came in couples, too — Laurel and Hardy, Abbott and Costello, Dean Martin and Jerry Lewis.
Were any of them closeted homosexuals? It didn't matter then. They were teams in which the whole was greater than the sum of their parts. What of Ernie and Bert? As John Scalzi argues in his article, it doesn't matter. If it does matter to anyone watching the Western or the comedy or "Sesame Street," then they've missed the point. The rest of us will enjoy the show.
Henry Hespenheide
Hermosa Beach
"Sesame Street" has been pretty progressive and in tune with the world, from allowing kids to know that being weird is okay, to having make-believe friends (I'm still sad they made Snuffy someone everyone could see), to handling death (Mr. Hooper), divorce and all the things kids feel but don't have the words for.
Does it matter if [Bert and Ernie] are gay? Yes, it does. There should be some queers on that show not for any reason but because they're normal. They've got an autistic Muppet these days, after all, which means they're very much aware that representation matters.
Mika Epstein
Fullerton
I love Bert and Ernie. I'm a 77-year-old grandmother who has been watching them for the past 40 years with my children and grandchildren.
It doesn't matter whether they are gay or not. Their image needs to remain as it is and has been of two friends that love and care for each other.
Elaine Franklin
Burbank
Should quote the full verse
Regarding "Hope Takes Bumpy Flight in 'Manifest'" [Sept. 24]: The King James version of Romans 8:28 reads as follows: "And we know that all things work together for good to them that love God, to them who are the called according to his purpose."
If the writers of "Manifest" abbreviated the verse as quoted in your review ("All things work together for good"), they've lost all credibility with me.
Possibly the remainder of the verse got lost during the mysterious flight?
Richard Nelson
Newport Beach
Moving with 'Actors Studio'
[No matter which] station airs "Inside the Actors Studio" ["'Actors Studio' on the Move," Sept. 24], I'm thankful for its continued existence. Film, television and theater are collaborative art forms, but actors are on the frontline in each medium. Let's say "Bravo!" and give an "Ovation" to the "Actors Studio" for its continued nurturing of our thespians.
Ben Miles
Huntington Beach
Good times at 'Lodge 49'
Thank you so much for highlighting "Lodge 49" ["Overrated/Underrated," Sept. 23]. I love the show, and Wyatt Russell's character is so kind, sweet and endearing, he's perfect in this part. The characters and stories are all worth spending time with. After a steady diet of "Ozark," "Get Shorty," "Sharp Objects," "Castle Rock" etc., etc., all well-written shows, I desperately needed a break from the tension, and "Lodge 49" was it. We need more of this.
Barb Parsons
Ojai
'KAMP' is a good reminder
As a Jew, and the son of immigrant parents, who were fortunate enough to escape Nazi Europe, I commend Charles McNulty for his review of "KAMP" ["Mini-Reminder of Hell", Sept. 22]. I am simply appalled and quite fed up with ridiculous modern-day references to "Neo-Nazism" and "concentration" camps.
To those who have the audacity, stupidity and ignorance to even remotely compare what has gone on today at our Southern border to the horrors of the Holocaust, I strongly suggest they attend a performance of this masterful enactment of the Nazi death camps.
From this, and/or other enlightening books, films, and/or documentaries they will, hopefully, stop throwing around these terms and references and trivializing what actually occurred then as compared to now.
Rick Solomon
Lake Balboa
High standards for the high court
Regarding ["Quick Takes: Stars Join Time's Up Walkout," Sept. 25]: My dad, Charles Loring, who back in the '70s served a couple of terms as presiding judge of the Los Angeles County Superior Court system, used to emphasize that it was imperative that judges avoid even the appearance of impropriety. Perhaps this is a standard that should apply to prospective Supreme Court justices as well.
Jon Loring
Agoura Hills
OK, but will go see it anyway
Though theater critic Charles McNulty convincingly panned "The Heart of Rock and Roll" ["Too Hip to be Square? Try the Other Way Around," Sept. 19], I still plan to see that Huey Lewis jukebox musical. If nothing else, I have to see whether a longtime Lewis fan like myself will react as McNulty predicted.
Devra Mindell
Santa Monica
The conversation continues online with comments and letters from readers at latimes.com/calendarfeedback
---
Inside the business of entertainment
The Wide Shot brings you news, analysis and insights on everything from streaming wars to production — and what it all means for the future.
You may occasionally receive promotional content from the Los Angeles Times.