If the most anticipated show of the fall revolves around a woman over 70, it has to be 'Murphy Brown'
Reporting from New York —
On the second Friday in September, after a thunderstorm had blown a week's worth of swampy heat from the streets of New York, Candice Bergen, Joe Regalbuto, Faith Ford and Grant Shaud taped the 251st episode of "Murphy Brown."
Or the fourth episode of the show's new iteration, which debuts on CBS on Sept. 27.
A century and a millennium have turned and 20 years have passed since television journalist Murphy Brown beat breast cancer in what everyone thought, after 10 full seasons, was the show's finale. Obviously, everyone is older, but while the new show will explore, and exploit, the notion of, er, veteran journalists returning to a profession changed by social media and the notions of "fake news," no one is any slower or that much different.
The original show actually began with a return — Murphy's to her perch as an A-list anchor for the news program "FYI" after a stint at Betty Ford. Changes had been made during her time away then as well; although Jim Dial (Charles Kimborough) still reminisced about the good old days of Edward Murrow, and Murphy's best friend, Frank (Regalbuto), complained about the network insisting he wear a toupee, there were two new kids in town: Corky Sherwood (Ford), the former beauty queen who had sat in for Murphy, and Miles Silverberg (Shaud), the dweeby wiz kid who was now the show's executive producer.
Murphy was not amused.
She is not amused now as the episode opens with the announcement that this is sexual-harassment seminar day for the staff of her new show and that it is mandatory. "And you can't spell mandatory without man, so have fun, you guys," she says.
RELATED: How do you dress a resurrected icon like Murphy Brown? Very carefully »
Watching Bergen pull that instantly familiar sideways smile as she nails a sardonic line to the wall, or Ford launch into one of Corky's breathless monologues, hearing Regalbuto say "Murph" or Shaud's still-bespectacled Miles stutter a twitchy response, it would not be surprising to learn that creator Diane English and the cast have spent the last two decades putting on the show in secret somewhere. Just for fun.
Nor has English lost her desire, or ability, to tango with the zeitgeist.
Episode 251/4 is called "#MurphyToo," and as the title and the character to whom it refers imply, the main story deals with sexual harassment and comeuppance.
Less than 48 hours later, allegations of sexual harassment will have driven Les Moonves from his long-held perch at CBS. Which, in just a few weeks, will be airing "#MurphyToo."
So yes, in a shameless and overused reference to the show's original premiere, she's baaaaccck. Murphy Brown, who 30 years ago launched herself out of rehab and into the cultural consciousness, whose endless line of secretaries included Sally Field and Bette Midler, who dared to have a child out of wedlock on then-Vice President Dan Quayle's watch, who loved Aretha Franklin and Motown so much that the expense of the music rights has helped keep the show out of syndication, is returning to prime time.
In the new series, Brown's controversial offspring is a full-grown man. "FYI" is kaput, and she is hosting the sunnier "Murphy in the Morning." She has traded pencil skirts for pants.
But, English says, "She's still kicking ass, and she refuses to be sidelined."
It isn't often that the most anticipated new show of the fall season revolves around a 70-year-old woman, but CBS is betting that what the world needs now is a little Murphy Brown.
Sarah Palin near miss
Talk of bringing the series back in some form or another began shortly after the 1998 finale and came to a fever pitch during the halcyon days of Sarah Palin on the campaign trail in 2008.
"You always thought about Murphy Brown when some especially striking or grotesque moment happened in the news," Bergen said in the green room on a set at Astoria Studios in Queens after a rehearsal where she was joined by English. "And I'd think, 'God, I wish we were doing the show. This would have been such fertile ground and people would always bring it up…"
"Even [MSNBC host] Lawrence O'Donnell would ask, 'What would Murphy Brown say?'" English added.
But though Palin's bumpy campaign was tempting, Bergen and English always demurred.
"Then we had an election," English said, "and 'Will & Grace' came back and they were very successful. Candice and I were a little hesitant — we had 10 years on the air and a legacy. When these other shows started coming back, people would say, 'Well, why isn't 'Murphy Brown' coming back?' So we finally decided it was time."
"And now I'm on 5,000 buses," Bergen said with that familiar semi-outraged syncopation, to which she quickly added, diplomatically: "They've done such an outstanding job, CBS. They've really supported the show."
When "Murphy Brown" debuted, CBS had a number of strong female leads, on shows like "Cagney & Lacey" and "Designing Women," but even among them, Murphy stood out. She was cranky, competitive, contentious and happily single, things women on TV were (and still are) rarely allowed to be. Neither was the show a typical workplace comedy — sitting presidents and other politicians were name-checked and skewered (and sometimes given cameos), and current events provided as much material as the standard personal foibles of the characters. It was said that on Monday nights, Washington, D.C., emptied out; everyone needed to get home to watch "Murphy Brown."
Appointment television is no longer in vogue, but political satire is, and Murphy's willingness to talk truth to power, while revealing her own occasional lapses, certainly fits the combative mood of the country.
And, more significantly for those involved, the new television landscape allowed English to get a 13-episode order, as opposed to the 22 to 27 the cast had shot each season for a solid decade.
"I was very surprised they said yes," English said, "but it was a requirement. People have lives. We couldn't deal with that schedule."
"We would be walking around toward the end stumbling and hollow-eyed," Bergen said. "I'd be standing outside crying, 'I can't learn my lines.'"
Like Murphy, English called in the old team. In addition to Bergen and the main cast — Kimbrough will also be reprising the role of Jim Dial — the 21st century "Murphy Brown" includes six of the original writers and the pilot's producer, all poised to enter a world both familiar and completely changed.
And some of them still can't believe this is happening.
"We hadn't really talked about it in a while," said Regalbuto, who costarred on all 10 seasons of the show. "Then I got an email from Diane…"
"…saying, 'Do I write you in?,'" said Ford, also a full-run campaigner.
"…and then I was wondering if I should reach out to them," Regalbuto said, laughing and gesturing to Ford and Shaud, who left the show after the seventh year. "Like 'Did you get the email?'"
"What email?" Shaud said.
"That would have been terrible," Regalbuto finished as they all laughed. "But here we are. I still can't believe it."
"Here" is the Kaufman Studios in Astoria, Queens. That's about 2,800 miles from the show's original set on the Warner Bros. lot in Burbank, but Murphy's townhouse living room has been meticulously re-created down to some of the original knickknacks that Warner Bros. had boxed away, along with the original floor plans for the set. At the moment, Regalbuto and Ford are sharing the memorable maroon striped sofa.
RELATED: Not the fall CBS expected: 'Murphy Brown' returns as Les Moonves exits »
There have been some changes too — photos of Murphy's now-grown son, Avery, played by Jake McDorman, are very visible, and the walls are a warmer, almost golden shade, as if Murphy's beloved house painter, Eldin (the late Robert Pastorelli), had finally finished the job.
So not everyone's back — Pastorelli died in 2004, and though the gang still goes to their favorite bar, Phil's, Pat Corley, who played its beloved proprietor, died in 2006. There are a few new faces as well. In addition to McDorman's Avery, Nik Dodani plays Pat, the young technical adviser tasked with bringing the, er, older staff of "Murphy in the Morning" into the age of social media. ("I'm here to put the 'brown' in 'Murphy Brown,'" says Dodani, who is of Indian descent, by way of introduction.).
And another formidable female of a certain age has joined the cast — Tyne Daly ("Cagney & Lacey") is behind the bar at Phil's as Phil's sister Phyllis (yes, she does have a former life in law enforcement, and yes, those are the bar stools from the original set).
"It's feels like being invited onto an all-star baseball team," Daly said of being part of a new/old show, before offering McDorman and Dodani character-building advice and explaining to them who Jimmy Durante was. "The fact that they did 10 years, how important it was to everyone. The wonderful weight of it really moves me."
The all-stars, meanwhile, were doing a little catch-up with English, and their characters. English left the show after Season 4, but returned for the final season, and she says, once she got through some fear-induced writer's block ("I did a lot of vacuuming and took long vacations"), she picked it right up. "There's a muscle memory there," she said. "I can hear them all in my head as clearly as I did in the first couple of seasons."
Especially Murphy, who, she says, has just as much energy and impatience as she ever did but a few more layers.
"She's seasoned," Bergen said. "She's tempered."
"Candice and I became Murphy over the years," English said. "We have a shorthand. I can write something and know exactly how it will sound. Some of the newer writers will say, 'Why is that line there?' and I'll say, 'You'll see.'"
Candice and I became Murphy over the years. We have a shorthand. I can write something and know exactly how it will sound.
— writer Diane English
Not everyone was as immediately confident and carefree.
"I was worried," Shaud said. "I mean, what Miles' energy was like — I'm 20 years older now. More, because I left before the show ended. But from the moment we did the promos, before we even started, it felt like putting on an old coat."
"Diane's writing is just as engaged as it always was," Ford said. "Corky takes a lot of energy, she always took a lot of energy, and she has way more energy than I do, but journalists are being attacked every day, and we get to portray a fictionalized account of what that is like."
And that, as much as the need to hear "Murphy's" opinion on our current administration, or the success of "Will & Grace," is the reason English and her team wanted to bring the show back.
"We deal with how the press is perceived these days," English said. "When we left them, Woodward and Bernstein were heroes; that's where Murphy came from. And to find yourself in this time of 'enemy of the people' and 'fake news,' that's really rich for us. We have an episode about what happens in the White House press briefing room; we did an episode last week about a Steve Bannon-type character — do you put someone like that on your show or do you refuse to give him a voice?"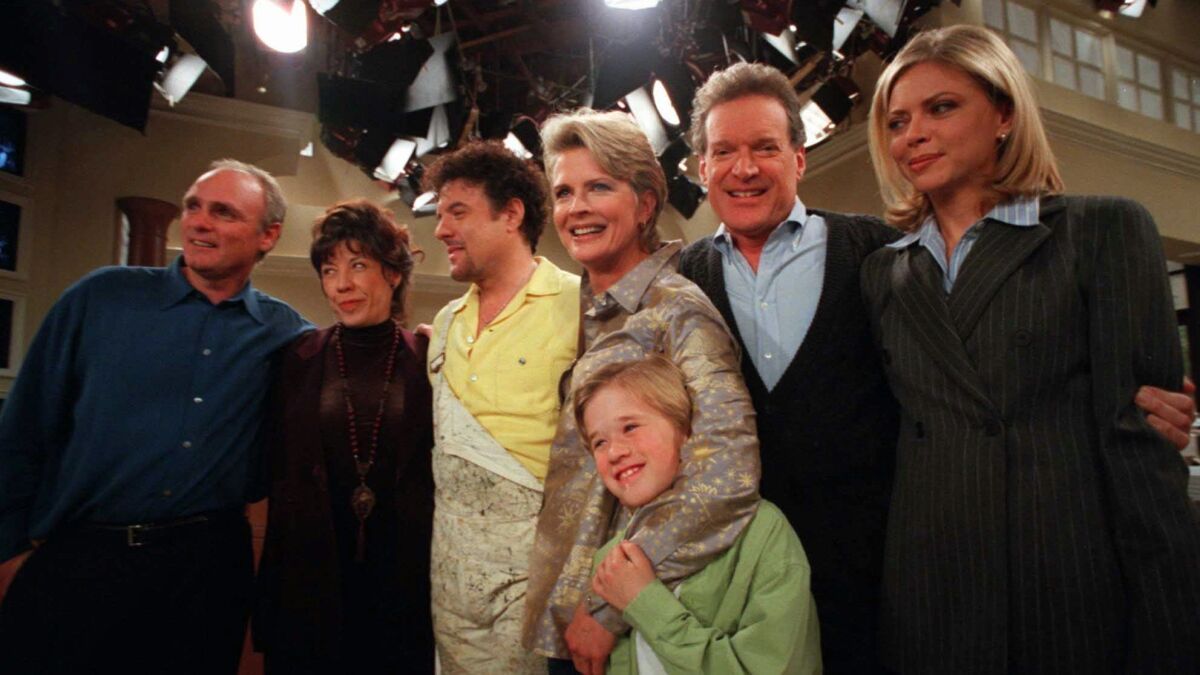 Murphy's politics have always been liberal, and that hasn't changed, but English is using the younger Brown to keep things from becoming pedantic. Avery is also a television journalist, but he works for his mother's conservative competition, the Wolf network. He's a liberal voice, McDorman says, but having covered the last presidential campaign, he has more sympathy for Trump supporters than does his mother.
"He's hyper-aware that he's the son of the iconic Murphy Brown, but he does like to poke at her privilege. It's more generational," he said, "than political."
Though McDorman, last seen in "Limitless," admits he is too young to have ever seen "Murphy Brown" when it ran originally, he knew what the show meant, and becoming the grown-up Avery was a bit intimidating.
"You don't want Haley Joel Osment getting upset," joked Dodani, referring to one of the actors who played the young Avery.
"The legacy," McDorman said, laughing.
"My hands were shaking the first day," Dodani said, "I'm not going to lie. But when I got through the first scene and Candice said, 'Good job,' I knew I was going to be OK."
On the show, Dodani says, his character is not intimidated by anything, except Phyllis, Daly's reluctant bartender.
"I don't know why," Daly says, looking at him in mock surprise.
FULL COVERAGE: 2018 fall TV preview »
Daly knows a bit about starring in an iconic show, and she characterizes the new world of television, in which anything, including the resuscitation of a 30-year-old series, can happen as "entirely different and exactly the same."
She says she is still learning about her character, who, she adds, "is an old hippie."
"She has a young man who is a Dreamer working for her, she speaks fluent Spanish, which is interesting, because I do not," Daly added. "But I am hoping that she runs away with Jim [Dial]."
On the set, a producer joked that the new "Murphy Brown" may have the collectively oldest cast and crew in television, which is no doubt worrisome to some at the network. Dodani and McDorman are quite promising as millennial magnets, and even from one episode, it's clear that the relationship between Murphy and Avery is both the heart and the narrative spine of the show.
Still, there is something wonderful about seeing Bergen and Daly do their scenes together, perhaps particularly in "#MurphyToo." Just as there's something inspiring about listening to Bergen and English speak in natural duet. Television has changed a lot, but not so much that shows with 70-year-old female leads abound; when asked whether she thought she could sell "Murphy Brown" cold, as a new show, English laughed. "Absolutely not. Maybe the first one, when she was 40. Maybe."
Fiesty, fractious and newly sober, Murphy Brown at 40 was a revelation, a midcareer, highly successful professional woman who was far more obsessed with politics than her love life. Wait until they see her now. Still kicking ass and refusing to be sidelined.
Honestly, there should be a T-shirt.
Get our L.A. Goes Out newsletter, with the week's best events, to help you explore and experience our city.
You may occasionally receive promotional content from the Los Angeles Times.