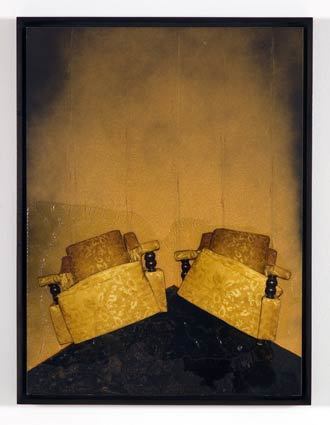 10 Images
"Blacks In and Out of the Box."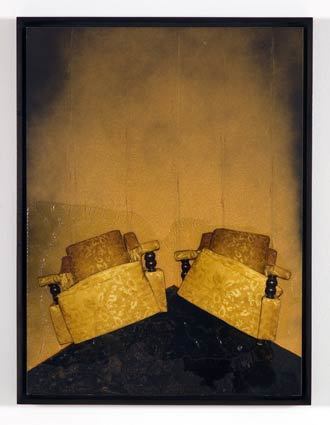 Brenna Youngblood collages cropped photographs from her vast image archive and layers them with acrylic paint, spray paint and found materials to "reflect a subjective experience of urban landscape, cultural situations and personal events. This piece: "Currency," 2007; color photographs, acrylic paint/medium and spray paint on panel.
(Brenna Youngblood/California African American Museum)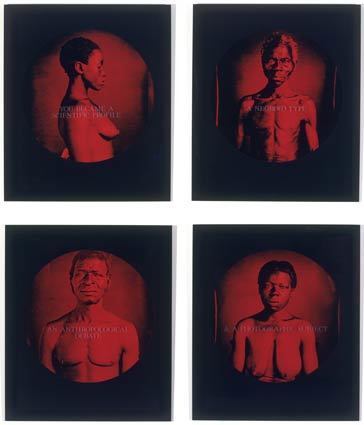 Though she is an artist who is often associated with the East Coast, Carrie Mae Weems received her master of fine arts from UC San Diego. Exploring the duplicity of photography, Weems is interested in "that one half-truth" communicated in an image. This quartet of images — left to right, top to bottom, "You Became a Scientific Profile," "A Negroid Type," "An Anthropological Debate," "& A Photographic Subject" — are from "From Here I Saw What Happened and I Cried," 1995-96. From original daguerreotypes taken by J.T. Zealy, 1850.
(Carrie Mae Weems/California African American Museum)
Gerald Cyrus' "Rick's," 2007, a gelatin silver print, is part of a series of images taking Cyrus back to his old South Los Angeles stamping grounds. Reading the walls, the stories depicted on murals, Cyrus remembered "romanticized versions of black revolutionaries" in their place; "these sawed-off shotguns" led him to read between the lines.
(Gerald Cyrus/California African American Museum)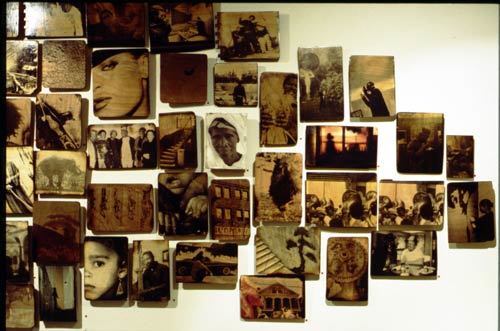 Keba Armond Konte's "88 Pieces of Me: A Photo Memoir," Vol. 3, 2007, reflects Konte's memories, the fractured way the past floats back up to the surface. These mixed-media photographs on wood read like the trick of a flashback. "You don't see all of me," he says," just bits and pieces. The places you go, the impressions that stick with youand make you are at the end of the day."
(Keba Armond Konte/California African American Museum)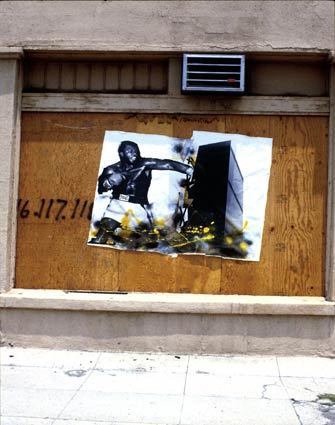 Todd Gray's "Support Systems #1," 1982-2004 — gelatin silver print, paint, tape — was the result of Gray's frustration with the box of the art scene. His friends were exhibiting but Gray had come up dry. The solution: create his own show, the city as his gallery, with prints affixed to walls, along bus routes, at cultural points around L.A. The prizefighter and the corporate high-rise became the symbol of the artists' plight.
(Todd Gray/California African American Museum)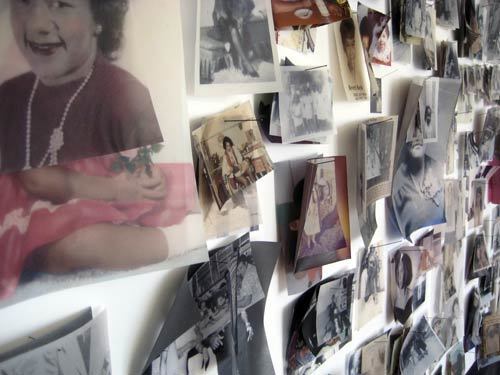 Archivist Carla Williams lost both of her grandmothers within two weeks of each other. Their deaths brought into full focus the importance of her role in her family of women. "As an archivist I have such a responsibility," she said. "There is such a weight in that role." Her tribute evolved into "All the Women in My Family," 2005, ink-jet prints on vellum with insect pins, affixed to the wall.
(Carla Williams/California African American Museum)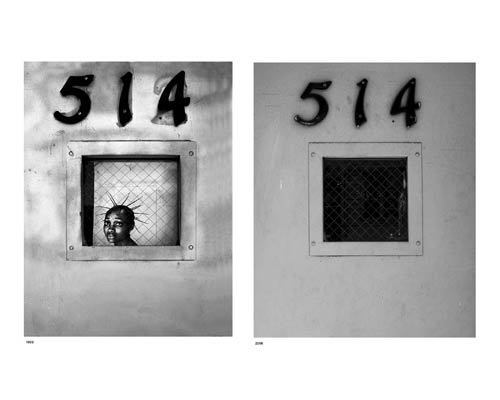 Side by side, 14 years apart, Lewis Watts' images in "514/9th St. Oakland," 1993-2007, comments on the evolution of a neighborhood by the metamorphosis of a single door — change, Watts suggests, that reflects the changing demographic and economic conditions occurring in many African American communities. What's most interesting is what people read into the image. "Some actually think that somebody is sitting in that window, some think it is a prison. They bring to the image their own experience."
(Lewis Watts/California African American Museum)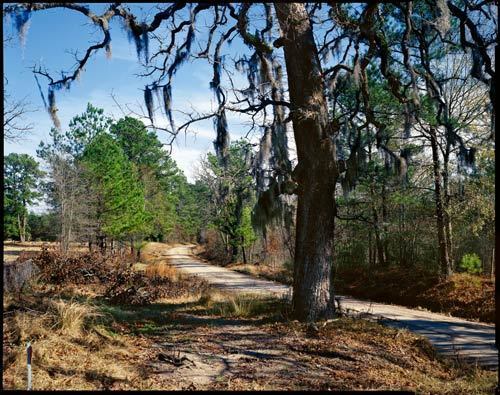 "Nigton, Texas," 2005, is an image that was part of a collaboration between Deirdre Visser and Carla Williams looking at how race is literally inscribed upon landscape. Nigton, short for "Nigger Town," was settled by a group of African American families in 1873. Though there is no formal marker, the town is still as such, and most of its residents don't want the change, they say, because it's "always been this way."
(Carla Williams and Deirdre Visser/California African American Museum)

M.U.L.E. is a "partnership in inquiry" between two Cal Arts graduates, Long Beach-based Karin Pleasant and now Leicester, U.K.-based photographer Isabelle Lutterodt. Using photos – five chromogenic prints — and text to form a "transatlantic conversation," their "a tale of two cities," 2007, is an exploration of how gentrification/revitalization marks territory – displacing not just people but their markers. Is what is gained as worth what is lost?
(M.U.L.E. (Isabelle Lutterodt and Karin Pleasant)/California African American Museum)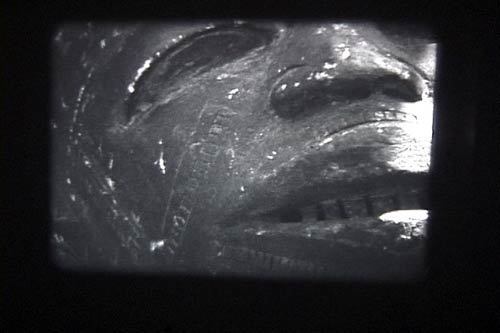 Filmmaker lauren woods' "Outside of the ...," 2005, was part of her journey to find "her own reflection." Shot at a historic black flea market in Berkeley, woods' camera pulls in tightly on details – mouths, noses, cheekbones, masks, statues. It's a gaze that is almost like a caress. At first, she says, "I felt uncomfortable bringing my camera in public shooting black people because of the history of ethnographic ... films. There was a certain pressure of not wanting to participate in a certain tradition."
(Lauren Woods/Friends, the Foundation of the California African American Museum)