'Good Bobby' writer-actor digs deep into Kennedy's core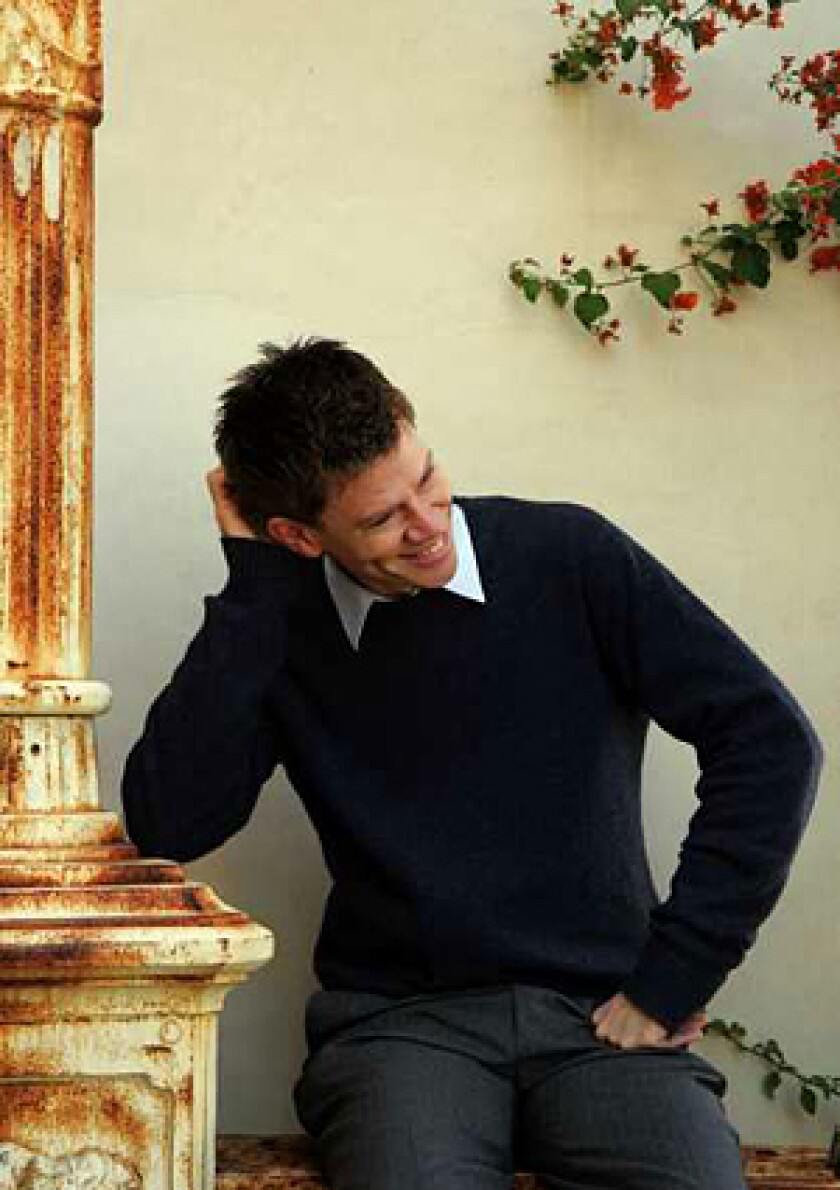 It's been a grand time lately for actors playing famous U.S. political figures on film: Josh Brolin in "W," Sean Penn in "Milk" and Frank Langella reprising his stage role in "Frost/Nixon." Another compelling, if far less publicized re-creation of a major politician is also currently on view, this time on stage, in "Good Bobby," a new drama about Robert F. Kennedy, written by and starring Brian Lee Franklin.
The ambitious 10-character play, back at the Greenway Court Theatre after an extended run, covers RFK's life and career from his early to late 30s, starting in 1958 with his role as chief counsel to the Senate Rackets Committee. It continues through older brother Jack's presidential win, Bobby's appointment as attorney general, and JFK's assassination, ending around the time of Bobby's 1964 U.S. Senate run.
---
FOR THE RECORD:
Robert F. Kennedy: A quote highlighted with an article about writer-actor Brian Lee Franklin in today's Arts & Books section indicated Franklin was referring the late Sen. and Atty. Gen. F. Robert Kennedy. The correct name is Robert F. Kennedy. —

---
Despite its breadth, Franklin's script came together in just less than a year, though his route to completion proved a bit circuitous. "It was originally more of a 'glory piece' about how great Bobby was," the actor-writer said during a recent interview at the Greenway Court. "It included many of his speeches and went right through to his assassination. Basically, it was a 3 1/2 -hour purge."
Fortunately for Franklin, he had two expert mentors on the project: filmmaker Mark Rydell and Oscar-winning actor Martin Landau, who serve as co-artistic directors of Actors Studio West, of which Franklin has been a longtime member. Landau initially encouraged Franklin -- who bears a strong resemblance to RFK -- to pen the play after watching the actor portray the late senator in a workshop scene Franklin also wrote. Later, after reading Franklin's lengthy first draft, Rydell advised the new playwright to refocus the sprawling chronicle around whatever he deemed the main conflict of RFK's life.
"Finding the dramatic core was the most important note I'd gotten on the script," Franklin said. After additional research, he discovered a strained relationship between family "runt" Bobby and his ambassador father, Joe. That spurred Franklin to reframe the story as "a kind of 'Death of a Salesman' with the Kennedys."
This altered perspective led him to paint a deeper, more warts-and-all portrait of RFK, capturing the statesman's lesser-known internal conflicts, emotional insecurities, social awkwardness and short temper. Though Franklin didn't know whether audiences would want to see the iconic politician teetering on his pedestal, he maintains his writing choices were in service of the truth. "If anyone disagrees with what I've done, my response is: Read a few books about Bobby Kennedy. This guy intimidated people, bullied people, frightened people. He was the enforcer in that [JFK's] administration."
The 31-year-old Franklin, who seems far sunnier and more boyish off stage, believes RFK was always trying to prove something, especially to his steely father (played by acting veteran Steve Mendillo), which likely accounted for his often-prickly behavior. "After Bobby successfully ran JFK's Senate campaign, his father shined so much attention on him that he simply connected the dots: 'I act like a hard-nose, I threaten people, I get things done and there's more approval in the family.' But when they essentially forced Bobby to take the hugely powerful attorney general job, he figured, 'OK, if you're gonna make me do this, I'll do it my way.' There was constant anger."
"Good Bobby" found a home at the Greenway Court after Pierson Blaetz, the theater's co-artistic director, heard a staged reading last May. "I sensed that I was watching an actor who had met his role of a lifetime," Blaetz said. "I knew that the play was going to work based on what Brian was bringing to the part and what he had clearly brought to the script. He immediately agreed to premiere the play and signed on as its director.
"I also thought about the connection between Bobby Kennedy and his [presidential] run in 1968 and Obama's run, which was just kicking into gear when I saw the reading," Blaetz said. "I was excited to put up a play that encouraged an audience to see the many similarities between 1968 and now."
Blaetz helped the actor further streamline the drama. "Once we got into production, Pierson was really my sole collaborator on the script," Franklin said.
To fully embody Kennedy, he "let the physical represent the psychological." "For example, Bobby's halting speech, which was such a huge part of his persona, I believe came from the fact that he was so insecure," Franklin said. "He was always monitoring himself. Once I realized that, it really helped me incorporate his stammer into my performance."
Early on, though, the Alabama-born, Florida-bred Franklin found the prospect of capturing RFK's distinctive New England accent so daunting, he considered not playing the part. "I thought, 'How do you do this without sounding like a cartoon character?' "
Landau again offered his input. "He recommended I try to hit the highlights of Kennedy's speech pattern instead of attempting an actual imitation," Franklin recalled. "So I worked on my Rs and on certain vowels, repeated myself a lot the way Bobby did, and eventually found an approach I felt made sense."
Franklin says there has been interest in the film rights to the play, but he's not necessarily itching to adapt the screenplay. "Arthur Miller said, 'I write a play so I can give it to someone and say: I wrote this, now you take it further.' That's exactly how I feel about 'Good Bobby.' "
Franklin grinned and added, "But, y'know, one thing at a time."
---
Inside the business of entertainment
The Wide Shot brings you news, analysis and insights on everything from streaming wars to production — and what it all means for the future.
You may occasionally receive promotional content from the Los Angeles Times.