Kevin Bacon pops up in the large-ensemble "Patriots Day," which failed to gain traction in the annual movie awards race. Still, his welcome appearance gives pause to revive his namesake "Six Degrees of Separation" parlor game. And what better time to play than with this season's ostensibly disparate posse of Oscar acting nominees?
They cut a wide swath: A veteran French screen queen (Isabelle Huppert) — 16 Cesar nominations! — whose rare Hollywood detours include 1980's legendary box-office fiasco "Heaven's Gate" … a 20-year-old seeming newbie (Lucas Hedges) who looks like he's still shaving peach fuzz … a British actress (Naomie Harris) who had to film her part in three days because of visa issues.
Diverse for sure, but connections abound in an industry built on, well, who you know. Our mission: connect, with six or fewer degrees of separation, each lead actor with one of his actress counterparts, and each supporting actress with one of her supporting brethren. Mostly we used professional matchups, but personal entanglements were fair game too. On that note, let the games begin. (And feel free to join in.)
LEAD ACTORS/ACTRESSES
Casey Affleck ("Manchester by the Sea") and Isabelle Huppert ("Elle")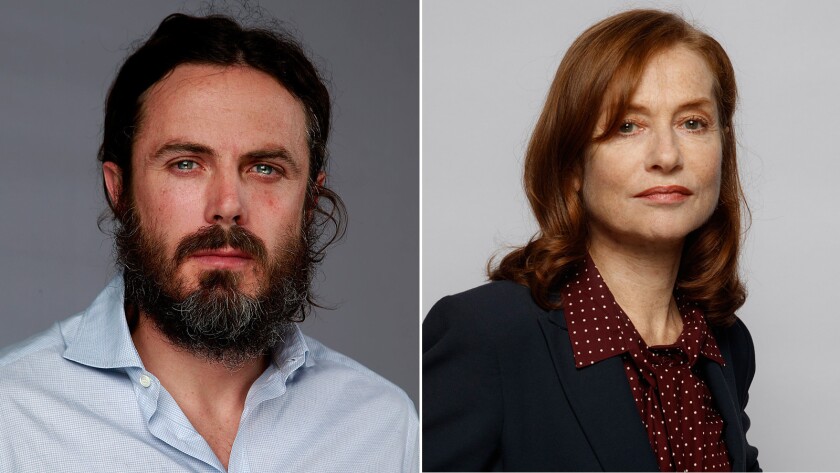 Affleck is younger brother to (and "Good Will Hunting" co-star of) Ben Affleck . . .
. . . who battled in "Batman vs. Superman" (2016) with Jesse Eisenberg . . .
. . . who starred with Huppert in Norwegian director Joachim Trier's sobering "Louder Than Bombs" (2016). Who knew?
Viggo Mortensen ("Captain Fantastic") and Natalie Portman ("Jackie")
Mortensen double-downed in "Eastern Promises" (2007) and "A Dangerous Method" (2011) with Vincent Cassel . . .
who tormented Portman in "Black Swan" (2010).
Ryan Gosling ("La La Land") and Ruth Negga ("Loving")
George Clooney . . .
directed and co-starred with Gosling in "The Ides of March" (2011); years before, he mixed it up in "Ocean's Eleven" (2001) with fellow modern-day Rat Packer Brad Pitt . . .
. . . who in turn starred in "World War Z" (2013) with Negga.
Andrew Garfield ("Hacksaw Ridge") and Emma Stone ("La La Land")
Too easy. Garfield and Stone, now broken up, were a longtime Hollywood dream couple and, of course, starred opposite each other in "The Amazing Spider-Man" (2012).
Denzel Washington ("Fences") and Meryl Streep ("Florence Foster Jenkins")
At this stage, is there anyone the 20-times-nominated Queen Meryl isn't connected to professionally? Case in point: a direct link to Washington, with whom she appeared in "The Manchurian Candidate" (2004).
SUPPORTING ACTRESSES/ACTORS
Viola Davis ("Fences") and Michael Shannon ("Nocturnal Animals")
Davis collected a paycheck for "Suicide Squad" (2016), along with Margot Robbie . . .
. . . who got down-and-dirty in "The Wolf of Wall Street" (2013) with Leonardo DiCaprio . . .
. . . who earlier took to the "Revolutionary Road" (2008) with Shannon.
Naomie Harris ("Moonlight") and Lucas Hedges ("Manchester by the Sea")
As Moneypenny in "Spectre" (2015), Harris helped James Bond battle the evil Christoph Waltz . . .
. . . who showed up as a brainiac in director Terry Gilliam's "The Zero Theorem" (2014) with Hedges (who was praised as "a bright spot" in a Times review of the otherwise panned film).
Nicole Kidman ("Lion") and Mahershala Ali ("Moonlight")
Only two degrees of separation: Kidman picked up an Oscar for "The Hours" (2002), co-starring opposite Julianne Moore . . .
. . . who shared screen credits with Ali in "The Hunger Games: Mockingjay — Part 1" (2014).
Octavia Spencer ("Hidden Figures") and Jeff Bridges ("Hell or High Water")
In "The Help" (2011), Spencer picked up an Oscar and lent a hand to Jessica Chastain . . .
. . . who in turn helped Matt Damon . . .
. . . return to Earth in "The Martian" (2015). Damon's good karma may have come from his earlier assisting Bridges in "True Grit" (2010).
Michelle Williams ("Manchester by the Sea") and Dev Patel ("Lion")
Williams delighted as Monroe in "My Week with Marilyn" (2011) with Judi Dench . . .
. . . who was equally delightful in "The Best Exotic Marigold Hotel" (2012) with Patel.
***For extra points, Williams can easily be connected to Michael Shannon and Lucas Hedges as well. She starred in "Brokeback Mountain" (2005) with Jake Gyllenhaal, who appears with Shannon in "Nocturnal Animals." And her old TV pal from "Dawson's Creek" (1998-2003), Katie Holmes, was directed in "Pieces of April" (2003) by Peter Hedges, dad to Lucas.
---