Matty Healy of the 1975 wants to be loved. But he'll take your disgust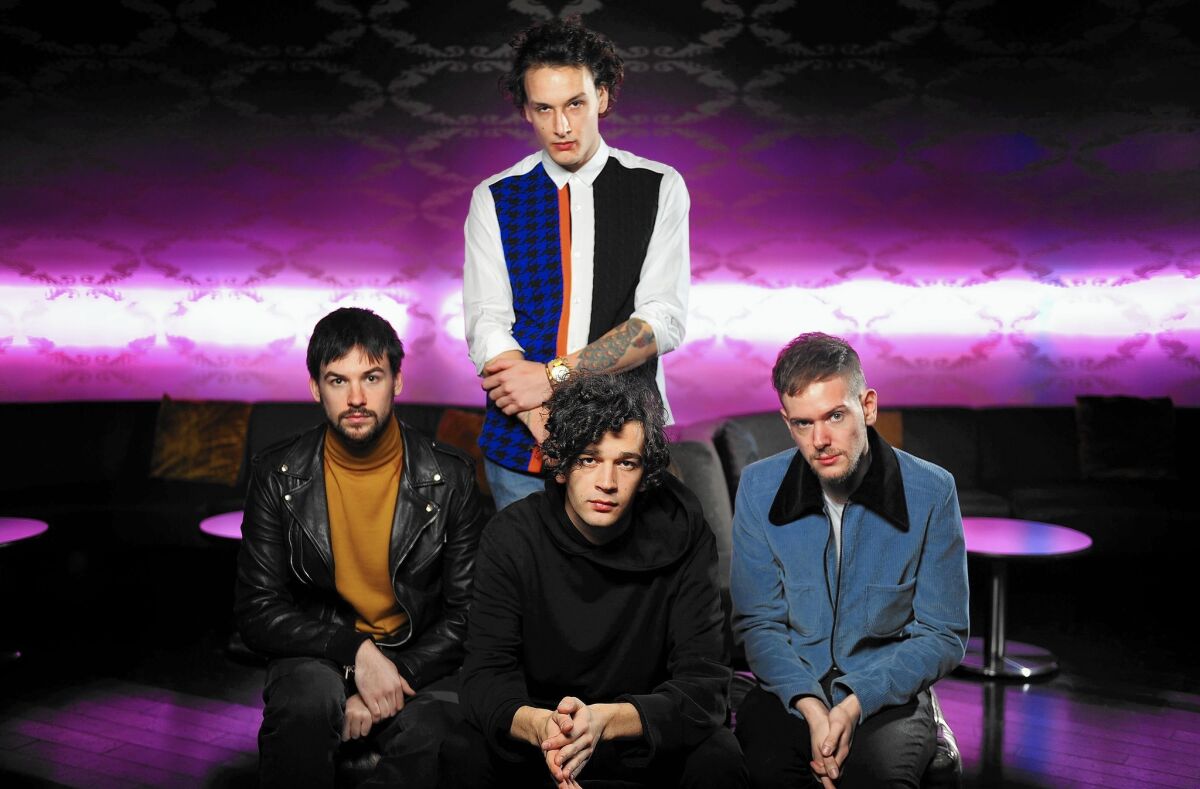 The video is remarkable, a true window into its subject's soul.
Posted last year on TMZ, the two-minute clip shows Matthew Healy, frontman of the popular British band the 1975, on the sidewalk outside a restaurant in West Hollywood, where Healy has emerged to find several young women excitedly offering him an old-fashioned bong. The singer accepts, noting how much he loves California, then fills his lungs before exhaling smoke over the heads of a gathering scrum of fans and photographers.
"You want me to hit you up?" he asks one girl, happily refilling the bowl as her friend records the puff-puff-pass on a smartphone. "Let's do it."
Generosity, exhibitionism, the heedless pursuit of pleasure — it's all there in the 1975's music, a canny blend of sounds and attitudes that has turned Healy, 26, into a pop idol for the social media age. His band's self-titled 2013 debut reached No. 1 in the U.K. with sly but swooning hits like "Chocolate" and "Sex," and for a while the Internet was convinced he was dating Taylor Swift. Now the group has just released its sophomore album, which could vault the 1975 to the next level.
"If we've ever had the chance to be a big band, it's with this record," Healy said.
Yet rather than streamline their approach for maximum efficiency, Healy and his bandmates — guitarist Adam Hann, bassist Ross MacDonald and drummer George Daniel — have only added wrinkles for the new album, which advertises its complexity with its extravagant title: "I Like It When You Sleep, for You Are So Beautiful Yet So Unaware of It."
Issued Friday by Interscope Records, it's catchier but more varied than the debut. It's raw in emotion but clinical in design. And though it feels as natural as could be, it's also got polarizing energy in the pride with which it presents what Healy calls "this effeminate, goth, '80s, R&B, rock 'n' roll, modern art thing that we are."
The son of two television actors, Healy, known as Matty, grew up comfortably in Manchester, where his parents exposed him to classic rock and soul music by Wilson Pickett, Roberta Flack and the Rolling Stones (for whom the 1975 would go on to open a show at London's Hyde Park in 2013). Later, after seeing Less Than Jake and the Ataris at a festival, he got deeply into punk and ska; soon he was spending four nights a week at concerts, he said.
Healy and his mates came together at school in 2002, but they spent the next decade cycling through different styles and band names. The first 1975 release, an EP called "Facedown," came out in 2012 and took off quickly, thanks in part to support from the influential radio DJ Zane Lowe, who was then at the BBC and is now at Apple's Beats 1.
"I tried so hard for so long to be like a million other bands," Healy said. Dressed in a baggy sweater, his curly hair piled atop his head, the singer was sprawled on a couch backstage before a recent gig at Club Nokia in Los Angeles. "And then the first thing I do that's all about me, where I was just myself, that's the thing that works."
For the new album, Healy wrote songs about his experiences over the last three years: becoming a celebrity, fending off vampires, struggling not to become numb. (The TMZ video shows you what you need to know here.)
Although the digital era has warped these topics nearly beyond recognition, this is familiar territory for pop songs, of course. And Healy knows it. When I told him that "Love Me" reminded me of David Bowie's "Fame," he nodded and replied that "Fame" had come out — wait for it — in 1975.
He's open about the influences the band is pulling from in songs like the INXS-ish "Ugh!" and "The Sound," which recalls peak Whitney Houston. "I'm like a fanboy that's been given license to run wild," he said, and in his mind that's not a sign a regression but a privilege of modern life, with its instant access to infinite information.
What bolsters his case is how specific the sounds are on "I Like It When You Sleep." Mike Crossey, who produced the album with Healy and Daniel in L.A., said he shipped 3 tons of gear over from England so the musicians could build their own studio and work without watching the clock. They also recruited name-brand players to realize certain sonic ideas, including the trumpeter Roy Hargrove, an alumnus of D'Angelo's "Voodoo" who appears on the slow-mo R&B ballad "If I Believe You."
The band hasn't been any less exacting on the road. Last week, the 1975 brought along a saxophonist for a brief performance, filmed for Beats 1, atop the former Pacific Stock Exchange building. And to give "The Sound" a proper airing this month on "Saturday Night Live," the group squeezed six backup vocalists onto the show's tiny stage.
Healy compared his desire for fine-grain detail to a phenomenon he's witnessed among some of his fans. After years of taking cheap digital pictures, they've started lugging Polaroid cameras to concerts. "Looking at things on a little screen — it's like it's not there enough," he said.
For all its references, this music still has loads of Matty Healy in it, starting with the lyrics, which toggle between disarmingly sensitive and defiantly bratty in a way that keeps upsetting your expectations. He's equally dynamic onstage, where his manner amounts to a kind of aggressive flamboyance made of hair tossing, eye rolling and lip licking. (The band is set to play the Coachella festival in April.)
"It almost comes across as threatening," said Daniel, "which is funny because he's not at all."
Nevertheless, Healy's theatrics have turned off some. Reaction online to the band's "SNL" performance was wildly mixed, with detractors claiming to be disgusted by the same qualities fans praised.
Interscope Chairman John Janick views that response positively. "If you don't have people who hate something, you're doing it wrong," he said, putting the 1975 in a lineage of brilliant but divisive acts that include Eminem, Marilyn Manson and M.I.A.
Healy, perhaps because he's a child of show business, seems more eager to be loved. Which doesn't mean he dismisses the value Janick describes.
"I'm an ambassador of youthful ideas and teen drama," he said, somehow earnestly. "But I'm also a grown-up, and I know how to play the game.
"I know what I'm doing. I'm not naïve."
Twitter: @mikaelwood

MORE:
Looking back: Elliott Smith and Three 6 Mafia were too good for the Oscars
Kaskade announces new headlining date at L.A. Convention Center
Kesha vs. Dr. Luke: As he maintains his innocence, she speaks out and gets Adele's support
---
Get our daily Entertainment newsletter
Get the day's top stories on Hollywood, film, television, music, arts, culture and more.
You may occasionally receive promotional content from the Los Angeles Times.