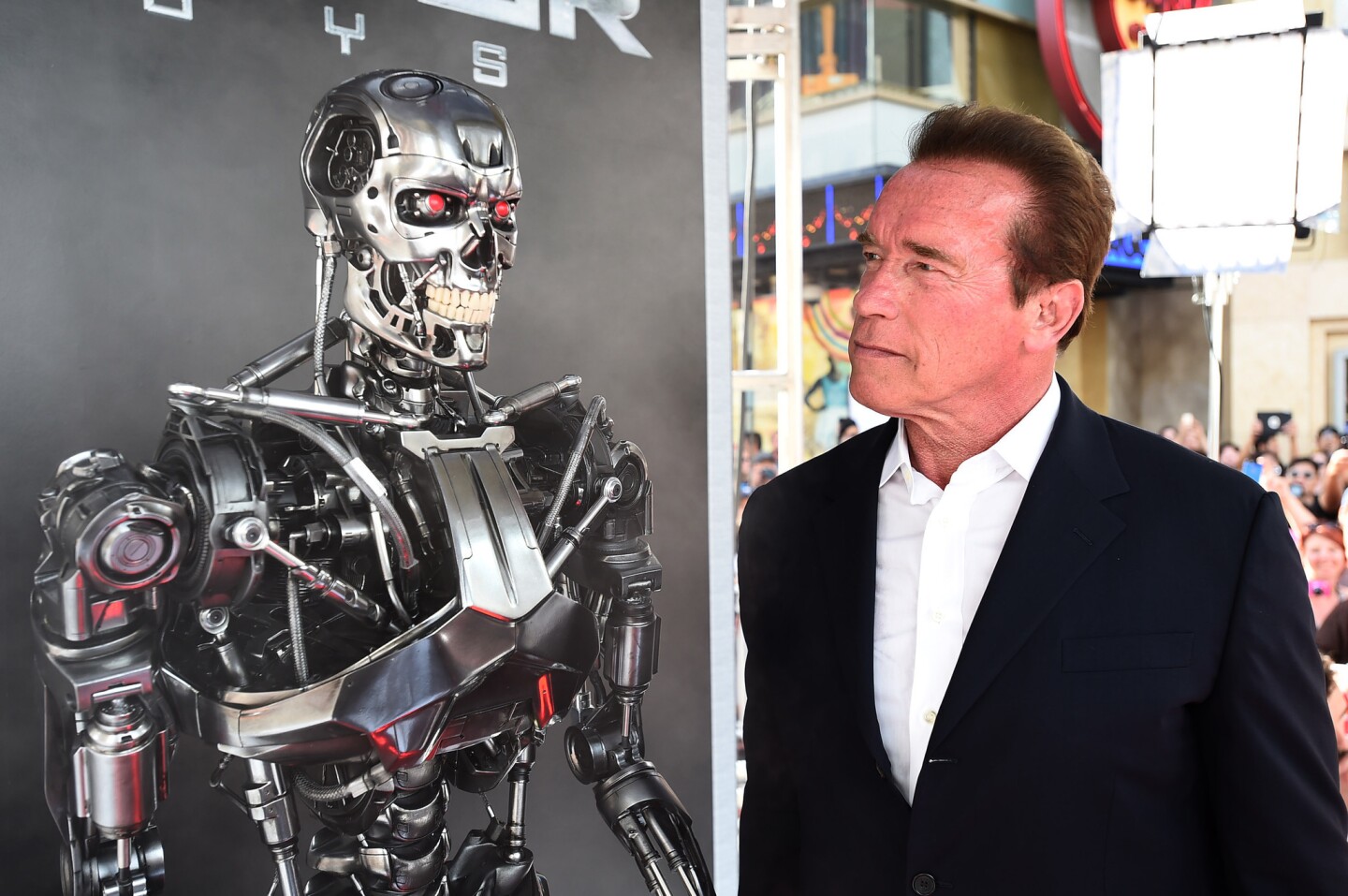 17 Images
Pivotal moments in Arnold Schwarzenegger's movie career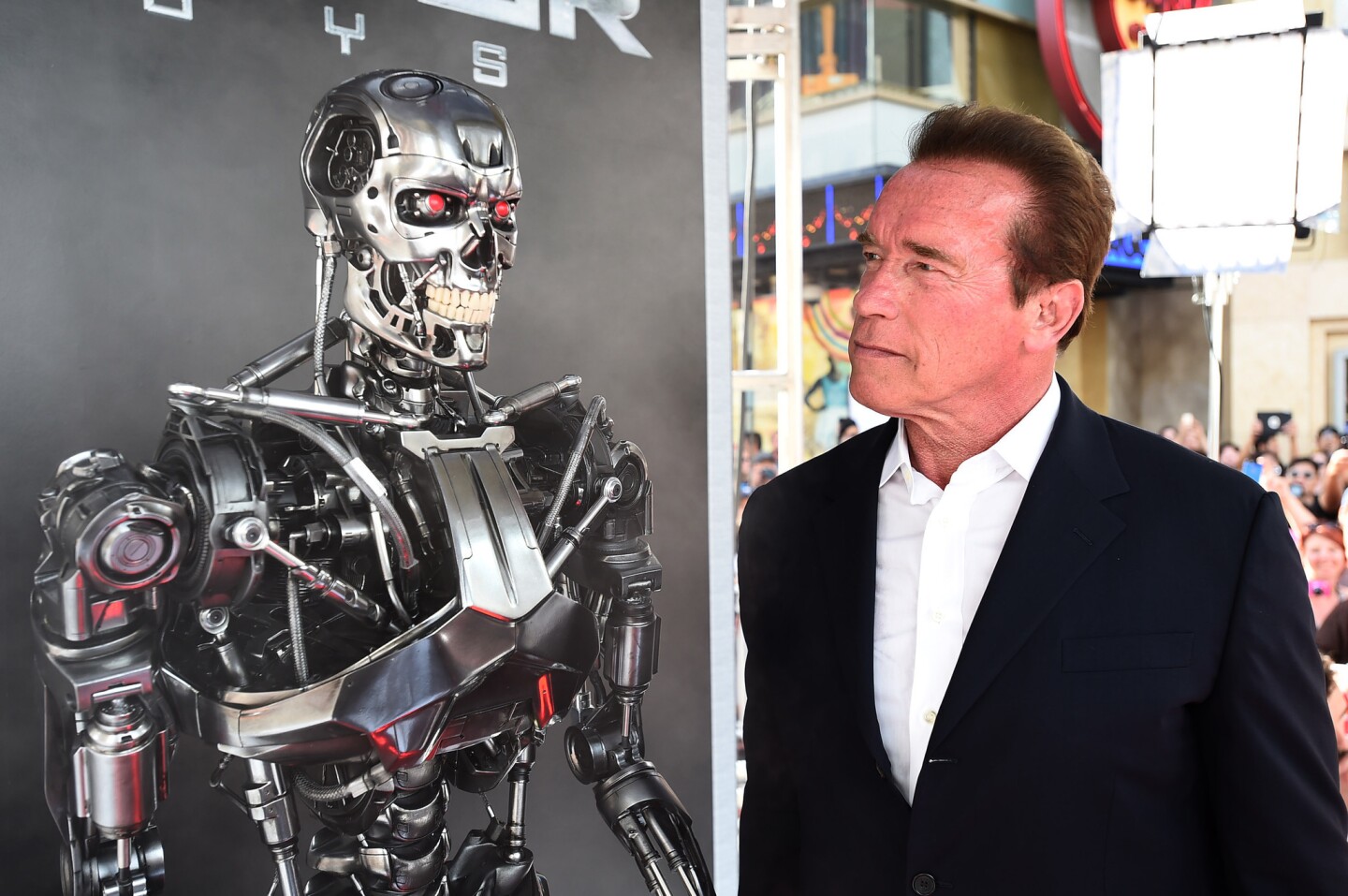 Arnold Schwarzenegger: Pivotal movie moments
Over three decades in Hollywood and in the public eye, Arnold Schwarzenegger, pictured above at the "Terminator Genisys" premiere, has had some indelible moments on the big screen -- and some that he (and we) would probably like to forget. Here's a look back at some of the key markers in his big-screen career.



(Jordan Strauss / Invision / Associated Press)
'Pumping Iron' (1977)
The bodybuilding movie in which he mined his former life to create a new career. It did generate a little controversy for him once he got into the political game, though.
(George Butler / Associated Press)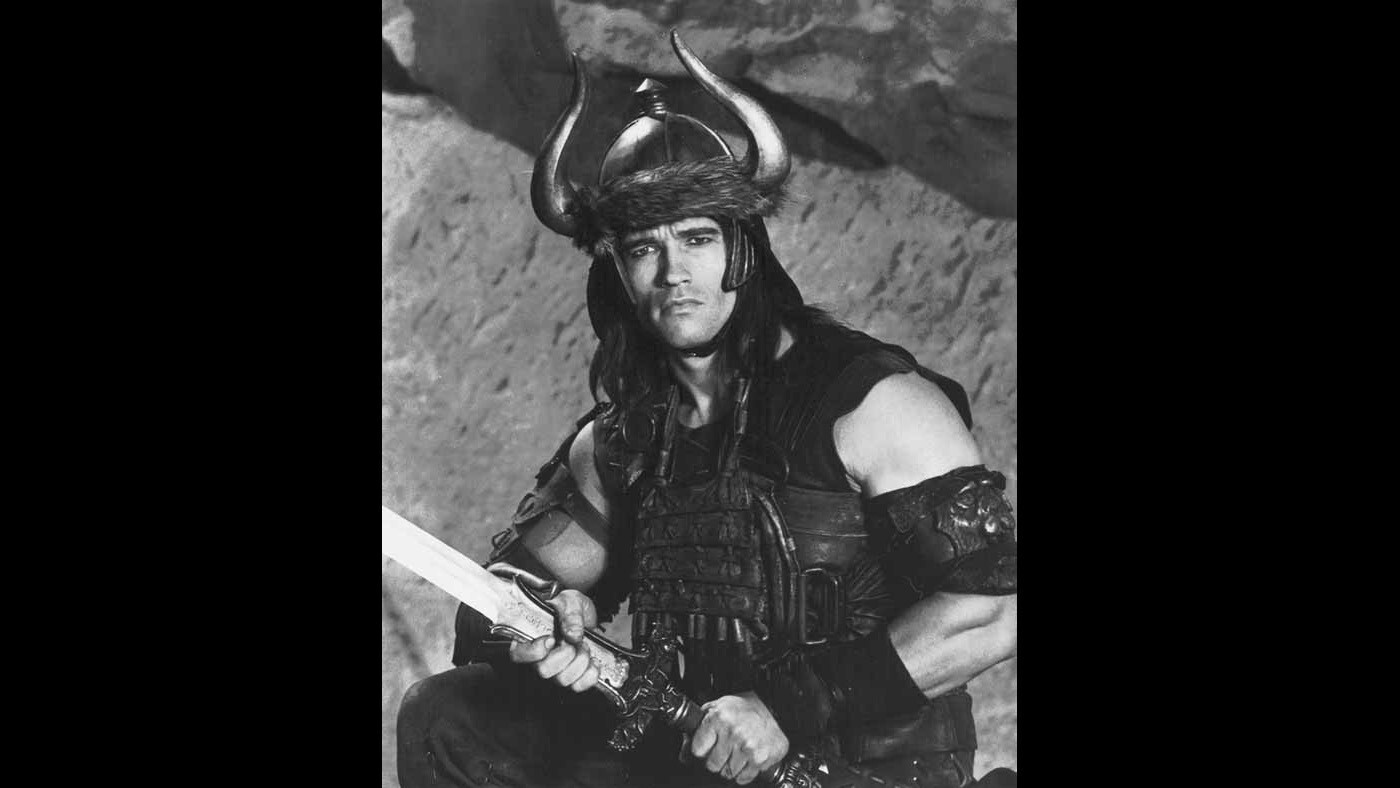 'Conan the Barbarian' (1982)
His celebrity breakthrough -- we were now ready for the Arnold invasion. He reprised the role in 1984's "Conan the Destroyer."
(Associated Press)
'The Terminator' (1984)
His creative breakthrough. Without writer-director James Cameron, we might have had a different governor. The film's success led to starring roles in action films such as "Commando" (1985), "Predator" (1987), "The Running Man" (1987) and "Red Heat" (1988).
(Joyce Rudolph / Orion Pictures)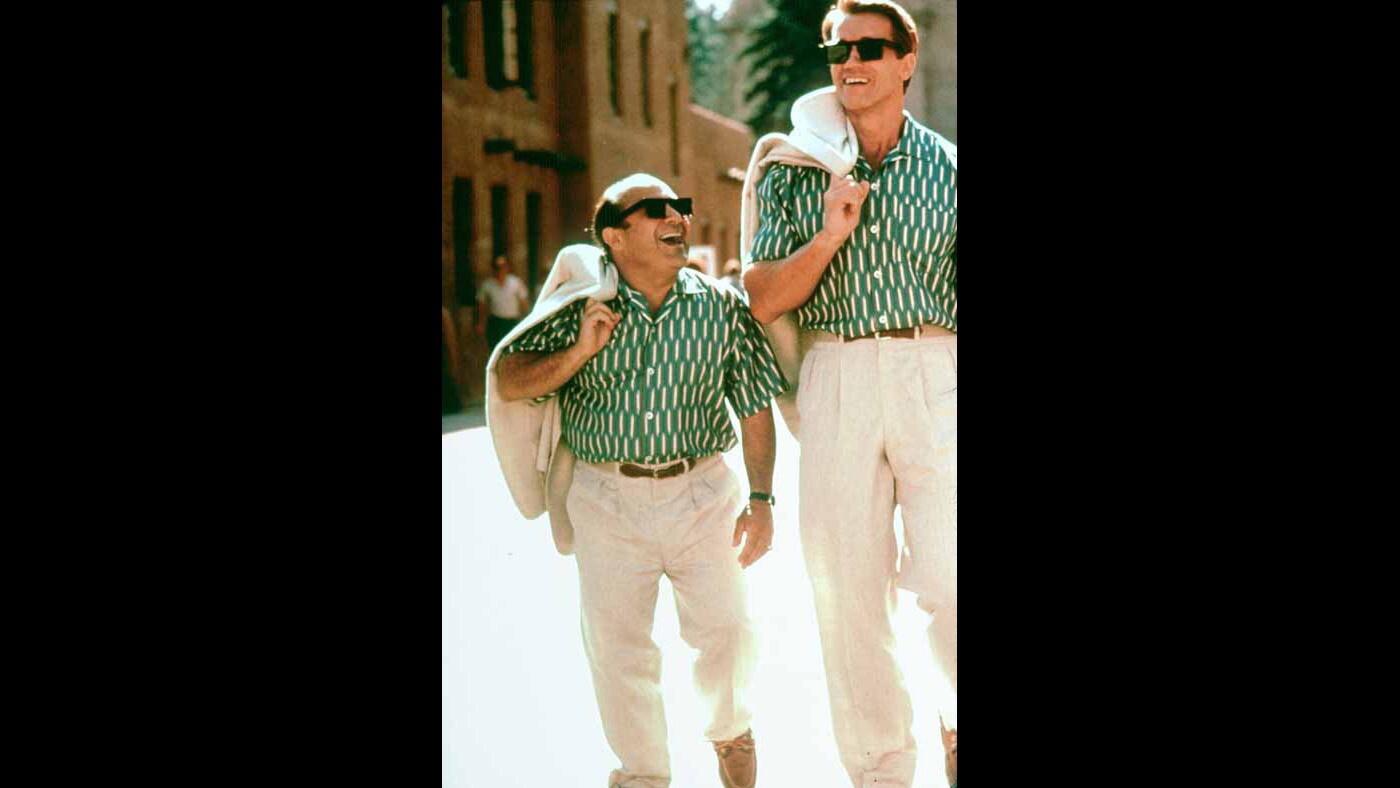 'Twins' (1988)
Arnold Schwarzenegger tries comedy for the first time, hooking up with Danny DeVito (pictured at left) and Ivan Reitman (both of whom he'd hook up with again).
(Universal)
'Kindergarten Cop' (1990)
Once again working with Ivan Reitman, Arnold Schwarzenegger spoofs his macho image in the hit kiddie comedy "Kindergarten Cop."
(Bruce McBroom / Universal City Studios)
'Terminator 2: Judgment Day' (1991)
Arnold Schwarzenegger and James Cameron reunited for the blockbuster sequel to "Terminator."
(Zade Rosenthal / Tri Star)
'Last Action Hero' (1993)
In betweeen two James Cameron-directed hits comes the pricey flop "Last Action Hero."
(Zade Rosenthal / Columbia Pictures)
'True Lies' (1994)
Another reunion with James Cameron, the light-hearted spy thriller proves to be one of Arnold Schwarzenegger's biggest hits.
(Zade Rosenthal)
'Junior' (1994)
Arnold Schwarzenegger successfully reunites with the "Twins" team of Danny DeVito and director Ivan Reitman for the male pregnancy comedy.
(Bruce McBrown)
'Batman and Robin' (1997)
Arnold Schwarzenegger receives a Razzie Award nomination for his performance as the villainous Mr. Freeze in the much-maligned fourth film in Warner Bros.' superhero franchise.
(Christine Loss / DC Comics)
'End of Days' (1999)
Arnold Schwarzenegger's attempt to keep his action career going with films such as "Eraser" (1997), "End of Days" (1999) and "The Sixth Day" (2000) meets with underwhelming response. Shown are Kevin Pollak and Schwarzenegger in a scene from "End of Days."
(Zade Rosenthal )
'Terminator 3: Rise of the Machines' (2003)
Returning to the "Terminator" series -- this time without James Cameron at the helm -- "Rise of the Machines" is Arnold Schwarzenegger's final major acting role before being sworn in as California's governor several months after the film's release.
(Robert Zuckerman / Warner Bros. Pictures)
'The Expendables' franchise (2010, 2012, 2014)
Following his stint as governor, Schwarzenegger returns to the big screen. After appearing in a cameo in 2010's "The Expendables," he joins other aging action stars, including Dolph Lundgren, Sylvester Stallone, Bruce Willis and Wesley Snipes, for mucho macho mayhem in two sequels. Shown are Stallone and Schwarzenegger in a scene from "Expendables 3."
(Phil Bray / Lionsgate)
In search of a comeback
Arnold Schwarzenegger continues his comeback attempt, starring in "The Last Stand" (2013) and "Sabotage" (2014), and reuniting with Sylvester Stallone in "Escape Plan" (2013, pictured) and branching out into indie horror with "Maggie" (2015). None of the films click at the box office.
(Alan Markfield / Summit Entertainment)
'Terminator Genisys' (2015)
He's back. After sitting out 2009's "Terminator Salvation," Arnold Schwarzenegger returns to his signature role in this summer's "Terminator Genisys."
(Melinda Sue Gordon / Paramount Pictures)
More entertainment photos from latimes.com