'Supply and Demand: The Art of Shepard Fairey'
Shepard Fairey's
ubiquiutous blue and red
Obama "Hope" portrait
will soon be hanging in the National Portrait Gallery in DC. But he is far from the only artist to be inspired by Barack Obama. Here is a sampling of how other artists have interpreted the image of the president-elect, starting with this Obama portrait by artist Yan Pei-Ming from the Zwirner & Wirth gallery at Art Basel, Miami Beach, Fla.//By Deborah Netburn
(Lynne Sladky / Associated Press)
An Obama sand sculpture by artist Sudarshan Pattnaik at Puri beach in India.
(EPA)
An Obama portrait in a bottle by artist Basavaraju Somaraje Gowda in Bangalore, India.
(Jagadeesh NV / EPA)
An Obama doll for sale in a Japanese town named Obama.
(Toru Yamanaka / AFP / Getty Images)
An Obama portrait in
cupcakes
by Zilly Rosen of Buffalo, N.Y.
(Charles Lewis / Associated Press)
An Etch-A-Sketch Obama that was on display in November at the Ohio Statehouse.
(Ellen Dallager / Ohio Art Co.)
Superman Obama, as seen on Melrose Avenue in Los Angeles on Nov. 5, the day after the presidential election.
(Gabriel Bouys / AFP / Getty Images)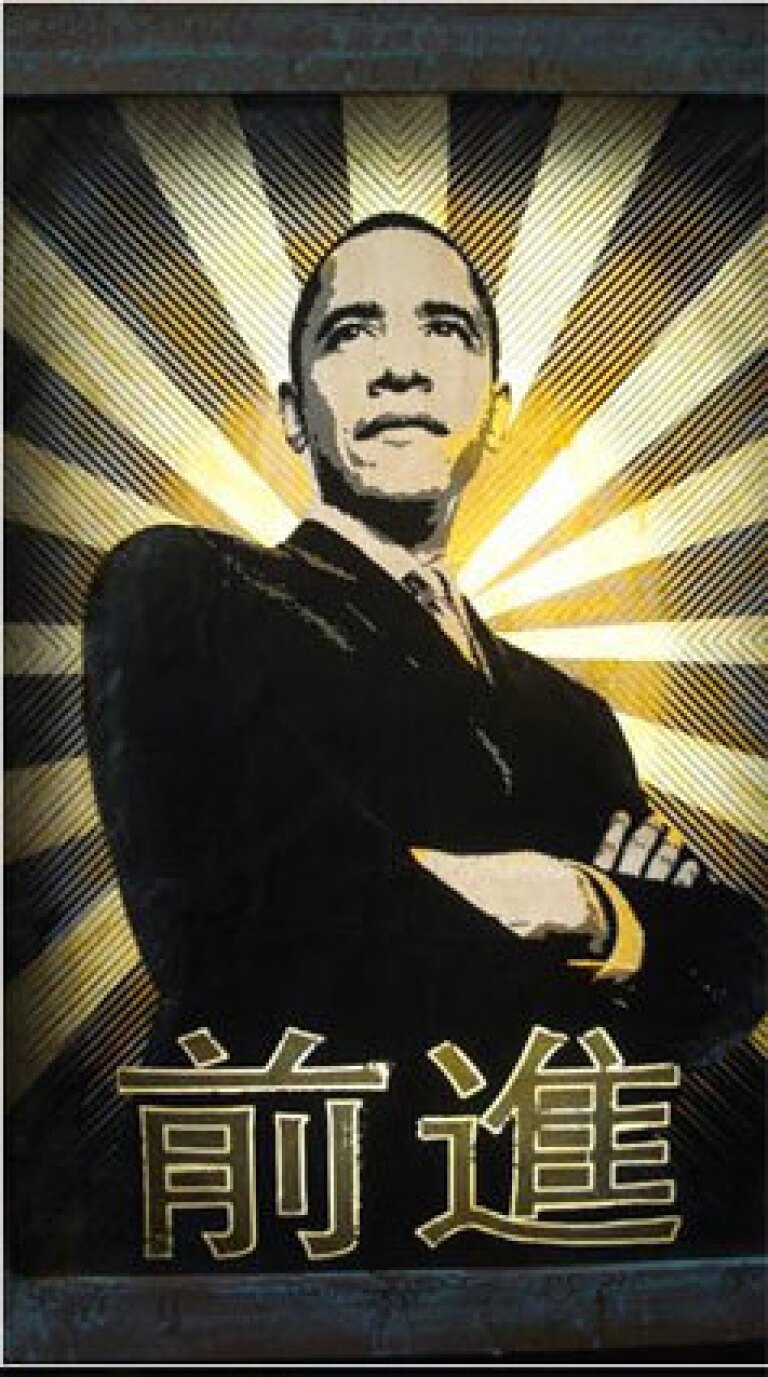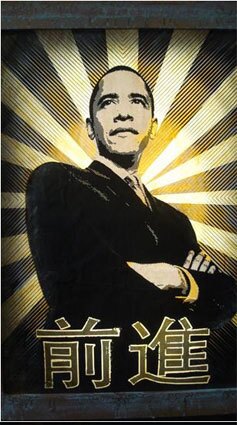 This Obama portrait by a San Francisco artist who goes by the name Eddie was displayed at the
Manifest Hope Gallery
during the 2008 Democratic National Convention in Denver.
(Courtesy of Manifest Hope)
L.A. artist Scott Siedman's "Man From
Illinois
" will be displayed at the
Manifest Hope Gallery
in the
Georgetown
neighborhood of Washington, D.C., during the inauguration.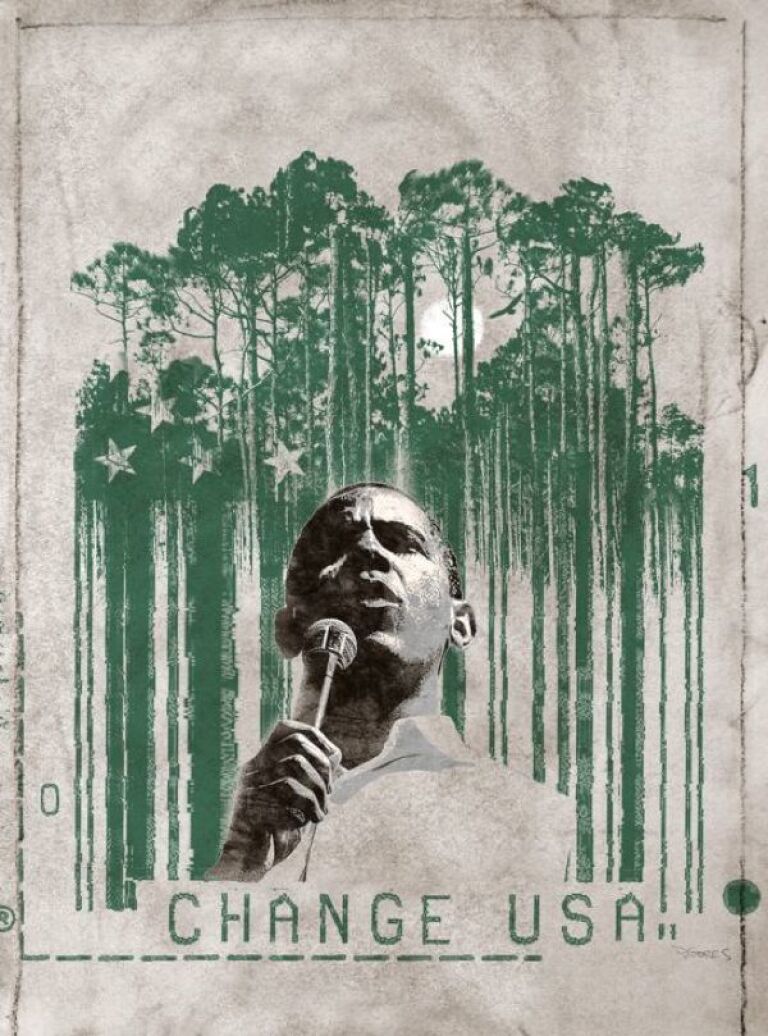 "Change USA" by Derek Gores from
Melbourne
, Fla., will be displayed at the
Manifest Hope Gallery
in Washington, D.C., during the inauguration.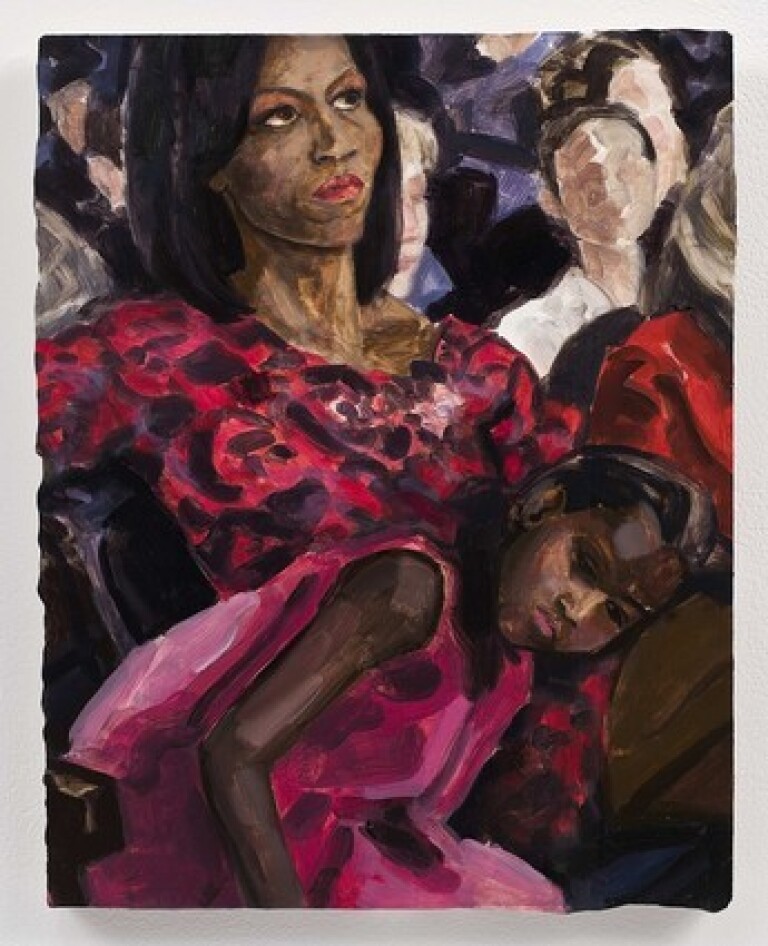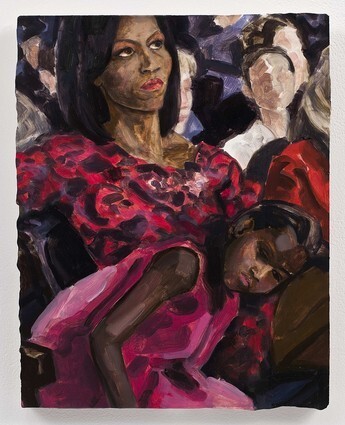 This oil painting by
Elizabeth Peyton
is titled "Michelle and Sasha Obama Listening to Barack Obama at the Democratic National Convention."
(Associated Press)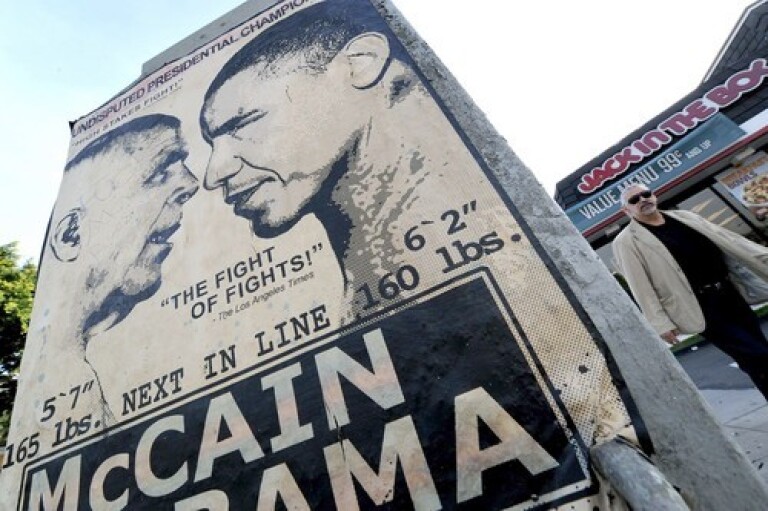 Photographed in November: a McCain vs. Obama poster pasted on a wall in Los Angeles.
(Jewel Samad / AFP / Getty Images)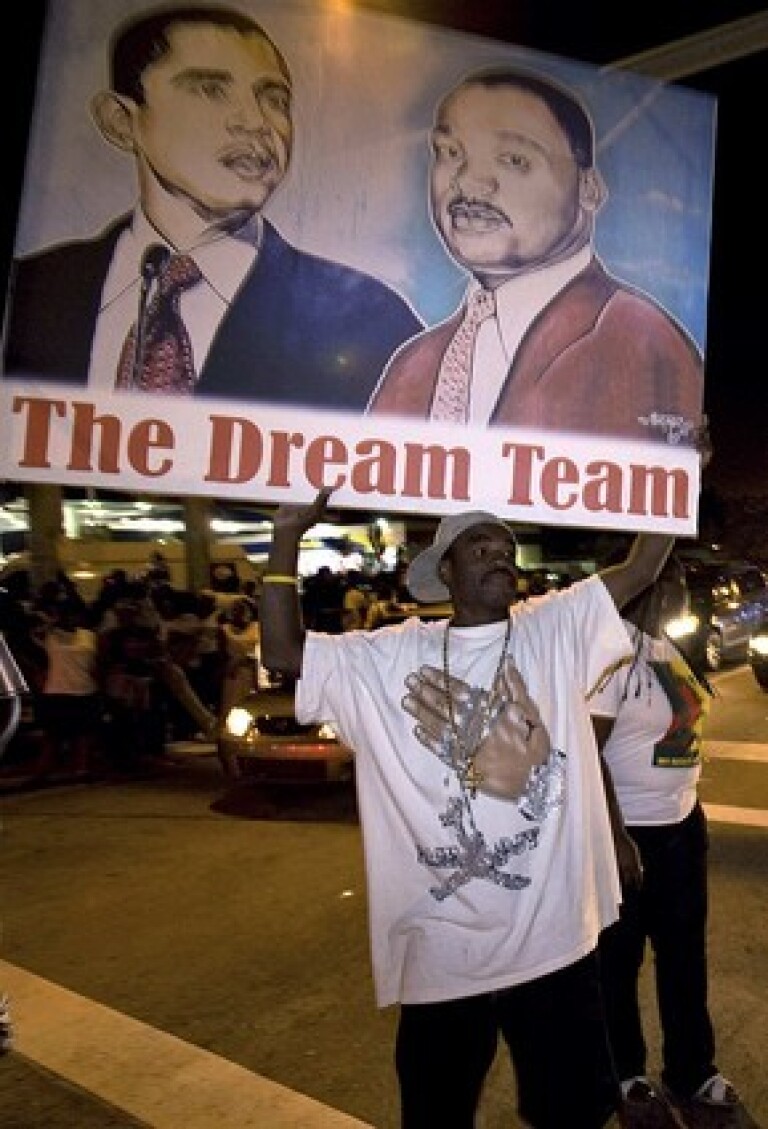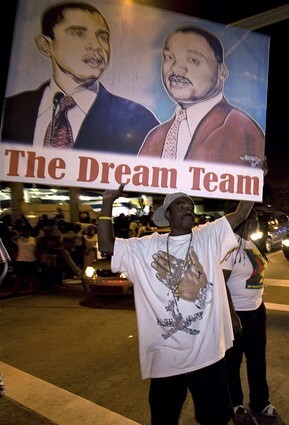 A poster depicting Obama and the Rev. Martin Luther King Jr. at a Nov. 5 celebration in the Little Haiti neighborhood of Miami.
(Wilfredo Lee / Associated Press)
Obama depicted in a framed Time magazine cover for sale in Chicago's South Side on Nov. 4.
(David Guttenfelder / Associated Press)
Italian painter Daniele Donde and his portrait of Obama at an exhibit in Bucharest, Romania.
(Vadim Ghirda / Associated Press)
A matryoshka doll with Obama's image is flanked by the likenesses of Russian President Dmitry Medvedev and Italian Prime Minister Silvio Berlusconi at an art market in Chisinau, Moldova.
(John McConnico / Associated Press)
Obama magnets at the Political Americana store in Washington, D.C.
(Chip Somodevilla / Getty Images)
Obama as Uncle Sam? A portrait by Russian painter Farid Bogdaov in Moscow.
(Natalia Kolesnikova / AFP / Getty Images)
Jeffrey Deitch of the Deitch Gallery talks to people about a painting of Obama by Kurt Kauper during the Art Basel Miami Beach show last month.
(Lynne Sladky / Associated Press)
When the National Portrait Gallery announced last week that it was acquiring Shepard Fairey's iconic image of Barack Obama, it marked a curious development for the Los Angeles-based artist, previously known for his ubiquitous Andre the Giant stickers, as well as high-style agitprop poster art.
Fairey's been around for a long time, but he's always operated below the mainstream radar; his work has adorned album covers and alternative weeklies, and it has been plastered on walls and billboards all over L.A. With the Obama portrait, however, he has moved into the center of the culture, providing a graphic as instantly recognizable as the president-elect himself. What happens when an underground artist suddenly comes to occupy such a position? Fairey is about to find out.
For a sense of how he came to such a juncture, it's worth looking at "Supply and Demand: The Art of Shepard Fairey" (Gingko Press: 450 pp., $59.95), which covers the 20 years of Fairey's career. Originally published in 2006, the book has been newly reissued and expanded, taking us from his earliest creations through his recent, higher profile work.
As the copious color reproductions here remind us, Fairey's art has always been political; his Andre the Giant stickers are part of a campaign called "Obey Giant," which he describes as a "case study" of the way that, as an image becomes recognizable, its value shifts from the hands of "rebellious outsiders" who first embraced it and to "marketers wishing to capitalize on the rebellious cachet of street art."
The same, of course, could be said of his Obama portrait, which suggests how consistent Fairey's aesthetics have remained.
-- David L. Ulin
---
The complete guide to home viewing
Get Screen Gab for weekly recommendations, analysis, interviews and irreverent discussion of the TV and streaming movies everyone's talking about.
You may occasionally receive promotional content from the Los Angeles Times.