9 Images
Cops vs. cops in film
By Jevon Phillips, Los Angeles Times Staff Writer
Kings of the street
In
"Street Kings,"
Keanu Reeves
stars as Tom Ludlow -- a veteran LAPD cop who gets framed in the execution of a fellow officer. And guess what? He has to tangle with his friends and colleagues to clear his name and find the real killers.
Often we think police officers battle bad guys; drug dealers, gangsters, weapons-makers and more. But more often than not, cops have to battle their own in order to see justice done. When it's cops vs. cops, we can only hope the good guy wins.
In a legion of corrupt-cop movies, we've assembled a few of our favorites.
(Fox Searchlight Pictures)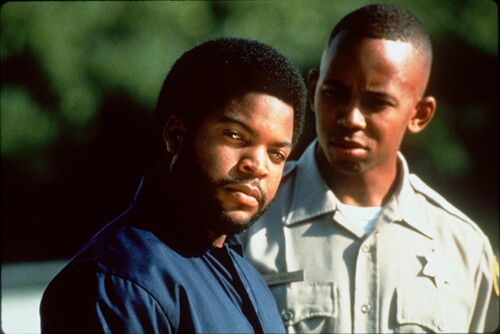 Crime Scene:
Los Angeles
Good Cop
J.J. Johnson
Bad Cop:
The L.A. Sheriff's Department
Incident report
: J.J., an enthusiastic rookie, learns about the corruption in the department and attempts to link his bosses to murders and other nefarious schemes that they were involved in.
Criminal intent:
A small one that starts the spiral. J.J. (Michael Boatman) agrees to back up his partner, Deputy Bono (Don Harvey), by lying about detaining a suspect (Ice Cube) for a bogus traffic violation. Perjury, guilt, and eye-opening ensue.
(Miramax Films)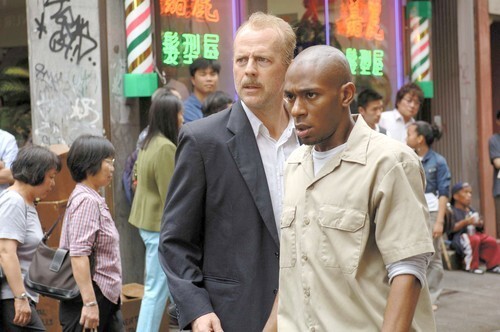 Crime scene:
New York City
Good cop
Jack Mosley
Bad cop:
Frank Nugent
Incident report:
Down-and-out detective Jack (
Bruce Willis
) has to escort an informant (Eddie -
Mos Def
) 16 blocks to the courthouse to testify against a lot of dirty cops, including Jack's partner Frank Nugent (David Morse) -- who tries to stop him.
Criminal intent:
After a confrontation at the end of the film when Jack confronts Frank about their dirty dealings, Frank lets Jack go after pursuing him the whole movie. Then he calls an accomplice and tells him to kill Jack.
(Barry Wetcher / Warner Bros.)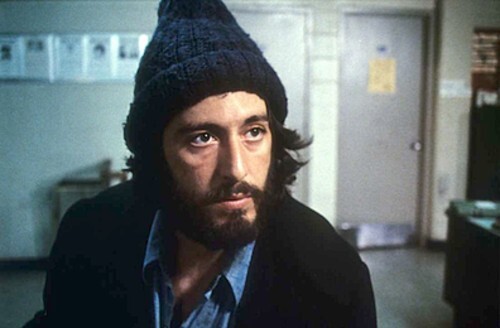 Good cop:
"Serpico"
Bad cop:
NYPD
Crime scene:
New York City
Incident report
: Frank Serpico (
Al Pacino
) tried to fight corruption, but he became more and more ostracized as everyone from beat cops to the top of the NYPD's food chain showed their indifference toward the corruption going on right under their noses.
Criminal intent:
Serpico became so much the outcast that he gets shot in the face and left for dead during a raid on a heroin lab when other officers decide not to come to his aid.
(AMC)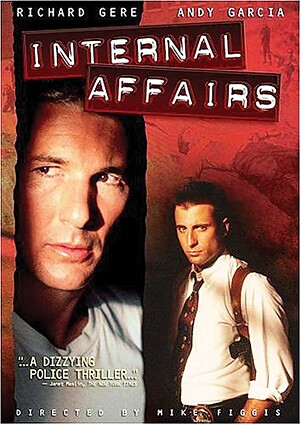 Crime scene:
Los Angeles
Good cop:
Raymond Avilla
Bad cop:
Dennis Peck
Incident report:
In an uphill battle, Avilla (
Andy Garcia
) is an internal affairs officer investigating one of the LAPD's golden boys, Peck (
Richard Gere
).
Criminal intent:
Dennis Peck and his partner Van Stretch (William Baldwin) investigate an abandoned vehicle, Van Stretch is shot and wounded, but Peck congratulates the assailant, then shoots him, then strangles his partner before backup arrives.
(Handout)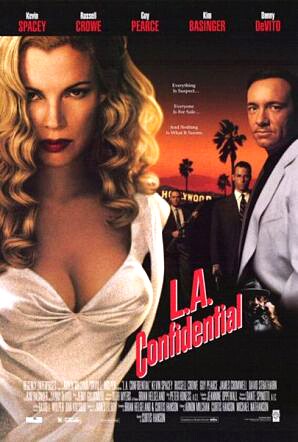 Crime scene:
Los Angeles
Good cop(s)
: Edmund Exley (Guy Pearce), Jack Vincennes (
Kevin Spacey
), Wendell "Bud" White (
Russell Crowe
)
Bad cops
: The LAPD and city officials
Incident report:
Three cops with vastly different styles go about solving a massacre in a diner, which leads them to a prostitution ring and corruption in the department and beyond.
Criminal intent:
Lots, in terms of police tactics. The killings, the cover-up and the prostitution. But Officer White, while questioning a lawyer, smashes his face into a mirror, then shows him the bottom of a toilet -- up close.
(Handout)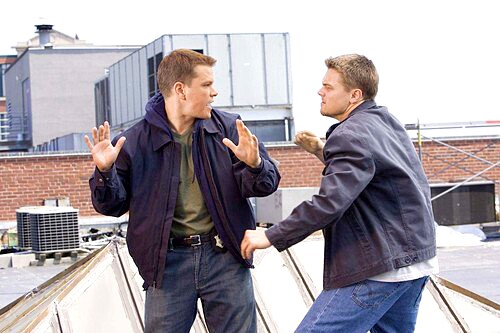 Crime scene:
Boston
Good cop:
William "Billy" Costigan, Jr.
Bad cop:
Colin Sullivan
Incident report:
In a twisty plotline, an undercover cop posing as a criminal (
Leonardo DiCaprio
as Costigan) and an undercover criminal posing as a cop (
Matt Damon
as Sullivan) infiltrate each others' organizations.
Criminal intent:
When Sullivan finds out that Costigan is secretly meeting their boss (
Martin Sheen
as Capt. Oliver Queenan), he alerts the bad guys (
Jack Nicholson
and crew). The bad guys arrive before the good, and proceed to throw Queenan off the roof.
(Andrew Cooper / Warner Brothers)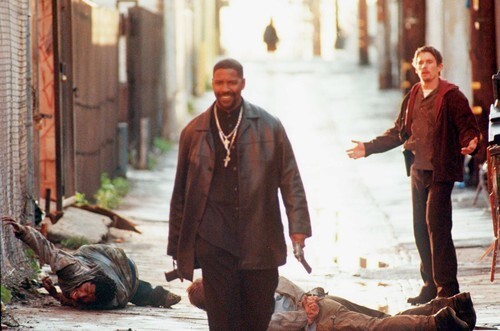 Crimes scene:
Los Angeles
Good cop:
Jake Hoyt
Bad cop:
Det. Sgt. Alonzo Harris
Incident report
: A rookie cop (Hoyt -
Ethan Hawke
) joins a veteran detective (
Denzel Washington
) for one day to see if he'd make a good fit for the detective's highly-praised unit. He finds out that the detective is not all that he seems, and that the audition is more of a setup.
Criminal intent:
Not the worst of what he did, but at the end of the movie, Harris tries to kill Hoyt, but when it doesn't work, tells the gang members and community residents surrounding them to kill the officer and he'll make them "a rich man."
(Robert Zuckerman / Warner Bros. Pictures)