Cillian Murphy as David Bowie
Cillian Murphy may have played a murderous creep in "Red Eye" but there's no denying he cleans up real nice, as shown here playing a transvestite cabaret singer in "Breakfast on Pluto." David Bowie's alter-ego Ziggy Stardust wasn't a woman or transvestite exactly, but anyone playing the Thin White Duke would have to dazzle in full make-up and what appears to be a coffee-mug ring on his forehead.
(Sony / EMI)
Charlotte Gainsbourg as Patti Smith
Actress Charlotte Gainsbourg, the love child of quelle sexy couple Jane Birken and Serge Gainsbourg, makes breathy, Frenchie pop but give her a few scrapes of black eyeliner, a man's button-down and an indoctrination in early '70s East Village cool and she could probably muster up the protopunk energy of Patti Smith.
(Atlantic Records / Polaroid Collections)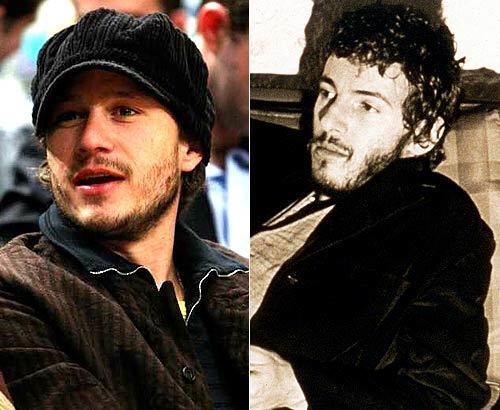 Heath Ledger as Bruce Springsteen
We already know from "Brokeback Mountain" that Heath Ledger can do that whole humble Americana thing and work convincingly with a bandana as a prop, so it'll be no problem for him to stuff one in his back pocket and re-create the "Born in the U.S.A." era and specifically the "Dancing in the Dark" video. Who will play the young Courteney Cox?
(Getty Images / File)
Fantasia as Chaka Khan
Both of these ladies know how to rip into a song like starved pitbulls, yet keep that sexy robotic edge. And they share a purple connection: One of Chaka's biggest hits was her 1984 cover of Prince's "I Feel for You" and Fantasia's currently on Broadway as Celia in "A Color Purple." And we don't even have to mention the pure Chaka-ness of that disco-robot jumpsuit on Ms. Idol, right?
(Getty Images / LAT)
Jack Black as Meatloaf
Jack Black already played the progeny of rock sweat-hog Meat Loaf in the Tenacious D movie, "Pick of Destiny," but it's time to take it a step further. We're pretty sure Black, with his cheese-metal yelps and pyrotechnic jumps, could out-Meat Loaf the master with his version of "Paradise by the Dashboard Lights." In fact, the only challenge for the School of Rocker might be if he played Meat Loaf, Alice Cooper and Ozzy Osbourne at the same time.
(Los Angeles Times)
Kirsten Dunst as Debbie Harry
Some bloggers aren't happy with the casting of Kirsten Dunst as Blondie frontwoman Debbie Harry, but there's something about Dunst's combo of sugar and edge that feels right for a Hollywood rendering of "Heart of Glass." Also, consider that Dunst was recently seen in a certain Echo Park dive bar populated by underfed rockers in stovepipe pants. Isn't that exactly what Harry would be doing now if she was a twentysomething musician?
(Getty Images / Phillip Dixon)
Kerry Washington as Donna Summer
This fast-rising star from "Ray" and "The Last King of Scotland" needs a stylish yet nuanced role to catapult her to the next level. Donna Summer's musical career is rife with the kind of contradictions actors love -- the Queen of Disco had to be talked into all those titillating moans on her break-out song "Love to Love You Baby," and then kicked her sex-kitten image to the curb with the working girl's anthem, "She Works Hard for Her Money."
(Getty Images / LAT)
Orlando Bloom as James Taylor
We're just as surprised as you: Who knew James Taylor, the man behind such PBS-rock as "Fire and Rain," looked like a surfboard-stealing thug in the '70s? This shot of him from the 1971 movie "Two-Lane Blacktop" scrambles our image of Taylor, but then again, so does hearing that he had a wicked coke habit. Bloom could use a meaty role like this to expand his image beyond lukewarm romantic comedies and elfin do-gooding.
(Getty Images / File)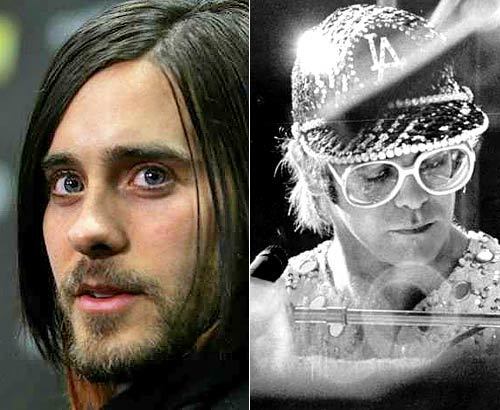 Jared Leto as Elton John
Jared Leto wants to be a rock star so bad. And while he already plays one in his moody band 30 Seconds to Mars, they've never created a hit like "Bennie and the Jets" or "Goodbye Yellowbrick Road." True, playing Elton John will not give Leto much of a chance to shred on the guitar, but considering John's financial hardships, emotional breakdowns and loads of glittery costumes, there's plenty to keep Leto busy.
(AP / LAT)