12 Images
Game-changing baseball movies
2013 | '42'
The players: Chadwick Boseman stars as Jackie Robinson and Harrison Ford plays Branch Rickey, the Dodgers general manager who signed the baseball player to the team. Rickey's great-granddaughter, Kelley Jakle, also has a small role in the film. | How it changed the game: Robinson, who wore number 42, is universally revered for breaking the color barrier in Major League Baseball in 1947.
(Warner Bros.)
2012 | 'Trouble With the Curve'
The players: An ailing baseball scout (Clint Eastwood) takes his last recruiting trip with his estranged daughter, Mickey, (Amy Adams) acting as his eyes. The pair cross paths with Johnny (Justin Timberlake), a scout from another team and former player Gus once scouted, who catches Mickey's attention. | How it changed the game: Eastwood returned from semi-retirement to star in his first-ever baseball movie. The Oscar-winner initially said the 2008 film "Gran Torino" would be his final acting role, although he would continue to direct.
(Warner Bros.)
2011 | 'Moneyball'
The players: Brad Pitt as Oakland A's general manager Billy Beane, Jonah Hill as a Yale wiz kid and Phillip Seymour Hoffman as the A's stubborn coach. | How it changed the game: When the Oakland Athletics find themselves on a budget with the championship constantly eluding them, a revolutionary runs-based formula alters their recruiting style by finding value in underpaid players. Who knew spreadsheets could be so interesting on film?
(Melinda Sue Gordon / Sony Pictures)
1983 | 'The Natural'
The players: Robert Redford as the aging, miracle rookie and Glenn Close as the love of his life -- also his inspiration to hit well. | How it changed the game: Before there could be a "Field of Dreams," there had to be a "Natural," which played with human emotions as if that was a sport unto itself. This wasn't so much a baseball movie as it was a mythmaking one -- romanticizing America's game and no doubt reminding many a father and son of a time that never existed. Also, Roy Hobbs' (Redford) bloody shirt no doubt inspired Curt Schilling's bloodied ALCS sock, another attempt at crafting a baseball fable.
(TriStar Pictures)
1988 | 'Bull Durham'
The players: Kevin Costner as the minor-league lifer Crash, Susan Sarandon as baseball groupie Annie and Tim Robbins as the next big thing, Ebby Calvin "Nuke" LaLoosh. How it changed the game: No more Mr. Nice Guys here. "Bull Durham" showed a crueler side of the sport by focusing on the very un-romantic minor leagues.
(Orion Pictures)
1992 | 'A League of Their Own'
The players: Tom Hanks (manager), Geena Davis, Madonna, Rosie O'Donnell | How it changed the game: They competed in the first female professional baseball league! Playing in a sport long, and since, dominated by men puts this movie on a pedestal. Not to mention that the assemblage of stars (including Lori Petty and Jon Lovitz, directed by Penny Marshall) was pretty impressive.
(Louis Goldman / Columbia Pictures)
1976 | 'The Bad News Bears'
The players: Walter Matthau, left, as a cantankerous coach and Tatum O'Neal | How it changed the game: Ex-minor-league player Morris Buttermaker changed the game for a bunch of misfit kids on the worst team in Little League. He makes a series of unorthodox decisions (like recruiting Amanda Whurlizer, a 12-year-old girl, as the team's star pitcher), and leads them to the championships.
(Paramount / ABC)
2001 | 'Hardball'
The players: Keanu Reeves, Diane Lane and a team of young actors | How it changed the game: Far from the more romanticized fields of dreams, the film confronts the harsh realities of life in the Cabrini Greens projects. The kids like playing baseball as an escape, but Reeves helps them organize and realize what they can do. Yeah, the movie has a "savior" complex, but it may be the kids who help save Reeves from his problematic ways.
(Chuck Hodes / Paramount Pictures)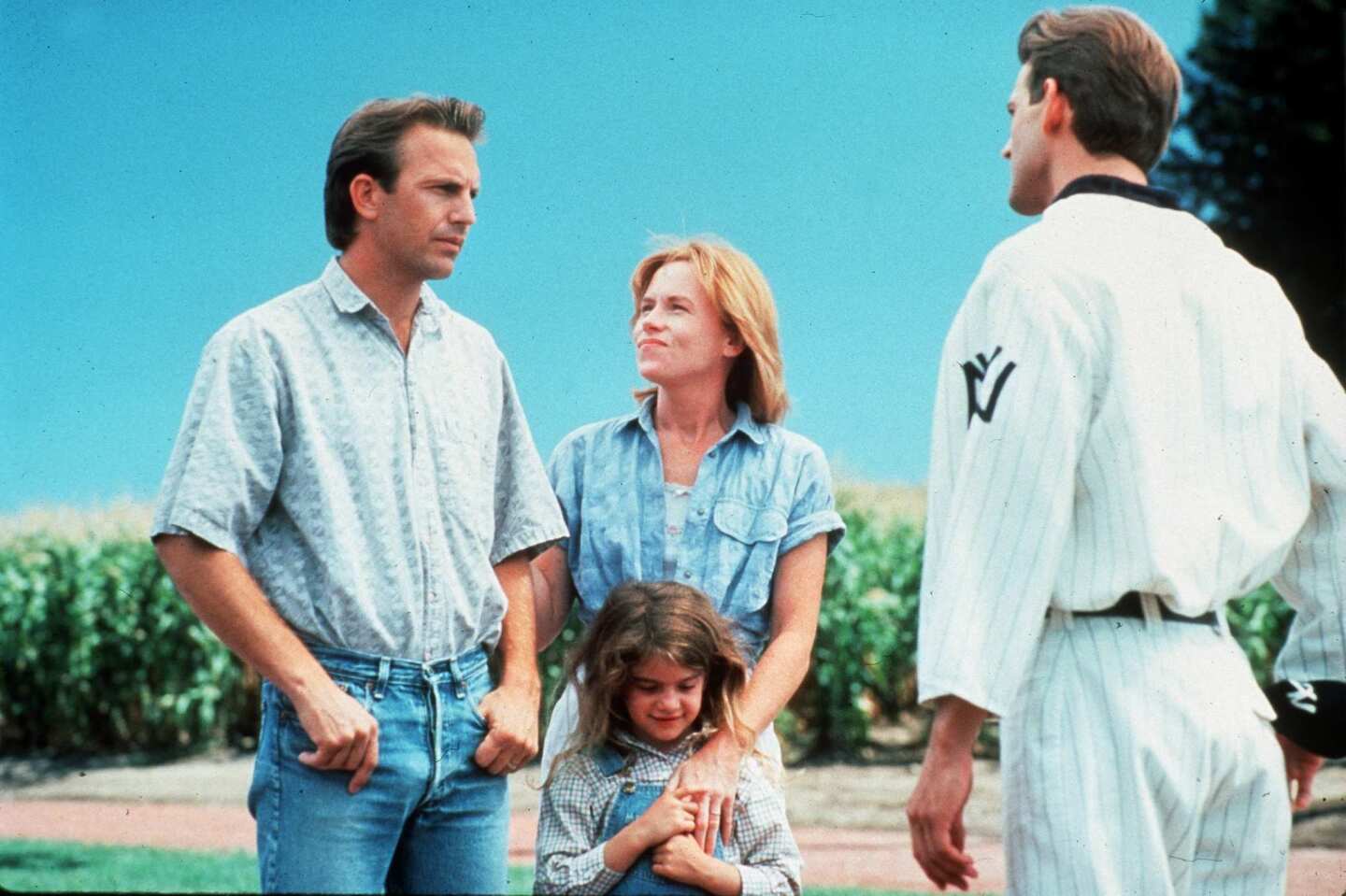 1989 | 'Field of Dreams'
The players: Kevin Costner as Ray Kinsella, an Iowa corn farmer who hears voices, Ray Liotta as late baseball legend "Shoeless" Joe Jackson, and James Earl Jones as a recluse author who dreams of playing in the big leagues. | How it changed the game: In "Field of Dreams," which was nominated for three Oscars, a poor farmer puts logic aside and builds a baseball diamond in his cornfield after hearing a voice whisper, "If you build it, he will come." A host of ghostly ball players show up to play. Say what you want about Kinsella's farm business sense, but recruiting from beyond the grave is a novel strategy when it comes to baseball.
(Melinda Sue Gordon / Universal City Studio)
2002 | 'The Rookie'
The players: Dennis Quaid, left, Jay Hernandez, Rachel Griffiths and Angus T. Jones | How it changed the game: Based on the true story of youth baseball coach Jimmy Morris, it focuses on the extremely rare case of an older player, Quaid's Morris, who was not on anyone's radar, making it to the big leagues.
(Deana Newcomb / Walt Disney Pictures)
1994 | 'Angels in the Outfield'
The players: Joseph Gordon-Levitt, left, Milton Davis Jr. and Danny Glover | How it changed the game: Angels are literally put in the outfield when a little boy prays for a family, which is only promised when the Angels (the team, not the heavenly bodies) win the pennant.
(Dean Williams / Disney)
1995 | 'A Kid in King Arthur's Court'
The players: Thomas Ian Nicholas, Joss Ackland, Daniel Craig and Kate Winslet | How it changed the game: Not too many baseball films deal in time travel. Thrown back in time, young Calvin Fuller uses his knowledge of not only baseball, but also of the 20th century, to help thwart evil and empower King Arthur. Fuller had to, as the tagline to the movie says, joust do it.
(Trimark Pictures)