9 Images
David Beckham: Life in Pictures
Young David
Young David
David Beckham's father was a kitchen fitter and his mother was a hairdresser. Although their careers had nothing to do with soccer, both of David's parents were diehard Manchester United fans. Growing up, David became equally enthused about the team, and eventually began to play soccer himself.
(David Guttenfelder / Associated Press)
Team player
Team player
David turned pro in the early '90s, when he signed with Manchester United. He later joined Real Madrid and then made his way to the Los Angeles Galaxy.
(Associated Press)
Drama
Drama
In 2004, David's former assistant, Rebecca Loos, sparked drama by claiming that the two had had an affair. To add to the drama, an Australian model named Sarah Marbeck alleged that she too had been involved with David.
(Torsten Blackwood / AFP/Getty Images)
Products
Products
In 2007, David launched his own line of after-shave and fragrances called David Beckham Instinct.
(CSPA / US Presswire)
TV
TV
Why act when you can just shoot reality documentaries?
"The Real Beckhams" detailed David and Victoria's move to Madrid.
"Full Length & Fabulous: The Beckhams' World Cup Party" watched Victoria and David prepping their World Cup party, and showed the party itself.
"Victoria Beckham: Coming to America" documented the couple's move to the U.S.
()
Metrosexual
Metrosexual
David is often described as a metrosexual, but he doesn't seem to mind.
When his teammates mocked his dyed blond hair by calling him Marilyn, David told W magazine, "it's always been in jest, a friendly banter."
(Richard Lewis / Associated Press)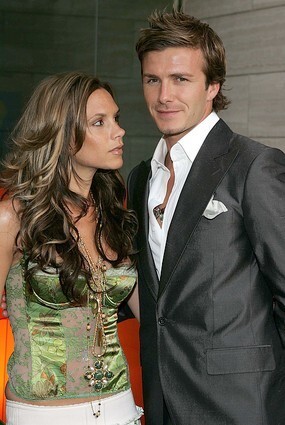 David on Victoria
David on Victoria
Victoria likes to be in control, and in 2007, David told W magazine that he''s fine with that.
"I trust my wife 110%… When people say, 'Victoria wears the trousers,' I'm happy with that," explained the doting husband.
(Frazer Harrison / Getty Images)
A mark, a yen, a buck or a pound
A mark, a yen, a buck or a pound
David's contract with the Los Angeles Galaxy made him the highest paid Major League Soccer player of all time.
(EPA)
The Beckham effect
The Beckham effect
In the U.S., a country notoriously uninterested in soccer, David has managed to create quite a stir.
Since he joined the team in July 2007, Galaxy games have set records for viewership and media coverage. There is a camera trained on David at all times -- even while he lounges on the bench.
(Domenico Stinellis / Associated Press)