19 Images
Shia LaBeouf: Life in pictures
Shia LaBeouf
's big break came in 1999 when he debuted as Louis Stevens in Disney's "Even Stevens" TV series. The
Disney Channel
show, in which he played a scheming but lovable younger brother, ran from 1999 to 2003 and earned him a Daytime Emmy Award for outstanding performer in a children's series.
(Vince Bucci / Getty Images)
The actor's father was a professional clown and Vietnam vet who struggled with a
heroin
addiction. His mother sold beads on the street.
Here he is in 2006's "A Guide to Recognizing Your Saints."
(Walter Thomson / First Look Pictures)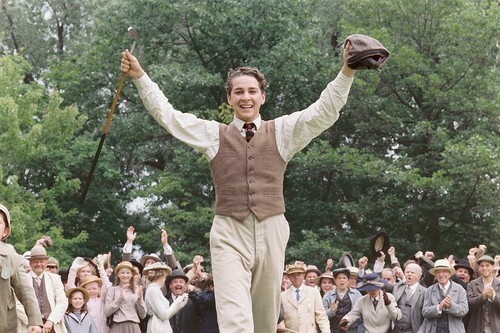 LaBeouf in "The Greatest Game Ever Played." When he decided to try his hand at acting, he found an agent in the yellow pages.
(Jonathan Wenk / Disney Enterprises)
On the set of the 2003 film "Holes," costar
Jon Voight
took an interest in the young actor, suggesting that he watch John Hurt's performance in "The Elephant Man." He also had great faith in LaBeouf. "He has a God-given gift for truth and authenticity," Voight said.
(Phil Bray / Disney)
A scene from 2003's "The Battle of Shaker Heights." LaBeouf has a hip-hop label called Element and a film production company called Grassyslope.
(Merie Weismiller-Wallace)
LaBeouf poses with his 2007 Teen Choice Award for "Disturbia," in which he played a teen who thinks his neighbor is a serial killer. Growing up in L.A., he did stand-up
comedy
around town.
(Chris Pizzello / Associated Press)
In July 2008, "Indiana Jones" and "Transformers" star Shia LaBeouf made headlines, but not for his role in a blockbuster film. According to the Associated Press, LaBeouf got into a car accident on La Brea and Fountain in Hollywood. Nobody was seriously injured, but both parties went to the hospital. LaBeouf was arrested on suspicion of drunk driving. He was not criminally charged in the incident, but his license was suspended for one year.
(Wally Skalij / Los Angeles Times)
In 2008, LaBeouf played Mutt Williams in "
Indiana Jones and the Kingdom of the Crystal Skull
," directed by
Steven Spielberg
. The actor passed up the opportunity to go to Yale's drama school so he could work with the famous director.
"It's hard to say no to Steven Spielberg. I was gonna go to Yale, or I was gonna go work with Steven. And I'm not an idiot. At Yale, I'd have been reading books about Steven," he
told
the
Los Angeles Times
. He got the plum role of Indy's estranged son, and by the end of the film it looked as if any further
Indiana Jones
films would center mainly on his character — Indy gave him the famous hat.
(David James / Lucasfilm)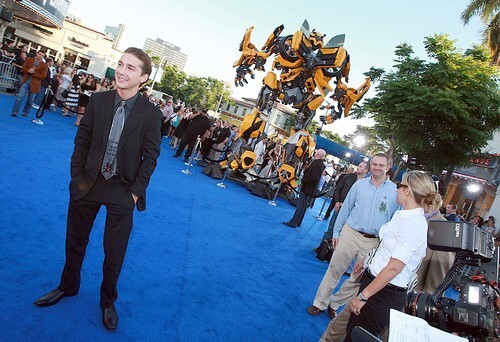 LaBeouf at the June 2007 premiere of "Transformers" in Westwood Village. He's gone from funnyman to leading man, and with his everyman appeal, he's been likened to a young
Tom Hanks
.
(Kevin Winter / Getty Images)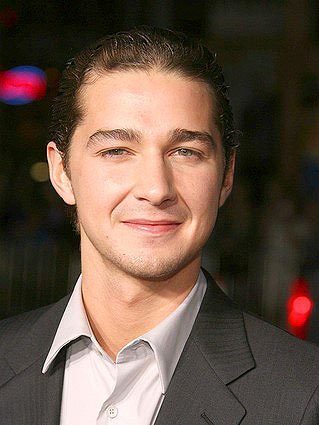 When he turned 21 in 2007, LaBeouf didn't have a big drinking party. Growing up with a father with a
substance abuse
problem took away much of the appeal of alcohol. Plus, he told Entertainment Weekly, "Everyone turns 21.… Not everyone gets to be in '
Indiana Jones
.' "
(Frazer Harrison / Getty Images)
In 2009, LaBeouf re-teamed with his on-screen girlfriend
Megan Fox
for "Transformers: Revenge of the Fallen." But in real life, LaBeouf is a bit of a mother's boy, based on a June 2009 interview with Playboy magazine. In it, he said of his mother: "Nobody looks like that woman. If I could meet my mother and marry her, I would. I would be with my mother now, if she weren't my mother, as sick as that sounds."
(Kevin Winter / Getty Images)
Entertainment Weekly described LaBeouf as having a "catalog of well-received performances as soulful delinquents ("Holes," "A Guide to Recognizing Your Saints"), plucky dreamers (Project Greenlight's "The Battle of Shaker Heights," "The Greatest Game Ever Played") and precocious sidekicks ("I, Robot," "Constantine")." Here he is in a scene from "Disturbia."
(DreamWorks Pictures)
In September 2010, LaBeouf starred as Jacob Moore in
Oliver Stone
's
"Wall Street: Money Never Sleeps."
In the film,
Michael Douglas
returns as greedy exec Gordon Gekko, who, after a stretch behind bars, tries to reconnect with his daughter (Carey Mulligan) and becomes friendly with her fiance, played by LaBeouf. The film was a contemporary follow-up to the 1987 classic and
solidly performed
at the box office in its opening weeks, despite poor reviews.
"Director Stone has said that La Beouf reminds him of a young
Tom Cruise
, but it is unlikely anyone else will see the resemblance,"
wrote
Times film critic Kenneth Turan. "Though the film is at pains to paint his character as one tough hombre, complete with motorcycle-riding chops, Jake comes off more like a striving pipsqueak than a presence to be respected."
(Barry Wetcher / 20th Century Fox)
In February 2011, LaBeouf made headlines for getting involved in
a heated bar fight
that ended with a police presence. A man reportedly wanted a picture of LaBeouf with his girlfriend but was denied, and as LaBeouf was leaving, the man allegedly hurled a gay slur, which led to the confrontation. A punch reportedly split LaBeouf's lip.
LaBeouf is pictured here in "Transformers: Dark of the Moon."
(Melissa Mosely / Paramount Pictures)
Shia LaBeouf
returns as Sam Witwicky in director
Michael Bay
's
"Transformers: Dark of the Moon"
in summer 2011 with a new costar in model
Rosie Huntington-Whiteley
. After
Megan Fox
was ousted from the franchise, LaBeouf didn't hold back his two cents on the controversy about her dropped option.
"Megan developed this Spice Girl strength, this woman-empowerment [stuff] that made her feel awkward about her involvement with Michael, who some people think is a very lascivious filmmaker, the way he films women," LaBeouf
told Hero Complex
. "Mike films women in a way that appeals to a 16-year-old sexuality. It's summer. It's Michael's style. And I think [Fox] never got comfortable with it," he continued. "This is a girl who was taken from complete obscurity and placed in a sex-driven role in front of the whole world and told she was the sexiest woman in America... And she had a hard time accepting it."
"Rosie comes with this
Victoria's Secret
background, and she's comfortable with it, so she can get down with Mike's way of working, and it makes the whole set vibe very different," he concluded.
(Robert Zuckerman / Paramount Pictures)
Shia LaBeouf transforms from hero Sam Witwicky to a rough-and-tumble bootlegger for this Depression-era film.
The film is cast with nothing short of Hollywood royalty, including Tom Hardy of "The Dark Knight Rises," "Boardwalk Empire's" Gary Oldman, and "The Help's" Jessica Chastain.
(Richard Foreman, Jr. / MCT)
In June 2012, Shia LaBeouf made headlines again, appearing nude for Sigur Rós' eight-minute
music video
"Fjögur Píanó." LaBeouf and dancer Denna Thomsen play a love-struck duo plagued by addiction and abuse.
When asked about his role, LaBeouf
told
the Associated Press he "didn't get into [acting] to be a porn guy [...] We were just playing characters."
(YouTube)
Shia LaBeouf is currently promoting "Lawless," but that's not all he's up to. His upcoming releases include "The Company You Keep," in which he plays a journalist, and "The Nymphomaniac," a title, that is well, self-explanatory.
(Robert Gauthier / Los Angeles Times)