8 Images
Romantic bust-up songs
Alanis Morissette
By Los Angeles Times Staff Writers
For most people, romantic flame-outs inspire sobbing midnight phone calls, sleepless nights and lots of excess drinking. For pop stars, that bad boyfriend or cheating girlfriend can be the road to contstant radio airplay. Take
Alanis Morissette
, for instance. Her 1995 song "You Oughta Know" was inspired by the bitterness inspired by her former lover's new flame and became the breakthrough hit that made Morissette a perpetual bestseller. Her latest album, "Flavors of Entanglement," was largely inspired by her rocky breakup with actor Ryan Reynolds.
But Morissette isn't the only pop star to mine her romantic failures for songwriting gold. These performers have all used their tabloid-worthy exploits as inspiration for something more hummable than humbling.
(Joao Cortesao AFP/Getty Images)
OutKast
Song:
OutKast
's "Ms. Jackson"
Bust-up:
Andre 3000 and singer Erykah Badu
What happened:
After meeting and dating, Andre 3000 and Badu had a child together. "Ms. Jackson" was written after the pair split and is often seen as being dedicated to Badu's mother. It dealt with a type of breakup fallout seldom heard in pop music – a man apologizing to a mother for disappointing her daughter.
Telling lyric:
Ms. Jackson my intentions were good / I wish I could become a magician to abracadabra all the sadder thoughts of me … So know this, know that everything is cool / And yes I will be present on the first day of school and graduation
(Frank Micelotta / Getty Images)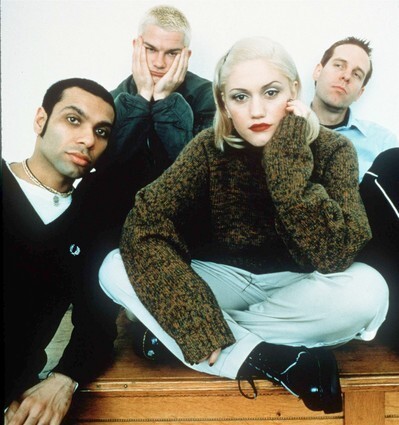 No Doubt
Song:
No Doubt's "Don't Speak"
Bust-up:
Lead singer Gwen Stefani and No Doubt bassist Tony Kanal, left.
What happened:
After a seven-year relationship, which was kept a secret from their bandmates for several years, Kanal called it quits with Stefani. Her heartbreak would lead to the band's breakthrough album "Tragic Kingdom" and the hit "Don't Speak."
Telling lyric:
I really feel that I'm losing my best friend / I can't believe this could be the end / It looks as though you're letting go / And if it's real, well, I don't want to know
(Jeffrey Bender / Trauma Interscope Records)
Fleetwood Mac
Song:
Fleetwood Mac's "Go Your Own Way"
Bust-up:
Fleetwood Mac wrote the book on dating bandmates, so it should come as no surprise they also recorded the ultimate breakup song.
What happened?
Lindsey Buckingham wrote "Go Your Own Way" during the "Rumours" sessions to reflect the feelings he had about bandmate and romantic partner Stevie Nicks.
Telling lyric:
"If I could, maybe I'd give you my world. How can I, when you won't take it from me."
(Ken Hively / Los Angeles Times)
Alanis Morissette
Song:
"You Oughta Know"
Bust-up:
Alanis Morissette
and the mystery cad
What happened:
Though the names of several former Morissette flames have been floated surrounding this bitter song about lost love, "Full House" star Dave Coulier is the one mentioned the most. Neither Morissette nor Coulier has ever confirmed who the song is about, but Coulier's "Full House" co-star Bob Saget once stated in a radio interview that he felt the song was about Coulier.
Telling lyric:
You seem very well, things look peaceful / I'm not quite as well, I thought you should know / Did you forget about me Mr. Duplicity / I hate to bug you in the middle of dinner
(Los Angeles Times)
Veruca Salt
Song:
Veruca Salt's "Disconnected"
Bust-up:
Veruca Salt's Louise Post, bottom right, and Foo Fighter Dave Grohl
What happened:
The alt-rock-era musicians split in the mid-'90s and proceeded to attack each other with guitars. The Foo Fighters hit "Everlong" is believed to be about Post, but if that song beats around the bush, Post doesn't mince words. She wrote "Disconnected" after tabloids had paired Grohl with Winona Ryder.
Telling lyric:
It's kind of scary when your lover leaves you for a movie star / And I'm still in the dark.... And you can't make me love your band or buy your records / 'Cause you have tainted my respect for your adventures
(Marty Perez)
Carly Simon
Song:
"You're So Vain"
Bust-up:
Carly Simon
and the mystery narcissist
What happened:
Though Simon has never publicly identified the subject of her song about a self-obsessed lover, she has ruled out some names -- James Taylor -- while revealing letters in the actual subject's name. So far, the letters revealed are A, E and R. Which leaves us with Simon's former flames Warren Beatty and Mick Jagger. Beatty has claimed that he thinks the song is about him.
Telling lyric:
You had me several years ago when I was still quite naive / Well you said that we made such a pretty pair / And that you would never leave / But you gave away the things you loved and one of them was me
(Jim Cooper / Associated Press)
Rolling Stones
Song:
The Rolling Stones' "Angie"
Bust-up:
Mick Jagger
and
David Bowie
's then-wife, Angela Bowie
What happened:
The band denies it, but it is suggested that the song, written by
Keith Richards
(and, according to some, Jagger), was about a secret relationship Jagger had with Angela. She says the song is about her, but not as the result of any relationship. In her 1993 tell-all book "Backstage Passes: Life on the Wild Side With David Bowie," she says she found Jagger and Bowie naked in bed together; the song "Angie," she said, was a plea to keep the discovery to herself.
Telling lyric:
Angie, I still love you, remember all those nights we cried / All the dreams we held so close seemed to all go up in smoke
(Nicholas Roberts AFP / Getty Images)