Director Cameron to shoot again
For the past 10 years James Cameron fans have been desperate for a new feature film from the director. Conflicting information on what this project would be has been flying around the Internet for years, mostly because it seems the director could not make up his mind. Apparently Cameron has chosen to make the science fiction film "Avatar," but fans would be wise to wait until the director has stepped behind the camera before they believe anything. Cameron has a history of changing his mind.
March 1998:
"Titanic" wins 11 Oscars, including Cameron's for best director. Cameron declares himself "King of the World" and divorces his 4th wife.
(Kirk McKoy / LAT)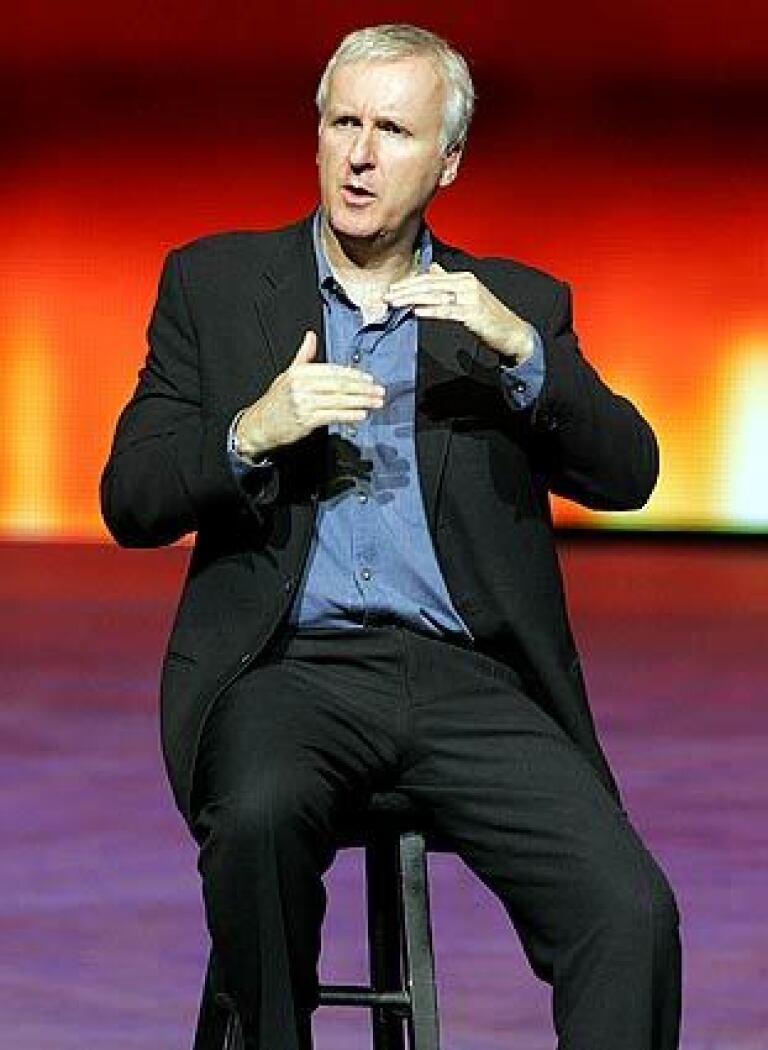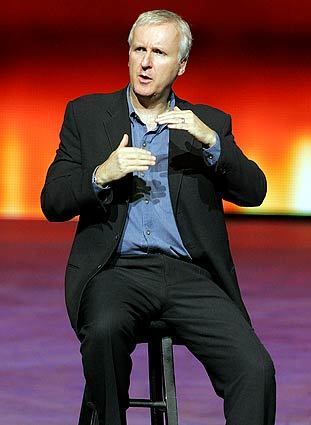 March 2004:
Speaking at a Q&A session in London, Cameron says his next film is underway and although he won't say what it was, he does say it is not "True Lies 2" or "Ramses of the Damned" or "Fathom," another deep-sea adventure he had talked about making, or, for that matter, "Avatar." Rae Sanchini, a chief excecutive at Lightstorm says they're aiming for a Jan '05 start date.
November 2004:
While promoting another underwater 3-D documentary, "Aliens of the Deep," Cameron tells reporters his next film will be a science fiction film called "Battle Angel," and that he will start shooting in June of '05.
December 2004:
Entertainment Weekly reports that Cameron will direct a film called "The Dive."
(Ethan Miller / Getty Images)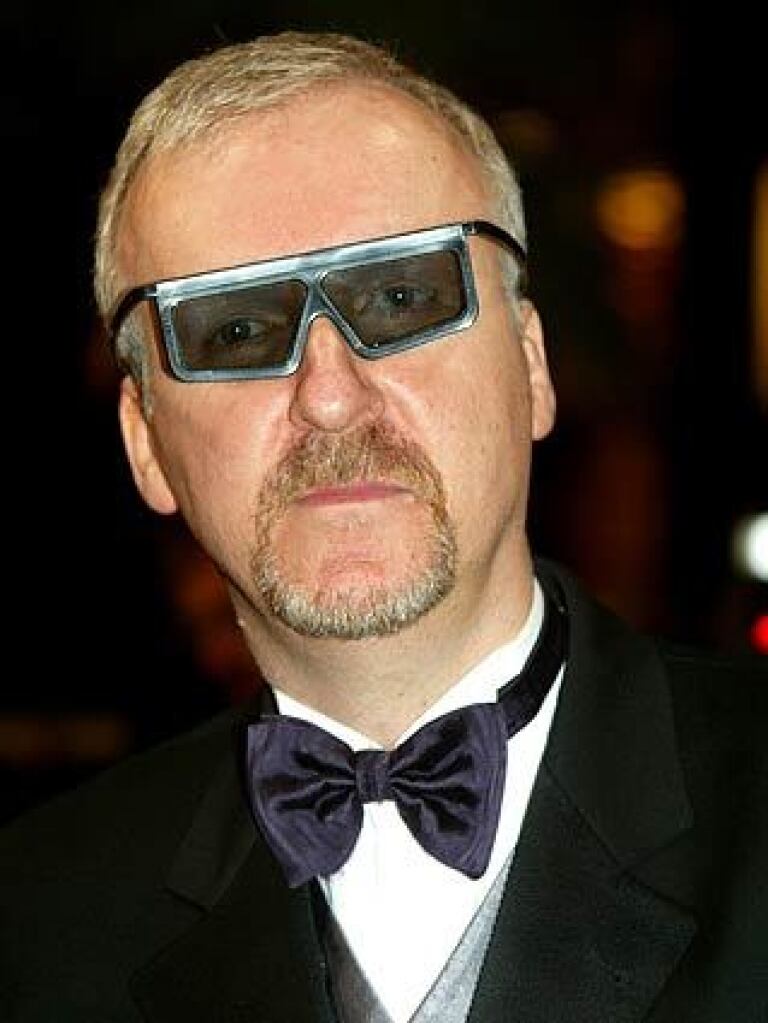 August 2005:
More details about "Battle Angel" surface--that the film will use motion capture technology, will be shot in 3-D and will be a love story between a human man and female cyborg.
2005-06:
Cameron plays himself on HBO's "Entourage," where he casts the series star in a big screen version of "Aquaman."
July 2006:
The director tells the Hollywood Reporter he is targeting a summer 2008 release for his next project which he had referred to covertly as "Project 880" but publicly acknowledges is "Avatar," a film he started writing 11 years ago. It is about a paraplegic war veteran who is brought to another planet inhabited by a humanoid race at odds with Earth's citizens.
(Pascal Le Segretain / Getty Images)
Times Staff Writer
Nearly 10 years after James Cameron made "Titanic," the record-breaking filmmaker said Monday that he's finally ready to step behind the cameras again.
Cameron's "Avatar," a science-fiction adventure set 150 years in the future, will start production this spring, with a scheduled summer 2009 release by 20th Century Fox. For now, Cameron's other contemplated feature, "Battle Angel," is on hold.
Cameron actually outlined "Avatar" before he made "Titanic" but didn't have the filmmaking tools to make it. "It was just too ambitious," Cameron said. "But now the technology has caught up."
After flip-flopping between "Avatar" and "Battle Angel," Cameron said he decided to proceed with the former film after completing a five-day camera test a year ago. "I could vividly picture how we would shoot the film," the writer-director said.
The movie, which combines live action and animation, will be made with some of the same performance-capture animation techniques used in movies such as "Monster House" and "The Polar Express." Cameron says his process will offer numerous refinements, especially in its depiction of facial expressions and physical action. The movie will be filmed with digital cameras and shown in 3-D theaters.
"The fundamental difference between the way we're doing [performance capture] and the way it's been done is that it's really director-centric now," Cameron said. Rather than wait for months of post-production to see how a final shot turns out, Cameron will be able to see in nearly real time how an actor and the environment combine.
Since he made 1997's "Titanic," the highest-grossing movie in Hollywood history and the winner of the best picture Oscar, Cameron has made several documentaries. In both "Ghosts of the Abyss" and "Aliens of the Deep," Cameron experimented with 3-D camera systems, new versions of which will be employed on "Avatar."
Cameron said 95% of the film unfolds on Pandora, a moon of a giant gas planet. Pandora features a lush tropical forest rich in striking plant and animal species, and its inhabitants have been targeted for exploitation.
While much of the acting will be recorded in 31 days of performance-capture photography on a high-tech Playa Vista stage, "Avatar" also will feature live action, which will be cut together with the animation. "Ideally, the audience won't know where one ends and the next starts," Cameron said.
When Cameron made "Titanic," he cast at its center two actors without much name recognition at the time: - Leonardo DiCaprio and Kate Winslet. Both, of course, went on to be huge stars. For "Avatar," Cameron has cast two more under-the-radar performers: 30-year-old Aussie actor Sam Worthington ("The Great Raid," "Hart's War") will play the film's hero, Jake, and 28-year-old Zoe Saldana ("Pirates of the Caribbean: The Curse of the Black Pearl," "Drumline") his love interest.
john.horn@latimes.com
---
From the Oscars to the Emmys.
Get the Envelope newsletter for exclusive awards season coverage, behind-the-scenes stories from the Envelope podcast and columnist Glenn Whipp's must-read analysis.
You may occasionally receive promotional content from the Los Angeles Times.