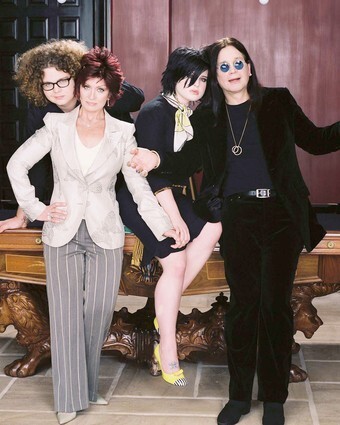 9 Images
The Celebreality Pantheon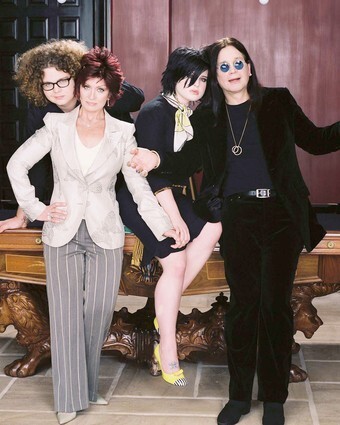 By Deborah Netburn, Times Staff Writer
Bravest: "The Osbournes"
Ozzie and family were the first to open their home and lives to prying documentary cameras. Now a reality show seems like the obvious choice for a fading star, but back in 2002 when the show first premiered on MTV nobody knew what to expect. But Sharon Osbourne was a believer. She's rumored to have put her family on TV to ensure that her children would be provided for.
Lesson learned:
A reality TV show sure can revive a career!
(MTV)
Most Lovey-Dovey: "The Newlyweds: Nick & Jessica"
In hindsight we have every reason to assume that this show was fake-out.com from the start, but that wasn't the case when "Newlyweds" first aired on MTV (and bumped these B-listers up to A-plus status). Viewers loved to laugh at "dumb blond" Jessica ("Is this chicken or fish?"), but the couple also seemed to really care about each other.
Lesson learned:
Reality TV still has a whole lot of fiction.
(MTV)
Most Introductory: "Victoria Beckham: Coming to America"
Like Paris Hilton and Nicole Richie, Victoria Beckham is the kind of celebrity who doesn't exist unless she's constantly featured in the tabloids. To ensure that she will be properly (and frequently) photographed after moving to Los Angeles, the former Spice Girl filmed a one-hour reality special about her move overseas. (It was originally supposed to be six full episodes, but then her husband, who actually has a career, was called away.)
Lesson learned:
Nothing says "Hello America!" like a reality show!
(Mark Avery / AP)
Most Random: "Meet the Barkers"
He's the drummer for Blink 182, she's a former pageant queen. He travels all the time, she misses him and sometimes she decides to dump the kids with a sitter and show up at one of his gigs or at a photo shoot unexpectedly. Then she gets bored. It's a weird show.
Lesson learned:
Reality TV doesn't help a marriage! Moakler and Barker eventually split up.
(MTV)
Most Contrived: "Hogan Knows Best"
What could be crazier than watching former pro-wrestler Hulk Hogan, his wife and two kids go about their daily lives? Or at least that's what the producers of this reality show hoped. Too bad the Hogans' life wasn't a non-stop ball of outrageousness. And so plot elements were introduced: The Hogans go to a spa! The Hogans get a monkey! (Surprise! He's a troublemaker!)
Lesson learned:
Even celebrities need help making their lives interesting!
(VH1)
Most Incomprehensible: "Britney & Kevin: Chaotic"
"Chaotic" was confusing for several reasons. At the time it aired Spears was still bordering on being too famous to need a reality show. Another problem was the premise, which was Spears and Federline filming themselves. The pop singer and the former back up dancer, it turned out, were not such great videographers. Surprise!
Lesson learned:
Don't let the stars shoot themselves.
(UPN)
Most Honest: "Hey Paula"
Paula Abdul is not capable of playing a more charming, gracious version of herself for the cameras. If she wants comfortable pants for the plane and she doesn't get them, she's going to throw a fit whether she's being filmed or not!
Lesson learned:
Honesty is the best policy—for ratings!
(Bravo)
Most Depraved: "Breaking Bonaduce"
This show about former Partridge Family bassist Danny Bonaduce aired on VH1 in 2005 and was on the forefront of what has come to be called "train wreck" reality TV. On the show Bonaduce fought with his wife, threatened to kill himself, and spent long amounts of time in rehab. He also let the cameras into his therapy sessions.
Lesson learned:
Privacy is overrated!
(Rick Meyer / LAT)
Worst: "The Anna Nicole Show"
Not long after the cataclysmic success of "The Osbournes" the E! network gave Anna Nicole Smith her own reality show called "The Anna Nicole Show." Because Anna did not come with a built in immediate family the cast of her show was her taciturn teenage son, her weird beaten down assistant, her lawyer, her dog and her decorator. This makeshift family did not make for a warm show. Smith appeared to be out of her mind most of the time, and what many viewers hoped would be funny turned out to be desperately pathetic.
Lesson learned:
It's no fun to watch a show about people who can't take care of themselves. No fun at all.
(Franicne Orr / LAT)