From the Archives: Comedy Store family dispute is no laughing matter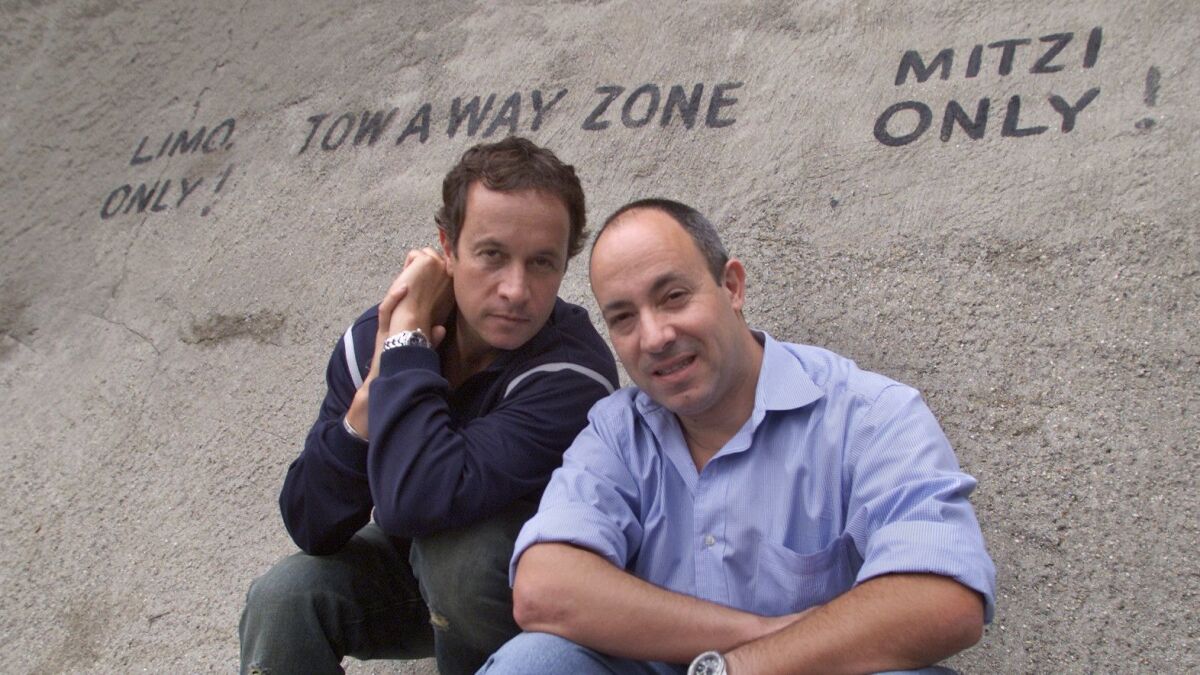 Mitzi Shore, who died Wednesday at age 87, left a deep imprint on the heavyweights of comedy. In a Los Angeles Times article from December 15, 2009, we take a look at the legacy of her club, the Comedy Store, within the Los Angeles comedy scene, and at the legal battle between her sons over their then-ailing mother and the future of the Comedy Store.
For nearly 40 years, the Comedy Store has been a training ground for countless Hollywood aspirants, providing a showcase for the likes of Richard Pryor, Jay Leno and David Letterman. But these days, nobody is joking about the future of the Sunset Strip landmark -- or the condition of Mitzi Shore, the Store's 79-year-old owner. Both are at the center of a lawsuit filed last week by Pauly Shore, the actor-comedian and her youngest son.
In his complaint, Pauly, 41, alleges that his older brother Peter, a psychologist and former TV director who lives in Portland, Ore., has been exerting "undue influence" over their mother, who suffers from Parkinson's disease and other neurological problems. As Mitzi's health has deteriorated in recent years, the brothers have taken on more day-to-day responsibilities at the club, with Peter overseeing the finances and Pauly helping to book talent and review new comics.
This past July, however, Mitzi's estate attorneys wrote Peter a letter raising concerns about her treatment and financial security -- a document that Pauly believes lends credence to his charges that Peter is engaging in "unscrupulous" behavior and "abusing his filial relationship" with their mother, according to the lawsuit.
The brothers' relationship seemed to hit bottom last month when Pauly asked for copies of the club's tax returns and financial records -- and Peter responded by retaining counsel and having Pauly removed from the comedy club's board. (Mitzi is the sole owner of the club; it is not clear who else sits on the Comedy Store's board.) In his complaint, filed in Los Angeles Superior Court last Tuesday, Pauly is seeking to overturn his removal from the board and to force his brother to provide the club's financial data.
Neither brother responded to several interview requests from The Times. Scott Shore, Mitzi's oldest child and a successful real estate executive in San Diego, said the lawsuit is "not a good situation" but declined to comment further on the particulars of the case. Sandy Shore, the only daughter in the family, could not be reached for comment.
An indelible stamp
Beyond the details of this suit, the brothers' squabble is really about the future of the Comedy Store and the ultimate legacy of Mitzi Shore, who has lorded over the club since she and ex-husband Sammy Shore co-founded it in 1972. Mitzi famously came up with the club's name, and took over the Comedy Store in 1974 as part of her divorce settlement. (Sammy Shore told The Times in 2003 that he relinquished control of the club to lower his alimony payments.)
Few Hollywood institutions are as linked with a single personality as the Comedy Store is with Mitzi Shore, a Wisconsin native who for decades was the comedy world's mother hen -- serving as equal parts talent scout, employer, lifestyle enabler, landlord and performance critic for a breath-taking array of comics, ranging from Robin Williams and Freddie Prinze in the '70s to Gallagher, Sam Kinison and Jim Carrey in the '80s to contemporary comedians such as Carlos Mencia and Joe Rogan.
But over the last 15 years or so, the Comedy Store's star-making power has been eclipsed by the Improv and the Laugh Factory, L.A.'s other major comedy clubs. According to numerous comedians, talent managers and industry observers, the Comedy Store has suffered because of Mitzi's unwillingness to revamp the club -- it still does not serve food, unlike its major competitors -- and her inability to extend the club's brand into television and media ventures that might stoke new interest in the Comedy Store among younger audiences.
Laugh Factory owner Jamie Masada, who worked odd jobs at the Comedy Store after he arrived in Los Angeles from Iran in the mid-'70s, says he's saddened by the lawsuit, particularly since he has known Pauly and Peter Shore since they were teenagers.
"There's plenty of money for all of them, they do not need to sue each other," said Masada, who opened the Laugh Factory in 1979. "It's a family affair and I think they've got to put pride on the side and work it out in private."
The lawsuit does not mention any details about Mitzi's will or succession plans for the club. According to Tommy Morris, the club's longtime talent coordinator and operations manager, both Pauly and Peter -- but not the other two siblings -- stand to inherit the Comedy Store.
"Pauly is very important here, he has his mother's instincts, and Mitzi picked Peter because he is her most educated child and he's done a very good job of overseeing our finances," said Morris, who's worked at the club since 2001. The suit is "unfortunate, but it's obviously a process that needs to happen," he added.
Business as usual
So far, the legal battle hasn't affected the club's nightly rhythms. This past Saturday evening, a typical mix of young couples, comedy veterans and inebriated tourists strolled by lobby photos of Jimmie Walker, Damon Wayans and Dom Irrera as they walked into the club's Main Room, where a procession of comics -- from up-and-comers like Chris D'Elia to veterans such as Marc Maron -- took the stage between 9 p.m. and 1 am. (Neither Peter nor Pauly were at the club, however.)
Maron, who lived with Andrew "Dice" Clay during the late '80s in a house owned by Mitzi Shore in the hills above Sunset Boulevard, fears that the Comedy Store will disappear once its owner passes away.
"It's like a demonic home away from home for a lot of people," said Maron, the former Air America radio host who now interviews comedians on "WTF With Marc Maron," a popular podcast on iTunes. "It's starting to unfold like a Greek tragedy, and I think the real fear of everyone is that this institution will go away -- and to lose it would be a tremendous loss."
---
UPDATES:
An article in Tuesday's Calendar about the family legal battle over the Comedy Store said that the Sunset Strip club was founded by Sammy Shore and Mitzi Shore. It was founded by Sammy Shore and Rudy De Luca.
---
Get our L.A. Goes Out newsletter, with the week's best events, to help you explore and experience our city.
You may occasionally receive promotional content from the Los Angeles Times.