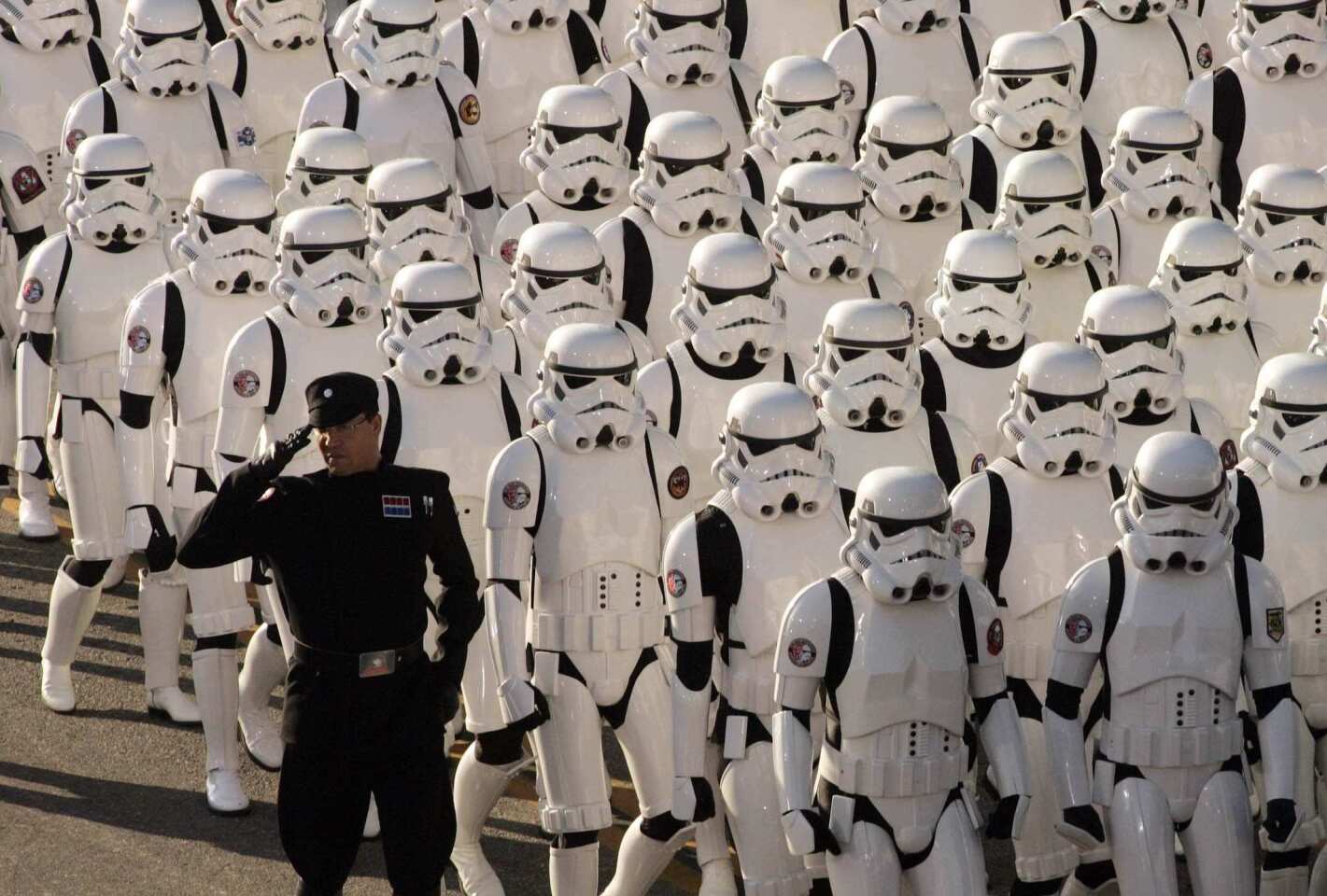 11 Images
Star Wars Day and more pseudo-holidays we like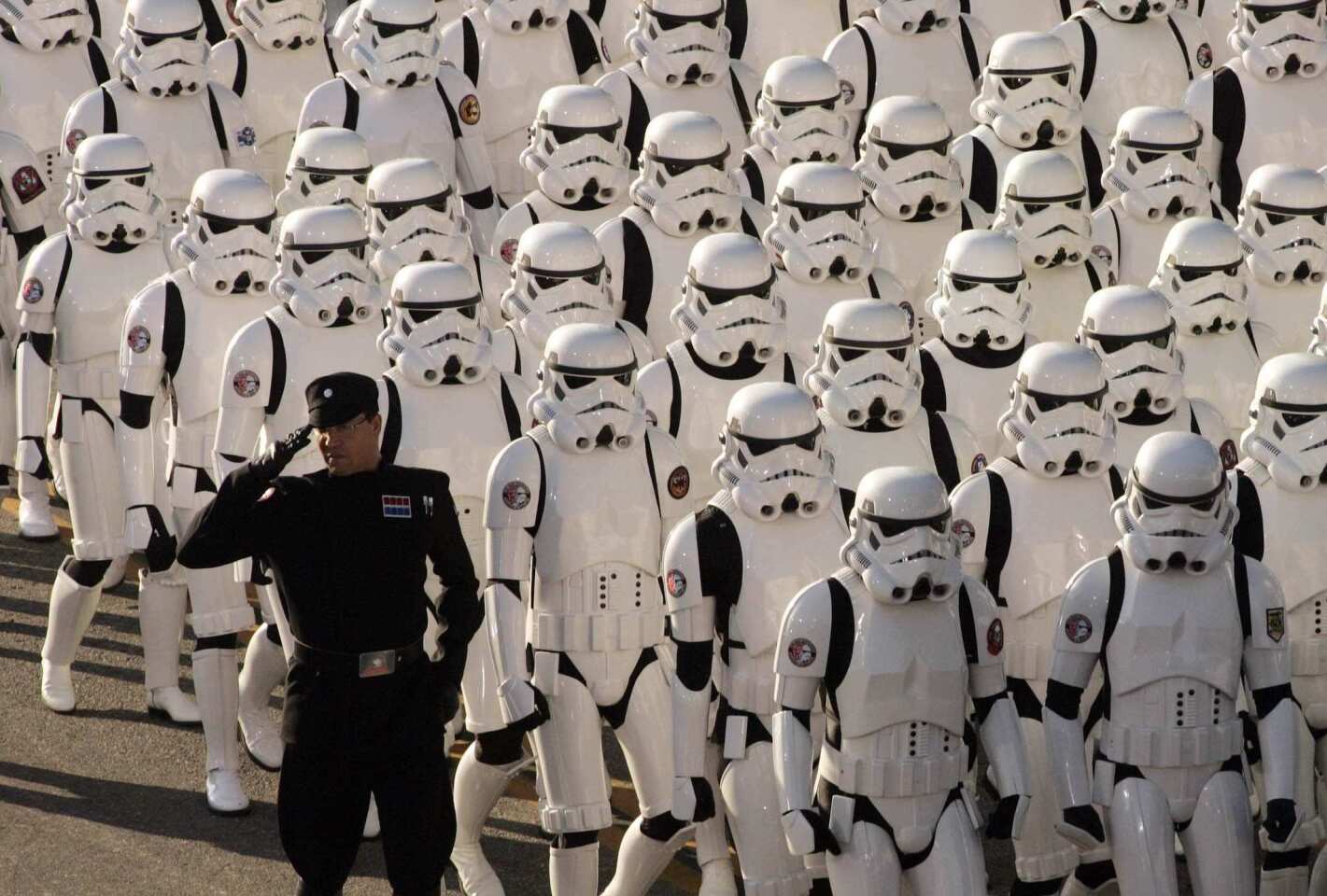 Date:
May 4
Origin:
Credit for this day to celebrate the six
"Star Wars"
films and their various offshoots goes not to
George Lucas
, but to former British Prime Minister Margaret Thatcher. The day she was elected -- May 4, 1979 -- her party took out an ad in the London Evening News proclaiming, "May the fourth be with you." A date and a holiday were born. The current incarnation has nothing to do with Thatcher, but has become an occasion for "Star Wars" fans to gather and re-watch their favorite films.
Pictured: "Star Wars" stormtroopers at the Rose Parade.
(Anne Cusack / Los Angeles Times)
Date:
Dec. 23
Origin:
Reader's Digest editor and writer Dan O'Keefe created the secular holiday in 1966 to mark his first date with his wife. Years later, his son Daniel gave the holiday national attention when he worked it into a 1997 episode of the sitcom he wrote for, "Seinfeld."
Festivus
, "for the rest of us," is intended for those frustrated with the commercial pressures of the holiday season and is celebrated with an unadorned aluminum pole (shown here being made at a Milwaukee factory) and includes such activities as "Feats of Strength" and "Airing of Grievances."
(Morry Gash / Associated Press)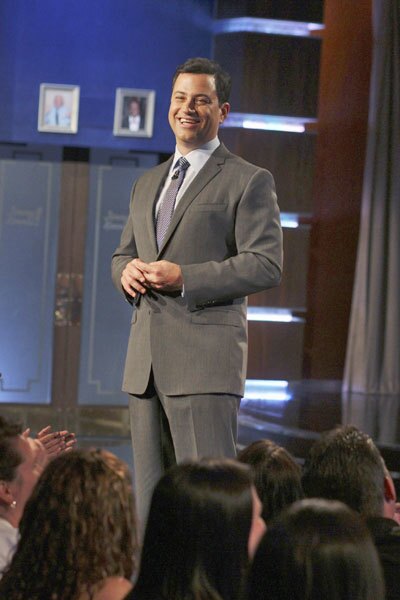 Late-night TV host
Jimmy Kimmel
has made it his personal crusade to make Nov. 17 National Unfriend Day, a day when people across the country cast off the dozens, possibly hundreds, of
Facebook
friends they don't actually know. It's his own little attempt to go beyond the nightly grind of telling jokes and interviewing celebrities, and if all goes well, it could have a life beyond a network TV comedy bit. He could follow the path of these holidays that got their start from the world of entertainment.
(Michael Ansell / ABC)
Date:
Sept. 22
Origin:
Bilbo and Frodo Baggins, the protagonists of both of author J.R.R. Tolkien's major works, "The Hobbit" and "Lord of the Rings," share the same birthday on Sept. 22 (adopted several years apart). Over the years, fans of Tolkien's writing have adopted the date as a holiday during which they frequently throw hobbit-style parties with food and dancing. The week of Sept. 22 is frequently known as Tolkien Week and expands to a celebration of all of his writing.
Pictured: Elijah Wood, left, and Sean Astin in "The Lord of the Rings: The Return of the King."
(Pierre Vinet / New Line Productions)
Date:
May 25
Origin:
Two weeks after "Hitchhiker's Guide to the Galaxy" author
Douglas Adams
died in 2001, fans online proposed commemorating the writer's untimely passing by carrying a towel with them everywhere. The towel, as any reader of Adams' comedy sci-fi novels knows, is the universe's most indispensable item. The website
TowelDay.org
has become the central hub of all Towel Day news and info.
Pictured: Sam Rockwell, left, Zooey Deschanel and Mos Def in movie "The Hitchhiker's Guide to the Galaxy."
(Disney Enterprises Inc.)
Date:
Holiday season on and around Dec. 25. Eight days of presents followed by one day with a lot of presents.
Origin:
The blending of Christmas and
Hanukkah
, celebrated by kids with one Jewish and one Christian parent, was popularized by a 2003 episode of the teen
drama
series
"The O.C."
Though the actual practices are hazy, decorations include the display of a Christmas tree and a menorah and there's the
Christmas Day
tradition of staying in to eat Chinese takeout and watch movies such as "Fiddler on the Roof" and "It's a Wonderful Life."
(R. Foreman / Fox)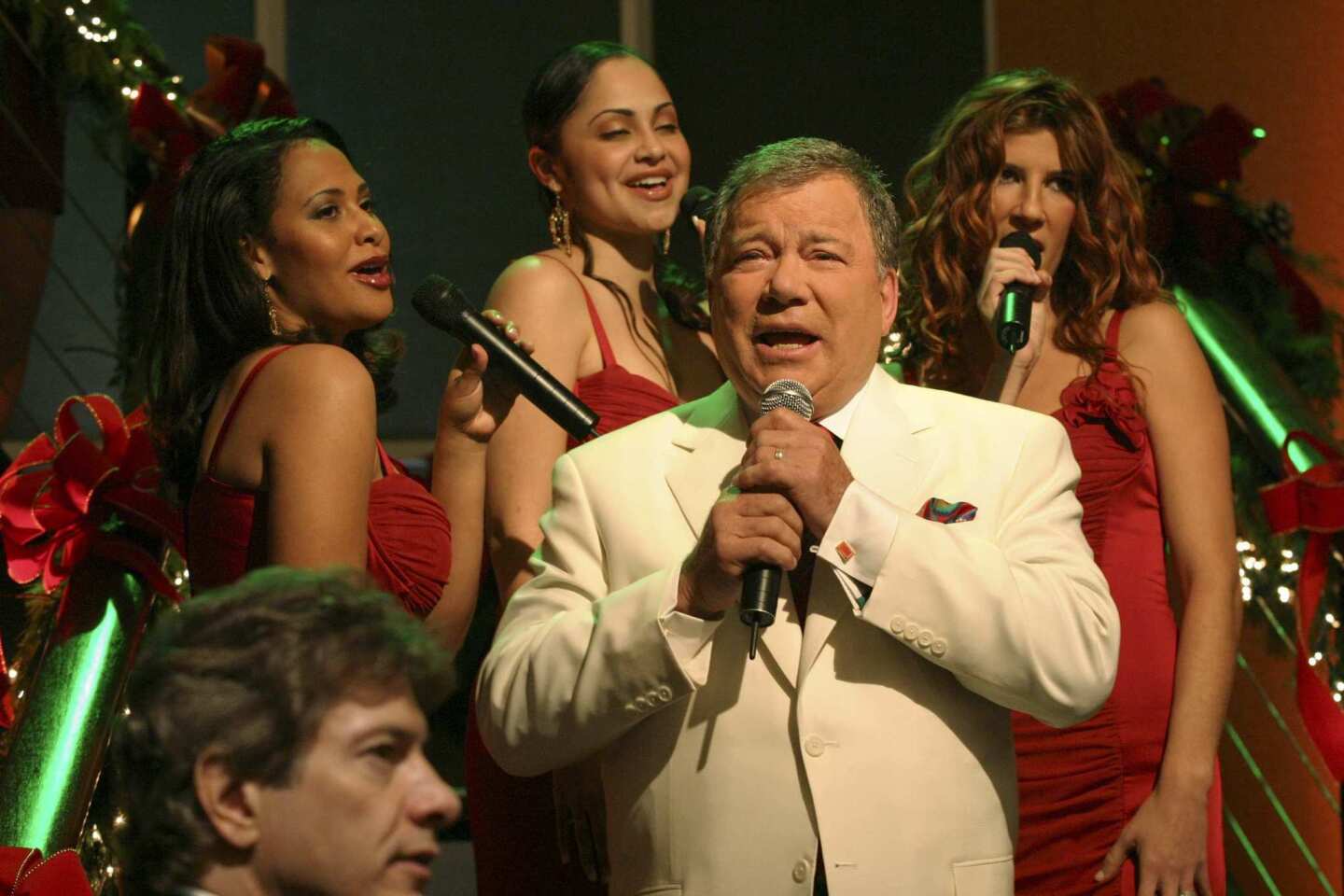 Date:
March 22
Origin:
Voice actor Maurice LaMarche, known for his performances on many animated series, including "Futurama," first proposed making the date of Shatner's birthday a holiday for everyone to share their best Shatner-ian impressions. LaMarche shares credit for creating the holiday with Ohio resident Doug VanHorn. The way most celebrate is to speak like Shatner for the day, adding great emphasis and dramatic pauses where necessary.
(Carin Baer / ABC)
Date:
June 16
Origin:
The celebration of the works of Irish writer
James Joyce
, specifically the events of his 1922 novel "Ulysses," began in 1954 when Irish artist and critic John Ryan and writer Flann O'Brien decided to celebrate the 50th anniversary of the novel's events (on June 16, 1904) by retracing the path of Leopold Bloom around Dublin. Today, the holiday is celebrated around the world, with readings, dramatizations, pub crawls and more.
Pictured: A statue of James Joyce in Dublin.
(Fran Caffrey / AFP / Getty Images)
Date:
January 31
Origin:
Mad Magazine artist Don Martin created the idea of National Gorilla Suit Day for a 1963 comic strip in which a character mocks the holiday and is then assaulted by gorillas and people in gorilla suits. Since that time, the holiday has been semi-celebrated every year by fans of Mad Magazine and Don Martin by dressing up in a gorilla suit. In 2007, Martin's widow asked one of the holiday's biggest cheerleaders, writer Mark Evanier, to
cease promoting
it and to remove all mentions of Gorilla Suit Day from his website.
Pictured: An Oakland Raiders fan dressed as a gorilla stands on the field.
(Stephen Dunn / Getty Images)
Date:
Sept. 19
Origin:
Oregonian friends John Baur and Mark Summers came up with the idea of a holiday dedicated to piratical speak in 1995, but they couldn't get much interest outside their circle of friends. But in 2002, the friends sent their idea to syndicated humor columnist
Dave Barry
(pictured), who wrote about the holiday and gave it international appeal. The celebrations have taken on a life of their own and made minor celebrities of the two men, who appeared as pirates on the ABC reality series
"Wife Swap"
in 2006.
(Diane Bondareff / Associated Press)