First person: A reporter's rewarding, full-circle moment with Jamie Lee Curtis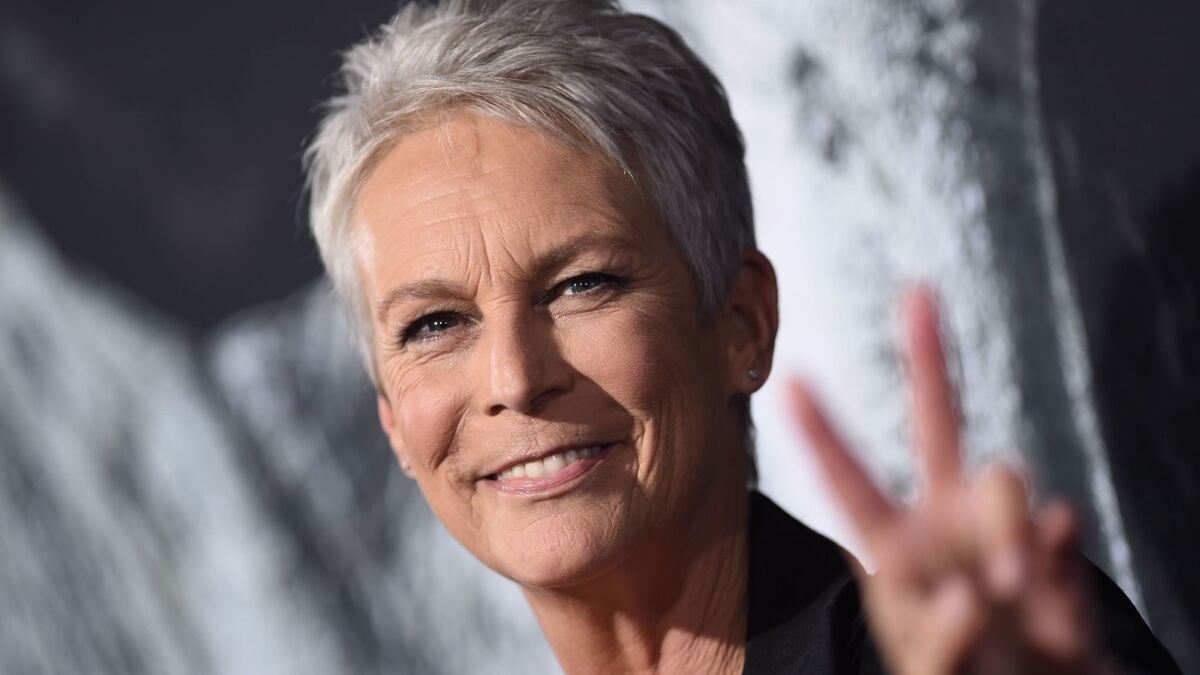 I first met Jamie Lee Curtis when I was 17 years old. I was a huge fan of 2003's "Freaky Friday," so my mom drove me to meet her at a book signing for her 2010 children's book, "My Mommy Hung the Moon: A Love Story." After she read an excerpt to a crowd of kids half my age, the attentive group formed a line. I fell in line. My heart was pounding as I inched closer. When my turn came, I introduced myself and my mom asked if the two of us could take a picture. Curtis asserted, "Children only."
My supportive mom replied sternly, "She's a teen."
So Curtis reluctantly leaned in to capture the moment.
Here it is, in its tacky filtered glory, after my teen self uploaded it to Facebook within 24 hours. I guess that artsy, black-and-white style was trending at the time.
Even then, as a naive student journalist, I knew you could simply catch a celebrity or interviewee on a bad day. I get it. Press tours can be exhausting. You have to always "be on" and stretch that smile, sometimes at a time of personal turmoil. But the challenge is that for a fan, that quick moment remains in your memory bank forever, for better or for worse. It wasn't an awful interaction. It just wasn't the wonderful, joyous meeting I anticipated and left me feeling embarrassed and confused.
So you can understand my slight apprehension to be sent on assignment, nearly eight years later, to interview Curtis professionally at the L.A. premiere of "Halloween." This time, however, I caught Curtis on a good day. In fact, she gave me the little pep talk I didn't know I needed.
RELATED: 'Halloween' reboot could hit $60 million in its box office opening, a franchise best »
Forty years after the original, the 11th "Halloween" movie serves as a direct sequel to John Carpenter's 1978 horror classic. In the latest installment, it's clear that Laurie Strode has been deeply traumatized by events that took place decades prior: the murders of her three friends at the hands of killer Michael Myers.
But while someone dressed as Myers was trying to command attention the night of the premiere — pacing back and forth next to the black carpet — all eyes were on Curtis when she arrived.
Unlike most movie stars at red carpet events (in my experience) who speak to only a handful of outlets, Curtis took the time to chat with every journalist present, as far as I could tell. That amounted to almost 30 interviews in less than 60 minutes. Keep in mind, short interviews are common at an event like this — all the more reason to prep your questions wisely.
Yet when she arrived in front of my spot on the press line, I threw out my prepped questions. I put myself in her shoes with such a long press tour, and instead inquired if there was something she hadn't been asked about the film that she'd like to share.
She paused, smirked and then stated, "I'm always surprised when someone reduces [Laurie Strode] down to being a 'badass.' To me, 'badasses' are people without a lot of feelings, and I think Laurie Strode is all feelings. Do you know what I mean?"
I nod and tell her, "Absolutely." She continued, "Like... it's a funny word because I don't think badasses are really human. I think Laurie is very human."
I don't know why but in that moment I felt compelled to tell her I really do know what she meant. I'm a survivor of trauma myself, and to my surprise, I told her that. It's something I haven't even shared with close friends. I added that it resonated with me to watch a character whose emotions lead her actions; they're the source of her strength.
"Right, and by the way, emotions leading actions is very different than just action-ing. Do you know what I mean?" she asked again.
I agreed, adding, "With no kind of depth behind it."
An impassioned Curtis continued, "I was very, very proud that [director] David Gordon Green made a movie that explored what trauma looks like. Like we see movies that are traumatic, and really violent. But we never get to see what happens to those people."
"And like you said, you're a survivor. Laurie Strode is a survivor but she's broken. And we get to see her put herself back together." And with that, she threw me a peace sign and walked away saying, "Thank you. God bless you."
That's a memory my 17-year-old self would have cherished. My takeaway? Never judge a person on a press day.
Get our L.A. Goes Out newsletter, with the week's best events, to help you explore and experience our city.
You may occasionally receive promotional content from the Los Angeles Times.