35 Images
'Game of Thrones': Season 2
Arya Stark (Maisie Williams)
Eddard Stark's youngest daughter is a tomboy, with more of an interest in swordfighting and battle than dresses and romance. Unfortunately, with the death of her father, she's become a wanted person and must exist as a boy. As Arry, she must travel in secret out of King's Landing on her way with a hoped-for reunion with her mother, Catelyn, and brother, Robb.
(Helen Sloan / HBO)
Balon Greyjoy (Patrick Malahide)
As Lord of the Iron Islands, Balon led a rebellion against King Robert Baratheon. When that rebellion failed, Balon had to give up custody of his first-born son, Theon, to Eddard Stark. He's spent the intervening years hanging out in the Iron Islands and holding a major grudge against the House of Baratheon.
(Helen Sloan / HBO)
Bran Stark (Isaac Hempstead Wright) and Hodor (Kristian Nairn)
Young Bran Stark lost the use of his legs when Jaime Lannister pushed him off a tower. Now he's the oldest Stark left in Winterfell and must rely on the duo-syllabic Hodor to get around. Bran's dreams are quite vivid and may point the way to his uncertain future.
(Helen Sloan / HBO)
Brienne of Tarth (Gwendoline Christie)
Tall and gawky, the warrior maiden Brienne endures her share of mockery, but she can take it. It helps that she's in the service of a man with whom she's madly in love: Renly Baratheon. Unfortunately, Renly isn't one to return those affections.
(Helen Sloan / HBO)
Catelyn Stark (Michelle Fairley)
The events of the first season of "Game of Thrones" have left Catelyn bitter and angry. Her husband got beheaded, her eldest daughter is betrothed to the odious King Joffrey (the boy who ordered her husband executed) and her youngest daughter has gone missing. Luckily, she has her son, Robb,doing his best to defeat the armies of Tywin Lannister, as they battle for control of the Seven Kingdoms.
(Helen Sloan / HBO)
Cersei Lannister (Lena Headey)
Cersei has had to endure her share of indignities. She pretended to love King Robert, who didn't love her back, and had to hide her true feelings toward her twin brother, Jaime (shudder). But now that Robert is gone and her son sits on the Iron Throne, she's ready to take control of the Seven Kingdoms without breaking a sweat. Of course, she's in for a rude awakening.
(Helen Sloan / HBO)
Daenerys Targaryen (Emilia Clarke)
The last time we saw Daenerys Targaryen, she was naked and covered in dragons. In the second season, she's found some clothes. But the dragons are still around.
(Helen Sloan / HBO)
Daenerys Targaryen (Emilia Clarke)
As the only living heir to the true king of the Seven Kingdoms, Daenerys would like nothing more than to return to the land of her birth. But she's on the other side of the Narrow Sea and has a long journey ahead of her, through many strange lands. Luckily, she's got dragons.
(Paul Schiraldi / HBO)
Davos Seaworth (Liam Cunningham)
A smuggler in the service of Stannis Baratheon, Davos has been dubbed the Onion Knight. Davos gives Lord Stannis the advice he needs to hear, and for that he's kept in close proximity to the late King Robert's eldest brother.
(Helen Sloan / HBO)
Joffrey Baratheon (Jack Gleeson)
King Joffrey, the product of an incestuous affair between Queen Cersei and her brother, Jaime, is the immensely smack-able occupant of the Iron Throne. Will this screen role be the last that actor Jack Gleeson is seen in?
(Helen Sloan / HBO)
Jon Snow (Kit Harington)
Some characters get to spend "Game of Thrones" in arid, warm locales. Not poor Jon Snow, who travels north of the Wall in search of those hideous ghouls known as White Walkers and the troublesome King Beyond the Wall, Mance Rayder.
(Oliver Upton / HBO)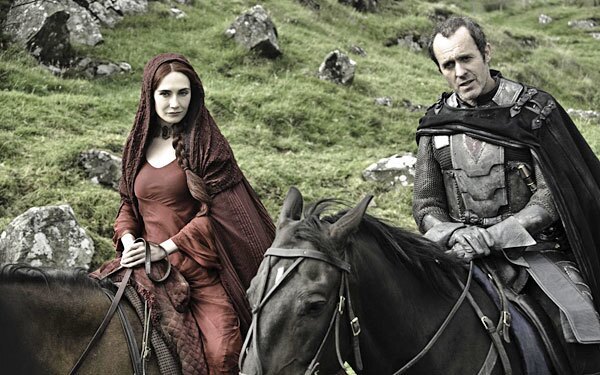 Melisandre (Carice van Houten) and Stannis Baratheon (Stephen Dillane)
Melisandre of Asshai has come to the Seven Kingdoms filled with religion. Unfortunately, her kind of religion, worshiping the god R'Hllor, involves setting things on fire ... including people ... sometimes. Brooding Stannis Baratheon is willing to listen to the mysterious Melisandre because she wants nothing more than to put him on the Iron Throne, and he'd really like that too. Together, they're a dangerous duo. And they aren't shy about using force (and other things) to get their way.
(Helen Sloan / HBO)
Renly Baratheon (Gethin Anthony)
King Robert's younger brother, Renly, is a bit of a free spirit, but with Joffrey on the throne, he's got his own ideas about who should be leading the Seven Kingdoms: himself.
(Helen Sloan / HBO)
Robb Stark (Richard Madden)
Robb Stark inherited the most warlike aspects of his father Eddard's personality. But with Lannister aggression tearing up the Seven Kingdoms, he's the only thing standing between the north and Joffrey's iron fist.
(Helen Sloan / HBO)
Sansa Stark (Sophie Turner)
Sansa Stark wanted nothing more than to marry a prince, become a queen and live a life of attending ladies and fancy parties. She's getting the first part of her wish, as she's set to be wedded to King Joffrey, but the rest of it has become a nightmare as her father was branded a traitor and beheaded and she's treated more like a prisoner of war than a bride-to-be.
(Helen Sloan / HBO)
Theon Greyjoy (Alfie Allen)
Though he was technically a hostage, Theon Greyjoy was raised by the Starks like one of the family. However, he has never forgotten his own family, and with Eddard gone, Theon sees an opportunity to improve his lot in life. And that doesn't involve being a nice guy.
(Helen Sloan / HBO)
Tyrion Lannister (Peter Dinklage)
Peter Dinklage picked up an Emmy and a Golden Globe for his work as Tyrion Lannister, the black sheep of the Lannister family. In the second season, he's been pressed into service as the King's Hand, a right-hand man to the ruler of the Seven Kingdoms. It's a thankless role -- the last two Hands have been murdered. But Tyrion is too clever to let the same fate befall him. Right? ... Right?
(Helen Sloan / HBO)