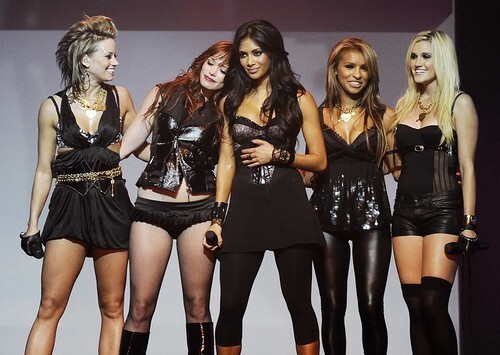 21 Images
Supremes to Destiny's to Dolls: Girl group evolution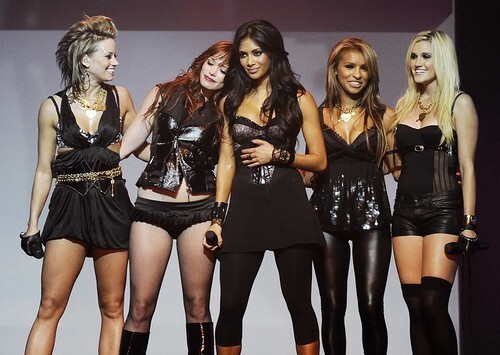 By Todd Martens and Deborah Netburn, Los Angeles Times Staff Writers
Music tastes and styles may have changed, but one permanent fixture in popular culture over the past five decades is the girl group. It's the band as concept, and one defined by a uniform look or theme.
But how did we get from the Shangri-Las' "Leader of the Pack," a densely orchestrated tale of teenage tragedy, to the Pussycat Dolls' "Don't Cha," a dark club tune that preys on our insecurities about superficiality?
From the refined to the raunchy, the Chantels to the Spice Girls, here's a look at some notable girl groups over the years - with some girl bands who copped a thing or two from their more prefab peers thrown in.
Read the story: Pussycat Dolls run hurdles in high heels
(Chris Pizzello / Associated Press)
The Chantels
Look:
Casually proper, like going to Sunday school on a warm summer day.
Sound:
Hit single "Maybe" is a prom-theme anthem if there ever was one, with a slow-dance beat, a swaying piano and a shouted vocal lament.
()
The Ronettes
Look:
Tight skirts and beehive hair - the sexy stewardess style.
Sound:
Veronica "Ronnie" Bennett was the star, her voice cutting through the dense swirl of a piano and a booming rhythm on "Baby, I Love You," and confidently strutting through mega-hit "Be My Baby."
()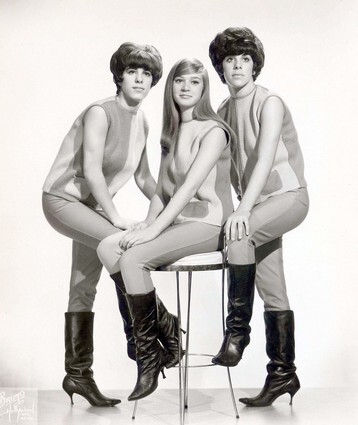 The Shangri-Las
Look:
Skin-tight leather and boots, adding a little bit more rock and roll to typical girl groups of the '60s.
Sound:
Super-emotional with some musical risk-taking moves — the classic "Leader of the Pack" incorporated the sound of a motorcycle; in another song, all the lyrics are delivered via a spoken word experiment.
()
Martha and the Vandellas
Look:
Early on it was flowery church-appropriate dresses, but in the '70s the clothes got less structured and the hair less shellacked.
Sound:
Generally upbeat Motown with full-bodied call and response vocals and a heavy dose of horns.
()
The Marvelettes
Look:
Their high hair and sparkly dresses were more fabulous-aunt than sex-kitten.
Sound:
Classic Motown with a strong emphasis on pop.
()
The Supremes
Look:
Long, lean and gorgeous. Sparkles, feathers, drama!
Sound:
Just enough soul to keep it interesting, just enough pop to keep it accessible.
(Motown Archives)
Josie and the Pussycats
Look:
Cocktail-waitress chic.
Sound:
Early bubblegum pop mixed with a hint (emphasis on hint) of Motown soul. Music safe for an early '70s cartoon.
-Ed note: The 2001 film "Josie and the Pussycats" resulted in some of the most under-appreciated power-pop of the past decade.
Try it.
()
The Pointer Sisters
Look:
Big hair and clothes draping off the shoulder brought the girl group into the '80s.
Sound:
Dance-party melodies with synth pop flourishes that dive instantly into your brain and stay there.
()
The Go-Go's
Look:
L.A. new wave heroines staying true to their punk roots with spiky hair and wide belts.
Sound:
With an emphasis on anthems, they were like punk-rock cheerleaders in the best way.
(Larry Armstrong / Los Angeles Times)
Bananarama
Look:
Fashion rock in the truest sense of the phrase. They changed up their look from feathered hair and denim to sleek, black matching outfits, but consistently kept it fashion-forward.
Sound:
Smooth vocals over an entirely electro musicscape — every group in the short-lived electroclash scene of the early 2000s wished they sounded this good.
()
The Bangles
Look:
Lots of hair and lots of makeup means a look not too different from the hair metal bands of the same era.
Sound:
They started off with a garage rock vibe, but became best known when they turned more lush with Susanna Hoffs' syrupy voice rising to the top.
()
Exposé
Look:
Miami in the '80s — tight pants and low-cut tops.
Sound:
Upbeat dance music with Latin and Afro-Cuban undertones and high-pitched vocals.
()
TLC
Look:
Early '90s rapper-style gone girly. Each member of this group brought something to the table — Left Eye's black smudge, Chilli's gentle beauty, T-Boz's attitude.
Sound:
Bouncy, fun hip-hop with frank sexuality.
(xx)
The Donnas
Look:
A punk attitude with heavy metal fashions - the high school rebel getting dressed up for Dairy Queen on a Friday night.
Sound:
The band started as Ramones meets Kiss. The band has evolved into Kiss meets Ramones.
(Genaro Molina / Los Angeles Times)
Spice Girls
Look:
The band as a virtual mall. They're sporty, spunky, posh and glamorous - whatever you need.
Sound:
Over-the-top pop with some G-rated hip-hop embellishments. And it's still stuck in your head, or it will be in a matter of seconds ("zig-a-zig-ah").
(Business Wire)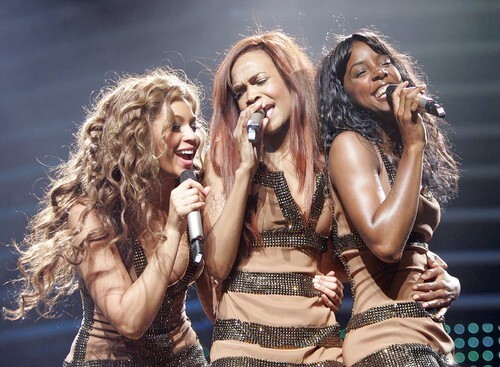 Destiny's Child
Look:
High heels, short dresses and deep V-neck tops. (Very deep Vs). It's amazing these ladies were able to keep their virginal personas considering the outfits Beyonce's mom put them in.
Sound:
Futuristic R&B with an emphasis on traditional harmonies and girl power.
(Frank Micelotta / Getty Images)
Eden's Crush
Look:
Multi-culti, vaguely trashy club girl.
Sound:
A poor version of the heavily produced Britney Spears sound.
()
The Pussycat Dolls
Look:
We're not strippers! Really. That garter belt is totally fashionable.
Sound:
Pop dance with A-list production and fiercely sexual lyrics. Check the still-inescapable "Don't Cha," which preys on male insecurities ("Don't cha wish your girlfriend was hot like me"?) more than it hypes female confidence.
(Getty Images for Maui and Sons)
The Pipettes
Look:
Vintage-sexy for the Urban Outfitters set.
Sound:
An update of the Phil Spector sound with some punky self-awareness. It's the Shangri-Las as filtered by "Sex and the City."
(Pamela Littky)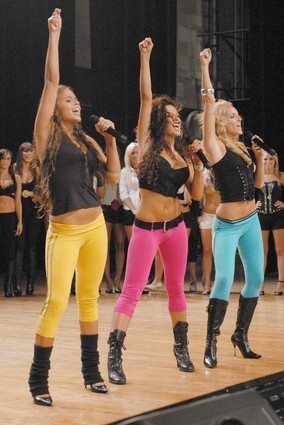 Girlicious
Look:
The group's members haven't been officially announced yet, but expect something more G-rated than the Pussycat Dolls, albeit slightly. Or, in the words of founder Robin Antin: "I love the word delicious. I always say everything is whatever-icious. And girls, obviously. We love sexy girls. So delicious girls."
Sound:
Pop with a heavy urban influence. Rapper of the moment Flo Rida guests on the first album.
(Michael Yarish / The CW)