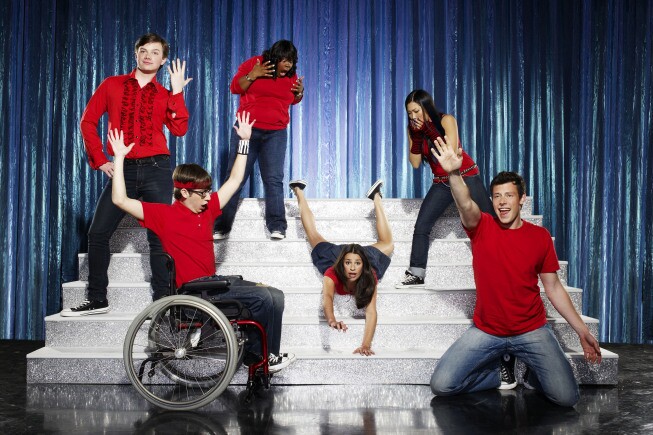 12 Images
Get to know the cast of 'Glee'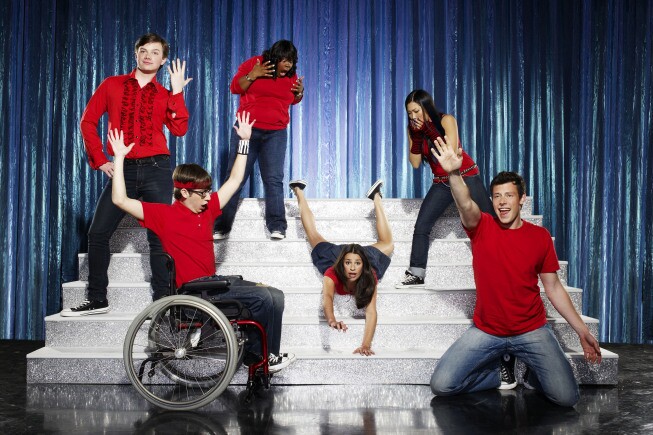 la-glee-1
By Maria Elena Fernandez and Denise Martin, Times Staff Writers
Ryan Murphy, the creator of "Nip/Tuck" and "Popular," is back with a comedy series revolving around singing, dancing high school misfits. What's not to like?
We let the players explain why you should tune in to the May 19 premiere of "Glee" on Fox:
(Fox)
Cory Monteith
Where you may have seen him:
ABC Family's "Kyle XY" and MTV's "Kaya"
Character:
Finn
Cory on Finn:
"Finn is the quarterback, and he has a passion for singing but he's trying to uphold his golden boy jock-y image, you know, as being the cool guy in the school. He's struggling between doing what he wants and being a cool guy. That's his conflict. His jock-y friends and cheerleader girlfriend give him a hard time for it. So it's the struggle to do what he wants versus what other people want him to do."
On his audition for "Glee":
"I ignored the fact that they wanted a tape of me singing and dancing because it's not my strong suit, so I just sent the acting. Of course, I had to send the rest anyways. I sent a tape of myself singing
REO Speedwagon's 'Can't Fight This Feeling,'
but I did it like an '80s music video where I'm all looking out into the distance. It was really cheesy."
On why he hates the "High School Musical" comparison:
"How do I put this? 'Glee' is like 'High School Musical' if 'High School Musical' had its stomach punched and its lunch money stolen."
(Fox)
Lea Michele
Where you may have seen her:
Broadway's "Spring Awakening" and the Hollywood Bowl's "Les Miserables"
Character:
Rachel
Lea on Rachel:
"Rachel is the star of her high school glee club in Ohio. She's raised by two gay men, one Jewish and one African American. She's very outgoing, a little bossy at times. She's convinced this is her claim to fame but she's got a lot to learn. When Finn comes into the glee club, he's the jock, you know. Things are different. She's a sophomore and is learning about her vulnerability and she just loves to sing. And she's really very good. So we'll see what happens with her love life and performing life."
On the difference between theater and the small screen:
"I'm used to going to work [on Broadway] every night, knowing where the character is going to begin and knowing where she's going to end. I tell one whole life in one night. And the next day you do the same thing and every day you perfect the same material. Here, you do something and it's gone, and you probably won't do that again, and you don't know what's going to happen to your character tomorrow, the next day or in a year. It's shifting gears in my head. I love doing the work and then forgetting about it."
(Fox)
Chris Colfer
Where you may have seen him:
His high school's spoof of "Sweeney Todd" (which he wrote, directed and starred in)
Character:
Kurt
Chris on Kurt:
"He's very fashionable. He's very low patience. He's very vogue. He's a lot of things. He's a mess sometimes. I think they've been describing him as the dramatic and fashionable soprano. I think I'm just the soprano part. He's the dramatic, fashionable and fabulous part. And I'm not so much any of those things."
On his audition for "Glee"
: "I didn't go through a teenage rebellion period because I saw 'Nip/Tuck.' [Created by Ryan Murphy, who is the creator of "Glee."] That was my teenage rebellion. My mom would say, 'You're not allowed to watch that,' blah blah blah. It was very nerve-racking auditioning in front of Ryan Murphy because I'm such a huge fan. It was hard. He's very nice. He's a little intimidating at first, but he's great. I've learned lots of things from Ryan. I've learned how to deal with crazy people. Not that Ryan is crazy. But he likes crazy people."
(Fox)
Amber Riley
Where you may have seen her:
Ryan Murphy's pilot for "St. Sass"
Character:
Mercedes
Amber on Mercedes:
"She's a diva in training. But as any high school student, she doesn't have her identity yet. She's fun and sassy. She likes clothes. She's a girly-girl but with a little more attitude."
On getting to perform Jasmine Sullivan's "Bust Your Windows" in Episode 3:
"I was nervous when I saw the background dancers for the first time because they're so tall and they're kicking their legs up in the middle. I'm like, my head's gonna be chopped off. I hadn't danced for a long time but now I'm really comfortable. I was singing for a long time, doing open mikes, everywhere in Santa Monica, L.A., Hollywood. So performing is what I'm used to. I'm a little more comfortable doing this than the acting part."
(Fox)
Kevin McHale
Where you may have seen him:
HBO's "True Blood," Nickelodeon's "Zoey 101" and the boy band NLT (Not Like Them)
Character:
Arty
Kevin on Arty:
"He's a nerd but he thinks he's cool. He didn't get the memo that he's not very cool. And he can't walk. He's in a wheelchair. But he forgets he's in a wheelchair because he still does all the dances and everything. They work around the wheelchair. I might bump into people, but it becomes very integrated. It's just like having legs, I forget about it."
On his biggest challenge:
"The wheelchair, because I dance. It's hard for me not to move my legs. I've always danced. [McHale belonged to the
boy band NLT (Not Like Them)
.] So it's weird for me not to be dancing. We were doing the pilot and we were doing the big finale scene, 'Don't Stop Believin'' and they were like, 'Kevin, can you please stop moving your legs to the beat?' Everybody's singing and dancing and I'm trying not to move and it's the hardest thing. I have to tense my legs up."
(Fox)
Matthew Morrison
Where you may have seen him:
Broadway's "South Pacific," "The Light in the Piazza" and "Hairspray"
Character:
Will Schuester
Matthew on Will:
"I'd love to say it was a big acting stretch to do this role, but it's kind of what my life would have been if I hadn't gone to New York and been successful there. [Will is a Spanish teacher and former glee clubber who makes it his mission to revive McKinley High's defunct singing troupe.] I probably would have been a choir teacher or something like that."
On working with Murphy and performing Kanye West's "Golddigger":
"I didn't know who he was before this. But it's amazing. He's such a great leader and I feel like this whole show starts at the top. He's so confident. He knows exactly what he wants and it just trickles down and he just makes everyone feel so comfortable and safe. I've never trusted a director so much. He'd say, 'Do anything,' and I'm totally willing to try because I totally trust what he's trying to create here. He got me to rap. I had been dying to rap for years."
(Fox)
Jenna Ushkowitz
Where you may have seen her:
Broadway's "The King and I" and "Spring Awakening"
Character:
Tina
Jenna on Tina:
"She's a gothic stutterer. Her stutter is subtle. And Tina doesn't know where she fits in, like the rest of the kids in the glee club. We're kind of like the underdog/outcasts. You know, her closest friend in the glee club would be Arty. That's pretty much Tina."
On having to stutter on command:
"Originally she had a much more dramatic stutter -- Tourette's almost. And so I did my research because I didn't want to ever make it like I was making fun of the stutter. I played her really positive and Ryan laughed and he said he really liked that, that she's like a happy geek. She wasn't a gothic at the time. "
(Fox)
Jayma Mays
Where you may have seen her:
ABC's "Ugly Betty" and NBC's "Heroes"
Character:
Emma Pillsbury
Jayma on Emma:
"Emma Pillsbury is a germiphobic school guidance counselor who longs to be unsanitary with the glee coach, Will Schuester."
On the most challenging part of the role:
"Trying not to bring Emma's mysophobia home with me. Last week I plastic-wrapped all my furniture ... and bleached my cats."
(Fox)
Dianna Agron
Where you may have seen her:
CBS' "Numb3rs" and NBC's "Heroes"
Character:
Quinn
Dianna on Quinn:
"Quinn is dating Finn. Of course, she's very religious. She's the captain of the cheerleading squad. She's the captain of the celibacy club. She's got all these things that are her. She can be so evil, but you come to realize there's a lot going on with her."
On why "Glee" is better than your average teen drama:
"What I really like about all of these characters is that you're not the cool kid or the dork or the mean girl. There are so many shades to all of us, and that's really starting to unfold."
(Fox)
Jessalyn Gilsig
Where you may have seen her:
FX's "Nip/Tuck" and NBC's "Heroes" and "Friday Night Lights"
Character:
Terri Shuester
Jessalyn on Terri:
"I see Terri Shuester as pro-marriage. There is nothing she won't (and doesn't) do to save her marriage. Nothing. Some may be shocked by her choices, but I would ask those people, 'Have you ever walked in the neighborhood of a person you had a crush on even though it's on the other side of town for you, just in hopes of running into them? Have you ever pretended to have seen a movie they loved? Or laughed at a joke they told that you weren't sure was funny?' If so, don't judge Terri. As her sister Kendra explains, deceit may be the basis of a healthy marriage.
On why she wanted to be on "Glee":
"To sing. Which I have NOT been asked to do. The script was one of the most original pilots I've ever read, and Terri was an opportunity to play a role that is really different for me, but honestly, if Ryan Murphy was producing a reality show about Canadians who were willing to live without their big toes, I would probably have done that too. 'Nip/Tuck' was one of the best creative experiences of my career, so to work with Ryan Murphy again, along with much of the crew from 'Nip/Tuck' is something I have wished for when blowing out my birthday candles, or throwing a penny in a fountain.
On the most challenging part of the job:
"The most challenging part of the role so far has been to restrain myself from singing or dancing when I'm hanging around set in hopes that someone will give me a song to sing. I am surrounded every day by Tony-nominated Broadway stars, so it's important that I sit on my hands and speak when spoken to. That way I hope to do the least amount of damage possible."
(Fox)
Jane Lynch
Where you may have seen her:
Starz' "Party Down," CBS' "Two and a Half Men" and movies including "A Mighty Wind"
Character:
Sue
Jane on Sue:
"I can't hold my authority the way Sue can. She rules with fear and threats, and for some reason, these kids really respect her and they do whatever she says. She really revels in having that kind of power. What I love about Sue is she doesn't get her hands dirty. She doesn't do a bend or a jump herself, but she certainly makes sure that she puts these kids through their paces. You'll hear me on the sideline yelling and demeaning them into a good formation, but you won't see her actually take part in it. Not at all."
On why "Glee" rocks
: "I think it's gonna be huge. It's pretty amazing — they do three or four musical numbers every week. They're full-on, produced like musical videos. It sounds like everybody's getting a number at some point. I might get a number. You know, I play the head of the cheerleaders and I'm the nemesis. I'm trying to destroy the glee club all the time. I'm coming up with machinations and strategies. But I think at some point, I'm gonna get to do a song."
(Fox)