Under the Hollywood Hypnotist's spell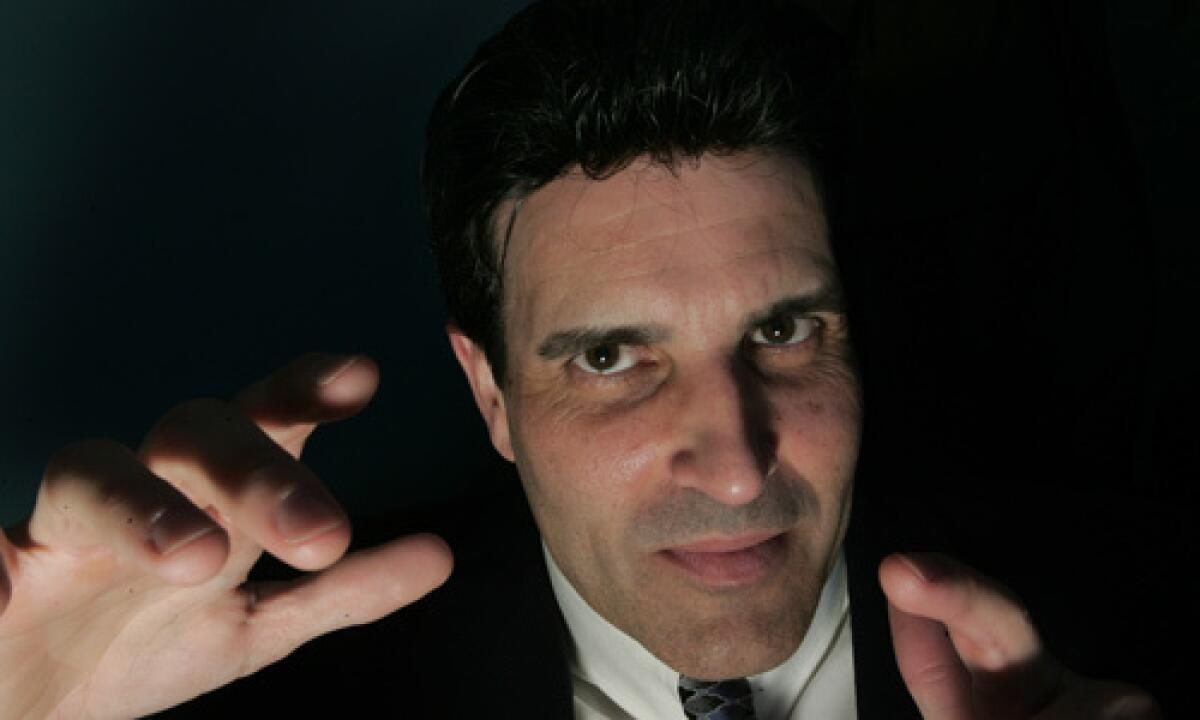 The golden pocket watch drops from the hypnotist's white-gloved hand. The timepiece dangles before the caped mystic swings it like a pendulum in front of the subject's face. "You are getting very sleepy," the hypnotist says, as the audience watches the subject become a human marionette. Will he crawl like a hedgehog or cluck like a chicken? Will a dark secret be revealed?
Hypnosis holds a special place in the American pop culture lexicon, whether used as a plot device or in sensational live shows. It's a mind-controlling agent in "The Manchurian Candidate" and the catalyst to ultimate freedom in "Office Space." Hypnosis is the key to unlocking the human mind.
Or is it?
It's up to Los Angeles' late-night crowd to decide when Kevin Stone -- the self-proclaimed Hollywood Hypnotist, a term he has gone so far as to trademark -- attempts to cast his spell on clubgoers in a series of Saturday night shows at the Laugh Factory in Hollywood.
Stone's midnight act takes more from Vegas than vaudeville; he leaves the gloves, cape and watch back in hypnosis history. Instead, Stone saunters onstage clad all in black and pulls the strings of his subjects in a show that brings the weird and the wild out of them.
Well, mostly the wild.
"No one will do anything they wouldn't normally do while hypnotized," he says. "But you never know what's going to happen."
The setup may be familiar but the outcome, Stone says, is unpredictable. A row of audience members faces the crowd, and Stone embeds suggestions into their minds. When their eyes close and heads drop, the ridiculous spectacle begins. On a recent night, young professionals sleepily disco-danced, a woman's hands floated in the air (bound with invisible balloons, she believed), and a man searched under his seat for something he misplaced.
"Do you know what happened to your butt?" Stone asked Darrell Johnson.
"I don't know. It's just gone," Johnson replied, dejectedly.
Johnson, a 52-year-old Veterans Affairs hospital employee, became the star of the night as he fell into Stone's web of hypnosis.
At the show's conclusion, Stone took a more serious tone, asking participants to think of something they wanted and to let this thought seep into their unconsciousness.
Although Stone flaunts his persona onstage, he says he wants to raise awareness of hypnotherapy's beneficial effects offstage. "I started off doing sessions in celebrities' living rooms," says Stone, whose Beverly Hills office is decorated with clippings and metronomes. "Then it started taking off and turned into the stage show. But I know that hypnotism can work for everyone."
Get our L.A. Goes Out newsletter, with the week's best events, to help you explore and experience our city.
You may occasionally receive promotional content from the Los Angeles Times.