Composer Maurice Jarre spun screen magic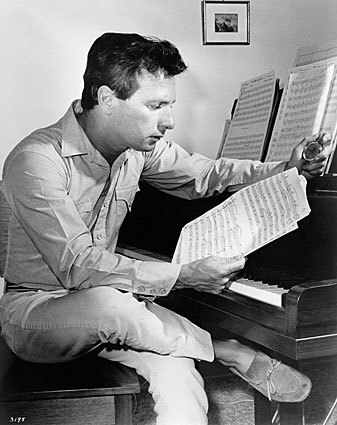 As a brilliant young composer, Maurice Jarre studies his score for "Doctor Zhivago," which earned him his second of three Oscars. Jarre, whose many distinguished accomplishments included being made an officer of the French Legion of Honor for his contributions to culture, died Sunday in Los Angeles at age 84.
(MGM)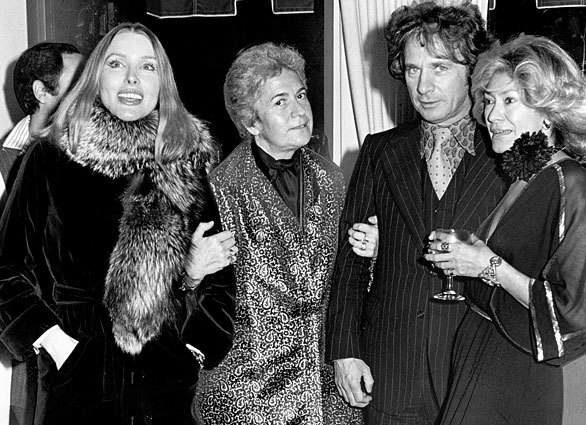 Composer Maurice Jarre, second from right, and wife Laura, left, with L'Antiquaire co-owners Madeleine Ferragut, center, and Nicole Barra, far right, at a gallery party in 1978.
(Jasmine Photo)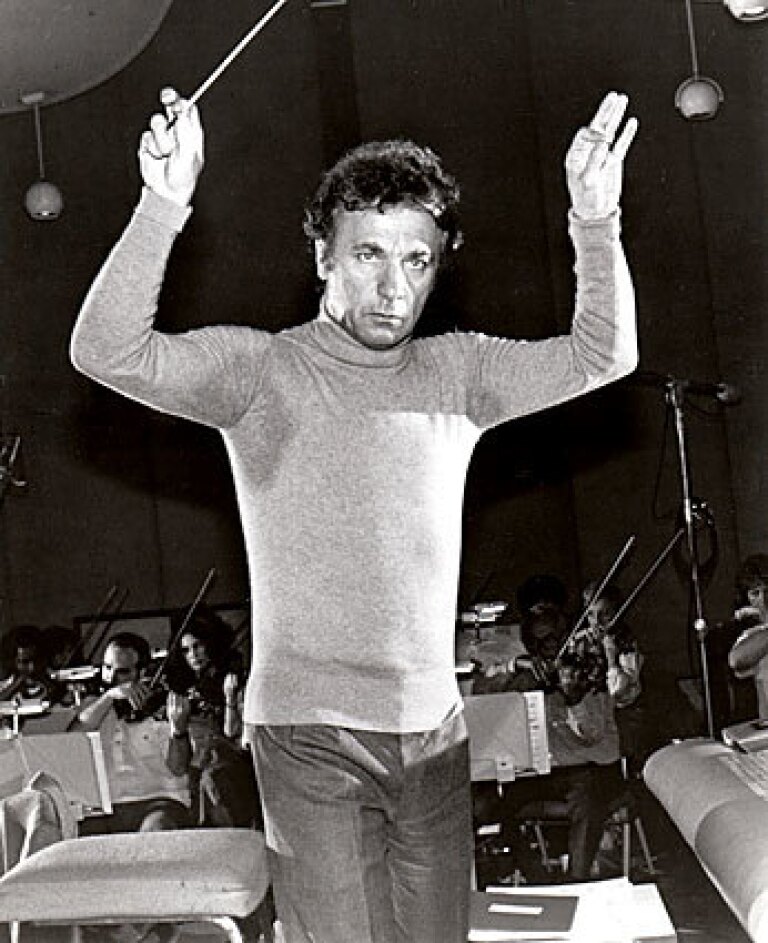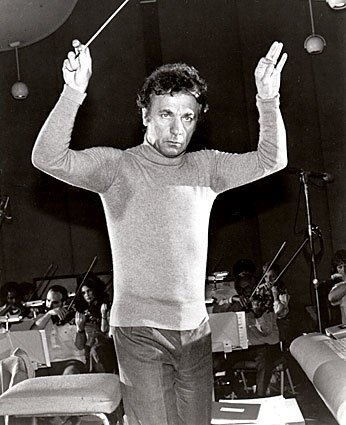 Maurice Jarre conducts the original music he wrote and arranged for the epic, 12-hour TV miniseries based on James Clavell's bestselling novel, "Shogun."
(NBC-TV)
Maurice Jarre with his Oscar for best original score for "A Passage to India," the third he won for his work on David Lean films.
(Bob Chamberlin / Los Angeles Times)
Maurice Jarre, left, with French choreographer Maurice Bejart, receives a Cesar award in Paris in 1986.
(Pascal George / AFP/Getty Images)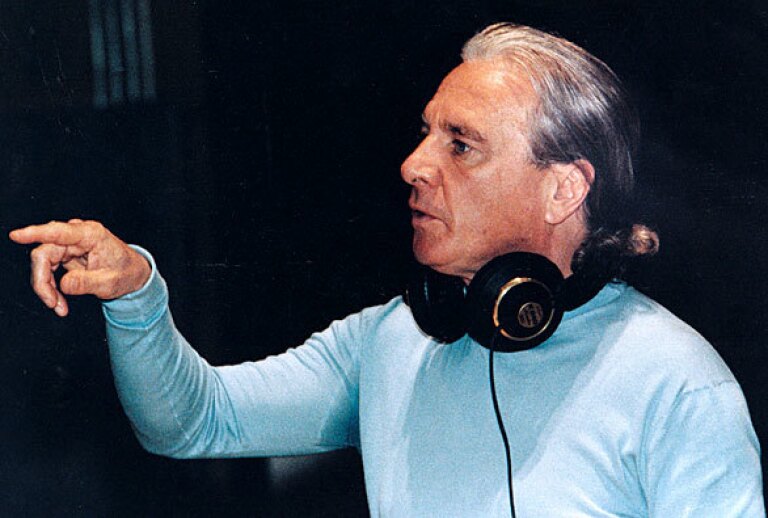 Maurice Jarre calls out directions on the Columbia scoring set during a recording session for the 1990 movie "Almost an Angel," starring Paul Hogan.
(Los Angeles Times)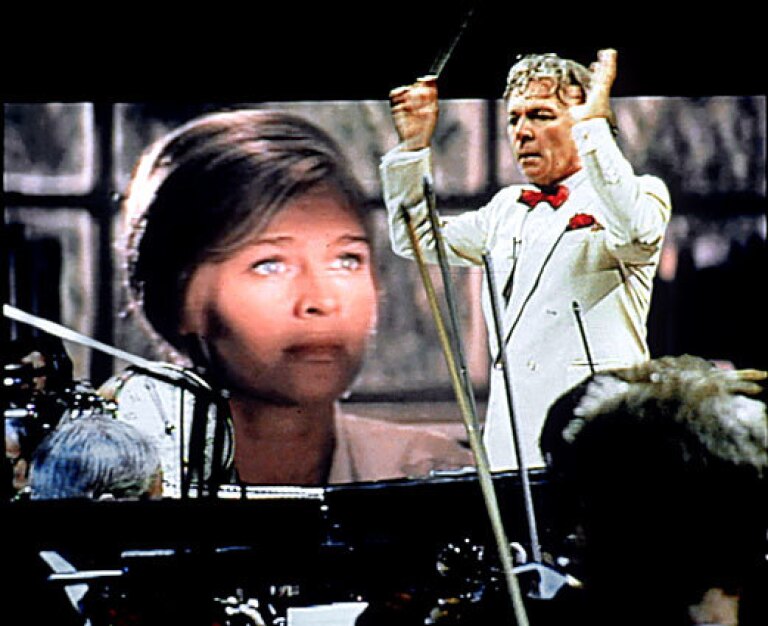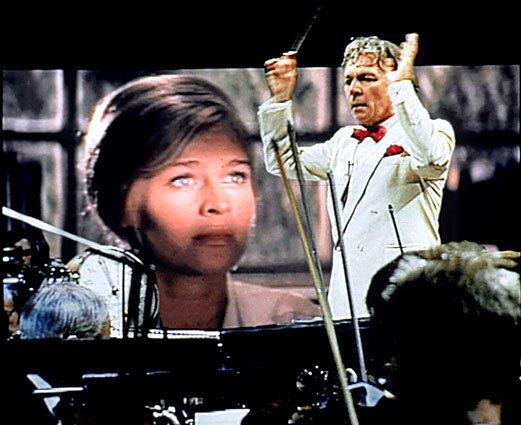 Maurice Jarre conducts the Royal Philhamonic Orchestra in PBS' "Great Performances: Lean by Jarre." The composer won his three Academy Awards for his work on David Lean films: "Lawrence of Arabia," "Doctor Zhivago" and "A Passage to India."
(PBS)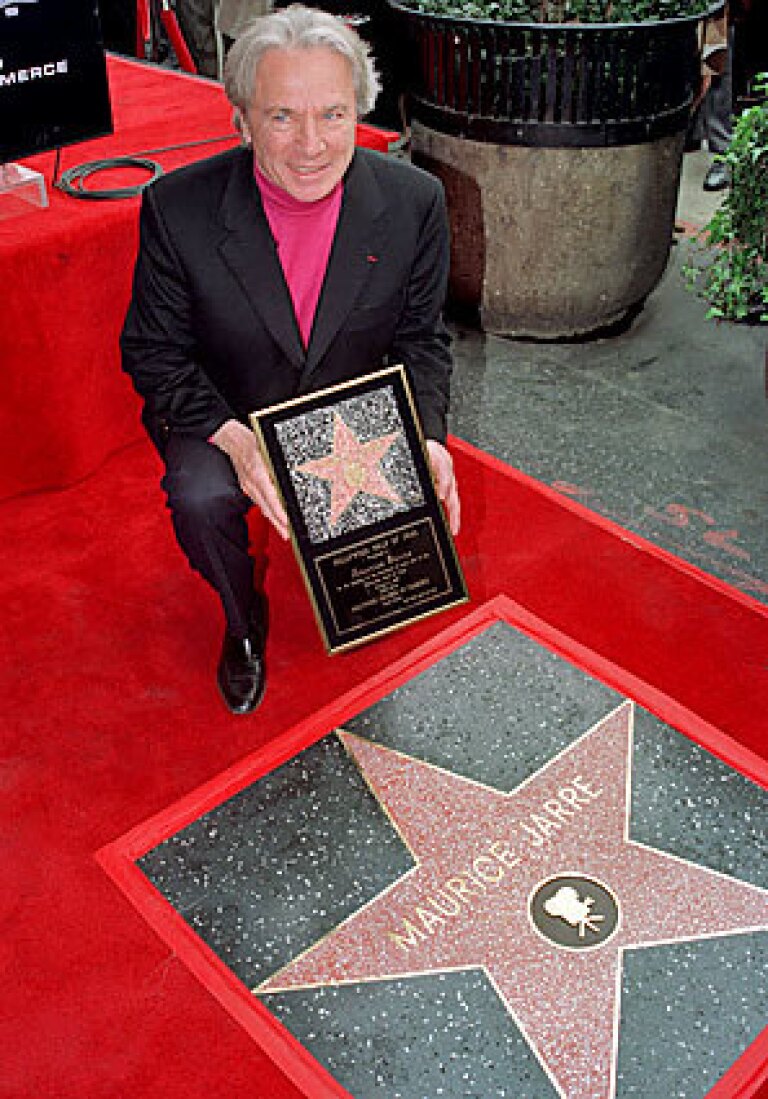 Three-time Oscar-winning composer Maurice Jarre gets his star on the Hollywood Walk of Fame in 1994.
(Vince Bucci / AFP/Getty Images)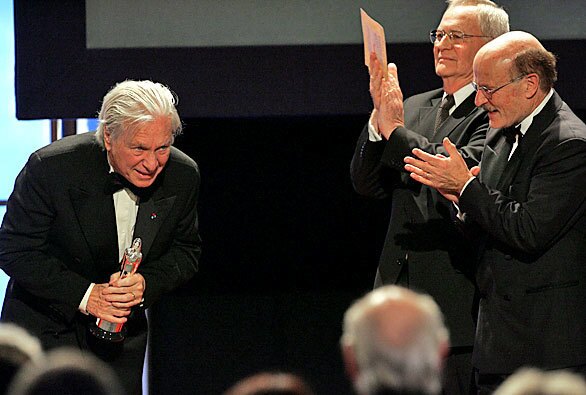 Maurice Jarre, left, bows after receiving the European Achievement in World Cinema Award in 2005 from German director Volker Schloendorff, right, and Hungarian director Istvan Szabo at the annual European Film Awards in Berlin. Jarre, who began his musical career as a kettledrum player, became known for his use of ethnic instruments and synthesized sounds. He received worldwide recognition with "Lara's Song" from "Doctor Zhivago."
(Marcus Brandt / Associated Press)
French composer Maurice Jarre at the European Film Awards 2005 in Berlin in 2005. He composed more than 150 soundtracks and worked with some of Hollywood's most famous directors, including Alfred Hitchcock and John Huston.
(Marcus Brandt / Associated Press)
Maurice Jarre arrives for the premiere of the film "Eden Is West" at the 59th Berlin International Film Festival this year.
(Gero Breloer / European Pressphoto Agency)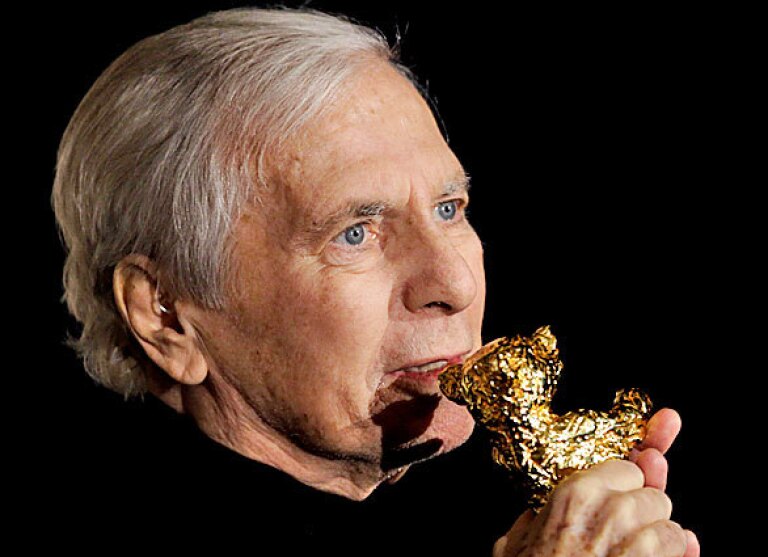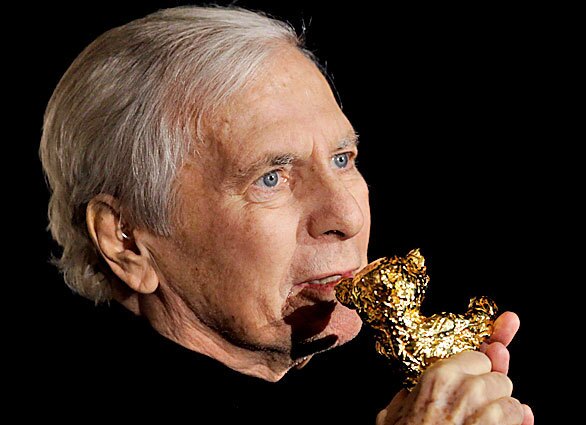 French composer Maurice Jarre receives his Honorary Golden Bear for lifetime achievement at the Berlinale film festival in Berlin in February.
(Markus Schreiber / Associated Press)
From the mystical overtones of "Ghost" to the primitive sounds of "Mad Max Beyond Thunderdome," to the Russian balalaikas in "Doctor Zhivago," composer Maurice Jarre always seemed to find the right signature for every film he scored. And unlike so many of today's thundering but essentially interchangeable big-orchestra-plus-electronics scores, the voice of a Maurice Jarre film was always uniquely his own.
Jarre, who died Saturday at age 84, suggested exotic locales with instruments unique to the region being portrayed. He subtly conveyed changes in tone, depending on the story being told -- and, yes, he often came up with a memorable melody that kept people humming as they left the theater.
Jarre will always be best-known for the music he wrote for "Lawrence of Arabia" and "Doctor Zhivago," two of his four films for English director David Lean that won him two of his three Oscars. In "Lawrence," Jarre's music evoked the grandeur of the Arabian desert, a sense of the English military presence in the Middle East and, most of all, the mysterious figure of T.E. Lawrence (Peter O'Toole).
"Lara's Theme" from "Zhivago" -- Jarre's most popular tune, which helped drive the soundtrack to No. 1 on the Billboard charts in 1966 -- isn't particularly Russian in character. It was designed to convey the love between Yuri (Omar Sharif) and Lara (Julie Christie) that transcended time and place. Lost in all the attention to "Lara's Theme" is the fact that Jarre's complete score is filled with Russian flavor, not only in the melodies but also in the 24 balalaikas and 40-man chorus that augmented the MGM orchestra in Culver City.
Jarre, who studied ethnomusicology at the Paris Conservatory and was a percussionist before becoming a composer, loved using ethnic instruments whenever the project called for a unique sound indigenous to the locale. For John Huston's "The Man Who Would Be King," set in far-off Kafiristan, Jarre hired Indian musicians to perform on the sarangi and sarod, Indian lutes; for Volker Schlöndorff's "The Tin Drum," a Slovakian shepherd's flute called a fujara seemed right.
These were the colors that Jarre added to his palette, the instruments that executed his themes and variations that were specific to each project. He could be daring in his conceptual approach to music for films. For example, his music for Franco Zeffirelli's "Jesus of Nazareth" eschewed heavenly choir cliches in favor of a warm and intimate sound reflecting the personal story being told. For Peter Weir's "Witness," a film set in Pennsylvania's Amish country, he risked controversy by writing only for synthesizers. And those are just a few of the more than 170 films and TV projects, spanning nearly 50 years, for which Jarre supplied the music.
The best film composers don't just write music for movies. They participate in a kind of alchemy whereby they absorb the ideas and imagery of a film, then re-imagine it as an audio-visual whole. Their music conveys not just pictures but also emotions, heightening the drama in ways that even the director may not have imagined.
Jarre was one of a handful of film composers who could pull off that kind of screen magic. It's sad to think that his unique voice, one of few remaining in Hollywood, has been silenced.
Jon Burlingame is author of "Sound and Vision: 60 Years of Motion Picture Soundtracks."
---
Inside the business of entertainment
The Wide Shot brings you news, analysis and insights on everything from streaming wars to production — and what it all means for the future.
You may occasionally receive promotional content from the Los Angeles Times.