Acclaimed author Junot Díaz accused of sexual misconduct and 'virulent misogyny'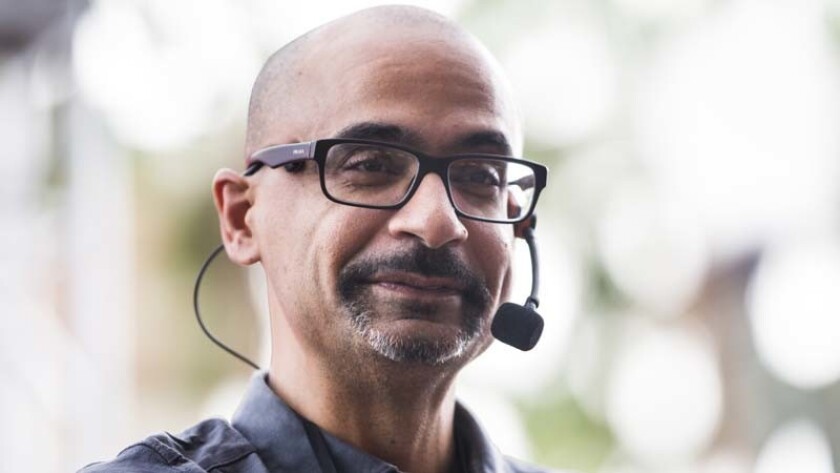 Los Angeles-based author Zinzi Clemmons is accusing Pulitzer Prize-winning novelist Junot Díaz of forcibly kissing her when she was a grad student, and two other authors subsequently made allegations of verbal abuse.
"I was an unknown wide-eyed 26 yo, and he used it as an opportunity to corner and forcibly kiss me. I'm far from the only one he's done this 2, I refuse to be silent anymore," Clemmons said in an early morning tweet Friday.
Clemmons, whose debut novel, "What We Lose," was released in 2017, continued: "I told several people this story at the time, I have emails he sent me afterward (*barf*). This happened and I have receipts."
Clemmons said she had "basically avoided literary functions and posted no photos of myself online" in order to avoid people like Díaz and was "sick of these talentless [people] dictating my life. No more."
Supporting her were writers Monica Byrne and Carmen Maria Machado, who both accused Díaz of what Byrne called "virulent misogyny" in exchanges both had had with him.
Attempts to reach Díaz, who is traveling overseas, were unsuccessful Friday, as was an attempt to contact his agent. Clemmons' publicist did not immediately respond to a request for comment.
But in a statement to the New York Times, Díaz said, "This conversation is important and must continue. I am listening to and learning from women's stories in this essential and overdue cultural movement. We must continue to teach all men about consent and boundaries."
The allegations come on the morning the Nobel Prize committee announced there would be two winners for literature in 2019 but none for 2018 due to a sexual harassment scandal that has seen resignations from several members of the jury that awards the honor.
The accusations also come just weeks after Díaz, a Dominican immigrant who was recently a speaker at the Los Angeles Times Festival of Books, detailed in a recent New Yorker story the trauma he suffered during and after being raped by a trusted adult when he was 8 years old.
"I take responsibility for my past," Díaz, who won the 2008 Pulitzer for fiction for his novel "The Brief Wondrous Life of Oscar Wao," said in his statement to the New York Times. "That is the reason I made the decision to tell the truth of my rape and its damaging aftermath."
Published in mid-April, his New Yorker essay was seen by some as an apology for subsequent bad behavior, particularly in intimate relationships. In light of Clemmons' tweets, it was also viewed as an attempt to head off #MeToo-inspired allegations.
After the accusations were made by Clemmons, who teaches at Occidental College in Los Angeles, author Byrne tweeted and posted on Facebook that she'd had her own incident with Díaz in which he displayed "virulent misogyny" toward her over conversation at a dinner party and triggered her by shouting the word "rape" at her. Byrne is asking women with stories about Díaz to contact her in confidence via email.
Also, in a long thread on Twitter, writer Machado discussed Díaz's angry behavior during a Q&A and a reading.
"When I made the mistake of asking him a question about his protagonist's unhealthy, pathological relationship with women, he went off for me for twenty minutes," wrote Machado, whose debut short-story collection was highly acclaimed.
She added later in the thread:
"[I]t sucks for a very particular reason: people of color are so underrepresented in publishing, we have deep attachments to those who succeed. People are defensive about JD because there are so few high-profile Latinx authors. I get it. That doesn't change the facts."
@theCDZ on Twitter and Instagram
---
Get our daily Entertainment newsletter
Get the day's top stories on Hollywood, film, television, music, arts, culture and more.
You may occasionally receive promotional content from the Los Angeles Times.