At the 'Jurassic World: Fallen Kingdom' premiere, James Cromwell compares Trump to a T-rex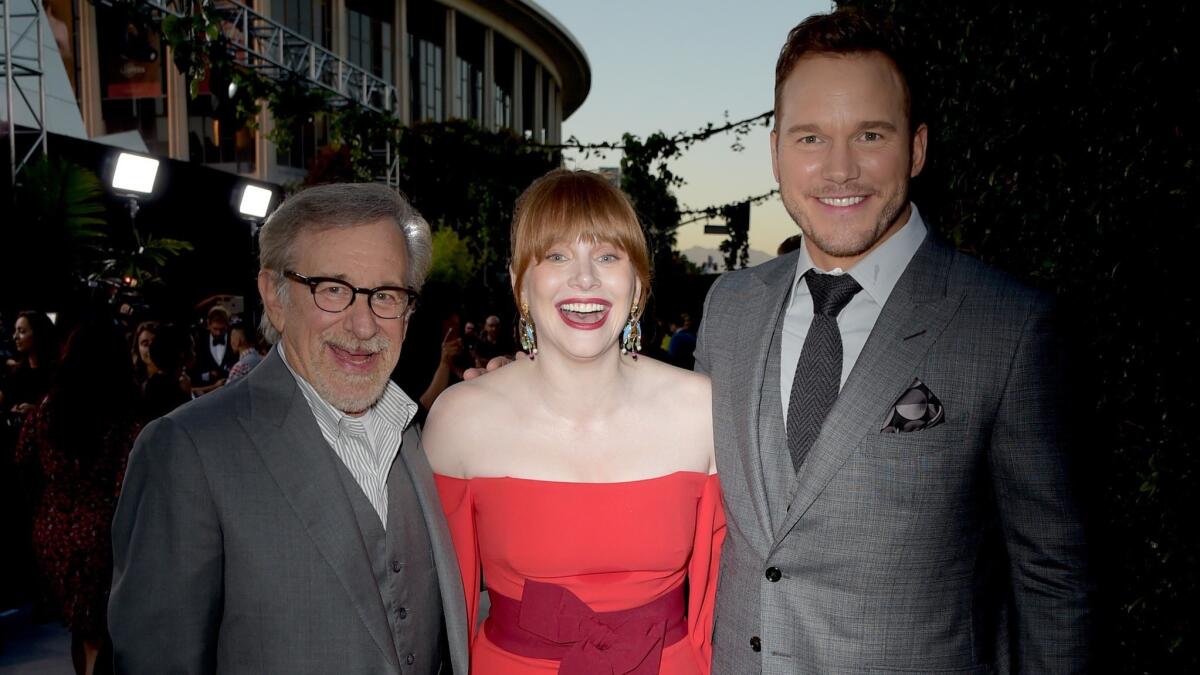 Dinosaurs made their way to Los Angeles on Tuesday for the premiere of "Jurassic World: Fallen Kingdom." Ahead of the film's nationwide release June 22, Bryce Dallas Howard, Chris Pratt, Jeff Goldblum and more navigated through a maze of velociraptors, pteranodons and the franchise's iconic T-rex on their way to the screening at the Walt Disney Concert Hall.
It is a special week for the franchise, as the movie that started it all — "Jurassic Park" — turned 25 on Monday. Steven Spielberg, director of the 1993 hit and an executive producer of "Fallen Kingdom," was in the dino spirit, expressing his love for the giant creatures to reporters on the red carpet.
Arriving three years after "Jurassic World," "Fallen Kingdom" follows on-again, off-again partners Owen Grady (Pratt) and Claire Dearing (Howard) as they return to the island of Isla Nublar to save the remaining dinosaurs from an active volcano. Moviegoers are introduced to franchise newcomers: Daniella Pineda ("The Detour") as the brave, paleo-veterinarian Zia Rodriguez and Justice Smith ("The Get Down") as the timid and techy Franklin Webb.
Smith, 22, told The Times that he was lovingly teased by his thirtysomething costars. "I love being picked on," Smith said with a laugh.
There's one scene in particular in which Smith's childlike excitement was on full display: He and Howard rode a roller coaster on set about 20 times to enact the scene in which they fall off a cliff in a gyrosphere. "It was crazy," Smith said. "The cast always gets on me 'cause I'm the youngest, but it made me feel even younger."
As a big fan of "Jurassic Park" growing up, this opportunity "means everything" to Smith, but it did not come easy. Both he and his costar Pineda felt pressure to "not mess up the series that meant so much to so many people," he explains. "But Bryce and Chris immediately quelled that by being so fun, open and friendly."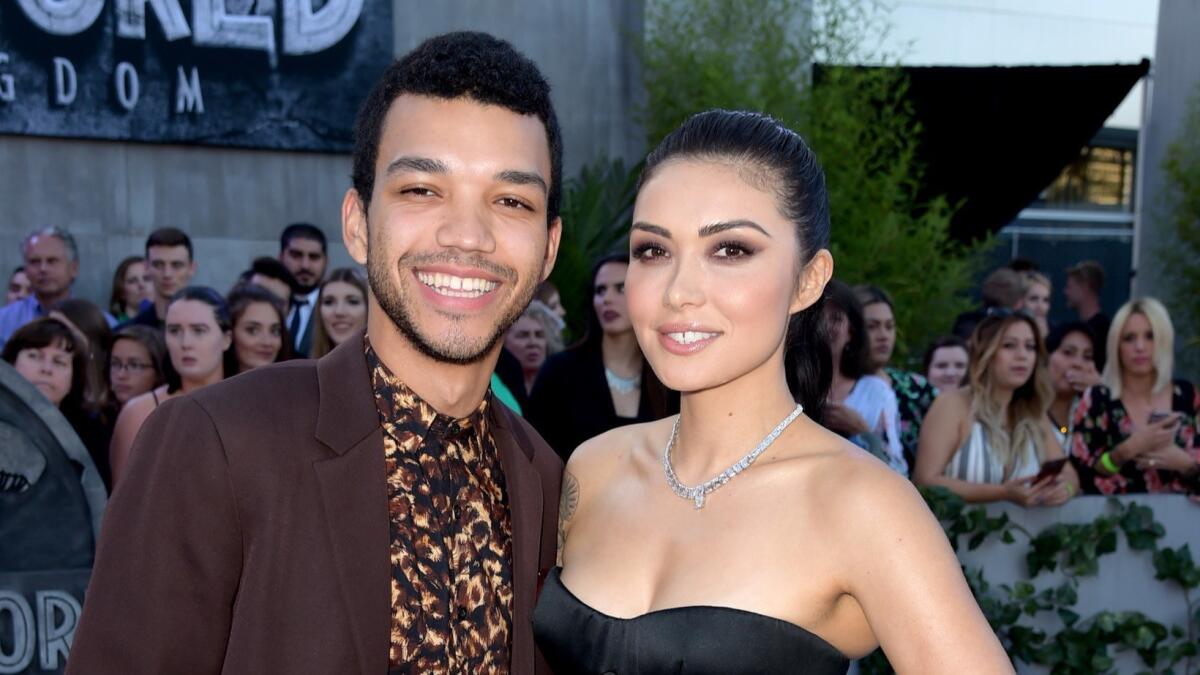 During Tuesday's screening, fans erupted in cheers and applause when franchise veterans Jeff Goldblum (Ian Malcolm) and BD Wong (Dr. Henry Wu) appeared on screen. Moments prior, Wong spoke with The Times about working with Spielberg in 1993 and "Fallen Kingdom" director J.A. Bayona 25 years later:
"They can't be compared. Steven Spielberg brought me into the franchise — brought J.A. into the franchise too. So we're both indebted to him, I guess, in some ways and I was very lucky. I was very green when I did the first movie, and he was very wonderful to me as far as giving me confidence and making me feel important and introducing me to the crew in a way that made me feel like I was a real contributor to the movie, even though my part was tiny.
"I've always been grateful for that because it has stayed with me — this sense of how to carry yourself, because a movie set can be intimidating and a little scary."
As for Bayona taking the reins, Wong credits him for rising to the challenge. "Here was this incredible, juicy thing that he was presented with and he really ran with it."
One responsibility that fell to Bayona was introducing James Cromwell's character to the franchise. He plays Benjamin Lockwood, the previously unmentioned partner of John Hammond (Richard Attenborough). They were both involved in the creation of Jurassic Park, but Lockwood's use of the technology shatters their relationship.
Cromwell connects the movie's themes to the risks we face today, particularly with artificial intelligence and genetic modification. "We see in this piece of fiction it got out of control. They thought they could do it," he says on the red carpet. "We forget that we are limited creatures and that we are not in touch with the most important part of ourselves, which is our spirit."
Review: "Jurassic World: Fallen Kingdom" is an improvement, which doesn't make it necessary »
The actor is no stranger to speaking out about social issues. As recently as last year, he was sentenced to seven days in jail for obstructing traffic during a 2015 power plant protest. He says he would have used the "Fallen Kingdom" premiere as another opportunity for a demonstration of justice, but his assistant advised him not to.
"Everybody has to speak out. I admire so much what Robert De Niro did at the Tonys. I concur with Bobby in that sentiment."
He then took a moment to speak his piece about President Trump, albeit without De Niro's use of swear words.
"We could actually change the minds of the people who support the dinosaur we have in the White House right now. There's no reaching him — it's like reaching a T-rex — but we can change the people who are enthralled by this fiction. We can point out the truth. We can let them know we hear them. We hear what their problems are, and we're willing to address them, to do anything to make their lives better and livable."
American moviegoers can draw their own connections between the real world and "Fallen Kingdom" when it opens nationwide June 22.
"Jurassic World 2" creature designer Neal Scanlan takes us on a dinosaur tour »
Get our L.A. Goes Out newsletter, with the week's best events, to help you explore and experience our city.
You may occasionally receive promotional content from the Los Angeles Times.