Matt Groening speaks, and 'The Problem With Apu' director responds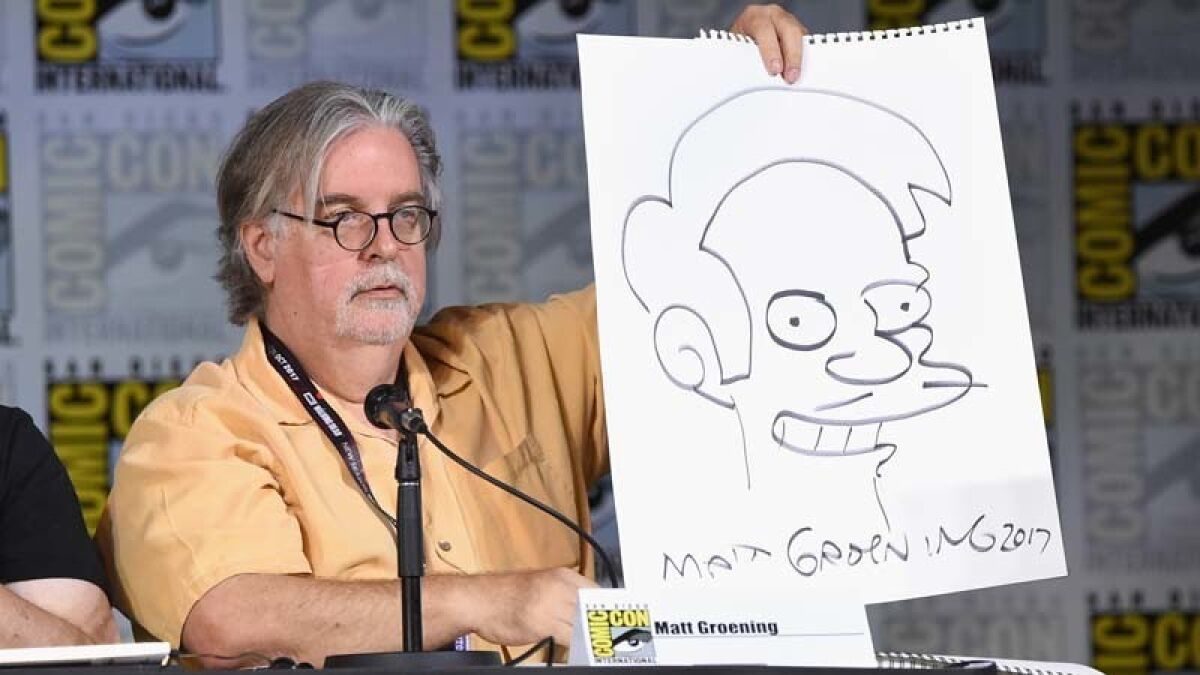 The problem with Apu just keeps getting more complicated.
"The Simpsons" creator Matt Groening, who'll be at San Diego Comic-Con on Saturday to preview his coming series "Disenchantment," has spoken out about the controversy over the Indian immigrant character, which caught fire in November with the release of a critical documentary.
"I love Apu. I love the character, and it makes me feel bad that it makes other people feel bad. But … it's tainted now — the conversation, there's no nuance to the conversation now," Groening told the New York Times in a recent interview that was published in part in an article Wednesday.
Moving forward, he said, the show isn't sure how it'll handle Apu, who was voiced by Hank Azaria until the controversy hit.
"There is the outrage of the week and it comes and goes," Groening told the Times, explaining a prior comment to USA Today about people loving to "pretend they're offended."
"I think particularly right now, people feel so aggrieved and crazed and powerless that they're picking the wrong battles," he said.
This battle in particular caught him off guard.
"I go, maybe he's a problem, but who's better? Who's a better Indian animated character in the last 30 years?" Groening said. "I've been to India twice and talked about 'The Simpsons' in front of audiences. That's why this took me by surprise."
In April, "The Simpsons" was slammed for an episode responding to the controversy, essentially by shrugging it off.
Chief among the critics at the time was Hari Kondabolu, the comic who made "The Problem With Apu."
"I don't think anyone at the Simpsons saw my film #TheProblemWithApu so they make the same points over & over," Kondabolu tweeted Wednesday, just hours after asking Groening on social media to join him for coffee. "Points I have already acknowledged & responded to in a 49 minute documentary."
"The Simpsons" creator, incidentally, is not on Twitter.
Groening did, however, mention the "thoughtfulness" he sees at the classic cartoon's core.
"As many people have pointed out, it's all stereotypes on our show. That's the nature of cartooning," he said. "And you try not to do reprehensible stereotypes."
@theCDZ on Twitter and Instagram
---
Get our L.A. Goes Out newsletter, with the week's best events, to help you explore and experience our city.
You may occasionally receive promotional content from the Los Angeles Times.