6 Images
Michelle Obama: Politics of fashion
By Stephanie Lysaght, Los Angeles Times Staff Writer

Bringing back the brooch

Before the Democratic National Convention, a plethora of questions swirled around the blogosphere. Would Barack Obama finally win over Hillary Clinton's most loyal supporters? Would Bill Clinton's speech come off as sincere or forced? And most important of all, what would Michelle Obama wear?

Apparently, Mrs. Obama put considerable thought into that last question, and it really paid off. Her simple blue dress received rave reviews from giddy commenters on this website, and with her jeweled pin, she may have single-handedly brought back the brooch. Grandmas, guard your jewelry boxes.


(Rodolfo Gonzalez / Associated Press)
First-class fashion

Airplanes and airports can reduce even the most devoted fashionistas to juicy-sweatsuit-and-Uggs-clad hobos. But not Michelle Obama. Even after a jam-packed week at the DNC, Michelle looks graceful and composed as she boards a plane in Denver. But I wonder if she has a duffel bag full of sweats and slippers waiting for her on that plane.


(Alex Brandon / Associated Press)
Trademark accessory

Sure, you don't want to be seen in the same outfit twice, but every aspiring fashionista needs a signature accessory that's all her own. For Michelle Obama, it's her jeweled brooch.


(Matt Sayles / Associated Press)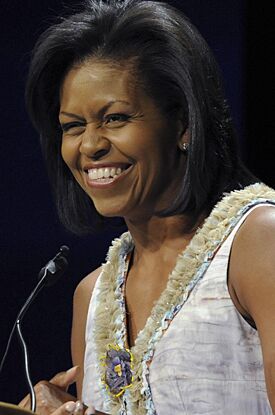 The softer side

Here, at the African American Caucus at the Democratic convention, Michelle Obama gets in touch with her flirty, bohemian side. Michelle's flowered, tie-dyed top with frilly trim provides a soft and feminine contrast to some of her more structured looks.


(Bill Ross / AP)
If you've got it, flaunt it!

At the Democratic convention's Delegate Service Day, Obama and her daughters sported "Support Our Troops" T-shirts while they constructed care packages for the them.

Unlike her daughters, however, Michelle sneakily rolled up the arms of her tee to reveal her toned arms. Hey, she didn't clock all those hours at the gym for nothing!


(Doug Pensinger / Getty Images)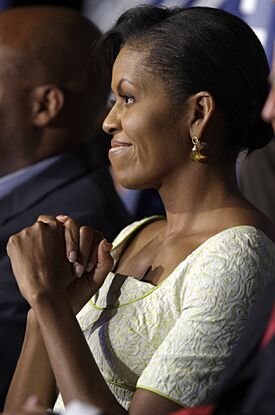 Try an updo

Michelle usually wears her hair down, but maybe she should put it up more often. This updo – worn while Hillary Clinton spoke at the convention in Denver – is very graceful.


(Ted S. Warren / AP)