Review: Pokey, wry 'Bone Tomahawk' cuts to the core of quirky horror westerns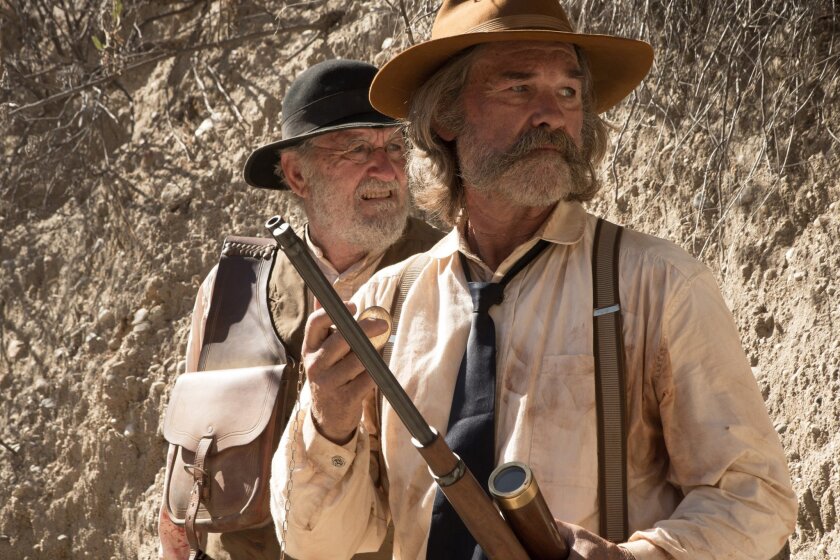 There's a humming genre intelligence at work in the grim, witty horror-western "Bone Tomahawk." Making his feature writing-directing debut, S. Craig Zahler proves as comfortable with shaggy scenes of archly droll talk as he is the contours of midnight-movie violence.
It's a classic oater setup, with small-town settlers kidnapped and an armed sheriff-led posse heading toward a violent confrontation — only the threat is a band of cannibal savages. Before that expectedly gory standoff in a hellish mountain cave, though, it's a pokey, wry and enjoyably acted character study of conflicting frontier temperaments between a wise, pragmatic sheriff (Kurt Russell, born to do this), his eccentric deputy (a funny Richard Jenkins), a puckish gentleman vigilante (Matthew Fox) and a determined husband (Patrick Wilson) whose doctor wife (Lili Simmons) is among the captives.
SIGN UP for the free Indie Focus movies newsletter >>
Zahler's still starkness, enhanced by a fondness for long shots and dark spaces, is refreshing in this shaky-cam era, and his ear for Old West sensibilities — from the mythically polite to the realistically xenophobic — is clinically effective. (He even wrote a wailing, period-appropriate folk song for the end credits that verges on parody.) Though its cult-movie desires often show, "Bone Tomahawk" is ultimately sold by its cast, who commit fully to Zahler's discursive indulgences. And if the movie proves anything, it's that Russell's gruff, easygoing magnetism — next seen in Quentin Tarantino's "The Hateful Eight" — is a sorely underused movie asset.
------------
"Bone Tomahawk"
MPAA rating: None.
Running time: 2 hours, 12 minutes.
Playing: AMC Burbank Town Center 8 and on VOD.
---
Inside the business of entertainment
The Wide Shot brings you news, analysis and insights on everything from streaming wars to production — and what it all means for the future.
You may occasionally receive promotional content from the Los Angeles Times.