Commentary: Piers Morgan mocked Daniel Craig's baby carrier — and other men weren't having it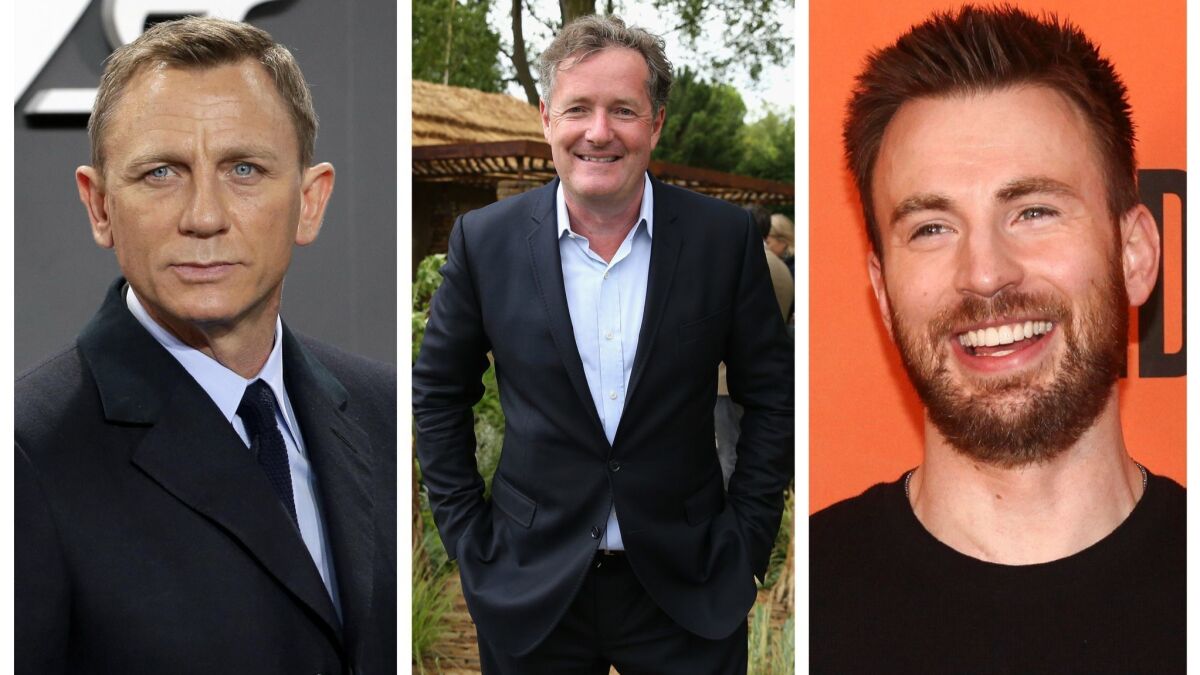 Piers Morgan is at it again.
The adversarial English media personality raised the ire of the internet with a recent tweet deriding James Bond actor Daniel Craig.
"Oh 007.. not you as well?!!!," Morgan tweeted, adding the helpful hashtags #papoose and #emasculatedBond.
And what made Morgan so upset? The fact that Craig was photographed carrying his infant daughter on his chest in a baby carrier.
Yep, that's right. The former "America's Got Talent" judge thinks that Craig donning a Baby Bjorn somehow undermines the hypermasculinity of James Bond. (Piers, buddy, even if that were true, Bond could use an image overhaul for the modern era.)
Craig has yet to respond to the pundit's criticisms. Perhaps he remains blissfully unaware, as you probably wish you still were.
But Morgan's point of view appeared to be out of step with a broad swath of men, another sign that old-fashioned ideas about performative gender roles are on their way out.
Morgan got plenty of negative feedback about his tweet, including a slew of dads proudly displaying their swaddled children on their chests.
But it wasn't just dads chiming in, either. Actor Chris Evans, best known for portraying a paragon of non-toxic masculinity, Captain America, was particularly irritated by the tweet.
"You really have to be so uncertain of your own masculinity to concern yourself with how another man carries his child," Evans tweeted. "Any man who wastes time quantifying masculinity is terrified on the inside."
As is appropriate for the schoolyard nature of Twitter, Morgan replied by saying that Captain America wouldn't wear a papoose. (A papoose? That's the British term for a baby carrier, as worn on the body. It's borrowed from a word for a Native American child.)
Setting aside the fact that Morgan regularly agitates social media by taking a stand on non-issues, his hardline stance on baby transportation feels mind-boggling in its outdatedness.
Morgan's point is that it's more manly to carry a baby in your arms than it is to wear one on your chest. Tying masculinity to carrying a child in a less comfortable, less secure, less convenient fashion is absolutely bonkers.
The greatest comfort to come from this utterly asinine turn of events is how many men came forward to eschew Morgan's archaic and, honestly, illogical view of fatherhood.
Former WWE star Adam Copeland posted a photo of himself holding his child in his arms, which Morgan should love, while dressed as Elsa from "Frozen" at the behest of his daughter.
"This is me wearing an Elsa dress after [my daughter] asked me to wear her Mom's Halloween costume," Copeland wrote. "I look ridiculous. But who cares? That's what you do for your kids. I'm sure [Morgan] would find this emasculating. I say only if you're uncomfortable in your masculinity."
And it's not just Copeland who embraces the reality that masculinity is malleable and not limited to some restrictive set of criteria.
Chris Hemsworth, who plays the manliest of men as Marvel's Thor, has previously posted video of himself engaged in ridiculous and heartfelt dance parties with his daughter.
Even the Rock understands that fatherhood comes before any misguided ideas about what does and doesn't make a man.
Two weeks ago, actor and former pro wrestler Dwayne Johnson posted a photo of himself getting his nails painted by his 2-year-old daughter, who had insisted upon it before he left for work.
He tagged his post #PapaBearPriorities.
It's 2018. Gender is a construct, and people aren't here for regressive ideas about how men and women should act.
And if Morgan is this upset by men using carriers for their children, no one tell him about the increasing demand to have diaper-changing stations in men's rooms.
---
Get our L.A. Goes Out newsletter, with the week's best events, to help you explore and experience our city.
You may occasionally receive promotional content from the Los Angeles Times.