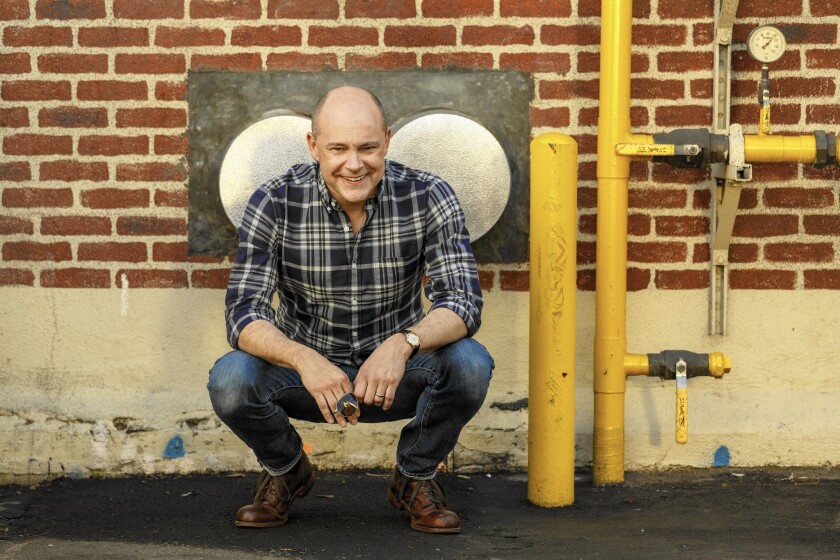 On an unseasonably warm February afternoon, Rob Corddry sat in the back of a town car wending its way through the streets of Los Angeles. The actor, making the promotional rounds for his new comedy "Hot Tub Time Machine 2," was heading toward an interview with the entertainment-news show "Extra."
Somehow, between an earlier video taping at Yahoo and a photo shoot, Corddry had fallen 45 minutes behind schedule and was doing his best to catch up. A stickler about managing his time as efficiently as possible, several years ago he adopted author David Allen's "Getting Things Done" method of boosting productivity. "It's sort of a cult of nerds," he said.
At the moment, though, an actual time machine would have come in handy.
Released in 2010, the first "Hot Tub Time Machine," a raucous, unapologetically inane R-rated comedy about four guys who discover a Jacuzzi that transports them back to the 1980s, proved a cult hit and a cinematic breakthrough for Corddry. Though John Cusack was ostensibly the film's marquee star, Corddry — who was previously best known as a correspondent on "The Daily Show" — stole the film with his brash performance as the boorish, hard-partying Lou Dorchen. "Corddry here achieves a level of comic confidence that is almost uncanny," critic Roger Ebert wrote.
Corddry, 44, reprises his role in the sequel, opening Friday, which has Lou, his son Jacob (Clark Duke) and his friend Nick (Craig Robinson) traveling via hot tub to the year 2025 to try to prevent Lou's murder. (Cusack declined to come back for the second film, and actor Adam Scott steps in, playing his son.)
Comedy sequels are notoriously difficult to crack — for every "22 Jump Street" there are a whole lot of "Weekend at Bernie's IIs". But Corddry feels good about "Hot Tub Time Machine 2." "I truly think that it's a better movie than the first one, because we started with more questions answered," he said. "It's like how the second season of a show is always better than the first."
The role of Lou Dorchen fits perfectly in Corddry's comedic wheelhouse. Though in person he comes across as genial and thoughtful, on screen Corddry has a special flair for playing jerks, creeps and losers — albeit weirdly likable ones. On the Adult Swim series "Childrens Hospital," which he created, he plays a doctor who, in a misguided attempt to bring healing to his young patients through laughter, wears disturbing clown makeup that's more John Wayne Gacy than Patch Adams.
"I think one of my strengths is that I know what parts I can shine in," Corddry said. "I like to say the role 'fits in my mouth.' It's usually either the guy saying, 'Come on, let's go do this crazy thing! Nothing bad could happen!' Or it's the guy saying, 'What are you, crazy? Don't do that bad thing! Buy a minivan like me and be sad!'"
That there is even a "Hot Tub Time Machine 2" at all may seem surprising. While some had tagged the first film as a sort of time-traveling answer to "The Hangover," it hadn't been nearly as big a hit as that other men-behaving-badly comedy franchise. When it grossed $50 million at the box office, any hopes of a sequel seemed to be dashed.
"On the first movie, we had talked about what we might do if we made a second one," Corddry said. "But after the opening weekend was softer than they were expecting, people had pretty much written that off."
Once the film hit home video, though, it took on new life. "The movie performed spectacularly well on Netflix and on VOD," said Jonathan Glickman, president of the motion picture group at MGM, which produced both the first film and now its sequel. (Paramount Pictures is MGM's distribution partner on the franchise.) "There was a huge audience that was seeing it for the first time and really loving it. It felt very much like what had happened with 'Friday' or 'Austin Powers.'"
Encouraged by the movie's growing fan base, the studio greenlighted the sequel at a modest $14-million budget — less than half of the first film, largely because of Cusack's absence. As for why Cusack declined to return, Corddry said, "I wish I had a satisfying answer but I really don't. I could speculate a number of things, one of them being that Cusack was like, 'Wait — this movie is popular?'" He laughed. "I wouldn't begrudge him that at all."
Indeed, there's no getting around the fundamental ridiculousness of the "Hot Tub" franchise — it's all right there in the title. In fact, screenwriter Josh Heald, who wrote both films, had initially come up with the idea as a kind of joke in college.
"I think the audience knows there's something brilliant and terrible about this whole enterprise," said Steve Pink, who directed both films. "It's just a horrible idea: They go in a hot tub and they travel through time? Even the characters are acutely aware that it's stupid. That gives us all kinds of license. It's like a get-out-of-jail-free card."
Corddry's own comedic sensibility was defined early on by his upbringing in the greater Boston area. "People from New England spend a lot of time in the cold," he said. "There's this sort of Puritan discomfort with expressing true emotion, so it's much easier to express sarcasm. Growing up with incredible social anxiety, I felt like, rather than climb into a hole, I'd combat my discomfort by portraying a more extroverted, funny personality."
In 2002, after years of acting in off-off-Broadway productions and studying improv comedy at the Upright Citizens Brigade Theatre, Corddry landed the correspondent job on "The Daily Show," which gave him an ideal outlet for his brand of humor. (Asked about host Jon Stewart's impending departure, he said, "I'm happy for Jon as a human being, but on the other hand I feel the same sorrow that the public feels.")
Leaving "The Daily Show" in 2006, Corddry didn't find the transition to other TV and film work easy at first. "There was a time when casting directors didn't really know what to make of me," he said. "'The Daily Show' was very confusing for them: 'Wait, are you a news guy? What's your real name?'"
Now, between the "Hot Tub" franchise and "Childrens Hospital," which begins its sixth season next month, Corddry has hit a comfortable stride. He recently wrapped work on a new HBO series called "Ballers" set in the football world, in which he stars opposite Dwayne "The Rock" Johnson.
"It does for the world of sports what 'Entourage' did for show business," he said of the show, which premieres in June. "It's a really interesting peek behind the curtain."
His interview with "Extra" finished, Corddry jumped back in the town car to go to the offices of the website Funny or Die, where he was shooting a video. The L.A. traffic gods smiled on him, and he arrived quicker than expected. He was pretty much right on time.
---