Review: Burgerama draws the approval of a music festival-hating musician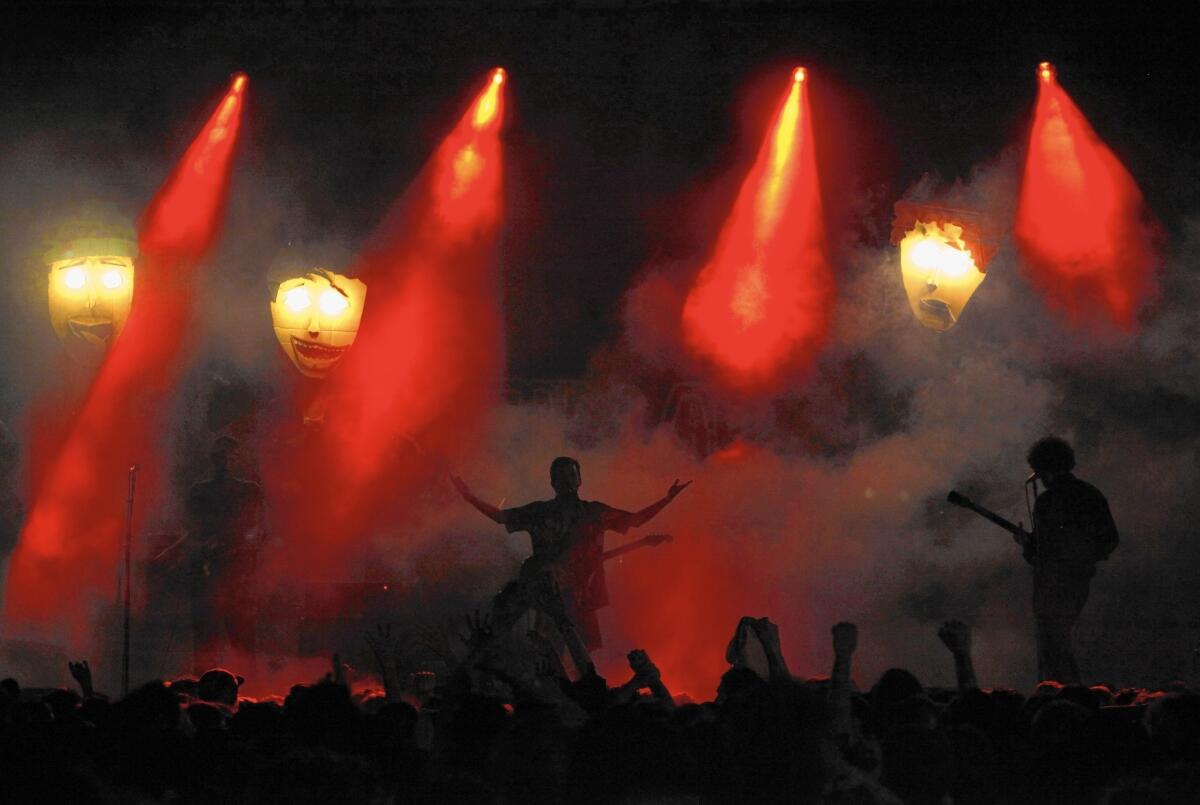 On Friday afternoon, I had given up on the future of music.
A friend of mine had just introduced me to two terrible artists, and I went on a Twitter rampage. I raged about sexist, garbage-disposal rock, about the grossness of vapid nihilism and desperate, borderline illegal sex appeal. It felt flaccid — a "Twitter rampage"? Is this how we articulate ourselves now? — but I digress.
As a musician, I hate music festivals too. I know that's Spoiled Artist Pity Party 101, but it's true. Maybe I'm just old now, but festivals are crowded, sweaty, flustered events where parking and a hot dog cost $25 each.
But you know who doesn't hate music festivals? Kids. The kids love them. They need them. Most adults require the aid of substances to stay awake past 11 p.m. Kids have natural amphetamines running through their veins, not to mention disposable income, which makes them the perfect music festival patrons.
This year's fourth annual Burgerama festival was full of them.
Walking onto the grounds at Santa Ana's Observatory on Saturday, I had to get over being surrounded by high schoolers. Yes, I think teenagers today are entitled brats who expect to stay hooked on their parents' bank accounts for far too long. It's even worse in Southern California, ground zero for kin of the famous. I hate knowing that teenage girls spend more effort perfecting their selfies rather than a skill they can actually use when they are no longer attractive. (William Keegan, frontman of Together Pangea, actually yelled the phrase "Raise those selfie sticks high in the air!" during the band's Burgerama set, which incidentally is the moment I discovered what a selfie stick is.)
However, I also think that teenagers are awful because being a teenager is awful. We all were all terrible. I was terrible. You know what saved teenage me? Music.
Burger Records has been the Orange County stable of garage rock for as long as I can remember. When my band White Lung used to play at a Fullerton punk garage called Dudes House, we would stop at the Burger Records storefront the next day. It was an indie label that was considered cool because it cared.
Now, it has grown into Southern California's one big little indie label. It puts on multiple festivals every year — one of them, Burger a-Go-Go, was dubbed the "punk rock Lilith Fair" — and recently expanded into Los Angeles' Cypress Park with a new store location. Its top bands (Ty Segall, Thee Oh Sees, the Black Lips) have gotten big — by indie standards, anyway.
When I think of Burger, I think of a cliché: sugary, SoCal garage rock jangling out of a partly broken Fender Twin; kids in denim jackets littered with buttons, floppy bucket hats. It's not a bad thing — it's just Burger, and it's exactly what the Observatory looked like on Saturday.
It was blazing hot in Santa Ana, and like most festivals Burgerama provided no shaded areas for the public. (That luxury was saved for the backstage area.) Packs of girls perched and swirled, dressed in lace and skimpy fringe — something Stevie Nicks might have worn in the privacy of her bedroom in 1976 — while the crowd screamed, chugged beer and obsessively updated Instagram accounts. Fans were happily herded like sheep through security and the beer garden and among the three stages. At any given time, you could watched tiny bodies as they crowd surfed over the audience.
Ninety bucks for two full days of bands makes it one of the best values in the area, especially when the bands range from local favorites like Bleached and FIDLAR to legends like Roky Erickson and Bone Thugs-n-Harmony (not to mention Saturday's headliner, Weezer). I've played a lot of festivals over the last few years, and the best ones are the small ones. Pitchfork in Chicago, Fun Fun Fun in Austin, Texas — festivals that host a mix of little and big fish yet still feel scrappy, punk, homebaked.
And that's Burgerama in a nutshell. Yes, it's incestual — you can pretty much guess the acts before the lineup is announced — but what "scene" isn't? That's what a scene is.
The Burger guys know their demographic. It's heartwarming to watch teenagers mosh and sing along to bands they look up to, knowing that somewhere in the back of those idiot brains they're studying the instruments and getting inspired to play themselves.
I had given up on popular music because I had given up on today's youth, mostly because this is the lame human cycle: getting older, cynical, more conservative. But I was proved so wrong when Erickson took the stage at 9:30 p.m.
The 67-year-old Texas psych-rock legend came out plump and fragile, smiling humbly, sporting checkered Vans slip-ons and carrying his guitar. I expected only the older half of the festival to care that he was playing, but the room was packed. Teenagers sang along to hits like "Two Headed Dog" and "You're Gonna Miss Me" completely wide-eyed, in awe and thrilled.
Everyone and their dog plays in a band these days. It's always been that way, but now technology has allowed us to see all of it: no matter how good, bad or totally unlistenable. But even today when music is compartmentalized, over-saturated and niche, no one can deny the power of a true rock star. Not even the attention-deficit teenagers.
All day, I saw nothing but phones, phones, phones in the air, but when Roky played, the crowd was mesmerized. That ability to capture an audience 45 years your junior, so far removed from your life experiences, is proof that music saves and always will.
Way is a writer and the singer for the punk band White Lung.
Get our L.A. Goes Out newsletter, with the week's best events, to help you explore and experience our city.
You may occasionally receive promotional content from the Los Angeles Times.