Friends puzzle over death of Quiet Riot's Kevin DuBrow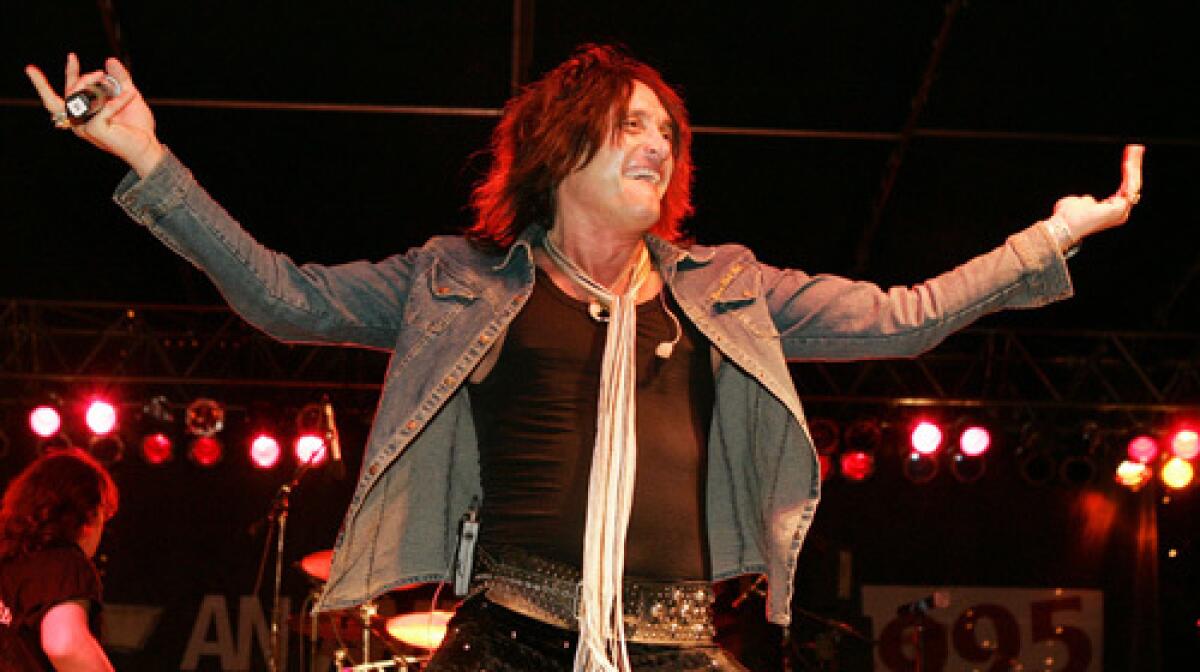 Special to The Times
The life of Quiet Riot singer Kevin DuBrow, who died at age 52 over the weekend in Las Vegas, had not been on a completely even keel after he'd broken up this month with his girlfriend of more than seven years, Las Vegas television personality and KXPT-FM radio DJ Lark Williams, according to friends saddened Monday by the news of his death.
Nevertheless, "his mood the last couple of months was stable," said former Deep Purple bassist and singer Glenn Hughes, who said he had communicated with DuBrow several times a week since they had become reacquainted after a 2001 performance by Hughes in Las Vegas. "He did not sound agitated or paranoid or anything at all -- he was just normal Kevin," Hughes said. He added that Quiet Riot's recent tour had gone well.
Williams said she didn't think DuBrow had any health problems. "He was as strong as an ox, that boy. He ate well, took a lot of vitamins. He worked out, and of course when he performed it was quite a workout," she said Tuesday from Las Vegas. "He never looked better." She said she had last communicated with him about a week ago by text message, with no indications that anything was awry.
As of Tuesday, the Las Vegas police were not investigating the death as a suspicious one. Samantha Charles, the communications officer with the Clark County coroner's office, said that an autopsy was performed Monday on DuBrow and that official determination of the cause of death would depend on results of toxicology tests, which could take six to 12 weeks.
"With everything that's happening," Williams said, "I'm just trying to take care of Kevin's cats."
He had two of them. Said Hughes: "He was crazy about those cats," and Williams agreed -- she said she and DuBrow had picked them out together.
DuBrow was a regular guest at Hughes' ocean-adjacent Los Angeles home. "He was truly like a little brother to me," Hughes said by phone Tuesday. "He was a very, very sweet, generous, kind, sensitive man. Loud and proud, yes, we all know about that, but there was a very personal side to Kevin that I will miss very, very dearly." Hughes helped write the songs on Quiet Riot's 2006 album, "Rehab," and was working on material for DuBrow's next project.
"There's a myth, I guess, if you're a rock 'n' roller, and you're of an age, you're a partyer," said Hughes, his proper English upbringing sounding in his voice. "But I can report that I never saw Kevin out of control, ever."
Hughes said that the residence in which DuBrow's body was discovered Sunday belongs to DuBrow's mother. The Quiet Riot singer lived alone, Hughes noted, and enjoyed the bachelor life, a predilection that contributed to his split with Williams, a tall blond with a photo-op figure who had helped DuBrow try to adopt a healthier lifestyle in recent years.
DuBrow was expected to fly in Friday night for a party at Hughes' house but uncharacteristically had not been in contact for a week. When he didn't show up or respond to messages, Hughes called Williams on Sunday to ask that authorities investigate.
DuBrow led Quiet Riot to the top of the charts in 1983 with the group's hit "Cum on Feel the Noize," which propelled the group's third album, "Metal Health," to sales of more than 6 million copies.
"He was one of the best singers rock has ever seen," said Blackie Lawless, singer-bassist of the L.A. extreme-metal band WASP, contacted Tuesday while on tour in Germany. "He had a voice like a razor blade that just cut right through you. And that voice is now silent."
"He was one of the first people I ever met when I came to L.A.," said Lawless, adding that he'd kept up the acquaintance for 32 years. "Kevin and I had a unique kinship, because our styles were similar, and we were both the same age. The third gig I ever played in L.A. was with him and Quiet Riot, when [guitarist Randy Rhoads] was still in the band."
"Quiet Riot [was] the first real MTV rock band," Lawless observed. "I always used to tell everybody that when people write rock 'n' roll encyclopedias, you'll see your '64 British invasion, the '56 Elvis chapter and the '69 Haight-Ashbury chapter -- well, L.A. will have its own '82-'83 chapter, and Quiet Riot would really be the beginning of that chapter."
Times staff writer Geoff Boucher contributed to this report.
Get our L.A. Goes Out newsletter, with the week's best events, to help you explore and experience our city.
You may occasionally receive promotional content from the Los Angeles Times.