New CDs: Watson Twins, G. Love, Motley Crue, Hacienda Brothers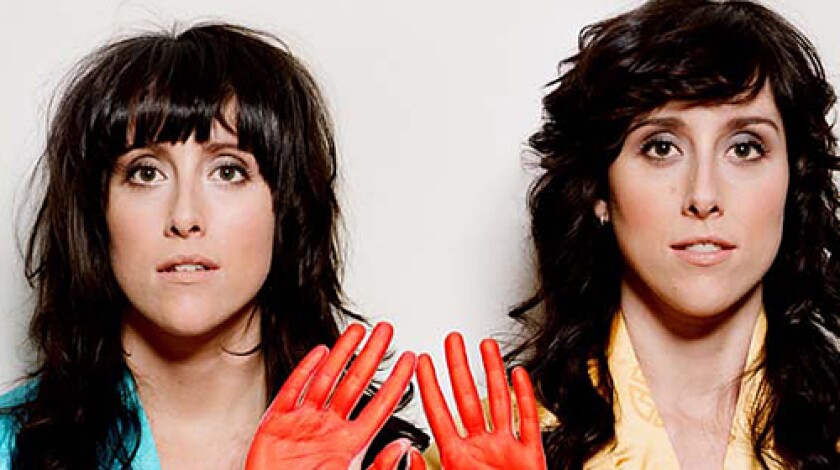 The Watson Twins Fire Songs (Vanguard)
* * * (three stars)
Languor is a risky quality for musicians to cultivate: The Path of Slow has led countless down-tempo electronica acts into the dead-end of dinner music. But when slow works, it can be voluptuously pleasurable, as the Watson Twins show on their lovely full-length debut.
---
FOR THE RECORD:
Hacienda Brothers: A review of the new Hacienda Brothers album, "Arizona Motel," in Tuesday's Calendar section said that lead singer Chris Gaffney died in May. He died in April. Also, the title of the song "Use to the Pain" was incorrectly given as "Used to the Pain." —

---
Repeated listenings benefit this meticulously produced offering of California back-porch pop; though its 11 tracks tend to blur at first, over time the whole effort seduces, earning a spot with similar unhurried gems like Mazzy Star's "She Hangs Brightly" and Beth Orton's "Central Reservation."
Identical kin Leigh and Chandra Watson perfected their genetically superior harmonies as backup singers in the band Slydell and then with Jenny Lewis. Stepping out front, they benefit from the modesty that comes from learning how to blend in with every sound around them. As twins, they can shape-shift even more effectively than most polyphonic siblings; the aura they project, of one voice split in two, enhances their ability to cast a spell.
Their producers, L.A. scene vets J. Soda and Russell Pollard, encourage the band to lay back and blend in, so that the music achieves seamlessness: only the horns on "Map to Where You Are" really announce themselves. Like a lot of contemporary pop that gets labeled "alternative country," the Watson Twins sound borrows from various roots styles in a knowing way, filtering country and soul elements through the lens of previous re-interpreters like Neil Young and Linda Ronstadt (and Natalie Merchant, who's the twins' lost triplet as far as vocal tone goes).
The lyrics contemplate relationships, mostly with bad boys or girls, and the sometimes melancholy drift of young adulthood. There's also an attention-getting cover of the much-beloved Cure song "Just Like Heaven," which turns that nervous smooch into a sweet slow dance.
The Twins can do retro-pop, as on the xylophone-kissed album opener "How Am I to Be," but they're of their own generation, recycling influences to accommodate their own ideas instead of simply paying homage.
-- Ann Powers
---
Light and breezy 'cause fans like it
G. Love & Special Sauce "Superhero Brother" (Brushfire)
* * 1/2 (two and a half stars)
It's unlikely that anyone's more surprised by how long G. Love has managed to stick around than G. Love himself. The funky Philadelphian (born Garrett Dutton) first appeared on the national radar in 1994 with the MTV hit "Cold Beverage" -- a laid-back fusion of blues licks and hip-hop beats -- and since then, he and his backing band, Special Sauce, have built a devoted audience. .
On "Superhero Brother," the third album he's made for his pal Jack Johnson's Brushfire label, Love seems determined to reward his devotees with more of what attracted them in the first place. This is unapologetically breezy stuff, long on strummed acoustic guitars and shuffling rhythms. Most of the tunes emphasize the value of having a good time; several go into more detail, such as "Who's Got the Weed?"
As with Johnson's records, there's a temptation here to wonder if Love is running some kind of cynical musical experiment, a sort of how-low-can-I-go operation. But every time you start to doubt his sincerity, Love busts out a guileless little gem like "Wontcha Come Home," where he tells a lover, "There's no need for looking when you find what you need."
--Mikael Wood
Soul was in Gaffney's country
The Hacienda Brothers "Arizona Motel" (Hacienda Brothers)
* * * (three stars)
What made Hacienda Brothers lead singer Chris Gaffney such a treasure in the roots-music community -- he died in May shortly after being diagnosed with liver cancer -- was how easily he bridged the gap that too often separates country and soul music.
This third, and final, album from the group Gaffney formed in recent years with ex-Paladins guitarist, songwriter and singer Dave Gonzalez includes several stirring examples of Gaffney's ability to hop musical fences. His rich baritone -- part oak, part gravel -- sounds equally convincing on the Waylon-esque "A Lot of Days Are Gone," written by Gonzalez and Jeb Schoonover, the western swing of Hank and Curly Williams' "When You're Tired of Breaking Other Hearts" or the Southern soul of Gonzalez and Dan Penn's "Used to the Pain."
Gaffney contributed as a songwriter to just three songs here. That's a shame, since on his pre-Haciendas albums in the '80s and '90s with his band the Cold Hard Facts he established himself as a first-rate writer of deeply felt character studies on a par with those his good friend Dave Alvin specializes in. The one song he wrote by himself, "Soul Mountain," is a gospel-rave up celebrating that place within where the spirit reigns, one that now serves as a fitting epitaph to a life cut sadly short.
--Randy Lewis
Energy remains but not the edge
Mötley Crüe "Saints of Los Angeles" (Motley Records)
* 1/2 (star and a half)
For all its back-in-the-saddle brio, Mötley Crüe's first new studio album together since 1997, "Saints of Los Angeles" -- released today in advance of the July 1 kickoff in West Palm Beach, Fla., of a summer-long tour -- isn't really a return to the band's mid-'80s heyday, when they delivered catchy riffs, polished guitar fuzz and ghastly ideas about romance.
There is some of the old energy here, thanks in part to the presence of drummer Tommy Lee, who drives "Down at the Whisky" and "Chicks=Trouble" like somebody with a head full of stimulants. Yet the album lacks the tune-craft that once made vintage Crüe such hits as "Dr. Feelgood" and "Kickstart My Heart" so appealing.
--Mikael Wood
Albums are rated on a scale of four stars (excellent), three stars (good), two stars (fair) and one star (poor). Albums reviewed have been released.
---
Your essential guide to the arts in L.A.
Get Carolina A. Miranda's weekly newsletter for what's happening, plus openings, critics' picks and more.
You may occasionally receive promotional content from the Los Angeles Times.