27 Images
Cindy McCain: The politics of fashion
Michelle Obama: Politics of fashion
Hillary Clinton: Politics of fashion
97, straw hat, pledge, Cindy McCain
By Elizabeth Snead, Los Angeles Times Staff Writer
Frumpty dumpty
Cindy McCain
wasn't always such a snappy, designer-obsessed dresser. Check this major 1997 frump-out – dowdy pleated gray skirt, short-sleeved gray blouse, pink floral scarf, ballet flats, a straw boater and a boyish cut.
(WireImage.com)
Cindy McCain
Red alert
Cindy McCain
started to jazz up her look in 1999 with spectator pumps and a gold-buttoned bright red knit skirt suit that
Nancy Reagan
would have loved.
(WireImage.com)
Cindy McCain, pearls, blue suit
Background music
Back in 2000,
Cindy McCain
played the perfect political wife, staying in the background, demure in a baby-blue wool skirt suit accessorized with classic pearl earrings and a pearl necklace. Tres Beltway chic.
(WireImage.com)
2000, plane, Cindy McCain
Short stuff
On the 2000 campaign trail,
Cindy McCain
looked every inch a potential first lady in a black-trimmed lavender suit with pearls. Notice how her skirt suit coordinates with John's shirt and tie. Nicely done, guys. Now put down the Ken McCain doll, John.
(WireImage.com)
2000, green, Cindy McCain
Green party
That 2000 campaign trail to become the Republican nominee for president was tough on
Cindy McCain
's wardrobe. She probably wore every color in the rainbow — here wearing a green skirt suit with gold trim and a triple strand of pearls for good measure. Thank heavens she grew out this short cut. Waaay too severe.
(WireImage.com)
Cindy McCain
Now ear this
Cindy McCain
was all ears at this 2000 political event. Maybe because her flushed ears matched her gold-buttoned pink boucle skirt suit. Notice the perfect French manicure — I'm thinking acrylics.
(WireImage.com)
Cindy McCain, Laura Bush
Blue for two
Sitting with
Laura Bush
in 2002, it pays to coordinate.
Cindy McCain
's turquoise wool suit coordinates with Laura's sea-foam blue linen version. A match made in political heaven.
(WireImage.com)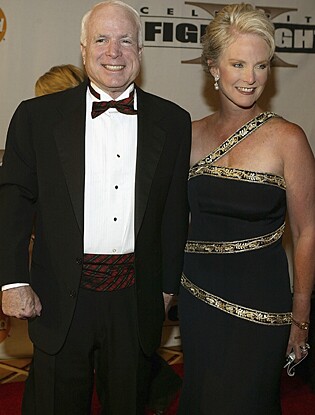 Cindy McCain
Blending in
Cindy McCain
finally got herself a good makeup artist, evidenced by the improvement in her makeup at this '04 red carpet charity benefit. Next lesson? Blending foundation down the neck. Don't stop mid-throat. Blend, blend, feather, feather.
(WireImage.com)
Cindy McCain
Lady in white
Cindy McCain
actually looks good in classic white. Her white single-breasted wool pantsuit with white turtleneck is an elegant choice. Even the French twist updo works with the high neckline.
(WireImage.com)
Cindy McCain, severe do, charcoal
Masking tape
Cindy McCain
's 2008 severe hairstyle got some fashion critics – like Tim Gunn of "
Project Runway
" – complaining that she looked as if she'd been duct-taped. We have to agree with Tim. She does look taut.
(WireImage.com)
Cindy McCain, pink, cast
Cast off
Cindy McCain
suffered a minor wrist/hand injury from all that glad-handing on the '08 campaign trail. But she makes it work for her by sporting a neon-pink soft cast as a colorful accessory to her faux houndstooth wool dress.
(WireImage.com)
Cindy McCain
Retro-fitted
Cindy McCain
goes retro '80s with a purple tweed skirt suit, black turtleneck and black opaque tights. Perfect for the next tea at the
White House
, right George?
(WireImage.com)
Cindy McCain, kiss, John McCain
Pucker up
Cindy and
John McCain
do their polite public pucker in 2002. Her bright, crayon-blue wool suit with white rickrack stitching just screams "Republican political wife." And how about that pin — a gold eagle sitting on a pearl!
(WireImage.com)
Cindy McCain, yellow
Mellow yellow
Cindy McCain
has found her color. This pale sherbet-yellow wool dress — with a four strand of pearls — is flattering to her hair and skin color.
(WireImage.com)
Cindy McCain, pink, leather
Whether to leather
Cindy McCain
's pink leather zip-front jacket with stitched trim got a bit of criticism for being too trendy. It is a little too socialite-country club wife-trying-to-relate-to-bikers. But if the pink leather jacket fits …
(WireImage.com)
Cindy McCain
On spec
At first we thought
Cindy McCain
was trying to look smarter. But then we noted that everyone's wearing protective industrial glasses. The serious tweedy pantsuit and turtleneck work in this setting.
(WireImage.com)
Cindy McCain, red dress
Red scare
This fitted red dress fits
Cindy McCain
to a T. Too bad her hair looks glued to the sides of her head.
(WireImage.com)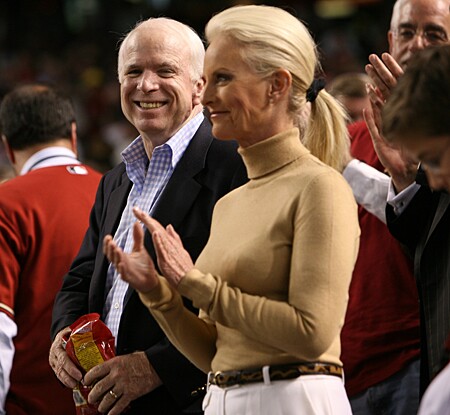 Cindy McCain, Diamondbacks, AZ
School ties
Cindy McCain
looks sleek, with hints of things collegiate, in her beige turtleneck, low ponytail and white jeans at an Arizona Diamondbacks game earlier this year. She was a cheerleader at USC, you know.
(WireImage.com)
Cindy McCain, turquoise, floral, dress
Go with the flow
This has to be the most feminine frock we've seen
Cindy McCain
wear this year. She should wear floral-print, turquoise silk chiffon more often. The flowing fabric definitely softens up her hard, over-bleached edges.
(WireImage.com)
Cindy McCain, flag, cast
Cast your vote
Cindy McCain
looked a little blue for a member of the red party in mid-August, probably unhappy with this bulky black arm sling. Never fear, she found herself a fun bright pink one just days later.
(WireImage.com)
Cindy McCain, fuschia pink, 2007
Pulling the wool
In 2007,
Cindy McCain
wore one of her favorite colors, shocking pink. Actually, a thick boucle wool skirt suit is the perfect outfit to wear on a campaign-trail bus. Wool seldom wrinkles when you sit for hours. On the other hand, it always looks lumpy and bulgy. That's the bad news.
(WireImage.com)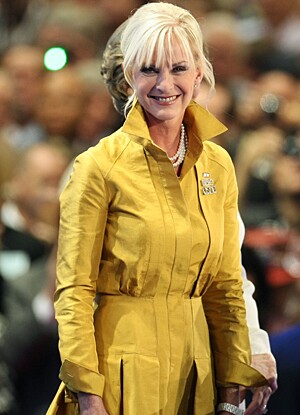 Cindy McCain, collar, Republican Convention,
Puppy love?
This high-collared yellow cotton dress looked suitably dramatic at the Republican National Convention this week. Is it just me, or do
Cindy McCain
's blonde highlights and flip collar make her look like a sunny Cruella de Ville? Puppies, I must have puppies!
(WireImage.com)
Cindy McCain, beige, cowl-neck dress
Fit to be tied
This ill-fitting, cowl-necked, beige wool dress just isn't flattering. To anyone. Even
Cindy McCain
. Still, she earns points for attempting to veer from the predictable, political-wife uniforms of sheath, shirt dress or skirt suit.
(WireImage.com)