26 Images
Hillary Clinton: Politics of fashion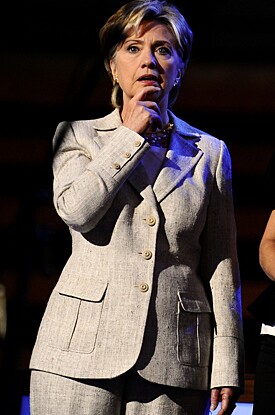 By Elizabeth Snead, Los Angeles Times Staff Writer
Michelle Obama
wears one B&W sleeveless dress on a morning talk show and a simple blue dress at the Democratic National Convention and suddenly, she's the Queen of Political Fashion?
What about
Hillary Clinton
, who has been struggling in the style spotlight for 20 years? We all know those boxy jackets, dowdy pantsuits, proper pearls and a conservative coif. Hillary's style has come under constant criticism over the years. So much so that she even did her own
fashion police for Us Weekly,
making fun of her past outfits.
In our review of Hillary's style evolution from the early '90s to 2008, we found some surprisingly edgy fashion: a leopard print gown, a ruffled blouse, one sheer bodice and a pretty fancy
Oscar de la Renta
ball gown, not to mention some very 'bright' blouses. Even her jewelry has gotten more colorful over the years.
As recently as 2007, Robin Givhan of the
Washington Post
wrote about the shock of seeing
Hillary's cleavage on the Senate floor,
peeking out from under a rose colored blazer.
That's what counts as a fashion scandal inside the Beltway? Unimpressive. Until one considers it wasn't until the early 90's, that women were allowed to wear pantsuits on the Senate floor.
Hillary has always erred on the conservative side. No baring of toned arms and legs - like Michelle Obama - for this gal. Even when she had a real fashion designer's input, she dulled it down. Hillary's second inaugural gown was designed by Oscar de la Renta, a gold lace gown that she had the designer add long sleeves and a Victorian high neckline. She again wore an Oscar de la Renta to the 1997 Grammys, another high neckline.
But most observers believe that the nail in Hillary's fashion coffin was her Senate campaign. It pushed her into a full-time pantsuits regime. No time for fashion now, her pantsuits seemed to scream.
And when she campaigned for president, political pundits noted that she may have relied too heavily on the pantsuit, perhaps as a way to be one of the boys.
Check out this Politics of Fashion gallery and vote on Hillary Clinton's fashion policies. Let your votes be counted!
Related:
Cindy McCain: Politics of fashion
Michelle Obama: Politics of fashion
Sarah Palin: Politics of fashion
(Keith Bedford / Bloomberg News)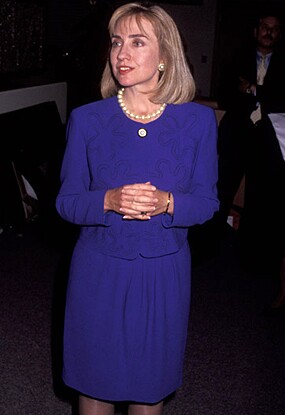 Skirting the issues
Hillary Clinton, circa 1992. Before Bill Clinton was elected president, Hillary was already into her pearls, skirt suits and pageboy. Wonder where she stored all those headbands she used to wear that gave her that earnest college girl quality.
(WireImage.com)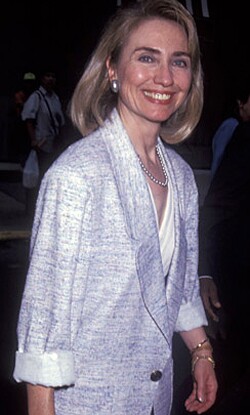 Boxed in
A girlish Hillary Clinton at a Clinton/Gore party in 1992. She displayed an early affinity for the boxy jacket/knee-length skirt combo, a habit that would prove hard to shake in the next decade.
(WireImage.com)
Secretarial pool
Hillary Clinton looked more like an executive secretary than a First Lady back in 1994. But at least she started wearing rich primary colors.
(WireImage.com)
Coco calling
At the 1996 opening of a New Convenant House, Hillary Clinton pulled out all the stops, pageboy, Chanel-inspired creamy wool jacket with pearls, gold buttons, and a flower pin. Talk about political wife perfection.
(WireImage.com)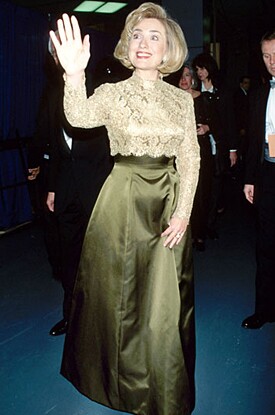 The big picture
Hillary Clinton's idea of dressing for the Grammys? Bigger is better. Hence the big bubble hair, a gold lace high-necked blouse and sweeping green satin skirt.
(WireImage.com)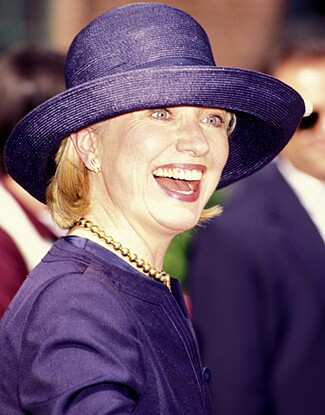 Deep purple
Hillary Clinton surprised style watchers in 1998 when she wore a bright purple straw boater that matched her purple outfit. And yes, there were unfortunate comparisons made to Barney the purple dinosaur.
(WireImage.com)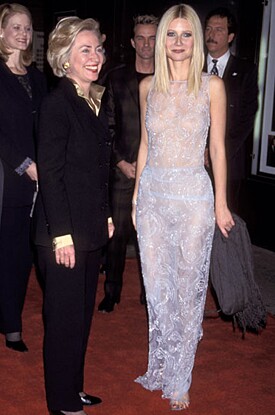 Naked ambition
Yes, that is "Shakespeare in Love" hottie Gywneth Patrow, wearing virtually nothing, standing with First Lady Hillary Clinton, in a black pantsuit with a stylish gold satin blouse. I bet the First Lady didn't know where to look. What does one say to a half-naked actress? I love your thong. Isn't Harvey Weinstein a great guy?
(WireImage.com)
Worn again?
Hillary Clinton's ruffled bright blue satin blouse is a real scene- stealer at the TNT Xmas show in 2000. And she must like this blouse a lot because this isn't the last time she'll wear it.
(WireImage.com)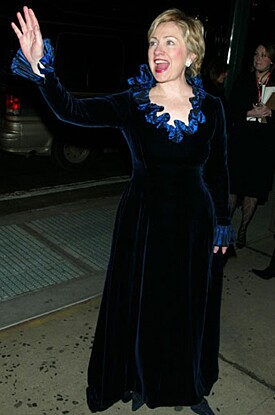 Recycled chic
Is this the same blue velvet dress with a bright blue ruffled collar and cuffs that Hillary Clinton wore in 2000? Sure looks like the same dress reworn at the amFAR gala in 2003. She was totally ahead of her time in the fashion recycling program. She should have made this known during her campaign for the Democratic presidential nomination. It might have helped.
(WireImage.com)
Leopard woman
Yes, this really is conservative Hillary Clinton wearing chiffon leopard print to Nelson Mandela's 85th birthday in 2003. Where is this risky number on her dowdy fashion history resume, huh? Too bad she covered up with bronze satin table cloth.
(WireImage.com)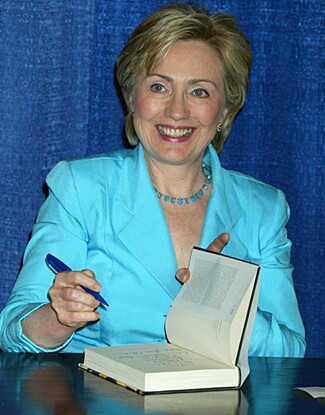 Blue period
OMG! Hillary Clinton is wearing a turquoise choker AND a turquoise jacket! This is historic, people. Why wasn't more made of this incredible fashion breakthrough in 2003? How did we miss this?
(WireImage.com)
Mellow yellow
By the time she started her 2003 book tour for "Living History," Hillary Clinton had hopped on the color wheel. Her sunny yellow jacket is actually very flattering to her skin tones and hair color. She should wear yellow more often. Now about those never-ending pearls…
(WireImage.com)
Knot again.
The problem with Hillary Clinton wearing her sweater (that matches her other blue sweater and blue necklace) so carefully knotted around her shoulder is that it looks like she's trying too hard to look casual. Yes, we know blue makes your eyes stand out, Hills, but just trust us on this one.
(WireImage.com)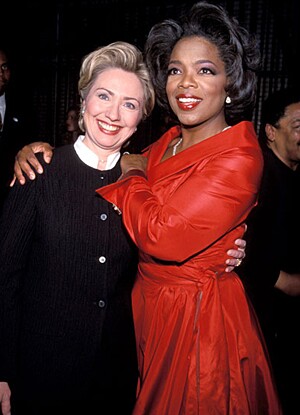 Get thee to a nunnery
At the 2000 Essence Awards Hillary Clinton looked like a nun next to the flamboyantly colored Oprah Winfrey. Not that there's anything wrong with that.
(WireImage.com)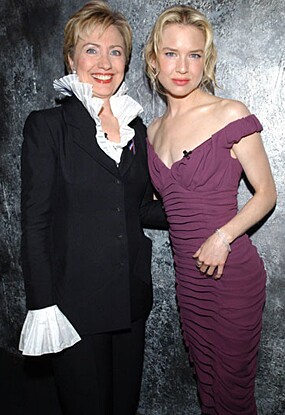 The frill is gone
Hillary Clinton, standing next to a lithe Renee Zellweger, wore a white ruffled collar blouse under a serious black pantsuit at the VH1/ Vogue Fashion Awards. Yes, it's a fashion risk. And a dining risk, given the length of those ruffled cuffs.
(WireImage.com)
Dare to bare
There must be something about the Rolling Stones that gets Hillary Clinton feeling a little frisky. Here she is with Keith Richards at the 2001 Concert for New York, wearing the sheer black dress (and necklace) that she'd wear again to the Emmys in 2005. Hillary, you little fashion flirt, you.
(WireImage.com)
Having a ball
Only Hillary Clinton would think that this old-fashioned pouf sleeved blue satin gown looks good. Poor Oscar de la Renta must be screaming inside his head: 'Why me, why did she ask me to make this hideous dress for the 2002 Council of Fashion Designers of America gala? My career is over… '
(WireImage.com)
Hair today, gone tomorrow
Once again, Hillary Clinton loves to coordinate colors. Notice the bright orange jacket, orange necklace and orange lipstick. Still, her hair was looking a little Meg Ryanish hot back in 2003. We love the chunky blonde highlights and choppy short cut. If only she'd kept it up….
(WireImage.com)
Sheer delight
Yowza! Check out Hillary Clinton's sexy cleavage under this sheer black evening gown at the 2005 Emmy awards with her good pal Oprah Winfrey (before she endorsed Obama…) We get the feeling there is a real fashion minx inside Hillary, just dying to escape!
(WireImage.com)
Suiting up
Here's Classic Hillary Clinton Style at the Tribeca Film Festival in 2006: pearl earrings, pearl necklace, black suit and bright blouse. Sure, it's a uniform, but it totally works for her.
(WireImage.com)
Global politics
Wow, Hillary Clinton wears an intriguing Asian-inspired embroidered jacket to the Rolling Stones concert in 2006. Two points for going 'global chic,' Hills. Bet Keith Richard tries to buy this coat from her.
(WireImage.com)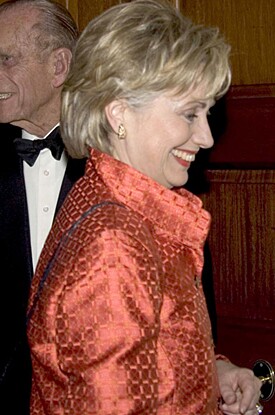 Orange appeal
Hillary Clinton got seriously suited up to meet the Queen at the British Ambassador's home in 2007. Her mandarin collar orange satin jacket is a pretty flattering color. Do you think she's a Fall, Winter, Spring or Summer? You just know she had her colors done by a professional long ago and still sticks to it.
(WireImage.com)