'Inventing Niagara: Beauty, Power and Lies' by Ginger Strand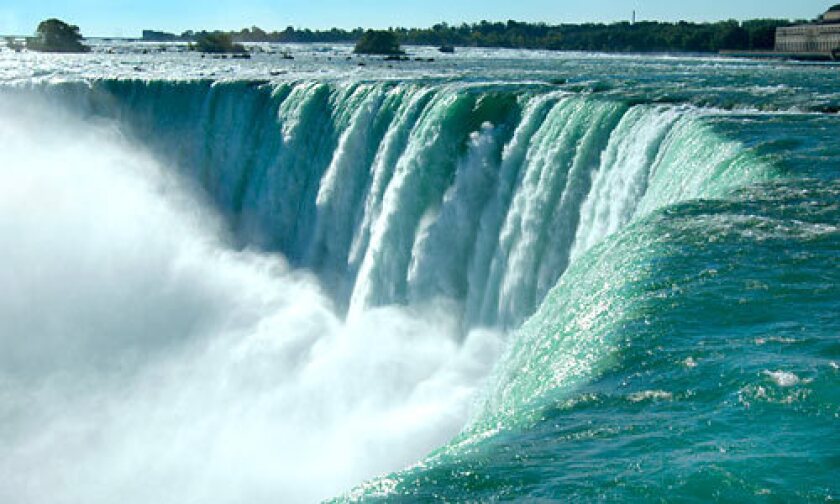 Los Angeles Times Staff Writer
May 21, 2008
Ginger Strand has a great subject in Niagara Falls and some provocative and convincing ideas about her topic's significance.
Unfortunately, her synthesis of the two -- "Inventing Niagara: Beauty, Power and Lies" -- incorporates just about every authorial tic and self-absorbed mannerism that afflicts far too much American nonfiction these days. The result is a reading experience that's a lot like swimming upstream against a stiff current: Patience and tenacity eventually will get you where you want to go, but it's awfully hard going.
That's too bad, because Strand has some startling, interesting things to say about the Falls and, particularly, the culture that has grown up around them.
"Niagara Falls as a natural wonder does not exist anymore," she writes. "Manicured, repaired, landscaped and artificially lit, dangerous overhangs dynamited off and water flow managed to suit the tourist schedule, the Falls are more a monument to man's meddling than to nature's strength. In fact, they are a study in self-delusion; we visit them to encounter something real, then observe them through fake Indian tales, audio tours and IMAX films. . . . We hold them up as an example of unconquerable nature even as we applaud the daredevils and power-brokers who conquer them. And we congratulate ourselves for preserving nature's beauty in an ecosystem that, beneath its shimmering emerald surface, reflects our own ugly ability to destroy. On every level, Niagara Falls is a monument to the ways America falsifies its relationship to nature, reshaping its contours, redirecting its force, claiming to submit to its will while imposing our own on it."
Few outside the region realize that Niagara Falls is nowadays the most controlled of the world's natural wonders. Even the flow of water is regulated, turned up when the tourists are around and down when they're not. One of "Inventing Niagara's" most perplexing photos was shot in 1969, when the Army Corps of Engineers (who else?) quite literally turned off the American side of the Falls so that they could shore up and reshape the escarpment. Sensors have been installed to warn against any dangerous erosion of this scenic asset.
Alongside the tacky commercial blight that has been a Niagara feature from the early 19th century, there have been more malevolent developments -- toxic and nuclear wastes and a broken Rust Belt economy that have left half the area's people on public assistance. According to the Corps of Engineers, there are seven radioactively contaminated dumping sites within 10 miles of the Falls. Ritual denunciations of globalization (which, in fact, has nothing to do with Niagara's plight) aside, Strand is particularly good on all this, as she is on the curious political and cultural role the Falls played before the Civil War, when the area was a focal point of the Underground Railroad's intrigues.
The author also does an interesting job in charting the evolution of our aesthetic perceptions of the Falls. The first European to record his reaction to the sight was the French Jesuit Louis Hennepin who, in 1678, wrote, "When one stands near the Fall and looks down into this most dreadful Gulph, one is seized with horror." Boat tours below the falls were attracting visitors as early as 1846. By the time Frederic Church painted his iconic depiction of the Falls -- now in New York's Granger Collection -- Hennepin's 17th century revulsion at unchecked nature had given way to the Romantics' idealization of the picturesque.
After the Civil War, Frederick Law Olmstead, architect of New York's Central Park, tried to enhance that experience with a landscaping plan that set the view off from the surrounding commercial clutter. (Strand, who seldom misses the opportunity to miss the real point by making a politically correct one, denounces Olmstead's plan as belonging to an elitist, trying to impose aristocratic taste onto the common man. Yes, public gardens will do that.)
Didactic tone and brittle politics aside, what makes "Inventing Niagara" frustrating reading is the author's fashionable insistence that the story of her obsession with the Falls is as interesting as the story of the Falls and what has occurred around them. Thus, there is page after page of libraries visited, documents consulted, interviews conducted, landscape puzzled over. It's dreary, sort of like living through somebody else's thesis, and -- worst of all -- it gets in the way of a fascinating story.
Another of Strand's annoying affectations is what might be called the fallacy of faux detail. This is an all-too-common failing among nonfiction writers who misunderstand a technique they've appropriated from the New Journalists. In the latter's hands, carefully observed and telling details were allowed to accumulate into scenes that both evoked the places of which their narrative nonfiction was constructed and lent the reportage a crucial credibility. The point was that the details themselves were significant and, taken together, added up to more than the sum of their parts.
Here, on the other hand, is part of Strand's re-creation of her visit with the head of the Tuscarora tribe's environment program. The tribe, one of two constituents of the Iroquois nation who occupy land in and around Niagara (the Seneca are the other), lost thousands of acres of land when Robert Moses seized it to excavate a reservoir as part of the New York Power Authority's expansion of hydroelectric generation on the river. "We sit at a round table that holds a bowl of apples, a quarter of a Wegmans chocolate cake and a bottle of 7-Up."
Yes, of course. No one but an Iroquois would set a table that way.
At another point, Strand tracks down and interviews an Abenaki Indian folklorist concerning the origins of a sentimental tale concerning the "Maid of the Mist," a beautiful young Native American woman named Lelawala sacrificed during a plague:
" 'Where did the Maid of the Mist legend come from? Ely Parker,' Joseph Bruchac tells me over a bowl of French onion soup. 'He was really fond of telling that story.'
"Ely Parker? The brilliant Seneca sachem? I choke on my Gruyère."
A bit later, Bruchac illustrates a point he's making to Strand with drum-like sound effects: "The tom-toms startle a few of the lunching ladies and they look at us, forks poised over chopped salads. Joe's wife Carol, who has come along, laughs and eats the orange slices off his plate."
Onion soup? Gruyère? Chopped salad and orange slices, right there near Niagara Falls -- and on the plates of Indians. Who'd have thought it?
More to the point, who the devil cares?
Inventing Niagara Beauty, Power and LiesGinger StrandSimon & Schuster: 352 pp., $25
---
Inside the business of entertainment
The Wide Shot brings you news, analysis and insights on everything from streaming wars to production — and what it all means for the future.
You may occasionally receive promotional content from the Los Angeles Times.