Ensuring a series is combat ready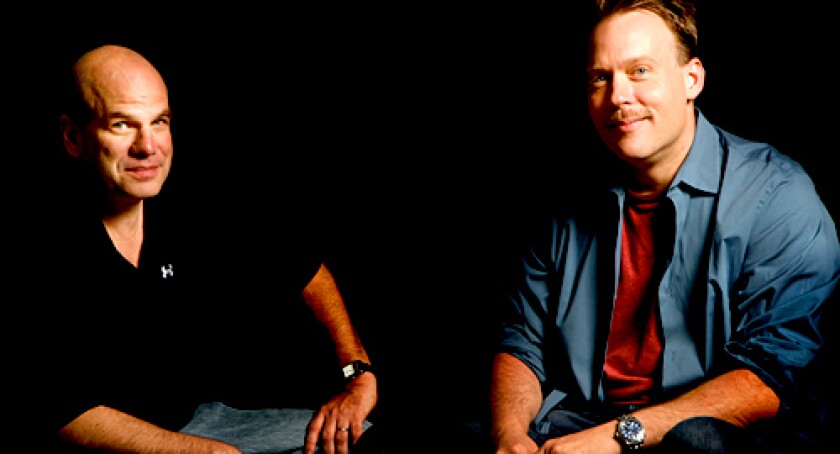 Los Angeles Times Staff Writer
When David Simon ("The Wire") considered HBO's proposal to script Evan Wright's book "Generation Kill," he knew the journalist should stay in the picture, he told television critics at their annual press tour last week. Simon, who worked on the Baltimore Sun's city desk for 13 years, was introduced to script writing by Tom Fontana, who adapted Simon's first book, "Homicide: A Year on the Killing Streets," into the NBC series"Homicide: Life on the Streets."
Producing partner Ed Burns "and I would not try to do this alone. I have never had military service and Ed was in Vietnam but with the Army. That's two generations removed from 'Generation Kill.' And neither of us had been to Iraq. I said, 'I will only do this project if Evan will stay involved,' " Simon said.
Simon and Wright huddled last week in the noisy lobby of the Beverly Hilton Hotel, where they had come to promote their miniseries, an account of the first Marine reconnaissance unit into Iraq, to television journalists.
Wright said he leapt at the chance, even though when he first pitched HBO, he told them he didn't want to be involved. For one thing, he hadn't yet adapted his Rolling Stone articles into the book. "I didn't want to take on the stress of writing a script. I'd never written a Hollywood script," he said.
Also, he didn't think they would ask him. "I said that preemptively. You know how it is when someone is about to dump you and you dump them first?"
The subsequent collaboration to weld journalistic reality to dramatic storytelling represented a steep learning curve for Wright. "I wasn't always a good student," he said. What he admired most about Simon, he said, was that -- as an artistic intellectual -- he turned out to be a "cocky, obnoxious bastard." In his book, that was how Gen. James Maddox described the Marines' recon unit.
Another thing Wright said he learned was that in Hollywood, even if executives have read your articles and your book, they still want to hear your boiled-down pitch. "This happened again and again," he said. "They want a simple handle they can put on this." He told the HBO executives that the miniseries could be "the ultimate family road trip" like National Lampoon's "Vacation" movies, that it could be like "Jackass Goes to War."
Of course, one thing the TV critics wanted to know was, what about those rumors that the two of them had fought over credits? Not true, they said, adding they were offended by the story (initiated by former New York Times journalist and current blogger Sharon Waxman). "All of the credits in this are appropriate to the work that everybody did who was involved," said Wright, listed as author-screenwriter-consulting producer.
More worrisome to Simon was whether anyone would think he had grafted his "The Wire" worldview onto "Generation Kill."
When Simon first turned to film, he said he was attracted by the same things that drew him to journalism. "I loved going out and finding a story that no one else knew, finding it on all levels, making it real and intimate, pulling it back through the keyhole, carrying it on your shoulder to the campfire where then you tell it to everybody and they'd say, 'That's the best story I've heard all day. Do we have art on that? Put that on the bottom of A1.' It's real pure. This is true, and I found it."
But in television, writers must stick to scenes and dialogue and are unable to paraphrase secondhand observations, he said. And as he told the Marines at Camp Pendleton, where they screened the pilot last week, film isn't exactly truth. "But because we were real careful with it, I don't think it's a lie either," he said.
Simon and Burns are adapting New York Times reporter Lisa Belkin's book "Show Me a Hero" and two other projects for HBO, while Wright is adapting his Vanity Fair article "Pat Dollard's War on Hollywood" for Tony Scott and Fox Studios.
Sex and drugs? He can help
For those who can't watch enough shows about addiction and rehab, now comes "The Cleaner" -- an A&E scripted series about a real-life interventionist in Los Angeles. The former addict will confront all sorts of addictions from gambling to drugs to sex, said creator Jonathan Prince.
Sadly, he won't be tackling television addiction. Sad because the venerable "Law & Order" has surely ruined many lives, leading people to turn away from human conversation and sunsets to the sights and sounds of the small screen, crafted by professionals to ensure maximum engagement.
I've tried switching to "Law & Order: Criminal Intent" but just became addicted to both shows.
Prince offered this self-test: If you watch more than three "Law & Order" reruns and already know the ending, you probably have a problem.
British sitcom vs. YouTube
The Television Critics Assn.'s annual press tour from the scriptwriters' POV looks like this: A roomful of people sitting at tables, looking at computer screens instead of them.
"This is so weird, sitting on a white leather sofa, talking to loads of people while they all check their e-mails," said James Corden, one of four writer-actors promoting BBC America's "Gavin & Stacey," a comedy about a couple's path to marriage. Before their panel, he and co-writer and actor Ruth Jones had watched the critics from backstage. "It is so amazing. There are people going, 'Yeah. Oh. Yeah.' There are a couple of people shopping. He's on YouTube."
Evan Wright ("Generation Kill") said the combination of the computer screens and microphones gave him the impression of a "science fiction version of a Stalinesque trial."
"But you all look like you smell amazing," Corden told the writers. "It's important to say that."
Hold on while we find a dictionary
"Malthusian" (def: of English economist Thomas Robert Malthus and his theory that the world population tends to increase faster than the food supply with inevitable disastrous results).
Used by "Mad Men" creator Matt Weiner on a TCA panel when asked about growing his show's audience.
"I do hope that as AMC becomes more popular, that the show will draw a larger audience. But to me, it's, you know, Malthusian. . . ."
Commented lead actor Jon Hamm: "I think we have to pay Matt a thousand dollars because he used the word 'Malthusian.' We had a huge bet he couldn't work it in."
Scriptland is a weekly feature on the work and professional lives of screenwriters. Please e-mail any tips or comments to lynn.smith@latimes.com.
---
Get our daily Entertainment newsletter
Get the day's top stories on Hollywood, film, television, music, arts, culture and more.
You may occasionally receive promotional content from the Los Angeles Times.