Benedict Cumberbatch takes on a dream role in Showtime's 'Patrick Melrose' — thanks to Reddit
Benedict Cumberbatch was just answering a question from a fan — not plotting his next project.
On a promotional lap for his 2013 "The Fifth Estate," in which he portrayed Wikileaks founder Julian Assange, the English actor dived into Reddit.com's "Ask Me Anything" feature that's essentially a free-for-all online Q&A with the masses.
One by one, Cumberbatch responded to offbeat questions: "Is fame different from how you imagined it would be?" "Do you bother with Halloween?" "Which Muppet would you like to share a scene with?"
But it was one query that made a a special impression: "If you could choose to be any other literary character in an upcoming role, who would it be and why?"
"Patrick Melrose in Edward St. Aubyn," Cumberbatch shot back, referring to the troubled, self-destructive protagonist at the center of a quintet of novels — the first of which was published in 1992 — written by St. Aubyn, a British novelist. Word found its way to the producers who had optioned the books.
"Never underestimate the power of an online Q&A," Cumberbatch jokes on a recent weekday.
The actor takes on the complex antihero in Showtime's limited series "Patrick Melrose," premiering Saturday. The project presents another twist for the internationally renowned actor celebrated for his diverse résumé ranging from Shakespeare and the career-launching "Sherlock" TV series to blockbusters such as "Avengers: Infinity War, where he reprised his portrayal of Marvel's Doctor Strange.
Adapted for television by David Nicholls ("One Day"), each installment of the five-part projects tackles one of St.Aubyn's loosely autobiographical novels in the series — "Never Mind," "Bad News," "Some Hope," "Mother's Milk," and "At Last." The saga follows the harrowing journey of an aristocratic playboy struggling to overcome the psychological damage inflicted by his abusive father. Jennifer Jason Leigh and Hugo Weaving star as Patrick's toxic parents.
Cumberbatch, who also serves as an executive producer on the series, became acquainted with the novels well after the last book in the series had been published — a mix of word of mouth and intrigue at seeing it on coffee tables at the home of friends piqued his interest. One sitting with St. Aubyn's prose had the actor captivated.
"An actor aches to be given as much to get their heads and bodies around as this role demands," Cumberbatch says from the balcony of a West Hollywood hotel room. "I felt so hard for this guy. I felt for him so much because of what he'd been through, but also, just this extraordinarily brilliant mind trapped in this situation. You root for him, even when he's behaving incredibly badly and being very amoral and sabotaging the good in his life. You know why he's doing it, so you're just waiting, waiting, waiting for him to turn that corner."
Nicholls, a British novelist and screenwriter who has adapted the novels "Far From the Madding Crowd" and "Great Expectations" for the screen, was eager to tackle St. Aubyn's style of prose that can deftly paint a portrait of painful chaos and trauma while infusing it with biting satire and psychological insight.
"Whenever anyone said to me, 'What would you most like to adapt?' I always said the Patrick Melrose novels, knowing that they would be very, very, very, very hard to adapt faithfully," says Nicholls, who read the first book in the series, "Never Mind," not long after its 1992 release.
"If you synopsize the books," he adds, "they're about mental illness and depression and drug addiction and alcoholism and childhood trauma and guilt and hatred and all of those things. They're also among some of the funniest books I've ever read. I love that tension between the brilliance of the comedy and the darkness of the subject matter. It is a story of recovery and redemption."
As he suspected, distilling it all neatly into episodic television was no easy task. He inverted the order of the first two books, starting with "Bad News," in which the twentysomething, heroin-pumped Patrick learns of his father's death and must make the journey to pick up the ashes — putting into motion the question about why Patrick's behavior is so erratic. The answer becomes clear in the second episode.
"We realized it was about memory, and it was about the gradual unveiling of information," Nicholls says. "The books were never conceived as a 'Fargo,' they were never conceived as a TV series. There isn't the same navigation to have a narrative hook in a novel as there is onscreen."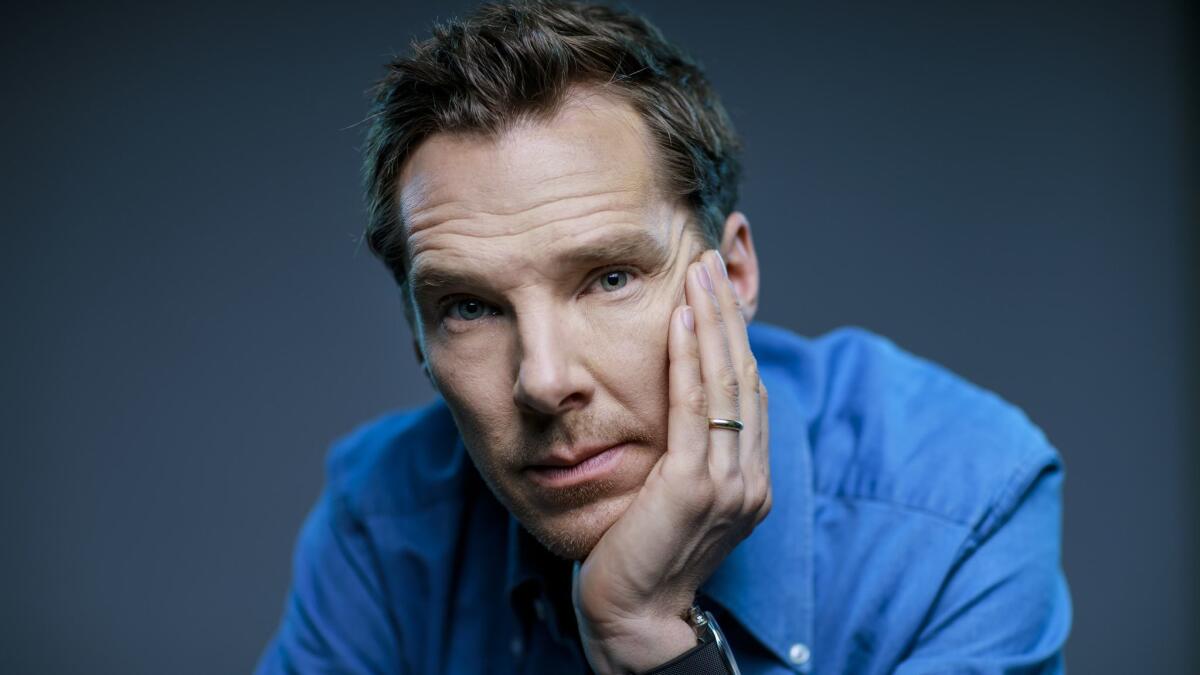 I felt for him so much because of what he'd been through, but also, just this extraordinarily brilliant mind trapped in this situation.
— Benedict Cumberbatch, who stars as the title character in Showtime's "Patrick Melrose"
The most challenging aspect, Nicholls says, was getting across a state of mind.
"If you pick up the five novels and flick through them, there really isn't much dialogue," Nicholls says. "The dialogue that's there is wonderful, but a lot of it is very internal. A novelist can write the words, 'He thought' and 'she felt.' How do you take five books that, to a large extent, take place in someone's head and physicalize that journey? Well, we have the great benefit of an actor like Benedict."
The intensity of Cumberbatch's portrayal is felt from the start. The first episode finds Melrose almost exclusively in a heroin daze, unraveling with each minute. His relief comes in acting out voices and personalities as the ghost of his traumatic childhood haunts him. As an actor known for playing characters who hide emotions beneath the surface, letting it all hang out was a welcome change of pace.
"It was incredibly liberating," Cumberbatch says. "He is very much an emotional extrovert. Sometimes the moments are heightened by the effect of the drugs he's on, or by some trauma or breakdown or neurosis, which is coming to the surface. And other times, he's very contained and in control. The actor in Patrick Melrose is sort of one of the saving ingredients. The voices he expresses, if they'd remained internal, would have been so toxic and pulled him into full-blown paranoid schizophrenia. So both for the character, but also for me as an actor, it was very important part of it and a very big appeal to play that kind of role."
Cumberbatch credits dinners and phone calls with St. Aubyn — or Teddy, as he calls him — in helping him to fully dive into the role. He's careful not to get into specifics of the ground they covered, but offers: "I will say, he was incredibly transparent and honest and generous with his story, with his experience to help. We often talked about it in terms purely of Patrick because Patrick is removed from Teddy, which made it, I think, possibly easier."
St. Aubyn describes Cumberbatch's performance as "astonishing."
"Being a novelist, I suppose I was very aware of how much of the inner life of the characters was simply not going to be on the screen, because I spent so much time describing people's mentality," says St. Aubyn, who visited the set at different junctures. "So I thought, 'What's going to happen?' What I saw was someone manifest a whole psychological history with a gesture or with a tone, and I thought it was miraculous."
"Patrick Melrose" extends Showtime's experimentation in the limited series arena following the mixed response to the reboot of "Twin Peaks," the groundbreaking David Lynch-Mark Frost drama. Acknowledging that American audiences may not be familiar with the "Patrick Melrose" novels, Showtime is banking on Cumberbatch's star power.
"We've only been in the limited series game for a year," says Showtime programming president Gary Levine. "We really did get into it in the hope that we could get properties like 'Patrick Melrose' — a compelling drama based on great source material and bring it to the masses. When we heard that Benedict was going to be Patrick Melrose — it was a no-brainer."
Cumberbatch, nearly five years removed from that Reddit.com moment, still can't believe his luck.
"It was thrilling and slightly terrifying," he says of the experience. "But lucky me to have gotten the opportunity. I just tried to grab it with both hands and ride it 'til the wheels came off. I was able to fly with Patrick."
Get our L.A. Goes Out newsletter, with the week's best events, to help you explore and experience our city.
You may occasionally receive promotional content from the Los Angeles Times.