Kevin Spacey thought that coming out was a good way to respond to a molestation charge. Hollywood did not agree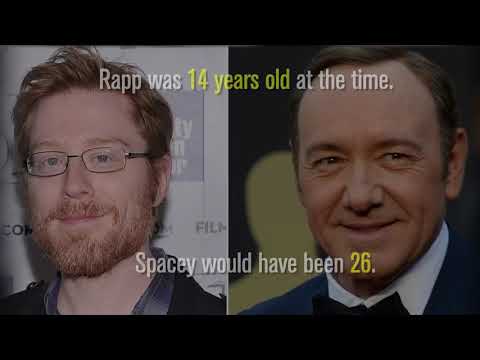 Kevin Spacey responded on Twitter shortly after Anthony Rapp's allegations were published, saying he didn't remember the encounter. (Oct. 30, 2017)
A two-time Academy Award-winner and acclaimed star of film, theater and television publicly comes out as gay for the first time. In 2017, that would seem like a triumphant moment and cause for celebration in the LGBTQ community.
But when Kevin Spacey finally ended decades of speculation by declaring in a late Sunday night tweet that "I have loved and had romantic encounters with men throughout my life, and I choose now to live as a gay man," the announcement drew widespread condemnation on social media.
At issue was the timing of his announcement — just hours after Buzzfeed had published a report in which actor Anthony Rapp alleged that Spacey made a sexual advance toward him at a party in 1986, when Rapp, then a rising star in the theater world, was just 14 years old. (Some also objected to Spacey seeming to characterize being gay as a choice.)
In his Twitter statement, Spacey denied any recollection of the incident with Rapp, who starred in the original Broadway production of "Rent" and can currently be seen in the CBS All Access series "Star Trek: Discovery," while issuing a conditional apology. "If I did behave then as [Rapp] describes, I owe him the sincerest apology for what would have been deeply inappropriate drunken behavior, and I am sorry for the feelings he describes having carried with him all these years," he said.
The impression that Spacey, who for years has evaded questions about his sexual orientation, would finally publicly embrace his gay identity only in response to a story alleging predatory behavior toward a minor left many outraged -- not only by the apparent attempt at deflection, but also the inadvertent conflation of homosexuality and pedophilia.
"Kevin Spacey has just invented something that has never existed before: a bad time to come out," observed actor and comedian Billy Eichner on Twitter.
"There's no amount of drunk or closeted that excuses or explains away assaulting a 14-year-old child," columnist Dan Savage said on Twitter.
Their thoughts were echoed by many others, including actors Zachary Quinto, George Takei, Wanda Sykes and GLAAD President Sarah Kate Ellis, who said in a statement: "Coming out stories should not be used to deflect from allegations of sexual assault. This is not a coming out story about Kevin Spacey, but a story of survivorship by Anthony Rapp and all those who bravely speak out against unwanted sexual advances. The media and public should not gloss over that."
A representative for Spacey did not respond to requests for further comment from The Times.
Rapp's allegation is the latest to rock the already shaken entertainment and media industries. In recent weeks accusations of sexual misconduct, abuse and assault have been levied against a number of powerful men, including film producer Harvey Weinstein, director James Toback and political reporter Mark Halperin.
Rapp, who previously discussed the incident in an interview with the Advocate with Spacey's name redacted, told Buzzfeed that the Weinstein scandal compelled him to speak.
In addition to bringing attention to decades-long allegations of sexual abuse of young men and boys in the industry — an incendiary topic also raised by actor Corey Feldman in an appearance Monday on "Today" — the incident also highlighted another contentious issue: how and when high-profile celebrities choose to publicly acknowledge their sexuality.
At 58, Spacey is one of the most lauded actors of his generation, a perennial Emmy nominee for his Netflix series, "House of Cards" and a favorite of other awards-bestowing organizations. In addition to Oscars for his performances in "The Usual Suspects" and "American Beauty," he won a Tony in 1991 for "Lost in Yonkers."
He was also one of the first A-list stars to see the potential of Netflix. After he signed on to play scheming politician Frank Underwood in "House of Cards," the first original series developed and commissioned by Netflix, Spacey became an enthusiastic booster of the streaming service, as well as its most recognizable face. The show's popular and critical success helped spur an industry revolution and encourage other high-profile talent to pursue streaming projects.
On Monday, however, Netflix announced that "House Of Cards" will end after the sixth season, which began filming in Baltimore this month. In a statement, Netflix and producer Media Rights Capital said they were "deeply troubled by last night's news concerning Kevin Spacey. In response to last night's revelations, executives from both of our companies arrived in Baltimore this afternoon to meet with our cast and crew to ensure that they continue to feel safe and supported. As previously scheduled, Kevin Spacey is not working on set at this time."
Plans were reportedly underway to bring the series to an end after the upcoming season, but the abrupt announcement raised the possibility that Hollywood could begin shunning Spacey as it has Weinstein. (Spacey's next Netflix project is the biopic "Gore," in which he stars as writer Gore Vidal.) Late Monday, the International Academy of Television Arts and Sciences announced that it would not honor Spacey with the 2017 Emmy Founders Award, as had been planned.
Although "House of Cards" is currently his highest-profile project, Spacey is a Hollywood multi-hyphenate. A sought-after film actor, he appeared this year in the critically acclaimed hit "Baby Driver" and his performance as J. Paul Getty in "All the Money in the World," directed by Ridley Scott and opening in December, was expected to get a major Oscar push from TriStar Pictures.
He remains a force in the theater world, having served as artistic director of London's prestigious Old Vic theater for over a decade, and hosted this year's Tony Awards, during which he raised eyebrows with two seemingly self-aware jokes about "coming out." Behind the scenes, he executive produces "House of Cards" as well as the Discovery miniseries "Manhunt: Unabomber" and the CNN documentary series "Race for the White House."
But since he first rose to fame in the 1990s — a time before "Ellen," when being out in Hollywood was less accepted — Spacey's private life has been the subject of near-constant speculation, rumor and innuendo. A 1997 Esquire cover story ran with the teasing headline "Kevin Spacey has a secret"; two years later, Spacey brushed off the rumors and told Playboy magazine that they'd actually helped him with straight women eager to "turn" him. And in 2000, on the cusp of his second Oscar win, he told Lesley Stahl of "60 Minutes" that he was in a relationship with a woman named Dianne Dreyer.
Spacey's reluctance to be more forthcoming made him a controversial figure within the LGBTQ community. While "outing" is generally frowned upon, Spacey's continued evasion on the matter -- even in the face of growing acceptance of same-sex marriage and the mainstream success of out-and-proud actors like Quinto and Neil Patrick Harris -- was seen by some as self-serving cowardice rather than an effort to maintain privacy.
"I still get enraged when I think about [Spacey] talking about being in love with that woman on '60 Minutes.' Come out, sir," wrote Bravo host Andy Cohen in his 2014 memoir.
Now that controversy, and that rage, has taken on a whole new aspect.
Yvonne Villarreal and Geoff Berkshire contributed to this report
To read the article in Spanish, click here
ALSO
Kevin Spacey's apology for alleged sexual misconduct triggers swift backlash
Zachary Quinto says Kevin Spacey's coming out was a 'calculated manipulation to deflect attention'
'Stranger Things' star Finn Wolfhard leaves APA as his agent is fired amid claims of sexual assault and harassment
Kevin Spacey and his production partner join Ryan Kavanaugh's Relativity Media
Get our L.A. Goes Out newsletter, with the week's best events, to help you explore and experience our city.
You may occasionally receive promotional content from the Los Angeles Times.